BACK TO SALES INFO
NOONBARRA STUD KELPIES
SPECIAL CUSTOMER INFORMATION
DIRECTIONS TO THE NOONBARRA STUD
WHY WE RECOMMEND YOU BUY A PUPPY CRATE
BREEDING A SINGLE PUPPY FOR YOURSELF LATER ON
SETTING UP A FULL BREEDING STUD YOURSELF
TRAVELLING WITH NOONBARRA KELPIES
---
When you come to pick up your puppy remember to bring a few handy items with you.
Don't forget a light leash
A dog bowl to give the pup a drink on the journey home
A travelling crate
A couple of old towels

or plastic drop sheet

A rawhide chew
You can buy a good quality crate direct from us at cheap prices. We buy them in bulk for our customers. Check to make sure we have them in stock. They are priced at $80 (2006) and a very important item for your puppy. We highly recommend every one of our customers has a crate.
Click here to learn more about crates.
HEALTH CHECKS
As an added precaution it is very important to worm your puppy (or adult) after getting him and follow this up a few weeks later. The stress of going to a new home often means that dogs immune system is low and they are more prone to things like worms during the first month. Roundworm is the main kind of worm puppies have but most people tend to use an all-wormer for Roundworm, Hookworm, Whipworm and tapeworm.
If at all possible get your new puppy checked by a Vet within the week and ask about special requirements in your area such as Heartworm, Ticks etc.
PICKING UP A PUPPY FROM THE AIRPORT
We usually wash puppies just before they travel but sometimes puppies will still arrive in a dirty condition so be prepared. Take an old towel with you to the airport and those little damp napkins (wet ones) that you get from fast food outlets are ideal for wiping down a puppy. It is a good idea to purchase a crate rather than hire on and usually only a few dollars more anyway.
---
RAWHIDE CHEWS
Buy a few rawhide chew bones. All puppies teethe just like babies and they need to chew on something. Rawhide chews are cheap and completely safe and digestible. For little pups the flat open ones are fine and for bigger pups the ones rolled into a bone shape are better and take longer to chew. Keep a number on hand and if the puppy starts to chew on your shoe or a table leg then swap a rawhide chew instead.
TOYS
Buy a few toys for your pups. You can never have too many. They like squeaky toys and like furry ones too. don't get anything too big for a puppy. something that is easy to squeeze and makes a sound seems to be preferred by puppies. We have a toy box in the lounge room for puppies and even the adults will often pick a toy out and lie down playing with it.
Ruddock's SUPER-SORB
This is a great product if you have carpet. It is a power that looks a bit like talcum power. You put it on any moist or wet spot. It is mostly used for urine but we have found customers use it for all type of everyday spills on their carpet. the product absorbs the moisture and rises up into crystals after 5-10 minutes and then you just vacuum it. It takes away any stain, odour and moisture.
BITTER BITE
Another excellent product. This is also sold as Bitter-Apple. It is a spray that tastes terrible and stops a dog from chewing on things. It is non-toxic of course but tastes so bad that dogs stop chewing on shoes, wooden furniture or anything that you spray it on. It leaves a residue so it doesn't need to be wet to work. we have even used it on cotton leads that puppies sometimes chew. we just spray a little down near the clip area of the lead.
SHAMPOO
Human and dog shampoo is different. You don't need to spend a lot of money on shampoo to get good results. We recommend our customers wash their puppies about once a week for a while . not so much as to clean the pup but because it is a good habit for the dog to get into before adulthood and also because it creates a strong bond between owner and dog. Be calm and relaxed and take your time. Make it a special relaxing time for both of you.
A shampoo we like to use is Triocil. this gives a nice smell, a soft coat and prevents a lot of skin rashes and conditions. It's a bit more expensive than a lot of shampoos but if it is available in your area it is worth buying.
---
DIRECTIONS TO THE NOONBARRA KELPIE STUD
If you are travelling to the Noonbarra Kelpie Stud from the east (Sydney) you head towards Orange. We are just 15 minutes north of the city. (22 kms). We have just moved to this new farm which is much closer to Orange than our previous address.
The property name is Bimaru - 539 Lookout Road, Mullion Creek via Orange. You take Burrandong Way from Orange all the way to Mullion Creek. This is a small satellite area to the north of Orange. When you reach the middle of Mullion Creek (where there are a number of small hobby farms scattered around and approx. 16 kilometres from Orange) you turn right and drive over the railway crossing next to the fire station and drive out along Long Point Road a short way and then turn right into Lookout Road.
Lookout Road includes exactly 1.8 kilometres of all weather council maintained unsealed road. This is suitable for all cars. We often drive a little Hyundai Getz. (We know city people sometimes worry about unsealed roads). Noonbarra Stud is on the right hand side. All up it is just under 5 km from the Mullion Creek railway crossing.
Burrandong Way is the big main road that goes north of Orange. Most people will be able to direct you to it if you have any problems. There are a number of ways to get to Burrandong way but the easiest to describe would be ...
Drive up the main street (Summer St) of Orange through the main shopping area (about 5 blocks) to the round-about at the big High School. Turn RIGHT drive past the school and Duntryleague Golf Club. Stay in right hand lane as you are going to turn right into Burrandong Way. It is clearly marked and is the same road that goes to places such as Euchareena, March and Stuart Town. Don't head to Molong or Dubbo.
If you are travelling from the south and get to the town of Forbes you head towards Orange NOT Parkes.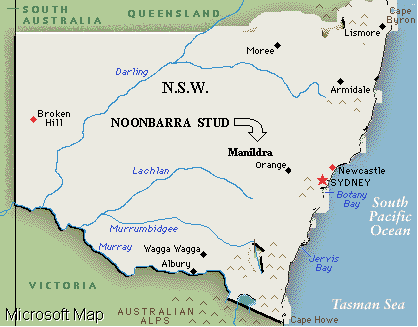 Noonbarra Australian Working Kelpie Stud
Mary and Stephen Bilson.
539 Lookout Road, Mullion Creek via Orange NSW
2800
Postal Address: P.O. Box 1374, Orange NSW 2800, Australia
Ph. (02) 6366 0499

---
WHY WE RECOMMEND YOU BUY A CRATE
Our Kelpies are all taught to be crated. Puppies are taught to sleep in a plastic crate. They learn to love their crates and even our fully grown adult Kelpies curl up in crates from time to time. We highly recommend them to every single customer with a puppy.
A plastic crate is one of the best accessories that you can buy for your young dog. Apart from anything else it is very useful for taking your dog on visits to vet, holidays etc. We prefer the plastic ones with the metal grid door which give a cosy feel for the dogs. We might keep this in the lounge room where we spend most of our time, reading watching TV etc. or in the kitchen or at night in the bedroom. The crate becomes the puppies special little den. Make sure it is comfy with a soft mat or blanket.
We train all our own puppies to get used to crates and puppies going interstate or overseas have extensive training in this regard so they enjoy their trip and are not stressed. We also offer a crate training package for all customers before they pick up their dog. This is $50 (2014
Mary and Stephen Bilson.
Noonbarra Working Kelpie Stud
539 Lookout Road, Mullion Creek via Orange NSW
2800
Postal Address: P.O. Box 1374, Orange NSW 2800, Australia
Ph. (02) 6366 0499

---
Information on Kelpie history & the outstanding Kelpies of the past can be found in the latest edition of our book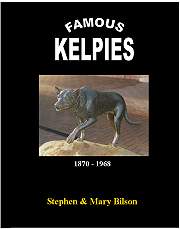 Softcover 136 pages.
CLICK HERE FOR MORE DETAILS & PAYMENT ETC.
---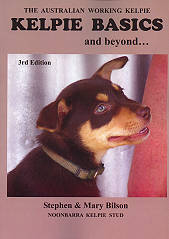 Latest edition of this very popular manual designed for all Kelpie owners of every level from raw beginners through to experienced trainers. This practical manual deals with everything involved in owning and training a Kelpie to ensure he grows up to be a well mannered, obedient dog.
The book is not about training on livestock! It deals with general obedience training, socialising your Kelpie, feeding, crating, toilet training, preventing problem behaviour, dominance issues, car travel, bathing, digging holes, stealing food, walking on a lead, coming when called... and much more.
---