NOONBARRA WORKING KELPIE STUD
WHAT OUR CUSTOMERS HAVE SAID ABOUT NOONBARRA STUD KELPIES
Some European Exports #1
Noonbarra Jillaroo II (Switzerland), Noonbarra Bob (Sweden), Noonbarra Cliff (Switzerland).
---
FUTURA NED X NOONBARRA SARAH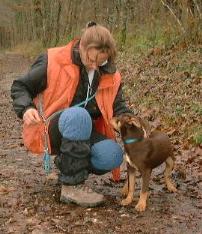 Jillaroo was sold to Switzerland to be trained as a search and rescue dog. She was a friendly pup with a very good nose and wasn't worried about noise or distractions.
"Hi Mary and Steve, How are you and your Dogs? Jillaroo is in a very good condition and she is a marvellous bitch. She fulfils exactly my expectation of a working dog and I love to work with her. She is a quick learner and precise worker."
"Jillaroo stared once on Swiss TV as they made a documentary about rescue dogs."
"Jillaroo is such a charming and powerful creature and she has such open and friendly eyes. I think she is a real true-blue. My sons and I have become fond of her at once. Matilda an Jillaroo "talk" kelpie-tongue together and everything seems to be ok between them. My old Bouvier-bitch Yalou and my son's Yanca are ignoring her."
---
(Capree Cobb X Noonbarra Sarah)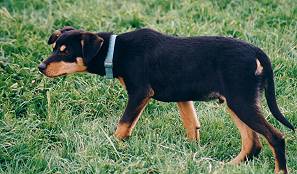 Noonbarra Bob went to Sweden in 2002.
"Just wanted to tell you that Bob does very well here in Sweden, he gets along very well with Cleo and they play a lot. I did not think to very much about the calm of your strain of Kelpies since Cleo always been calm, but Bob even calmer and really a very easy pup to raise, the other day he fell asleep in busy pet shop, so he is very good in new environments ,just as I had hoped . I think he will be very good for tracking ,search and rescue and obedience.
... I have been giving him regular baths as you suggested and it is as you said very good for bonding with him."
------------
Just wanted to tell you that Bob is doing very well , He has handled the cold winter very well (-20c) much better than Cleo and as you can see grown a bit, He is a very nice dog very much the way you described him as a puppy.
Bjarne - Sweden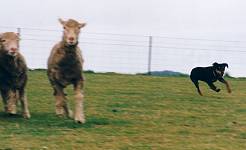 Noonbarra Bob working before he left for Sweden.
"Hi Mary and Stephan, this is Bjarne from Sweden with Noonbarra Bob. I hope all is well with you both. I had a litter of pups from Bob and Cleo last summer, a very nice litter, three Black, two red and one fawn or blue).
All got nice new owners and I have got particular good feed back from the owner of the only female in the litter (which got a lot of Bobís temperament), that went to a woman in the north of Sweden. I really like Bobs temperament and it would be nice to have female like him.
I have been looking regularly on your home page and have seen your male Max which seems like very good dog in many ways, and I have been toying with the idea to import frozen seamen from Max to use on Cleo for the next litter and keep a female for Bob from that litter. Have you got any experience from exporting frozen semen: mainly the cost of the shipping?
I am glad that I bought Bob when I did, now Australia have been classed as a low risk rabies country by the agricultural board (instead of being classified as rabies free)
meaning that you are in the same category as Mexico and USA. Which means things are much more complicated when importing from Australia.
Bjarne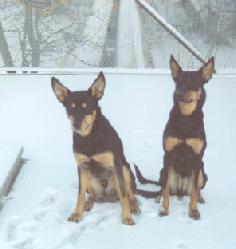 Bob and Cleo in the Snow
"Just wanted to send you some recent pictures of Bob ,he is great dog and I think these photos really shows his charm!"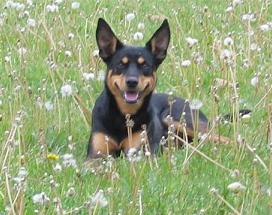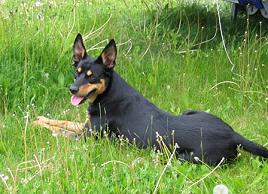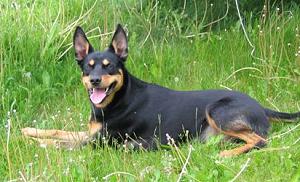 ---
NOONBARRA CLIFF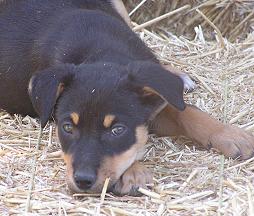 Noonbarra Roy III X Noonbarra Megan
Black & tan Male Born: 28th August 2003
Owned by Martina Giger. Switzerland.
Noonbarra Cliff is another excellent young dog from Noonbarra Megan by Roy. This has been an excellent combination. He has been sold to a family in Switzerland for cattle work.
Hi! Finally Cliff has arrived his destination. Everything was going smoothly. He's really a great little dog. He is in very good condition.
I'm glad, that I've bought different toys for him. He loves them all! ..Again.... thank you for all you've done for us!
--------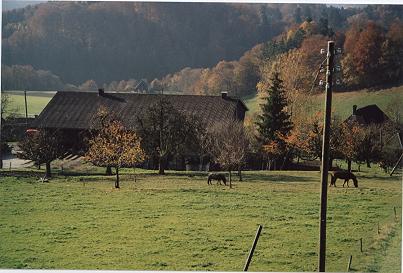 A photo of Noonbarra Cliff's new home in Switzerland
Good morning, Thank you for the training trick. I do it every day and it works! Great! Cliff is doing very well. He's a open-minded young boy. His toilet-training was successful, only if he's playing with my daughter or the other dog it can be that he forgets to go out.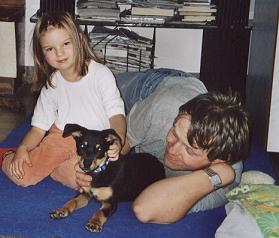 Noonbarra Cliff with his new family
He's very interested in chicken, rabbits and cats. The cows are still a little to big for him but since yesterday he comes in the stable to see them. If I hold him and go between the cows he's very trustful and look, he knows exactly: "No danger, I'm bigger than they are"... Also absolutely amazing was, how fast he accepted the rules in the house. After only one day he knew in which room he's allowed to go in and where he has to keep out! He has a special puppy carpet in the kitchen and he loves it. Very easy to motivate Cliff with toys! One time a week we go to the "kindergarden" he plays there with the other puppies and is absolutely fearless. I tried to make photos but maybe that Cliff will never be on a picture because he's to fast...
We are absolutely happy with our little boy and I'm sure, that he will become to a great worker! (recently he's seen his first sheep)

Greetings
Martina & Cliff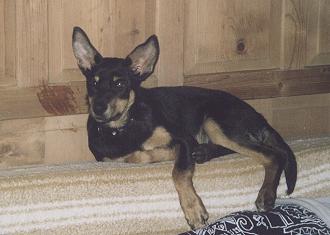 Noonbarra Cliff in Switzerland
Hi Mary! Everything is right here in Switzerland with our "Noonbarra Cliff". He's a very kind, attentive young dog. We're still doing the basics, he learns very quick and loves to work. He's so courageous, and is full of
power if he can be around our cows. Every day he come with us in the stable and then he stands on a high place, so that he is exactly big as the cows are. And then he barks.... until we stop him. He barks already well on
command. - Greetings, Martina Giger Switzerland with "Noonbarra Cliff"
______________________
In about 2 weeks we start to pasture our cows. In wintertime they were for short time out of the stable. .... For his own security he was on the leash because he is absolutely fearless and there were some danger situations for him! I'm sure, he will do a great job, if he has his daily work. He's still such a young dog and already knows many commands. He's the dog we wished to have.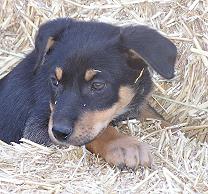 Noonbarra Cliff shortly before he left Australia
Good morning, everything is going well with our "Cliff". He's a fantastic worker and we're enthusiastic about him. He loves "his" cows (goes very close to them) and is a very keen worker. The motorbike is one of his favourite things. He runs along very fast beside the bike. Sometimes it seems, as he would understand every word we speak. I still go to school with him and in December we have our first small exam.

All the best from Switzerland

Martina & Cliff
---
RETURN TO CUSTOMER REPORTS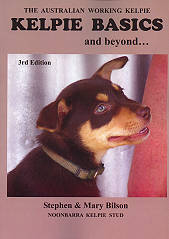 Latest edition of this very popular manual designed for all Kelpie owners of every level from raw beginners through to experienced trainers. This practical manual deals with everything involved in owning and training a Kelpie to ensure he grows up to be a well mannered, obedient dog.
The book is not about training on livestock! It deals with general obedience training, socialising your Kelpie, feeding, crating, toilet training, preventing problem behaviour, dominance issues, car travel, bathing, digging holes, stealing food, walking on a lead, coming when called... and much more.
Over 100 pages.