NOONBARRA WORKING KELPIE STUD
WHAT OUR CUSTOMERS HAVE SAID ABOUT NOONBARRA STUD KELPIES
SOME EUROPEAN EXPORTS #10
Noonbarra Mou (Italy) and Noonbarra Tjeedy (Switzerland) and Noonbarra Aeta (Sweden)
---
Noonbarra Jackaroo X Noonbarra Misty II
Born 1st Dec 2008 - Red & Tan Female
Owned by Massimo in Italy (Europe)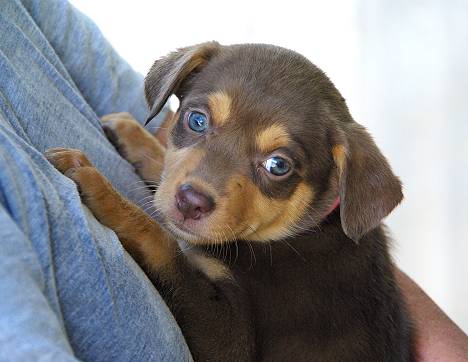 Mou is very happy...and we with her....you are a wonderful stud, rarely have I watched puppies so perfect... thank you Mare and Stephen.
-------------------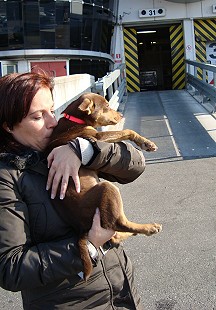 Dear Mary and Stephen, in this picture there is the special moment: Mou is arriving to the airport of Malpensa (Milano). I was very happy wen I took her in my arms...I wept, people looked me to understand the reason; none was in my heart...it was arrived my joy... Best regard Susanna
Attached below you can find two shots of Mou taken during last weekend. There is still a lot of snow on the Alps (Dolomiti Mountains) beyond the 6000ft and she met it the first time. Then, she has driven us crazy to play with it.

She was very happy to walk with the sled dog harness too and to follow the scent of the wild animals :-) Mou is happy with us...and we are very very happy with her.
She is lovely with all dog, she play with people and dogs...thank you very match for Mou...we are very happy all together. She is a wonderful puppie.
Noonbarra Mou arriving at terminal in Italy
------------------------------------------------------------------------------------------------------------------------------------
Aug 2009: We are training Mou right now. Great instinct and a very "serious" dog ... My wife lose the sheep and Mou catched them to her.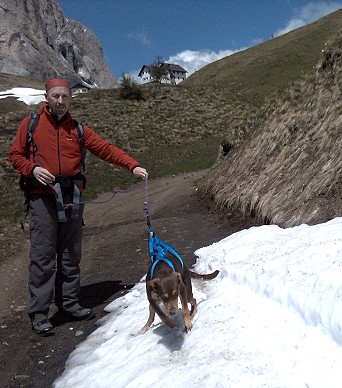 Sept 2010: Dear Mary and Stephen, Mou becomes nicer day by day....our friends tell about Mou, that she's" secchiona" (it means in Italian language: hard-working, and that she studies all day... ) This noun because Mou is more clever ,she learns new things quickly. Mou is good in sport obedience (she is so pretty when she works). A lot of people ask us where Mou comes from...because it 's difficult to see so good dogs. I love the joy of Mou, all, around her become joyful...best regards Susanna and Massimo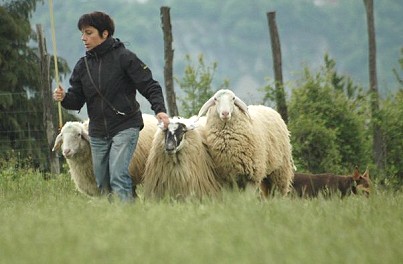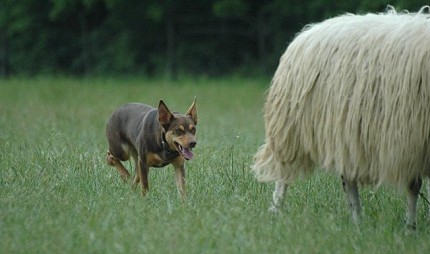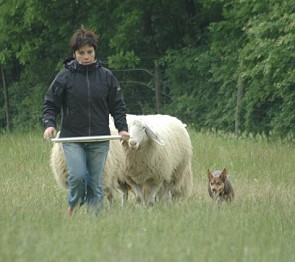 March 2010: Hi Mary and Stephen, this dog in the wonderful snow is Mou that is playing with Flo...every day is a new adventure for her...and then for us too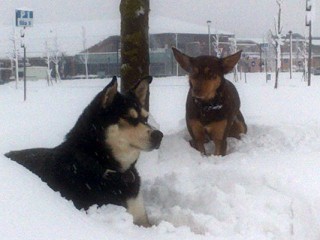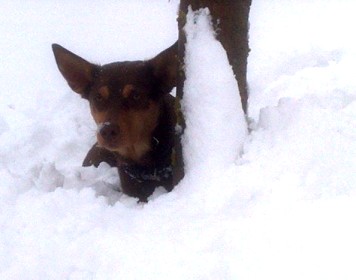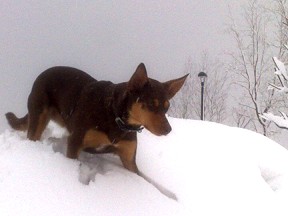 I give too many pats to Mou...but she is so special that it's not possible make otherwise ...We love Mou more and more...She works very happy with me. I am every day more proud of this fantastic kelpie..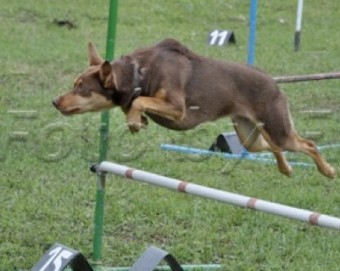 Noonbarra Mou is an excellent dog at Agility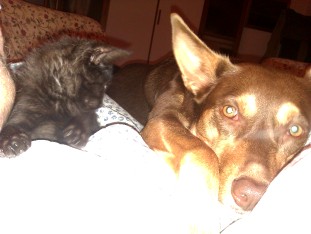 In this picture, Mou sleeps with a new entry: Bianca (black kitten). They are friends, Mou loves her very much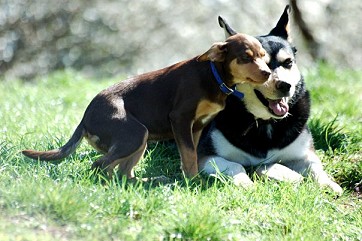 Noonbarra Mou as a puppy with her friend Flo.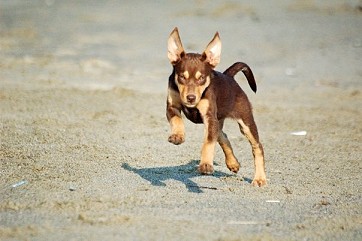 Another photo of Noonbarra Mou as a puppy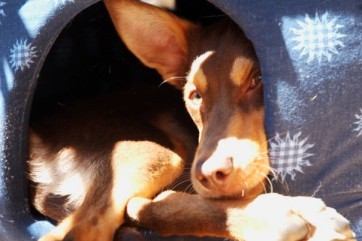 Wrapped up nice and warm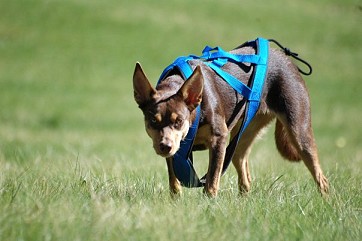 In training harness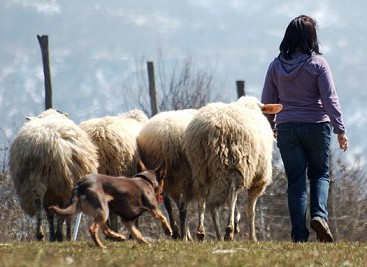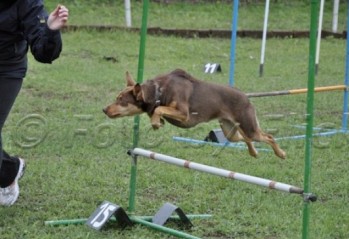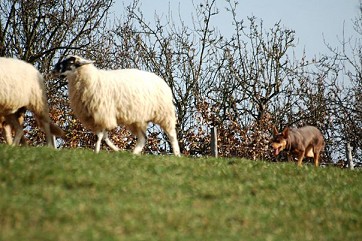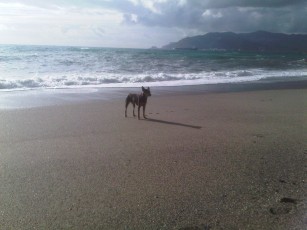 Noonbarra Mou in front of house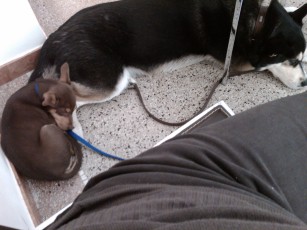 Noonbarra Mou with Flo being well behaved at a coffee shop in Italy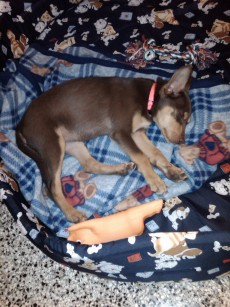 Noonbarra Mou as a puppy after arriving in Italy
_____________
---
Noonbarra Max X Barclays Kate II
Owned by Corrine in Switzerland
Born: 23rd May 2009 Black & Tan.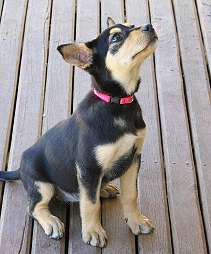 Noonbarra Aeta was a lovely pup and full sister to Noonbarra Trixie.
Hallo Mary and Stephen,
Corinne send me these pictures from the kelpies in the snow for you....

She thanks you very much for the paper which are well arrived in Switzerland.

Aeta is small aber works like a lion, she has beginning with the sheeps and is very good,.... better than Corinne.
She is really happy with Aeta and Aeta is really happy with Corinne.

Kindest regards
Anouk and Corinne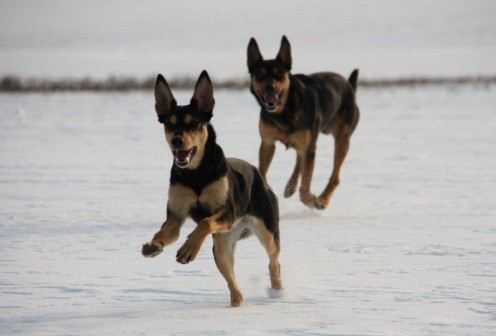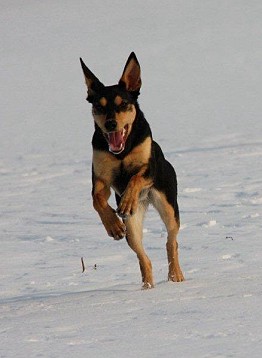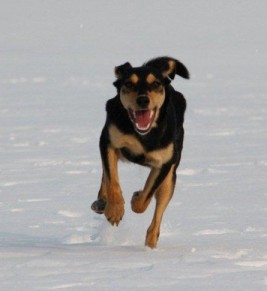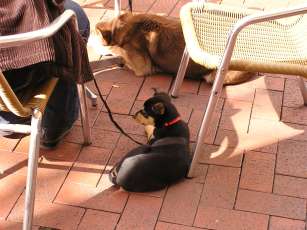 Noonbarra Aeta being train to sit calmly at a cafe before she was exported.
---
Noonbarra Flash X Noonbarra Jenny II
Owned by Catherine Martin in Switzerland
Born: 30th May 2009 Red & Tan Female.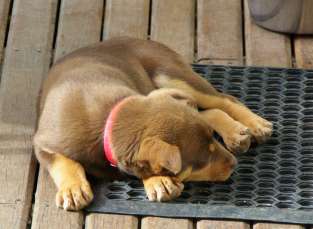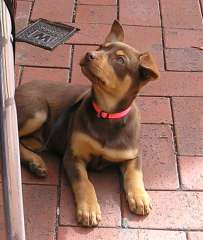 This puppy was the same litter as our own Noonbarra Lily II. We sent two dogs over to Switzerland at the same time. One to Catherine (Noonbarra Teedjy) and one to Corrine (Noonbarra Aeta). Catherine also owns Noonbarra Ballina. Unfortunately as Catherine doesn't speak English we had to deal through her sister who speaks and writes a little English and after a computer breakdown we lost some of that correspondence.
I think you know what I wish for me! a wonderful puppy!- Catherine
I'm writing to you for my sister, because her english is even worse than mine. She is
looking forward having a mate for Balina. My sister likes very much to play with Ballina and she wants a puppy that like also games.!
Catherine love so much the character and the beauty of Balina, that she wants another dog from your kelpies stud. She will not work with sheeps but agility (not at top level!). The ideal puppy will not be fearful but affectionnated, good with children, cheerful but not too excited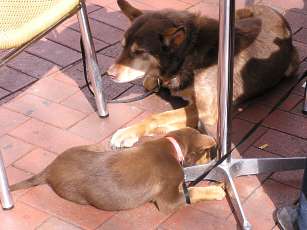 Noonbarra Teedjy with her great grandsire, Noonbarra Dusty III at a cafe in Orange, a rural city in Australia.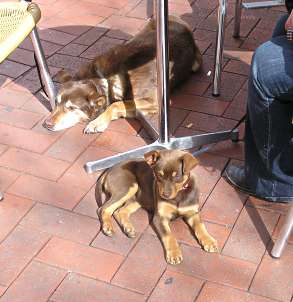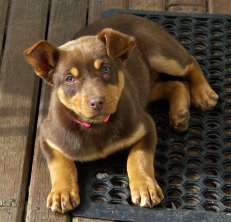 ---
---
RETURN TO CUSTOMER REPORTS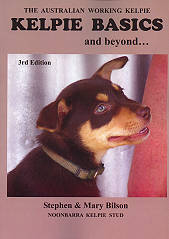 Latest edition of this very popular manual designed for all Kelpie owners of every level from raw beginners through to experienced trainers. This practical manual deals with everything involved in owning and training a Kelpie to ensure he grows up to be a well mannered, obedient dog.
The book is not about training on livestock! It deals with general obedience training, socialising your Kelpie, feeding, crating, toilet training, preventing problem behaviour, dominance issues, car travel, bathing, digging holes, stealing food, walking on a lead, coming when called... and much more.
Over 100 pages.