WHAT OUR CUSTOMERS HAVE SAID ABOUT NOONBARRA STUD KELPIES
SOME EUROPEAN EXPORTS #2
Noonbarra Jessica II (Norway) and Noonbarra Luke II (Norway)
---
THE NOONBARRA KELPIES OWNED BY STALLE OYE
OF THE NORINVALE KELPIE STUD IN NORWAY
NOONBARRA PRINCE X NOONBARRA VALERIE
Both Red & Tan Born: 1st March 1999
These two Stud Kelpies went as puppies to the Norinvale Kelpie Stud in Norway. They both did very well there and Jessica bred some excellent pups for the Stud and are well known in Northern Europe.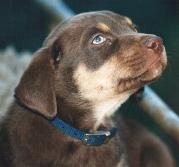 "Have to tell you about what happened when they first met sheep here. Had a few cows going in a fence near the kennel. A few sheep had broken out from another paddock and we had to take them home. Passing the kennel with the sheep and the dogs working the mob, Luke started to climbed the kennel fence. The fence is 2.5 meter. He climbed calm and determined and start herding the cows immediately I was a bit afraid if the cows could hurt him and concentrated on that.
When I turn to the sheep again Jessica was working the sheep with the two other dogs. I did not see it but she must also have climbed the fence. Both working very well holding the sheep together and driving them to us. We were very impressed how they work but also how calm they were. There was not a sign of stress. When finished the work and picked them up, there was no tense sign in their body. Have been working kelpies since 1976 but have never seen young kelpies so calm. This meeting with sheep and cows was certainly not what I wanted but they handled it very well.
I remember once I read something Les Tarrant wrote about Kalari Basil "He was the only dog climbing in trees". Seems like the crossings of Basil have effect still." - Mr. Staale Oye (NORWAY)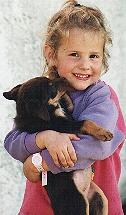 Jessica II being cuddled by Emma
_____________________________________________________________
Later comments by owner:
"Jessica and Luke are doing very well. ...Jessica is more intense when working, Luke wants to give more space to the sheep. At one (early) stage Jessica was very much intensive and liked to come in and pull out some wool when she had the chance but as she has matured this has changed. She now works very stylish and have not respect for any sheep She has strong walk up to the stock.
Luke have not been so intensive when working as Jessica but I like his way of working too. He gives more space to the sheep, has good cover and if the sheep tries to attack he will walk up and snap on the nose. Both are very calm when coming into the house and behaved very well. Luke is at this stage much more independent but this is changing all the time. It is very interesting to follow the development of the two pups from the same litter.
In summary, we are very pleased with the dogs and they seem to be developing into great working dogs". - Staale (Norway)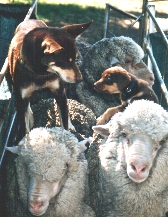 Jessica II with her mum, Noonbarra Valerie
_____________________________________
"Hello, Have just returned from a sheep training with Luke. He just is a great dog, very calm in every situation, and moves easily single sheep, big mobs etc. If sheeps/mobs tries to escape in the corner of the fence there is no problem for him to take them out again."
"Jessica had a different style in working. She was more stylish and kept longer distance to the sheep. After my opinion Luke naturally comes a bit closer. In praticial work he has good control but for trial he is still a bit to close. I will now work him on three or four wild sheep trying to develop more natural distance."
"I just noticed that You also often have started and trained dogs for sale can You please give me an up to date information on those. As You know I am always looking for kelpies who can compare with the BC in our trails. And we have to search for only the best kelpies. After working Jessica and Luke and seen Your video I am sure that You have just the right bloodlines to search for a real good trial dog."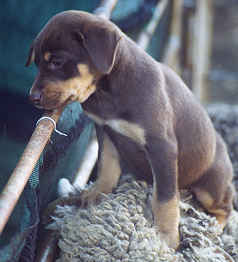 Noonbarra Luke II as a small puppy on the backs of the sheep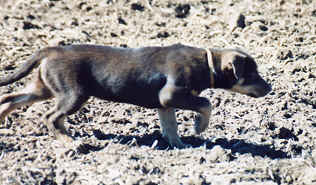 Noonbarra Luke II showing good eye on sheep at a very young age!!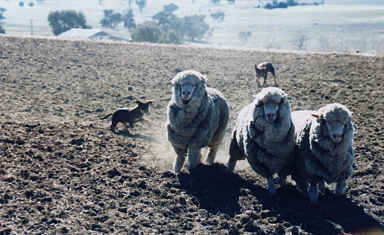 Noonbarra Luke II working in a big paddock being assisted by an adult Kelpie in background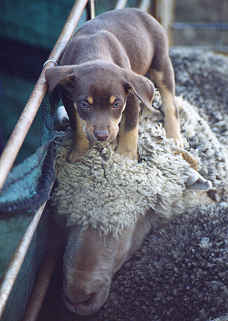 Noonbarra Luke II backing the sheep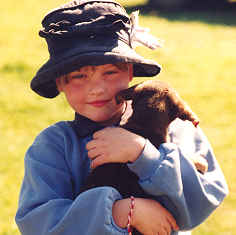 Noonbarra Luke II getting a cuddle from Laura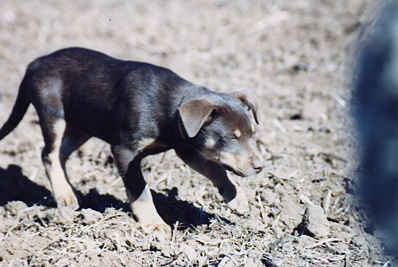 Latest edition of this very popular manual designed for all Kelpie owners of every level from raw beginners through to experienced trainers. This practical manual deals with everything involved in owning and training a Kelpie to ensure he grows up to be a well mannered, obedient dog.
The book is not about training on livestock! It deals with general obedience training, socialising your Kelpie, feeding, crating, toilet training, preventing problem behaviour, dominance issues, car travel, bathing, digging holes, stealing food, walking on a lead, coming when called... and much more.
Over 100 pages.