WHAT OUR CUSTOMERS HAVE SAID ABOUT NOONBARRA STUD KELPIES
---
MORE EUROPEAN EXPORTED NOONBARRA KELPIES #8
Noonbarra Elmo (Hungary) and Noonbarra McCoy (Denmark)
---
Noonbarra Jackaroo X Barclays Queen
Born 11th July 2009
Owned by Anna (Kiss) and Istvan in Hungary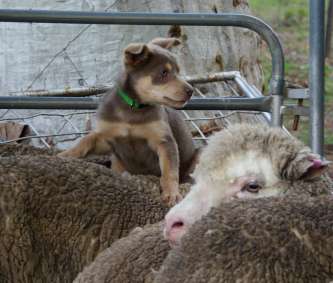 Noonbarra Elmo was purchased for high level Agility competition work in Hungary.
10th Oct 2010: Elmo was really cute during the travel back to Budapest and he seemed like having infinite energy :) but he was doing well in and outside his crate too. He found that Anna's arms are as good for sleeping as anything else :) maybe better.

He's in very good health and mood. He's friendly, happy and playful. He has very good appetite. He discovered our whole flat and found a toy in everything (boxes, slippers, broom...the list is endless). He's building his friendship with Ethan (our Sheltie) and it seems that they are doing well. Ethan still keeps some distance but it shortens from time to time. Today we're introducing him to Alex (our Vizsla) but we're sure they will have no problems with each other.

We're very happy to have him...you can't imagine how happy. We haven't met too many people as good as you are in our life yet. We can't tell enough how thankful we are for your commitment and hard work to get us Elmo. We will proudly tell everyone that he's a Noonbarra Kelpie and that the Bilsons are trustfully and you do everything you can to get your costumers satisfied.

We are already trying to teach him some basic things but we don't know what he has already learned. We will send you our very best photos about Elmo and his environment here in the future. We hope that we will stay in contact.

Thank you for everything, you are amazing people.
Best Regards,
Anna & Istvan
----------------------
We watched the dvd, it is amazing how your dogs are herding. I've already read the book, and started down/stay lessons, I only had to push him down once, and he was sleeping, but on another time we done this with him he didn't pop up, but he whimpered all the time. Elmo is growing fast, he is now taller than Ethan. He is learning more and more things, like going around something (it is usefull in agility), walking without a leash, he sits down by himself before we walk across a road, he can walk by leg (not strictly by my leg, a bit before me, but he is looking up at me all the time) and he knows the most important thing what a dog must know: giving paws:)
He is much calmer, now if we work, learn or just have a break and watching a film, he lies down by our feet and sleeps. He didn't stop to herd everything that moves (mostly dogs, birds and people), but we managed to break his car herding habit, so now we can walk peacefully near roads. In december we will go to a herding training with Ethan, but we want to try it with Elmo if the instructor allows it.

I've attached some photos, hope you can open it. There are some pictures from his everyday life, and some of them was taken on the agility winter cup, where we met Nina with Brynn and Will. (Noonbarra Brynn and Noonbarra Will in Croatia) They were fantastic, I hope somedays I can run with Elmo like she did:)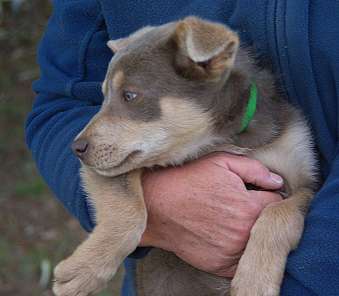 Elmo is so big now, he is almost a real man:) he has really good body struckture, when he jumps/runs it's like he does'nt spend any energie to do it, he is so airy. All of our agility teachers and team mates speaks in superlatives of him. He is crazy for agility. I take him to as much compatiton as I can, so he get used to the noises and the lots of dogs.
He is always eager to work, if he saw the clicker in my hand, he starts to demonstrate all the tricks he knows, and he learns new tricks in a few minutes.
Now we have like 30cm-s snow and -10 centigrade, and first I thought that he will need some dog clothes, but he does'nt seems like freezing. He actually does'nt care about the snow, even if only his head is out of it:)
He likes to sit by our smaller animals cage, and stare them all the day. At night he sleeps mostly by our bed, usually on my leg, but when we does'nt want him there, he also sleeps good in his own bed (he can be really funny, sleeping on his back, legs up to the air, and his teeth is out of his mouth).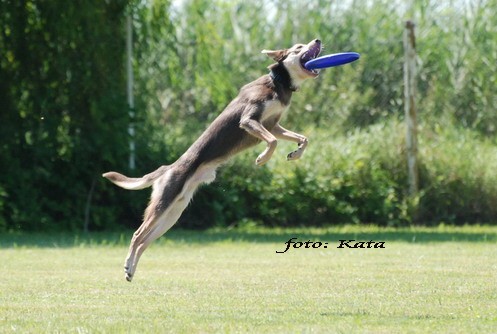 August 2010....First of all, I have to say, he is a very special dog to us and as always said, we can't thank you enough for him. Since we have him, we can't imagine our life without a kelpie, and we are sure that our next dog will be a kelpie too. He is talented in every dog sport that we try out with him.
He knows now every obstacle in agility, we will now improve his contact zones. I love to do agility with him. He reacts to my movement in a fracture of a minute. Sometimes my team mates ask me if they can run with him. Everyone is amazed by his turnings, he can turn around in the air. At the weekend we will take part in our first agility competition. There will be an unofficial category for beginner dogs, without contact obstacles and he will jump on medium height.
We often play frisbee with him at the park, he is like a flea, jumping so high, that everyone who saw him doing frisbee says WOW! We entered a competition with him last month, we ended up on 8th place out of 20 (mainly because I can't throw so good).
He simply loves children...from the moment a child appears when we're playing frisbee, he gives the disc to the child and only wants to play with him/her. He is especially patient and friendly with children, they can do everything with him without Elmo going crazy :)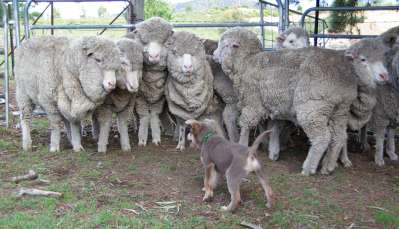 Noonbarra Elmo as puppy at the Noonbarra Stud - his first introduction to Merino sheep.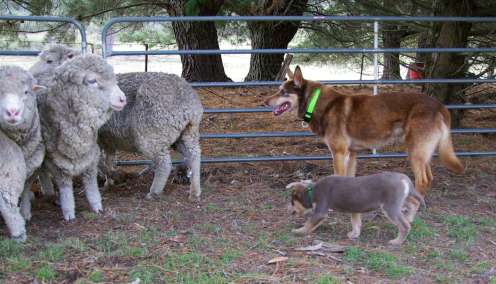 Noonbarra Elmo with his Grand sire, Noonbarra Dusty III.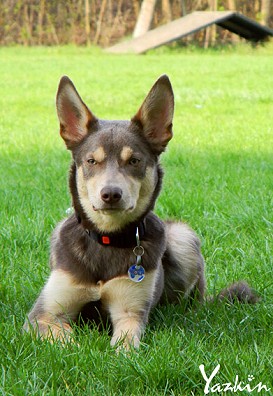 Noonbarra Elmo growing into an adult in Hungary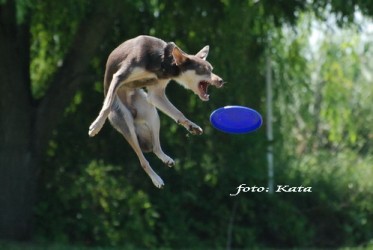 Noonbarra Elmo showing agile skill in Hungary
We hope that you are well. Elmo is doing great, he's very obedient. We took him to school on Sunday and he was having a great time with the other dogs...he managed to learn the tunnel in less then 3 minutes and we were able to recall him in a quite gaming situation. He is very popular among the trainers and fellow agility competitors. <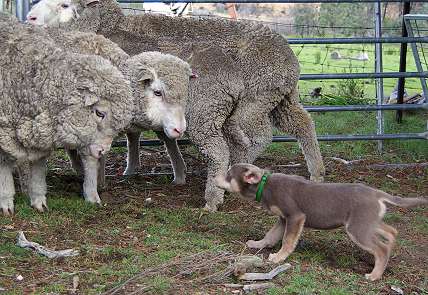 Noonbarra Elmo was very keen as a puppy on sheep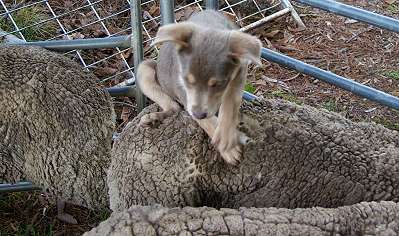 We taught him to walk along the backs of sheep as this is excellent foundation work for Agility competition later on.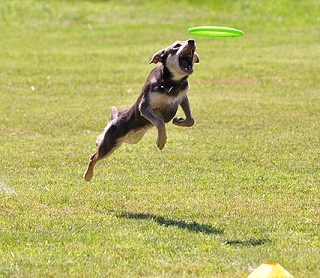 ---
Owned by Nina Kruger of Denmark
Noonbarra Jackaroo X Noonbarra Kellie
Born: 27th July 2009 - Black & Tan
Nina drove all the way to Switzerland as it easier to get him there than to Denmark.
The customer in Hungary with Noonbarra Elmo, also drove to Switzerland.
16th Oct 2009: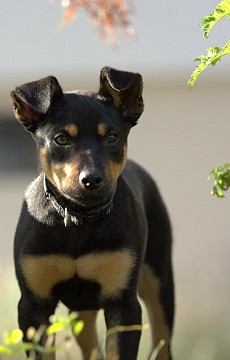 McCoy has arrived well in Switzerland, and after having waited in the airport for almost 4 hours, running around sorting documents out, he was finally handed over..
When I opened the crate he ran straight to me and gave me a big kiss!
He was completely unaffected by the whole situation, was just very happy to finally get out! He was wagging his tail and giving loads of kisses! I was extremely relieved to see he was in such a good condition, and I'm quite amazed how cool he is, and how he handles everything really calmly... Our drive home took 15 hours and it was pretty horrible, but it didn't seem to affect him whatsoever... He just laid there in my lap, and when I took him out for a wee, he was unaffected by all the noise and commotion!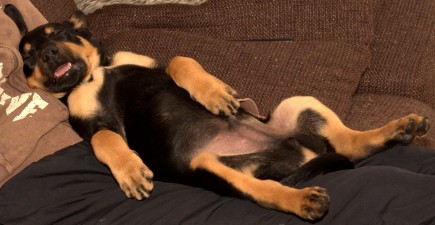 When we finally arrived, there was 3 other dogs waiting to meet him, and he instantly started playing with them all! McCoy and Mac Tabby have already become really good friends - today we went to the beach, and Mac Tabby loves to swim so McCoy ran straight after Mac Tabby into the cold water, and got a bit of a shock... He ran straight back to me, and was freezing, so I had to drive home with him and dry him! Must be somewhat of radical change with the weather situation - hope he'll adjust soon, since it's only getting colder almost by the day... At present it's about 3-5 degrees!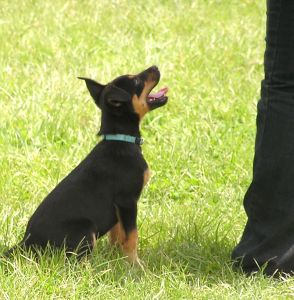 I'm just sooo happy with him, he seems truly great and I'm convinced he'll develop into a fantastic dog! Once again thank you ever so much for making this come true, I'm very grateful and will be sure to keep you updated with his progress!
----
21st Oct 2009
J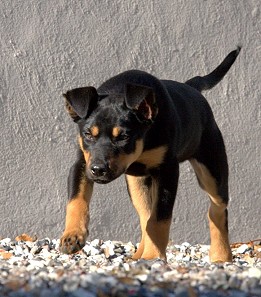 ust wanted to let you know that things are very well with McCoy, he has settled in really well!
He and Mac Tabby have already become really good friends, and Mac can hardly wait for me to let McCoy out of his crate in the morning (he sleeps next to my bed)...
He absolutely loves his food, he plays really well with different kinds of toys and he learns new things very fast!
He comes to work with me every day, and has already meet lots of different people and dogs, and is just really cool with everything! I'm extremely pleased with him
I've attached some pictures of him and his new big brother Mac Tabby, amongst them also pictures from his first swim (not a success, will probably be a while before he'll go for that again )
---------------------
Dec 2009:
Have attached a picture of McCoy from his first time in the snow - he absolutely loves being in the snow, frolicking around!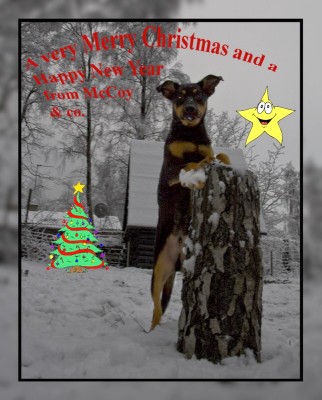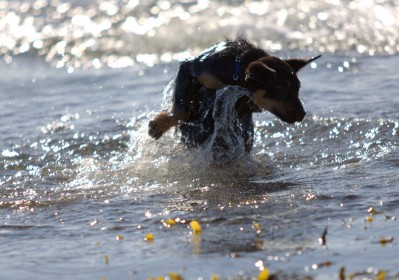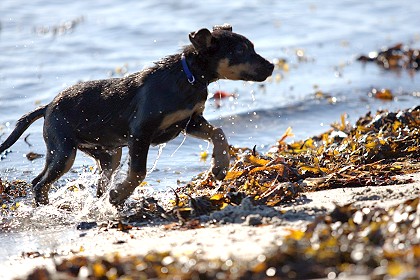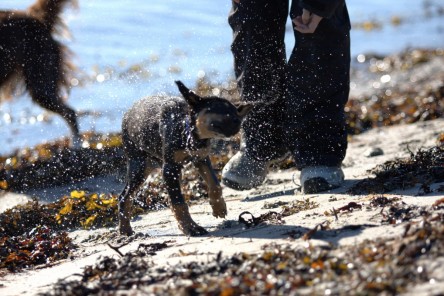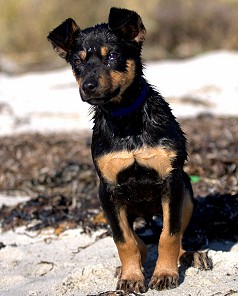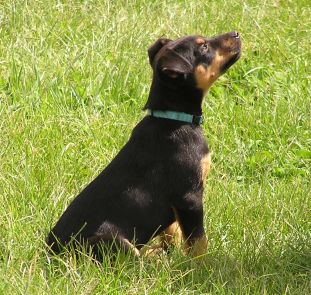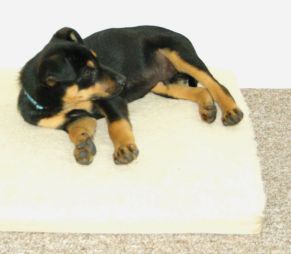 ---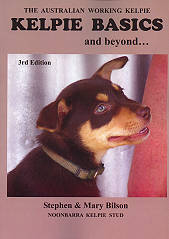 This latest edition is a great book for beginners or experienced Kelpie owners. It is designed for good solid foundation training to ensure you get a well balanced, socialised and obedient Australian Working Kelpie.
Over 100 pages.
---
More information on Kelpie history can be found
in the latest edition of our popular book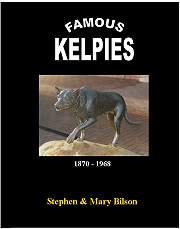 ---
THE ROCKYBAR KELPIES
A GUIDE TO ONE OF THE BEST KNOWN KELPIE STUDS OF THE 20TH CENTURY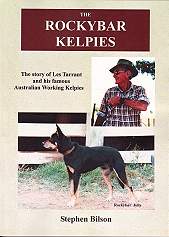 We think this book would be an enjoyable read for anyone with even a passing interest in the Kelpie. It would be a great guide for breeders and trainers with information that is impossible to get anywhere else!
The Rockybar Stud, owned by Les Tarrant, was one of the most famous in Australia for half a century and their influence can be seen in Kelpies all over the world today.
Les Tarrant started with Kelpies in the 1930's. He led a life of droving, mustering and working with horses and livestock. In 1950, he set up the Rockybar Kelpie Stud in the far north-western districts of NSW.
We look at some bush characters and old dog men such as the remarkable priest of Goondiwindi, Father McCormack, Stanley McMaster, Frank Scanlon, Stan Collins, and more. We look at the individual dogs in the old Rockybar lines and the more modern lines (after 1980). We have a huge section on Les Tarrant in his own words explaining how to breed Kelpies and the problems and pitfalls to avoid. There is a good chapter of the book dedicated to how to train Kelpies the Rockybar way. Another chapter is on yard work and yard trials.
There are plenty of photographs and some were very hard to obtain. Many (probably most) would never have been seen by the general public before.
Large A4 format. B/W photos throughout. 166 pages.