NOONBARRA WORKING KELPIE STUD
WHAT OUR CUSTOMERS HAVE SAID ABOUT NOONBARRA STUD KELPIES
---
Noonbarra Flash X Noonbarra Penny IV
Red & Tan female Born 10th Sept 2003
Owned by Gary from the Hunter Valley in N.S.W.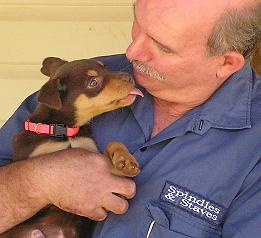 Noonbarra Mitzi was a delightful little pup who was sold to Gary from the wine growing Hunter region of NSW where he works as a Cooper. He has his own business called 'Spindles and Staves'. He is the only Cooper in the region and as well as repair wine barrels does some amazing work with wood.
Hi Mary
It has been a while since we have written, but with Mitzi now 1 year old we thought it was a good idea to send you a couple pictures.
Mitzi has been going to poochie school now for 6 month and is currently in the red class. She still has that terrific temperament, and is a favourite with everybody. We also do some agility, but only when I have the time.
Gary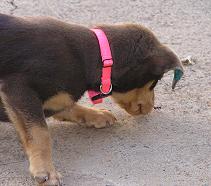 Noonbarra Mitzi as a puppy trying to work an ant!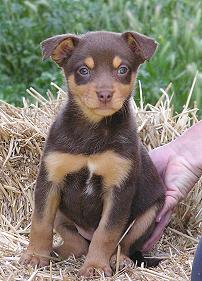 Noonbarra Mitzi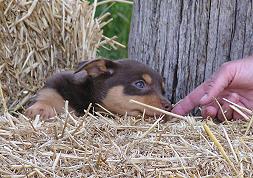 Noonbarra Mitzi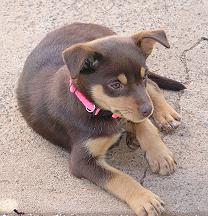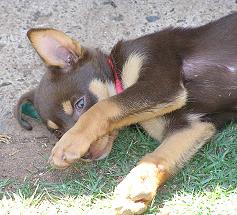 Noonbarra Mitzi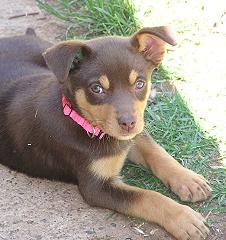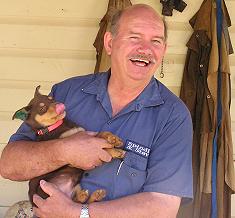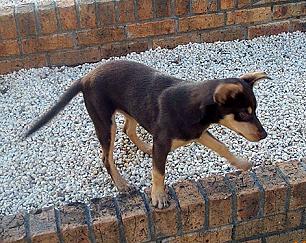 Mitzi at her new home
---
Noonbarra Max X Noonbarra Tessa II
Cream Kelpie Born 20th July 2004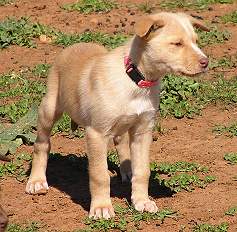 Owned by Charlie and Vicky Muscat of Sydney.
Noonbarra Mani was a darling of a pup. A gorgeous temperament and an easy going nature. The whole litter by Noonbarra Max were wonderful pups and we have had back lots of great reports from our customers.
Hi Mary and Steve, Just a couple of photos of Mani as promised.
She is coming along wonderfully, she is obedient and playful, she is responding well to everything now, including the leash, and loves going on walks.
Hope you enjoy the photos, She is great and growing fast.
Regards for now, Charlie, Vicky and Mani Muscat.
---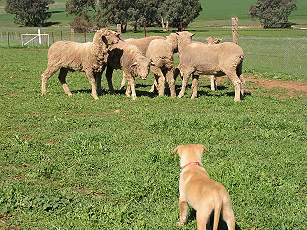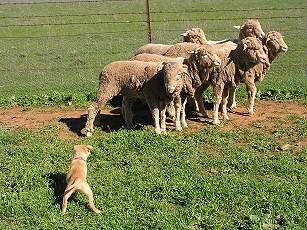 Mani was a terrific dog on sheep right from a young puppy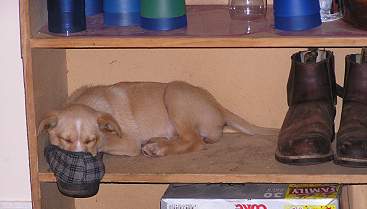 Mani was left alone and managed to climb on a shelf and stick her head in a shoe and fall asleep!
_______________________________________________
OCT 2004
Hi Mary and Stephen, That is a gorgeous photo, how beautiful is she?
Mani is the most lovely girl and we are having an absolute ball with her. She is as smart as anything, she can sit, shake hands, roll over, lie down and stay. She learnt these in a matter of minutes and its only next weekend that we start puppy pre school.
Vicky and Charlie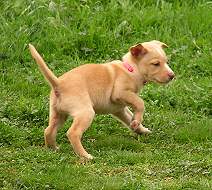 Mani as a young pup.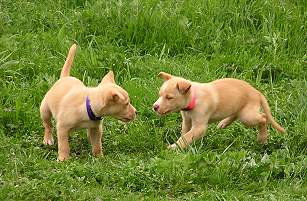 Mani and her brother Noonbarra Jasper II
" I just wanted to call and tell you how wonderful Mani is. She is absolutely gorgeous and she just has the most wonderful nature. We adore having her!"
CLICK HERE FOR MORE INFORMATION ON CREAM KELPIES
"As promised here is an updated picture of our most beautiful Mani, she is just a couple of weeks off 12 months old now and we just get more and more pleasure from her every day.
"Everyone she comes into contact with is extremely taken with her because of her lovely nature. She is very exuberant, to say the least, and that suits us because it forces us to have some 'get up and go', on the other hand, when she gets her stomach or chest scratched, she stays still and soft for hours at a time if you want her to.
"We are extremely pleased with her behaviour as well, putting in the time and effort to the 'down stays' that you advised us to do in the beginning have certainly paid off and we think that for her age, she is very obedient, although I must say we put a lot of time and heaps of energy into her training. We take her on lots of dog friendly holidays and its opened up a whole new world for us, we are so happy that she travels well because we often go on long drive holidays, sometimes up to 6 hours at a time and it doesn't faze her at all. She is just our pride and joy."
Hope you are both well. Kind regards, Vicky and Charlie
-----------------------
I have included a picture of our treasure, she still needs to grow into those ears but we think she is the most beautiful girl around.
Regards, Vicky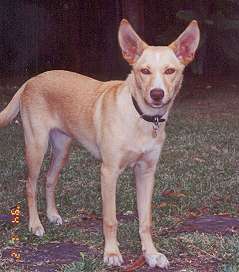 Dec 2004
"As you can see she is maturing into a really good looking girl. Mani is an absolute joy, she is full of life and so smart that we are actually cottoning on that she is actually training us, not the other way around. She keeps us amused when we ask her to do things like sit, stay, down, shake, roll over. We need to change the routine because as soon as we tell her to sit she does all the things without prompting and with such attitude! as if she is saying 'here we go, lets get this over with and give the parents a treat'."
"She is absolutely courageous. Nothing fazes her and at the tender age of just over 5 months, surprises us with her loyalty, obedience and love. We took her away on a doggy holiday and the ladies who own the property fell in love with her. They have a lot to do with dogs and mentioned that they can already see what a wonderful companion she is going to be. When we left they were keen for us to keep in touch with news of Mani's antics."
"I had read previously, in other customers comments before purchasing Mani from you, regarding the health of their puppies and I have to tell you that our Vets has also commented on her being the picture of health. We are absolutely over the moon with her and we find it hard to imagine what life was like before she came into ours."
__________________
"She is now 18 months old and our life with her just gets better and better. She is a constant joy and Charlie and I are absolutely smitten with her."
May 2006
THANK YOU FOR YOUR WONDERFUL SERVICE
Dear Mary and Stephen,
Just a short note to say thank you for your excellent service.

We have now owned our Kelpie, Mani for nearly two years. Beside the
fact that she has the loveliest temperament and is bursting with good
health- a credit to you and your stud - we have found that whenever we have
any queries or concerns, you always assist with great advice and/or
just plain encouragement.

I have and will continue recommending your stud to others who want a
fantastic companion dog, and breeders that really care about their
dog's wellbeing even after they go to their new homes.

Kind regards
Vicky Muscat
Oct 2007
Hi Mary and Stephen, Just a quick email to let you know that we are thinking of you.
Thought we would send you a couple of photo's of Mani and a girlfriend of hers, Ellie (a beautiful Brittany Spaniel). I am sure that just seeing these gorgeous creatures would brighten up anyone's day.
We babysat Ellie for a week and we used some of the training methods that we used for Mani, she is a very smart dog and she picked up our down command really quickly, she responded really well to Charlie.
She also learnt that she wasn't allowed into the kitchen, which is pretty difficult as it is an open plan living area. Mani knows that she can't come in, so it was hilarious when they both tore into the house and Ellie ran into the kitchen, Mani screeched to a halt at the invisible line that keeps her out and the expression when she looked from Ellie to me was priceless, it was like 'Ellie you better get outta there before Mum or Dad see you or there's gonna be real trouble' Very funny!
Take care, Kind regards,
Vicky and Charlie.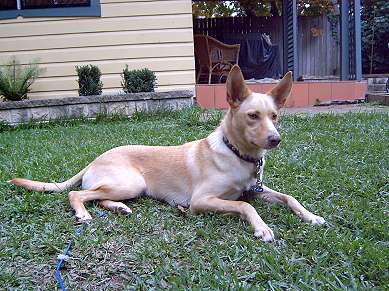 Noonbarra Mani - Starting to grow up
---