NOONBARRA WORKING KELPIE STUD
WHAT OUR CUSTOMERS HAVE SAID ABOUT NOONBARRA STUD KELPIES
---
MORE FAMILY COMPANIONS
---
Noonbarra Max X Noonbarra Tessa II
Born 20th July 2004
Owned by Daniel Green - Sydney NSW
_____________________________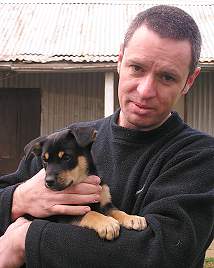 Daniel named his pup after the much loved character the 'Fonz' from the TV series 'Happy Days. He thought he was a 'cool' pup!
Letter from Daniel Nov 2004
"The 'Fonz' is becoming a part of the family, he is up to date with all his vaccinations and worming & looks to be a real healthy little dog."
"He goes on daily walks with myself & the kids being towed along in the stroller), loves his fresh meaty bones & absolutely adores people. His favourite game is soccer, but he hog's the ball."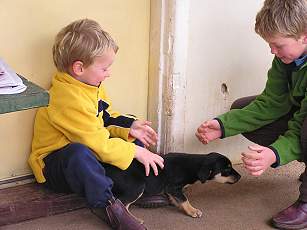 This is Noonbarra Fonz playing with Brennan and Callum who come to the Stud to pick up Noonbarra Ziggy. They also own Noonbarra Libby III. Fonz just loved being with the kids.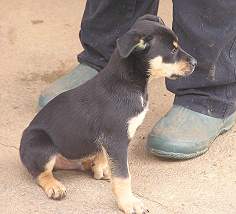 Noonbarra Fonz on the day he was picked up.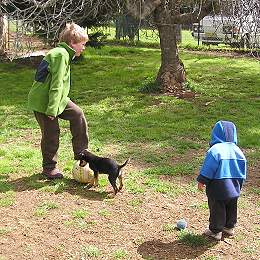 Daniel's daughter, Isabella playing soccer with Noonbarra Fonz and Callum Roach.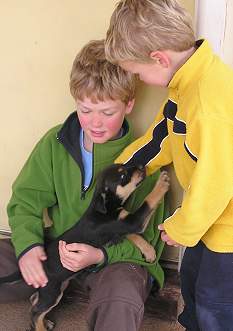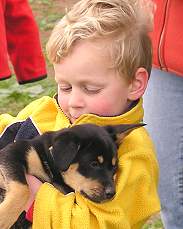 ---
Noonbarra Max X Noonbarra Tessa II
Born 20th July 2004
Owned by Malcolm Scott - Northern Territory.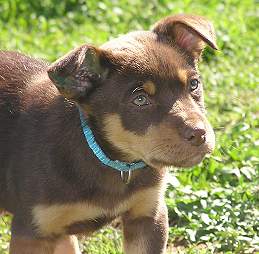 Noonbarra Jett went to Malcolm ad Ilga in the Northern Territory of Australia. They had previously owned a lovely Kelpie called 'Tess'. Tess was Malcolm's best mate and when she passed away there was an emptiness in the home and he wanted a puppy to share his life with. We did some shuffling around so we could fast track him getting a new puppy that would fit in with his lifestyle and the result was a wonderful puppy called Jett!!
"What a great looking pup our Jett is!! Thank you very much".
Sept 2004
Dear Stephen & Mary, Thank you for this information I have printed it off and added it to your folder. .. He does love coming to bed with me at night while I watch cable TV and he just spreads himself out to soak up the air conditioned comfort as you would have seen in the photos I sent you. He sleeps like that for a couple of hours before he is taken outside to go to the toilet etc then brought back and placed in his crate for the night.
He is coming along fine with the commands "down" & "sit" but the "come" command is taking some time though even with the treats in hand. I am sure he will get the hang of it sooner or later as he is very intelligent for his age. I will keep you posted on his progress...
... Just a short note with photos added to let you see how our new family member "Jett" handles a typical Darwin afternoon of 70% humidity and 35 degrees of temperature!!! As you can see he is handling the situation pretty well. Also the pair of us seem to be bonding very well, he now follows me everywhere which is great. Thank you for supplying me with a great little companion.
Kind regards from the Top End. Malcolm.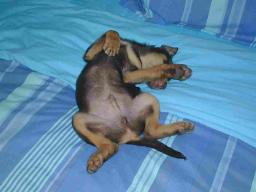 Photo by owner. Jett making himself very much at home.
Thank you for taking the time to send me that information! I must admit I have been a little easy on Jett at this time as I am still having problems getting over Tess I just miss her so much. ... He (Jett) is now coming to the call of this name even when I am not in sight when I call him by name, he now looks for me!! He also now sits on that command and even shakes hands when I feed him also the nipping has slowed down to what it had been. The only problem we now have to sort out is the toilet training.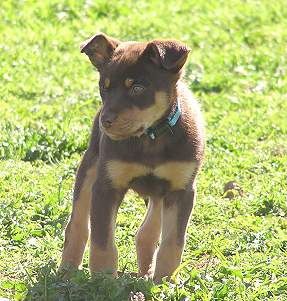 Noonbarra Jett just before we flew him up to the Northern Territory.
" Just a short note to thank you for breeding such a wonderful, highly intelligent ad loving Kelpie in Jett and also for allowing us to purchase him as a new family member and companion. We were about to give up hope of finding another Kelpie as everything was pointing to us having to wait months for one to become available. The last four weeks have been very sad around this home because of the loss of our very special friend 'Tess'. Since Jett's arrival he has made things a little better for us to handle by giving us something else to think about.
The first week has been a real eye opener!! It is very surprising to find out how much you have forgotten in regards to the mischief little pups get up to!! and how you have to handle such situations!!
Also I must thank you for the kind gifts you presented us with, especially the book 'Goodbye my friend', the reading of it helped us greatly at this sad time....thank you for supplying us with such a wonderful little friend and companion. We are sure he will turn into a very devoted and loving member of our family.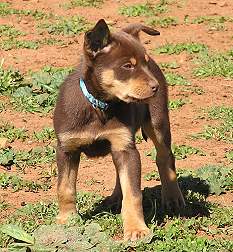 Noonbarrra Jett at the Noonbarra Stud
JULY 2005
Just a short note to let you know that all is well here in Darwin and we are celebrating Jett's first birthday today. As you will see from the attached photos he is coming along well and growing into a very good looking boy. I am very pleased with him even though he is still carrying on like a mad teenager!! but he is always on his best behavior when we are out and about. If you are interested I will forward a CD to you of every photo we have of him starting from the original photos you sent us of him as a very young pup, it is good to see the changes he has gone through over the last ten months.
With very kind regards from the Top End. Malcolm.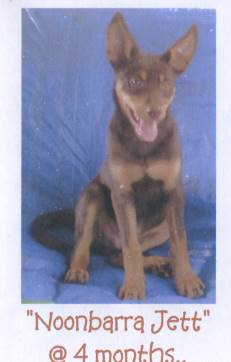 We got this nice photo of Jett on a Christmas card from Malcolm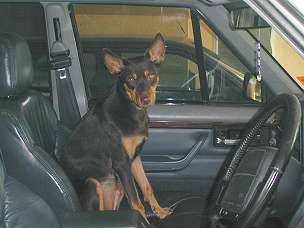 Noonbarra Jett going for a ride.
___________________________________
Sept 2007
This is just a short note to you from the Top End on the occasion of the third anniversary of the arrival up here of our boy Jett.
I have attached a photo of him that was taken this morning, as you can see he has turned into a great looking dog. He has matured really well and is great company for me, he is always by my side and gets very upset if I have to leave home at times. It is hard to believe it is three years since we picked up this little red & tan dog at Darwin airport at 11pm on the 16th of Sept, the time has really gone by so quickly and we have had great enjoyment during that time. It may be of interest to you to have a look at this web site www.freewebs.com/workingkelpies/ there you will find Jett as the "Star Dog" he has held that title for about three months now!!
Well once again thank you for supplying me with a great Kelpie companion.
With very kind regards from the Top End.
Malcolm..
---
Noonbarra Solo X Noonbarra Amy
Born 1st October 2004
Owned by Phil and Bridget of Sydney
_________________________________________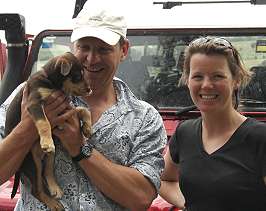 We received this lovely email from Tashi's owners in December 2004.
"Well you can ask Tashi herself but she certainly appears to have settled in and made herself very comfortable in her new Sydney pad. "
"We had a very easy journey back to Sydney on Sunday - she was just fabulous and, as predicated, dozed the whole way. We had a good break at Philip's parents place in Leura where she boldly examined every inch of the garden and had a good play before the final push. She really is just sensational and much bolder than we thought she could be, so needs little encouragement and has been frightfully sociable with other local dogs of all shapes and sizes! We even met some other Kelpies in Centennial Park this morning so I'm sure will be catching up with them again before too long."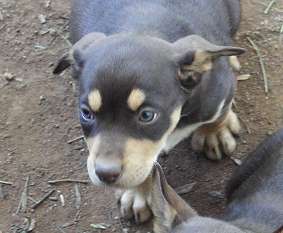 "Her house training, so far, appears to be coming on well and we really have only had a handful of accidents. She's also been particularly good with her crate at nights - which really is just wonderful - even though I, like I'm sure plenty of others, wasn't too keen on the idea of it to start with. The couch tends to take precedence for snoozes during the day while we're here though we did use the crate yesterday as we needed to pop out for a little while and weren't able to take her with us."
"She really is just the most gorgeous little girl - she's so expressive and inquisitive and a such a softy too. Many many thanks for all your help and for breeding such a fabulous puppy. We're just so happy with her and we'll certainty keep you up to date with her progress -"
Thanks again - Bridget, Philip and Tashi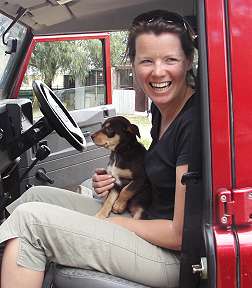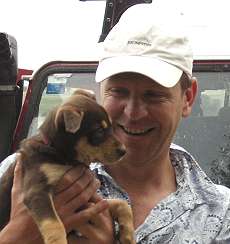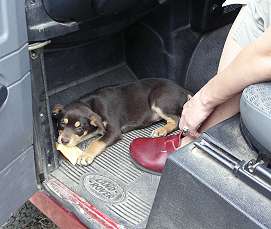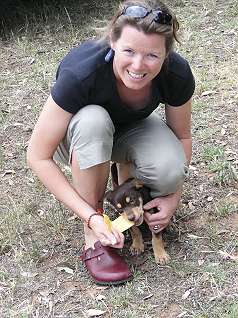 Now, you have so many dogs go through Noonbarra that I'm not sure if you'll remember Tashi. But she was one of Amy and Solo's puppy's born three years ago and she is an absolutely sensational dog. She's just so bright, sharp and responsive and yet has the gentlest nature. She's just adorable. We've recently left Sydney and bought a cottage in Blackheath so finally we have rather more room and we'd really like to get a second dog, a buddy for Tashi.
Obviously, in an ideal world, we'd like the same again. A relaxed, easy-going, gentle-natured Red/Tan girl that is happy to spend time pottering at home, rather than be out working. Tash does get plenty of exercise though she's very good at occupying herself whilst we're busy working and even creates her own games – tossing her toys around the place and bouncing and catching her ball. She's an absolute scream to watch. I see that you have Amy and Max x down for a mating before too long – and we thought that one of their puppies may be suitable – What do you think?
Look forward to hearing from you.
Kind regards, Bridget Jackson
---