NOONBARRA WORKING KELPIE STUD
WHAT OUR CUSTOMERS HAVE SAID ABOUT NOONBARRA STUD KELPIES
---
MORE FAMILY COMPANIONS
---
Noonbarra Roy III X Noonbarra Gemma
Born 2nd October 2004
Owned by Jane Lawrence
_____________________________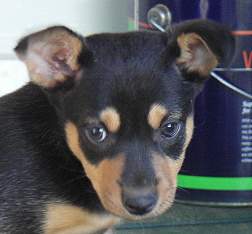 "Hi Mary, Massey is becoming more and more cuddly!! I've been off this week sick and he is making the most of it. My 7 months long service starts in about a month's time so then obedience and agility training starts in earnest. " - Jane Lawrence
___________________________
"Hi Mary and Steve, Well Noonbarra Massey has just turned 6 months.
"He is turning out to be everything I wanted. He has had his first few herding lessons and is steady and keeps quite a distance of the sheep. He also stopped on balance with minimal teaching."
"In agility we obviously have not done any equipment yet, but he runs with the leading hand and does great lead outs to the leading hand as well. We have been doing a little bit of work on "out" commands and front crosses.
His obedience is lagging a bit because there have been lots of agility weekends and hot weather cancellations as well but the ten minutes of concentration I get before his brain says "enough!" are excellent.
But the most important positives are his affectionate cuddles and his willingness to go along with whatever I'm asking him to do. He is so cute.
When he is having a bit of an "over the top" play I can step in and tell him to settle and he does.
He has plenty of friends. In fact the very next day after picking him up from the airport he ran very happily with 20 adult dogs ranging from shelties to shepherds.
His best mate is a 9 month old border who lives next door and walks with him each night. We really had to monitor this until he could match Joey in weight but now they are almost equal in weight so it's no holds barred.
Thanks so much for selecting Massey for me. In a few years I will be back for a sister……
Jane Lawrence.
__________________________
Letter Dec 2005
Hi Stephen and Mary, It has been a year since Massey arrived here and he is a great dog!
He has just been in his first "Instinct Test" with ANKC. (He's been ready for a while but there were no trials for him to enter) Obviously he passed (it doesn't require much!) but what made me so proud was the huge number of compliments I had about him. We had very light sheep. Some dogs couldn't even keep the sheep in the ring. Massey was cool, calm and collected and even went on to complete a couple of figure eights, moving the sheep sedately around. He was the only instinct dog and one of only 4 dogs total who managed to control the sheep close in and from a distance.
I have started his agility training. He learnt to weave just with wire guides and a ball in 8 lessons independently and quickly and now has no wires. Obviously he needs to consolidate but wow that's quick!
He learned correct height jumps, tyre, tunnel bends just like that and I took him to a friend's place to use his equipment, as he'd only worked on my gear up to then, and he had no problems transferring his knowledge. He can't compete in agility until he is 18 months of course but I think he will be ready way before that so we will refine our skills more.
He loves clicker training and I am using that to teach his colour contacts. He gets impatient though as he tries to guess what gets him the food today! I am having so much fun with him. He is ball obsessed, loves swimming and leaps in to the river after the ball with gusto.
He is sensible as well with it though. On a walk a couple of weeks ago, he saw a snake and just checked it out from a respectable distance and then called off when I said his name. Smart as well as gorgeous.
Height wise he has shot up and people are making gloomy comments about him matching Diesel in height (550mm) but I think he will fall just a fraction shorter. (not much less though) I am getting him height checked News Years Eve hopefully so I can be sure he is working at the correct height for agility.
Jane Lawrence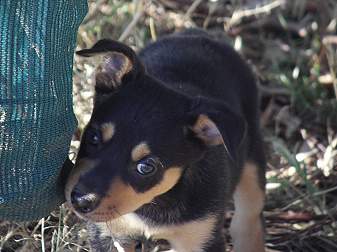 ---
Noonbarra Roy III X Noonbarra Meg
Born 18th March 2005
Owned by Annette Taylor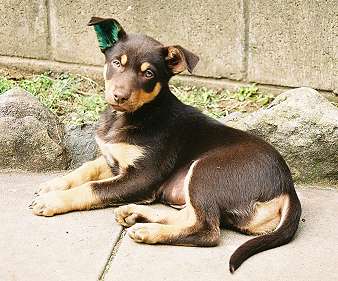 "Just a quick email to let you know how little Cobber is going, and give you some photos.
"He is such a sweet little guy, he loves cuddles and loves the heater, the other night he dragged all of his toys in front of the heater and spent the entire night playing in front of the heater. All that worries me now is that he loves it so much he gets a bit too close. But it will only take one time for him to learn."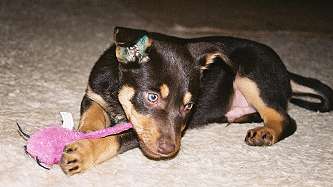 "He is picking up the rules of the house really well, now when either myself or Nath walk into the bedrooms he just sits at the door and waits. And we have started a bit of trick training , he can 'come' and 'sit' already, and I think due to the fact that he is so incredibly smart and loves his food, the rest will come easily."
Cheers Annette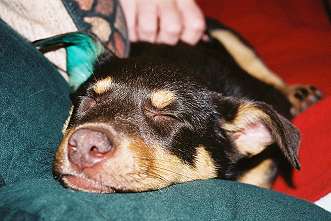 Noonbarra Cobber gets a cuddle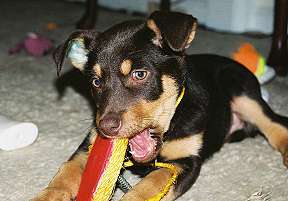 Just a short note to let you know how we are going with little Cobber. Things are going fantastically, he is really coming into himself as a real little man. He is so sweet and gentle, he loves to smuggle in and have a cuddle and even nibbles on your neck with lots of affection. He has also come along in leaps and bounds with manners training ...We took him to his first Flyball comp on the weekend and he was so well behaved we were so proud of him ... He is so happy to be around all the other dogs in our club and loves getting out and about and playing with them all. He had heaps of fun playing chasings around the car and tent with one of the other dogs (it was so funny), and when we took him over to the ring, he look on with such excitement it was great.
We had done a little bit more training with him ,he can drop now. We were so excited when he did it , cause I showed him three times and then let him think about it, and he worked out if he drops he gets the food, he is so smart, I was jumping around the room.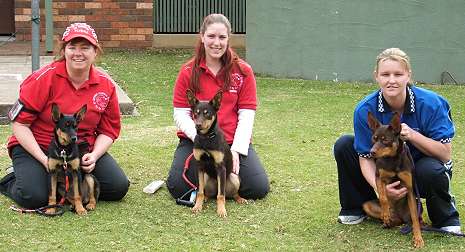 Noonbarra Kobe II - Noonbarra Cobber - Noonbarra Matilda III
At a Flyball Competition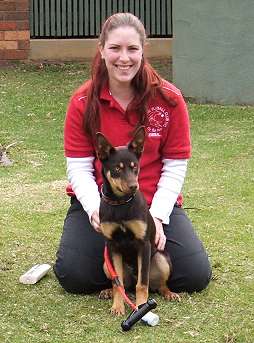 Nov 2005
"Cobber is coming along so well, we took him to his first Herding Clinic with Robert and Jenny, and he was so good. .. it really made me realise that I didn't have as much control and respect as I thought. Once I showed him who was the boss , it was great.
I can't believe how much it has helped him in general life, it really makes you think, when before that weekend I would have to force him to come to me and now as soon as I open my mouth he listens, I feel like I have a whole new relationship with him. Although I have been told that I expect too much from him, I don't think so, he is a really smart little guy and he knows what is going on, he just like to test me, and I have to make sure I come out on top.
I can't wait to go back, and keep on with it. Robert also gave us some tips on the dogs respecting us more with things like walking on the lead etc. I was having a battle with him pulling all the time, and now he is coming along so much better. He still pulls a bit but no where near as much, it is a working progress.
I have still so much to learn with him, it is really very exciting. I had the biggest smile on my face when he was really respecting me, I felt like we reached a milestone. And I have decided to wait til he is older and more shaped to start to much of the flyball.
Apart from the herding Cobber has really fit in with our lives. So far Diesal has remained top dog, and some of the antics are really funny, she takes toys off him, but when he resists she will drag him with toy in his mouth across the floor, until he gives up. They have the occasional nasty bit, but so far have not had a fight, thank goodness. I think Cobber is generally happy for her to be the boss. He is so relaxed and cruisey, His temperament is perfect for us, he is always happy to just be with you what ever is happening. If there is not game going on he is happy to just sit at your feet.
We are also running a Flyball competition in Orange on 19th March next year, at the pet expo that the Rotary Club puts on, we are the main attraction. We would love it if you have the time, for you to come and see us. We are also organising for Robert and Jenny to run a Herding Clinic for us the same weekend, so it will be a really big, fun weekend.
I have attached some photos of Cobber Herding , I hope you enjoy them.
Take care and talk soon
Annette
September 2006
"Cobber has turned out to be the best little dog for us, he is everything we could have wished for. Once we got on top of his focus problems, we are having a great time doing so much with him. I couldn't have asked for a better dog, he is so easy to train and really makes life fun with his talking all the time and fun loving nature. And on the other end his ability to just be happy sitting at your feet."
"We have continued going to herding with Robert and we will see how things go but we are hoping one day to do some Three Sheep Trailing ( just for fun), Robert says he would be great at three sheep. He is very soft on his sheep and likes to work at a distance."
"He also has started to compete in flyball, he had his first competition on 2nd sept at Kioloa, the same place he did the beginner one last year. He was fantastic and won the best dog of the division. Noonbarra Kobe 2 had her first comp as well, and she was fantastic as well. We have also had Amanda with Noonbarra Indy 3 join our club and they are hoping to have her competing soon as well. It will be fun if they could all be in the same team. ;)
I am attaching some recent photos, I hope you enjoy them.
take care and I will email again soon
cheers Annette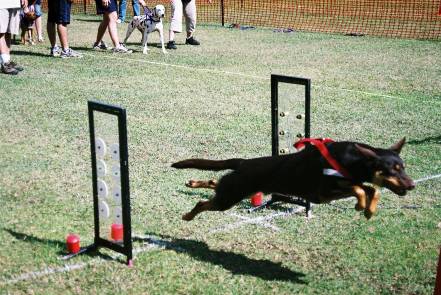 Noonbarra Cobber
---
Noonbarra Roy III X Noonbarra Meg
Born 18th March 2005
Owned by Gavin Brett. Tasmania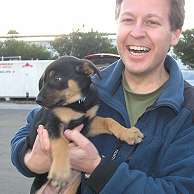 Noonbarra Tiger being picked up at Airport in Tasmania.
---
Hi Mary and Stephen, Here are a couple of pictures of Tiger. One when we picked him up, and
one under the desk I work at.

He is a lovely dog. He is very smart, I did the down training you recommended twice this morning and then went out with him. When we got back I wanted him to sleep again, and said down from a meter or two away
and down he went. A bit of a chew on the blanket and asleep! Amazing.

Cheers, Gavin.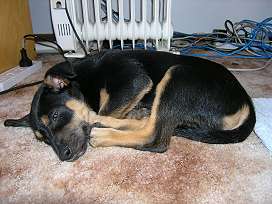 ________________________
Hello Mary, Thank you for doing some good snow training for us... Tiger went very well
today on Mt Wellington (just up the road from our house) :-)

We seem to be on top of the down stay command. Thanks for your advice.

Cheers,
Gavin & Claire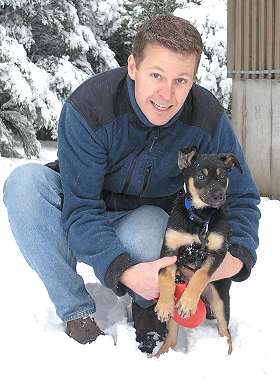 ---
Noonbarra Roy III X Noonbarra Mouse
Born 2nd October 2004
Owned by Leisel Ernst. U.S.A.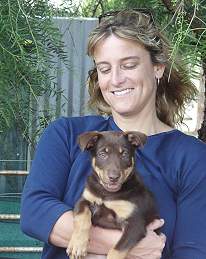 Noonbarra Jillaroo III was sold to Leisel from California, in the Unites States of America. Liesel works as a firefighter, so leads a very active life.
Leisel flew over to Australia and personally picked up Jillaroo. She spent two days at the Stud and we had some basic training lessons and work on sheep with Noonbarra Dusty III.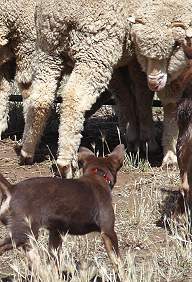 Noonbarra Jillaroo III showing her natural ability on sheep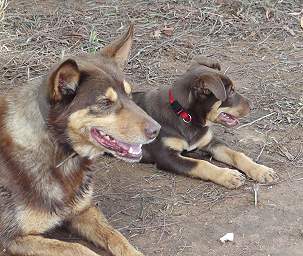 Noonbarra Jillaroo III with Noonbarra Dusty III
"Hello- Jillaroo has been great. ... Here are some pictures of lovely Jillaroo III. Her favorite game in the world is chasing balls. I have some great pics of her leaping in the air, but they are not in digital format."- Liesel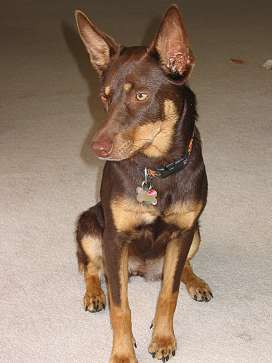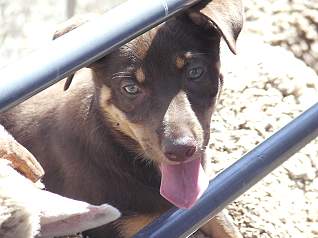 JILLAROO UP ON THE BACKS OF THE SHEEP IN THE RACE ...AND VERY HAPPY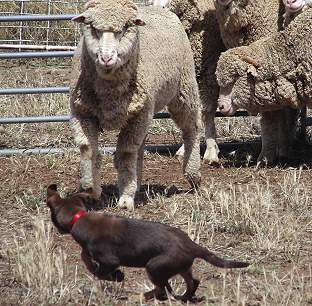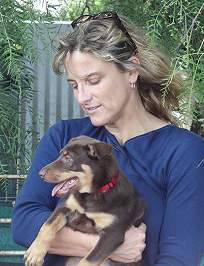 JILLAROO WITH LIESEL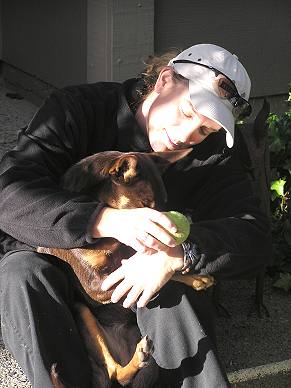 JILLAROO LOVES A CUDDLE
Jillaroo grew up to be a most incredibly beautiful dog. I continued to work with trainers, and Jillaroo and I have come a long way. Jillaroo is an amazing girl.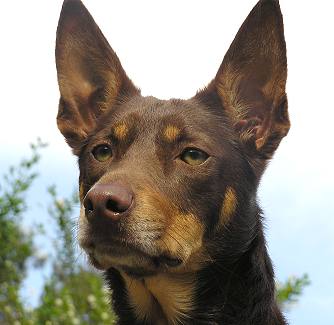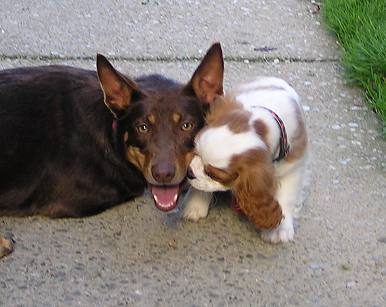 JILLAROO WITH HER LITTLE FRIEND
"Jillaroo is great, By nature she is an incredibly gentle dog. you should see her with the tiny puppy down the street and dogs much smaller then herself. She is so gentle with everyone who knows her."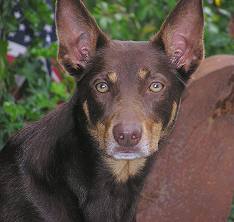 NOONBARRA JILLAROO III
"A Noonbarra Kelpie is a very special dog, and I feel such a sense of pride in having had Jillaroo in my life (as corny as that sounds)."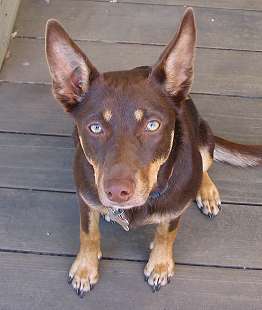 ---