NOONBARRA WORKING KELPIE STUD
WHAT OUR CUSTOMERS HAVE SAID ABOUT NOONBARRA STUD KELPIES
---
MORE FAMILY COMPANIONS
---
Noonbarra Max X Noonbarra Jessie II
Born 29th May 2005
Owned by Wendy Claybourne Hervey Bay Queensland.
_____________________________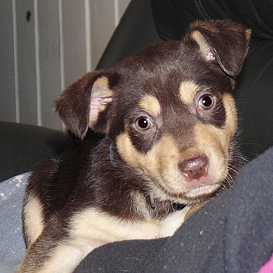 Buddy was one of the calmest and gentlest pups we have produced for a long time. In some similar to Noonbarra Kobe I. We spent a great deal of time choosing the right dog for Wendy and her family as her son is slightly allergic to licking so we had to choose a pup who only did a little bit of licking but was still a happy, friendly playful pup. A hard call but Buddy fitted the bill!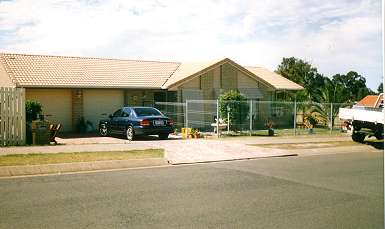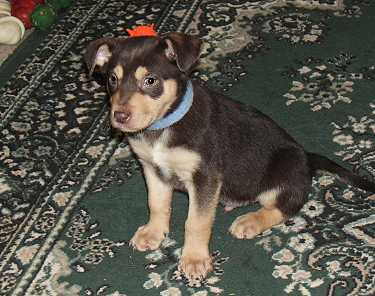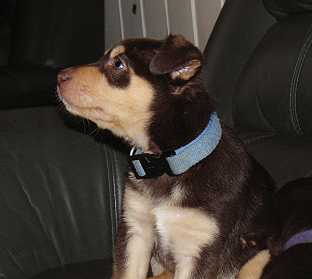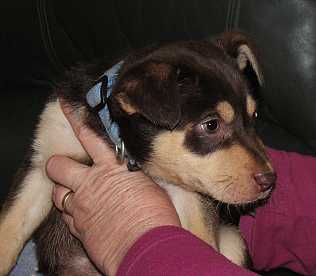 August 2005
"Hi Mary & Stephen, We are so very happy with our little man (Buddy). He has finished puppy pre-school & done rather well. The Teacher used him a couple of times to show the class how to get their dogs to drop & stay. We can now sit, stay, drop, shake both hands and speak when I ask him to...so cute hey! He is so smart it only took him about three times with the speak command and now he does it every time I ask him to. we start basic training next week! "
---
Noonbarra Max X Noonbarra Amy
Red & tan male. Born 27th May 2005
Owned by Simone Hart. South Australia.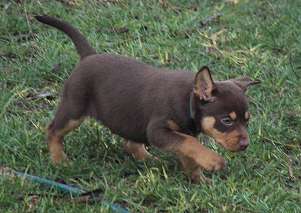 Noonbarra Diesel II was another wonderful puppy from the Max X Amy litter. He was outgoing and friendly but easy to handle and faithful. These are the kind of pups we are so proud to be able to breed and turn into such fantastic adult dogs with just a reasonable amount of general obedience training.
---
Noonbarra Max X Noonbarra Jessie II
Born 29th May 2005
Owned by B.J. O'Dwyer of Alice Springs, Northern Territory.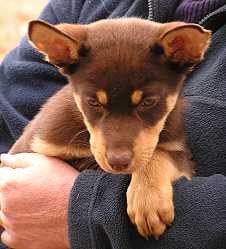 B.J. wanted a pup from Max and Jessie and just missed out last litter due to previous bookings so he waited a long time to get the puppy he really wanted. He wasn't disappointed. Jack has a fantastic nature, he is a dream puppy and so easy going for a puppy.
B.J. phoned and told us that Jack was just 'perfect' !!!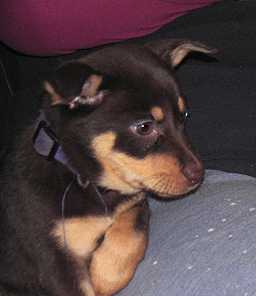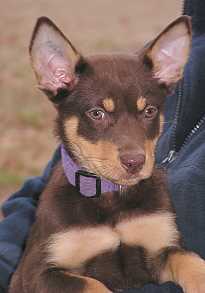 ---
Noonbarra Roy III X Noonbarra Gemma
Born 2nd October 2004
Owned by Peter Sommerfeld. Sydney.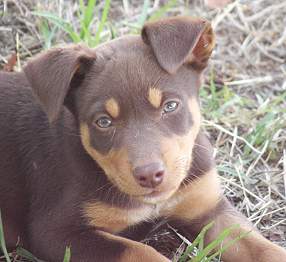 Peter is a well known actor from Sydney. He worked on the Australian TV Mini-Series 'Jessica' in 2004 (he was the minister at the church) and came into contact with Noonbarra Bindi who was the lead dog role in the movie. He liked what he saw and ordered a pup from us. We chose a beautifully natured friendly pup that he called 'Ted'.
"A few weeks ago I saw this beautiful Red Kelpie pup that two gentlemen had purchased from you. I believe their names are Peter and Cedric and the dog was named Ted." - David Aston
-----------------
"Two very exhausted but delighted customers here. On Xmas night we took him over to friends who have a large hound of an indecipherable breed called Pronto ... Ted parked himself in the middle of Pronto's bed, commandeered his bone and settled in quite happily. I think we'd safely put him in the "bold" category at this stage. No hesitant shrinking violet is this one.
"We absolutely adore him and can't believe how quickly he's settling in or how smart he is. There's been several recalcitrant episodes where the theatre voice, [me] or the in-court voice, [Ced] has had to be produced, but thanks to the down-stay command we have not gone running to the dog psychology texts, [as yet]. The method you employ certainly works well.
We've both been digesting the material in your book and already what we've covered has been extremely helpful ... And thanks for Ted. We think he'll grow into a very special adult dog. Fond regards. Pete and Ced and Ted.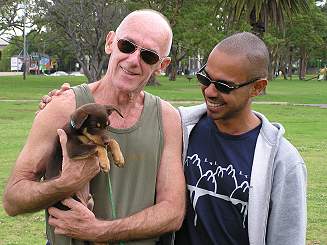 Peter and his partner Ced when they first picked up Noonbarra Ted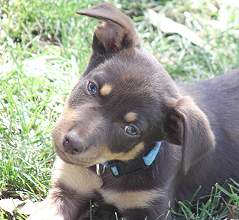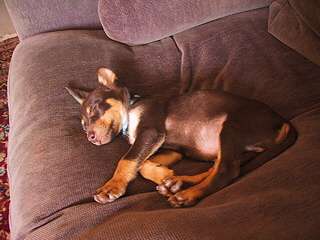 Noonbarra Ted in his new home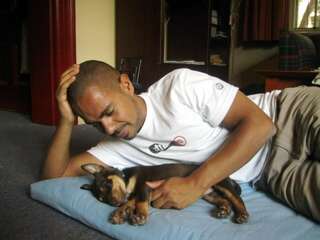 Ced with Noonbarra Ted in his new home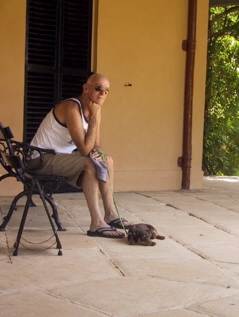 "Dear Mary and Steven ... An update on wonder dog @ 4.5 months. .. The granddaughters survived their week with him and returned to Melbourne with all extremities intact and totally in love with him as is everyone he comes in contact with. He has a throng of fans who pass and greet him every day thru the bars of our front garden gate and his training is keenly observed by the gardeners at Sydney University where we stretch him on the ovals there."
"Incidentally, he met Noonbarra Jess in the Uni grounds there the other day and they had a great play ... It was so nice to see them tearing around together. Both such beautiful looking dogs running at full pelt."
"The hand biting is backing off thank god and if he ever forgets himself with an over excited feigned pretend nip he's warned with a very stern voice and that seems to be working well. He'll go down and stay on command at a distance from us, even off the lead in an open space, [most times]; toilet trained at 3 months; a great traveller in the car; a shocker on the lead around traffic even with a choker chain, but we persist.
"Over all we continue to be amazed by his intelligence and delighted with his enthusiasm and loving nature. As you can see in the pics attached he's growing into a very handsome looking feller. Fond regards, Peter Sommerfeld.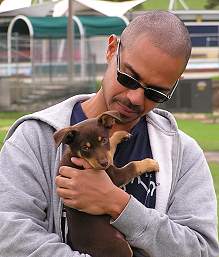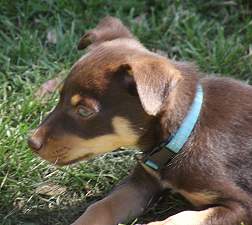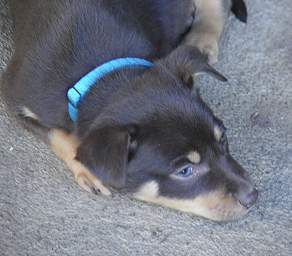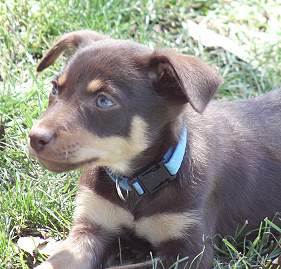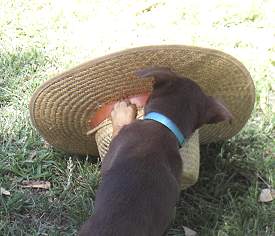 Dear Mary and Steven ... A short note to inform you of Ted's progress. In short we're absolutely delighted with him. He's nearly ten months old now and things get easier as we get better at training. After a 3 week beachfront holiday on Belongil Beach, [a great off-leash beach] at Byron Bay where my daughter has re-located from Melbourne. Ted mixed it with hundreds of dogs over the time and lost his fear of the surf, and we now harbour very little doubt that he'll come back to us when we want to go home which up until now has been a bit iffy. We stayed at the dog resort in Coffs Harbour at Kooroora Bay on the way home which we can thoroughly recommend to you ... The pic of Ted kicking back on the couch is at the resort.

Once again, thanks for this delightful feller. We couldn't ask for a more affectionate and intelligent companion dog. We love him. Hope you're both in good health. Kind regards. Peter Sommerfeld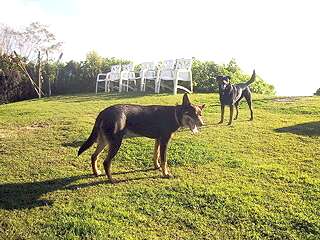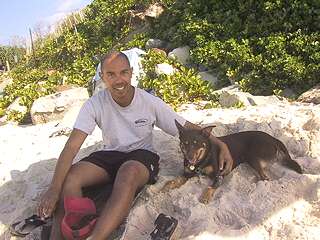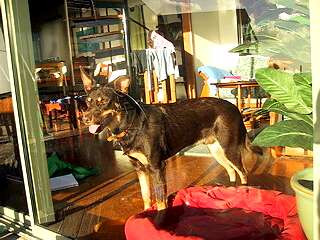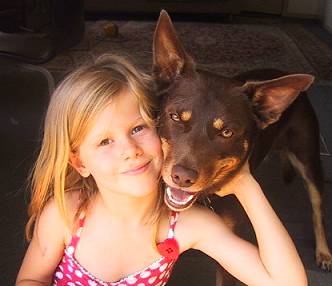 Olive (Peter's granddaughter) and Noonbarra Ted II
In July 2007 we got a lovely letter from Mardi Sommerfield.
"Just wanted to email these couple of photos through to you both and let you know that Ted is going very well. He is such a loving and funny boy. I took these of him at our holiday house on the Peninsula in Victoria. He spent the week there with my family and his good friend "Bella", our black Kelpie. It's on 5 acres so Ted ran all day and did what country dogs do, rolled in stuff and kept his eye on Olive, played continually with Bella and was totally worn out when he got home to Ced."
"I got a big surprise when I looked at your website to get the email address and saw the pic of my daughter Olive, with Ted! Glad you liked that one and hope you enjoy these as well"
Mardi Sommerfeld.
August 2007
Dear Mary and Stephen,

Ted's proven to be a fine companion and I rarely venture anywhere without him. He is a seasoned car traveller and even did the grueling trip up to Cairns with me and slept most of the way. He's down at the farm for a few days with Peter's daughter Mardi and her kelpie, having a great time.
I have to say I am a little lost without him, however he has been adaptable in spending time with the people that
we love, particularly those in rural or semi-rural environments. Its great for him and it also offsets the fairly constant time that he and I spend together in urban environments. We were all so pleased to see Ted and Olive on the Noonbarra page-Ted's mad about Olive and kids in general. And Pete has always adored his sons Tim and Jamen, daughter Mardi and his beautiful granddaughters Sunday and Olive.
He would have loved to know that Ted is truly an affectionate and intelligent beautiful looking dog. And he is now thankfully over his reticence to come back to me on occasion and in fact walks off the lead with me now even through these busy streets. He is an obedient and loving little fella.

Sadly, over the past year, Pete suffered the end stages of cancer and passed away on 29 April of this year. I have to say that after sixteen years I am truly lost without my soul mate and confidante and I cannot shake a deep feeling of sadness and loss. The past year has truly been the worst year of our life together.

Ted, throughout the last stages of Pete's illness and pain was remarkable. He slept for hours by Pete's side and since that awful day in April, has stuck to me like glue and is now referred to as my shadow. I really don't know what I would have done without him and we shall always be tremendously grateful to you both for sending us such a fine and intelligent dog. He will continue to accompany me in the work that I undertake in the future and is truly part and parcel of my life, just as our previous little fella, Colin, was. Sadly Pete and I did not make it to Noonbarra but I hope that one day in the future, perhaps Olive and Sunny and I might pop by with Ted so he can
see your kelpies and the place that he came from.

My warmest regards always,

Ced
---
July 2006
What a surprise we got when we recently went to your site and discovered the very early shots of our Ted 2. included there. Thought it was time to update you with a few new pics. He's grown into a magnificent looking feller and as you can see in the pics since we've moved to the Northern Rivers he's acquired a few new mates.

We've resisted the advise of all and sundry to have him desexed as he is extremely well socialized and friend to the world, especially with the people in the street in Mullumbimby where he constantly receives adoring comments, especially from older people who remember when so many Australian households had a kelpie or a heeler. Once again, thanks for Ted, he's a beauty.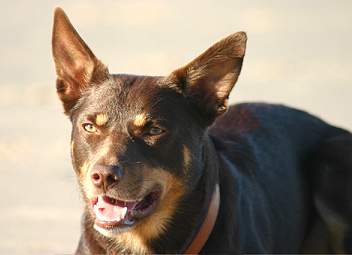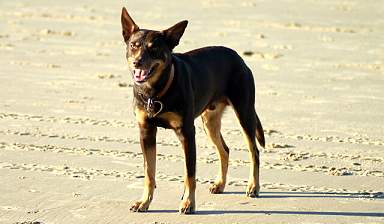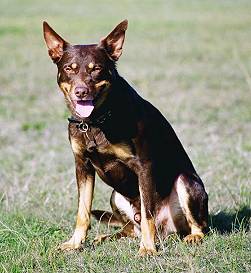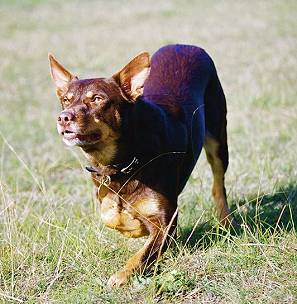 ---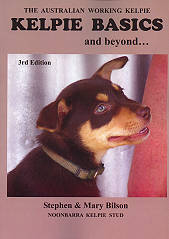 This new 3rd edition is a great book for beginners or experienced Kelpie owners. It is designed for good solid foundation training to ensure you get a well balanced, socialised and obedient Australian Working Kelpie.
---
More information on Kelpie history can be found
in the new 2006 edition of our book