NOONBARRA WORKING KELPIE STUD
WHAT OUR CUSTOMERS HAVE SAID ABOUT NOONBARRA STUD KELPIES
---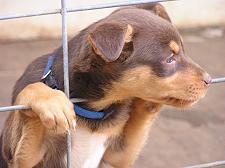 NOONBARRA BLAZE II
NOONBARRA FLASH X NOONBARRA PENNY
Hi Steve and Mary, I have attached a few photos of Blaze enjoying her new home and surroundings. She recently completed puppy pre-school and got a graduation certificate. She will be starting obedience training in the next few weeks. The training at home has been going well but she now needs to practice all her lessons with the distraction of other dogs around. She loves the beach and all the soft sand to dig around in, but is still a little wary of the breaking waves and rushing water.
She has found her favourite little hiding spots in the backyard and made them all her own. She has also developed a habit of digging her water out of her water bowl, but hopefully she will grow out of this. Thankyou once again for breeding such a bright, energetic and well balanced dog. Both Sarah and I are looking forward to many happy hears with such a wonderful companion. Kind regards, Craig, Sarah and Blaze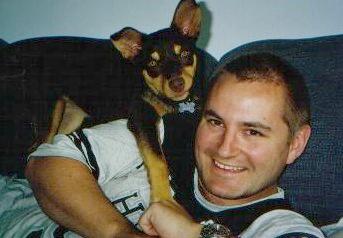 ----------------------------------------------------------
Just thought I would send a note to give you an update on Blaze (6 months today). She has shown that she is going to be a very bright and energetic dog for many years to come. Everyone has commented how good looking a dog she is and how all her mannerisms are classic Kelpie. We have been taking her to obedience school every Saturday and she is exactly as Steve said, the worst behaved around all the other dogs but does everything at home.
_________________________
SEPT 2004
Hi Steve and Mary, Just a quick update on Blaze. She is one year old now and is well and truly one of the Family. After getting over her obsession with working the hoards of flies we get here, she has turned into a superb dog.
We haven't been as intensive with training as I would have liked but she is still well behaved when in doors and does nearly all the right things out doors. I have attached two photo's of her taken today. The one with our daughter just shows how good she is with kids.
We have had a few kids parties here in the last few months and with the right amount of supervision (of the kids that is) she has proved to be a very trustworthy source of entertainment for energetic little people. The other one just shows here stature now. She is just starting to shed what winter coat she put on, mainly around her throat and shoulders. Hope all is well with you guys and the rest of your dogs.
Kind Regards, Craig and Sarah Lees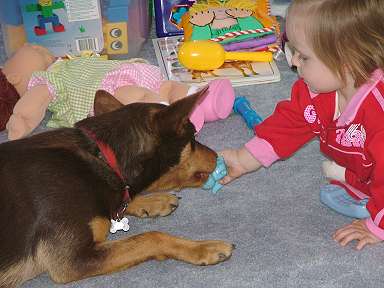 March 2006
"Hi Stephen and Mary,
I hope this Email finds you well. Just a quick update on "Noonbarra Blaze II" that we purchased from you a few years back. She has been a fantastic dog and one of the best purchases we could have made. She gets on extremely well with my now 3 yr old daughter and I think she enjoys having someone around that can play for as long as she wants to play."
---
NOONBARRA ROY X NOONBARRA MEGAN
Born: 2003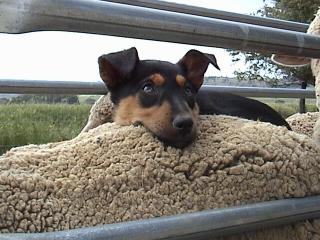 We are delighted with him. He is a very well behaved dog, he loves cuddles and kisses and generally just being in the same room as you but is also happy to sleep outside on his own. We take him where ever we can and all our friends that have meet him have offered to keep him should we ever want to give him away (fat chance!). We decided that you guys probably wouldn't have to worry too much about marketing your dogs as everyone that sees a Noonbarra Kelpie wants one (including our vet).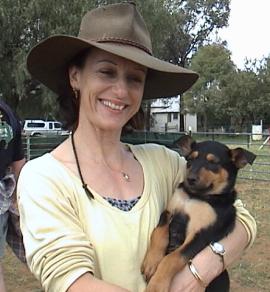 Jim goes for two walks a day at various parks around Lismore. We aim to "bump" into as many other dogs as we can while on our walks as well as people. On weekends we try to get to the beach when the weather permits where Jim plucks up all his courage and tries to pretend like the water doesn't bother him. He's still not too keen on the bath either (which he has about once a week), but he suffers through it without any fuss - just a worried look.

We could not have hoped for a more wonderful dog and would like to thank you both for all the thought and consideration that you put into matching him to us. Watching the video of the day Jim was picked up we suspect that you were probably a bit sad to see him go and rightfully so because he really is something special and we love him dearly.

Warm regards Jasmine and Damian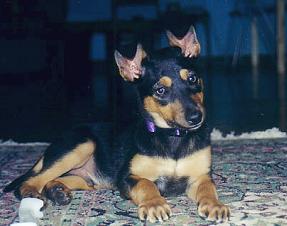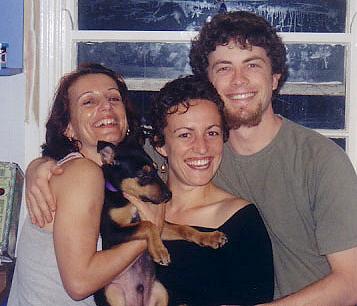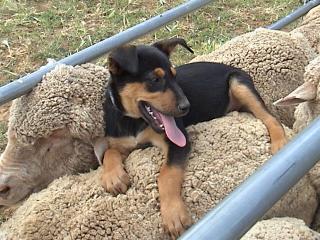 ---
RETURN TO CUSTOMER REPORTS