NOONBARRA WORKING KELPIE STUD
WHAT OUR CUSTOMERS HAVE SAID ABOUT NOONBARRA STUD KELPIES
---
MORE FAMILY COMPANIONS
---
Noonbarra Roy III X Noonbarra Mouse
Born 2nd October 2004
Owned by Leonne Bohn Queensland.
_____________________________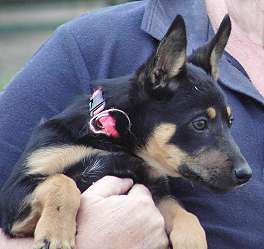 Mary & Stephen,
Hi, how are you? Hope you all had a good Christmas. Just a short note to update you on Emma II.
We have started puppy school and seem to be doing OK. Emma loves interacting with all the other dogs especially ones 2 to 5 times her size.
Emma has taken to the swimming pool like a duck to water, she especially likes it on hot days. We will all be going on holidays to the beach at Easter so Emma will have her first taste of the beach then. I have attached some updated photos taken on the weekend, hope you like them.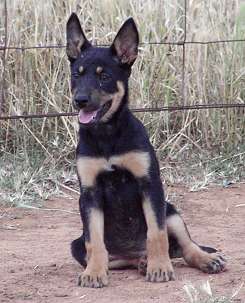 Hi Mary & Stephen, Thankyou for the photos. Emma is settling well. She was introduced to soccer today and was having a ball. Everyone thinks she is georgous. She had her first ant bite on the paw on Thursday but recovered well and started chasing the ants again within a couple of hours.
She loves playing in the Sandpit with Brandon and chasing him around the yard when he is on his scooter. Emma has settled in to the family very well and already knows to go see Grandad if she wants a treat and mum & dad have said no (just like on of the kids). We can't thankyou both enough, we love Emma. Will update you again later.
Regards, Darryl, Leonie & Brandon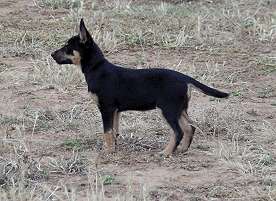 ---
Noonbarra Jackaroo X Noonbarra Sue
Born 20th October 2004
Owned by Claire Altman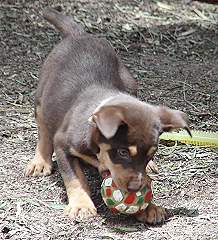 "I wrote to let you know that we named the puppy Dusty. He is a terrific puppy and growing rapid .. We have started taking him out with the horses for short rides. He has a natural affinity with them, very quiet when around them and standing up on his hind quarters wanting to lick their faces.
He is very clever, having learnt to open my wardrobe, where he takes great delight in eating my best shoes, never the cheap ones.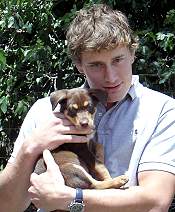 He runs every night with David, he has great speed. His favorite toy is a plastic squeaky bone, drives me crazy. Sorry to have to admit he sleeps every night on David's bed, the crate didn't last too long, but his training is going really well, he has amazing intelligence, he sits, shakes hands, drops, stays and speaks on command, sometimes he gets the commands muddled and then looks at you as if to say I am trying my best, I sought of got it right, didn't I.
Anyway just wanted to let you know everything was great with him and we are really happy.
Claire Altmann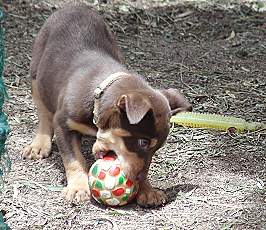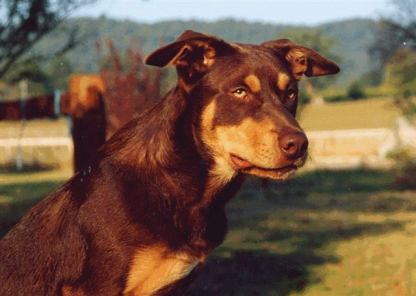 Dec 2005
Hi Mary and Stephen, Well we have had our Dusty for a year now and I thought I'd send you a few photos and let you know how he's going.
Dusty is the sweetest dog, not sure if that is how people normally describe kelpies but it describes him, very loving, extremely gentle - he has never growled, not once, I don't think he knows how. Adores all people, extremely friendly and tries so hard to please. However that doesn't mean he is not naughty, I think he has selective hearing especially when I am telling him what to do. Mostly this happens when he is around our horses, I am sure he thinks he is a horse himself sometimes….. One of the horses was sick recently and was lying in the paddock, Dusty just went out and lay with him, he seemed to know he was hurting and stayed with him. He is a very sensitive dog.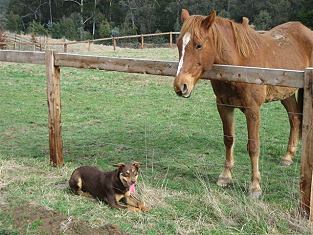 Dusty's other obsession is balls, give him a ball and he is happy, once again he is oblivious to everything else when there is ball being thrown around, he will sit and stare at a ball for hours if no one throws it for him, giving the occasional bark, just letting us know he is waiting for us to play with him. Do all kelpies have this obsessive behavior or is it just mine. Another passion is swimming, he loves to go to the dam and swim, especially when the ducks are swimming and then it is a game of chasy, he loves to chase but doesn't want to catch. He chases birds in the garden all the time, there was one in the house recently and Dusty got it a corner but then just watched it, he never touched it, he couldn't understand why it had stopped playing with him.
I would love to get another Kelpie as a companion for Dusty, I think he would like that, as I am sure he gets lonely during the week when we are at work. At the weekend he plays with my daughter's golden retriever whom he adores.
Although he is naughty he does great tricks, but he gets the commands mixed up sometimes. Anyway I just wanted you to see how Dusty is, he is very much a part of our family and we all adore him.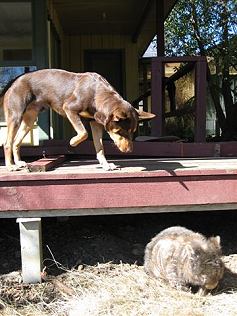 Noonbarra Dusty V with a Wombat !!!
Dusty is well, he has matured into a lovely, gentle, loyal dog. He loves to come out riding with us and will go for hours, no problem keeping up with the horses even at full gallop. His ears still don't stand up, unlike Cassie's whose are enormous.
---
Noonbarra Jackaroo X Noonbarra Meg II
Born 6th November 2006
Owned by Claire Altman
In January 2007, Claire purchased another Noonbarra Kelpie by Noonbarra Jackaroo. This has been one of our best matings in recent years and there is a strong demand for pups from these parents. They produce very friendly, outgoing puppies that are intelligent, loyal and fun! Most from this line have outstanding structure with long bodies and beautiful movement.
"Attached are some photos taken this weekend. We have named the puppy Cassie. "
You were right, she is very friendly, a bit overwhelmed when there are a lot of people around but she soon gets use to them. She is very different to how Dusty was as a puppy, who was much quieter. Dusty use to flop down and fall asleep every so often, she doesn't know the meaning of sleep, not until we go to bed.
Dusty is taking his time getting use to her, he tries to ignore her but she is very persistent and won't leave him alone, they have only now started to play together, chasy is their favourite game. I have left them together today for the first time.
She is very inquisitive, already falling in the fish pond, thought she could walk on water, did the same thing at the dam, just kept walking, a very early lesson on how to swim.
Also attached are some photos of Dusty and his adopted brother Jake at Christmas.
Thanks again for a wonderful puppy, although I think she is going to be the boss of us all
She is eternally happy, I'm surprised she hasn't got back problems as she never stops wagging her tail, and when she wags it her whole back wags as well, I call wiggle, waggle.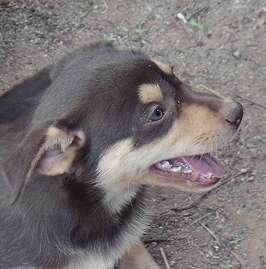 October 2007
Hi Mary and Stephen,
My little girl, Cassie has just turned 1 and I thought I'd look on your web page to see what is happening at Noonbarra and was shocked to hear about your illness Stephen. My thoughts are with you both. I hope you will be back doing what you do so well, breeding your beautiful kelpies soon.
I have attached some photos of my very spoilt dogs, one day at the beach and the next up at the snow, what a life.
Cassie is a little girl, long, very lean body and small head. She is very fast, probably faster than Dusty. She has a huge jump and really stretches out flat and leaps big distances, she just launches herself at obstacles, has absolutely no fear, unlike Dusty who has to think about things first.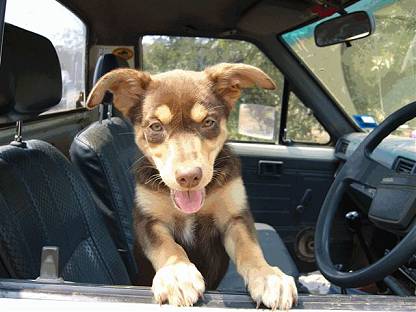 She is very affectionate, adores Dusty, follows his every move, Dusty tries to ignore her and treats her with disdain all to no avail.
Thank you again for my beautiful kelpies. I wish you all both the very best and Stephen I hope you have a speedy recovery.
Kind regards, Claire Altmann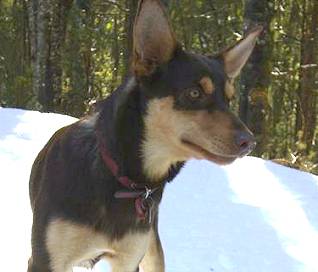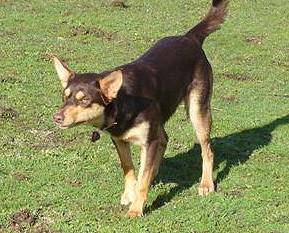 ---
Noonbarra Roy III X Noonbarra Meg II
Born 18th March 2005
Owned by Gavin Brett. Tasmania.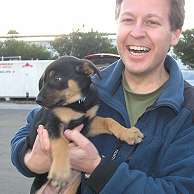 Noonbarra Tiger being picked up at Hobart Airport. Tasmania.
Dear Mary,

We can't thank you again for our gorgeous dog, Tiger. He has given us such incredible joy. He is a wonderful dog. I am taking him to obedience classes, and hopefully next year, we will try sheep herding.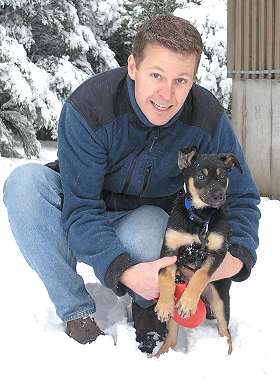 Noonbarra Tiger in the snow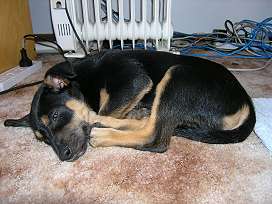 Tiger tucked up warm and cosy in a cold Tasmanian winter.
Nov 2007
"Attached is a picture of Tiger having fun with a sprinkler. He is a fantastic dog."
---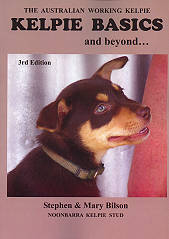 This new 3rd edition is a great book for beginners or experienced Kelpie owners. It is designed for good solid foundation training to ensure you get a well balanced, socialised and obedient Australian Working Kelpie.
$30 plus $5 postage (Australia)