NOONBARRA WORKING KELPIE STUD
WHAT OUR CUSTOMERS HAVE SAID ABOUT NOONBARRA STUD KELPIES
---
MORE FAMILY COMPANIONS
---
Noonbarra Max X Noonbarra Tessa II
Born 20th July 2004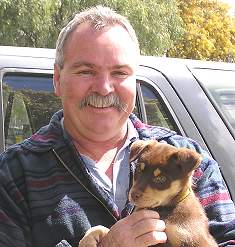 Owned by David & Kerri Robinson at Wallarobba NSW.
_____________________________
David drove down to pick up Noonbarra Nick as a puppy. Nick turned into a lovely family dog and in 2005, the family also purchased Noonbarra Debbie as an adult Kelpie. Both are lovely dogs and the Robinson family have been wonderful, caring owners.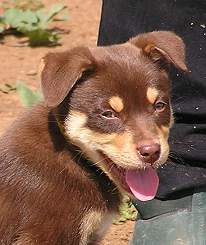 Nick was a happy little pup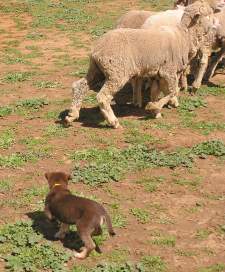 Nick was already showing interest in working sheep.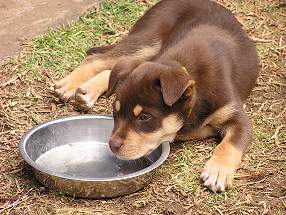 Nick waiting for 'more' food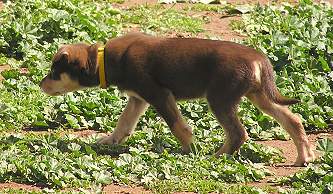 Noonbarra Nick showed nice working style as a puppy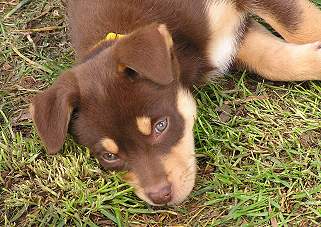 Having a rest.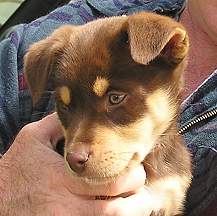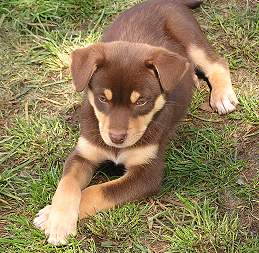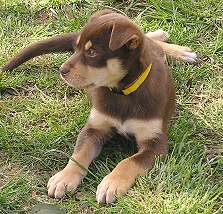 Noonbarra Nick
---
Noonbarra Dan IV X Noonbarra Penny IV
Born 1st May 2004
Owned by David & Kerri Robinson at Wallarobba NSW.
David already owned Noonbarra Nick and then in late 2005 enquired about buying Noonbarra Debbie as an adult. We were concerned about her settling in to a new home but David and Kerri were very patient and gentle with her.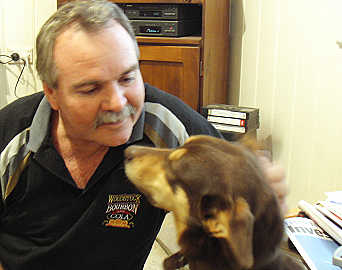 David meets Debbie at Noonbarra and they get along right from the start.
"G`day, Mary and Stephen,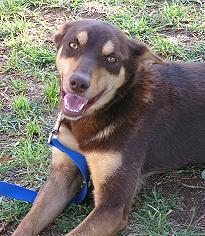 "Sorry its been so long since we have written but time just seems to get away. Anyhow we hope you had a great Xmas and new year. I hope the photos I attached with this email get to you as I am still learning about our new Fuji camera. Debbie has settled in perfectly you would not believe the change in her in the 4 months we have had her. She came on heat in early January and from that time she became completely settled and very comfortable with us. We are not sure if Nick served her or not but that's another story.
The vet told us that he may not be dominant enough and when she growls a bit he seems to back off. Kerri seems to think that she is in pup as she has become very hungry and is getting fatter around the rib cage anyway time will tell.
We cannot thank you enough for Nick and Debbie they are a pleasure to have and hopefully from the photos you can see what a proud young dog Nick has grown into and how happy Debbie is with us. We hope all goes well for you guys in 2006.
David, Kerri, Luke, Mel and Chloe Robinson.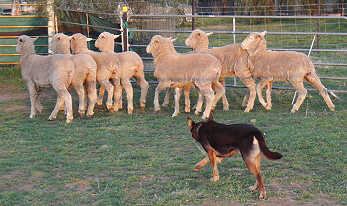 Debbie was a lovely Kelpie on sheep.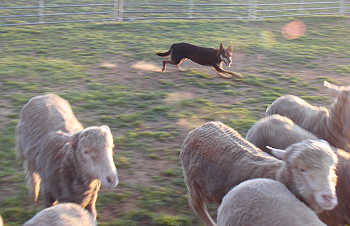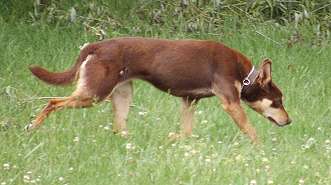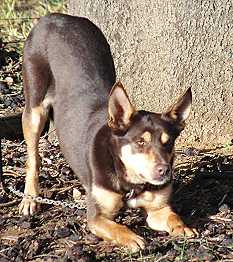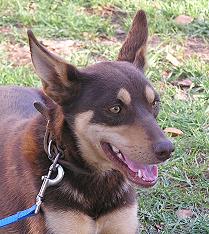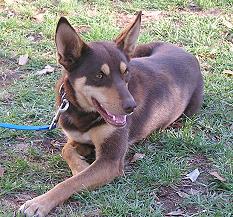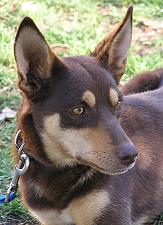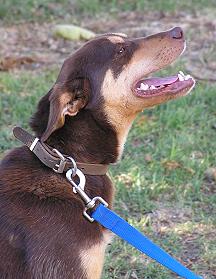 May 2006
Dad is not very good with the new camera, so I have taken some time out of my study to send you some lovely pictures of Debbie. She is a wonderful kelpie. As you would already know.
I often like to lay on the deck chair in the sun but I cannot do this by myself as Debbie likes to sit on the chair with me. When Debbie first arrived she was not very interested in knowing me but it is a different story now. She just won't leave me alone. Thank you for Debbie. She's a lovely dog and is very spoilt. I have also included a photo of Nick, he gets very jealous when I'm taking photos of Debbie and not him. hahaha.
Enjoy, Melanie Robinson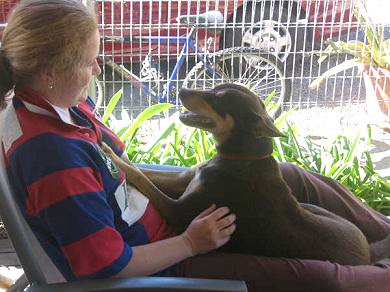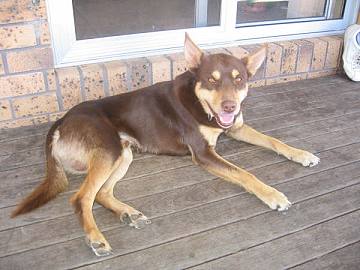 Noonbarra Nick
Noonbarra Debbie and Melanie
Everyday is a loving day with her.
Nick is going strong as usual he still thinks he is the leader and very protective of us. Don't think SIR NICK will ever slow down. He fathered another 9 pups to a reg Koonawarra bitch. They were r/tan &b/tan.
Mary please both of you take care and that we are thinking of you both. All our love Kerri, David, Luke, Mel & Chloe. xxxxxxxxxxxxx.
P.S.
Keep on breeding those wonderful pups as you both do. I want another Debbie in years to come.
---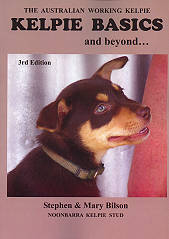 This new 3rd edition is a great book for beginners or experienced Kelpie owners. It is designed for good solid foundation training to ensure you get a well balanced, socialised and obedient Australian Working Kelpie.
$30 plus $5 postage (Australia)