NOONBARRA WORKING KELPIE STUD
WHAT OUR CUSTOMERS HAVE SAID ABOUT NOONBARRA STUD KELPIES
---
MORE FAMILY COMPANIONS
---
Noonbarra Max X Noonbarra Amy
Born 24th January 2006
Owned by Greg McDonald. Victoria.
"He is just the best fun and he is really a big part of the family we both can't thank you enough for him. He is just the best."
____________________________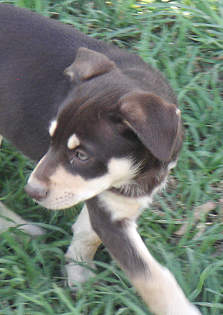 It is always a pleasure to have a customer who really appreciates their dog. Greg waited quite a while for his new puppy and was well prepared when Matti arrived. Soon after Matti arrived Greg sent us a lovely doggy card with the following inscription..
"Thank you for the little bundle of puppy joy that you sent to us. Matti has filled our lives with love, happiness, fun, exercise and laughter and horror (only when he eats the furniture or scares the cat). He is loved by everyone, but especially by us."
"Hi Guys, Mattie's going great, he keeps me busy... People in the parks we go to, say two things about him, "what beautiful markings he has" and " how well he is at off lead walking for 11 weeks" He is the best !!!
Many thanks
Greg
"Hello Noonbarra, Got the new book last week, thanks.
Janet, Matti and myself went to Lakes Entrance for the weekend it rained most of the time, Matti's wasn't to happy, (so much fun to be had but nobody wants to play with me in the rain) but it did give me a chance to do some reading, I've finished Famous Kelpies and I just wanted to let you know that I loved it. It is a credit to you both that a book on so many different dogs was still able to read like a story! It all just flowed together so well and was at times hard to put down but could be picked up again and continued on with ease. It was really interesting just how many of the dogs in the book are in Matti's bloodline."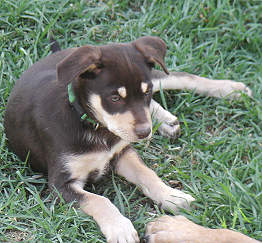 Jan 2007
Hi Mary and Stephen,
Good to talk with you yesterday, I don't think I stressed enough to you on the phone how happy we are with Matti and he keeps getting better each day. He's about to turn 1 year old and at this rate by the time he's 2 or 3 he will be a fantastic dog. Well worth all the time we have put into him.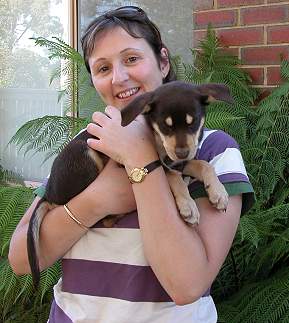 We are consistently amazed with how good he is. We can leave him tied up out side shops and he just sits and waits, we can have a coffee outside Cafes with him tied to the chair leg and he just sits and watches the day go by.
The only thing that fazed him at Lakes over X-mas was the Fireworks on New Years Eve, at the 9.30pm show he just barked and wanted to get back in the car but at midnight he slept right through them, poor pup was buggered he had had two long walks along the beach chasing the ball and must have nosed the big ball back to us at least 100 times easy in the backyard during the day.
As you can see by the photos he is half asleep but he just keeps going. He loves his big ball, you kick it down the backyard and he uses his nose and front legs to bring it back, then you try and kick it where he can't get it like behind a plant and 99% of the time he brings it back. I call it the Urban Sheep and if the Kelpie breed was to put half the effort into sheep that he shows with his ball it is little wonder they have the reputation they have in the bush. He is quite simply obsessed with it!!
I couldn't help but attach 2 small shots of him for you. I'm glad you liked the Santa shot!
We are still very keen to get him back up to let you have a look at him but I don't know when.
Stay well and we will keep an eye on the website as we always do to see what litter is due and when.
Greg, Janet and Matti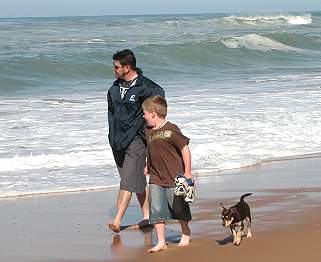 Feb 2007
Thanks a lot!! I sent the photos to Janet and guess what she wants another puppy !!! Not that Matti is not out of the puppy stage yet but he is calming down more and more every day. We might wait til he gets a bit older though but a Black and Tan is on the list. I have already started collecting some discounted x-mas toys for next years x-mas's puppies.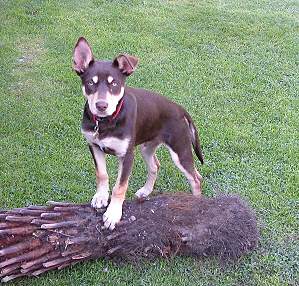 I have attached a PDF file of a caricature we got done of Matti, Janet and I had one done by the same guy at her work x-mas party so we had to get the whole family done. We will send a photocopy of it up to you as I'm sure you need more Kelpie stuff around the house!! He has really got his silly look right.
He is going great and at the moment we are working hard on recall. I find when we run and play with the ball he gets so excited that he won't let us near him to go home. So we are working with a long rope or a retractable lead and treats. using Matti "come" and it seems to be doing the job. He is just the best fun and he is really a big part of the family we both can't thank you enough for him he is just the best.
We have already booked our camping site for Casterton and can't wait to get totally Kelpied out.
Thanks again for the pics of the pups, can't believe how much he looks like both Amy and Chloe.
Greg, Janet and Matti.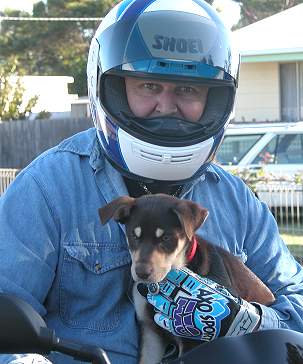 July 2007
Loved the Rockybar Book. Was Basil really that good? Certainly a very smart man when it came to Kelpies, great to see you were able to put all this info together as a historical record of a great kelpie man. It's also good to see
that some of his philosophies continue in your stud today.
Paul MacPhail spotted Matti on one of the days and said he must be full kelpie, when I said where he was from he said he had worked with some Bilson dogs before and found them to be good. He then introduced himself and told
me about his sheep training days. Janet and I talked about it we would like to see Matti on sheep but I'll wait till you are better and bring him up to you. Maybe it's the done thing when training dogs on sheep, maybe that's how
you do it, but a grown man holding up a black plastic rake to a dog and some sheep doesn't evoke all the emotion of the rough, tough Gleeson's Kelpie to this City Slicker?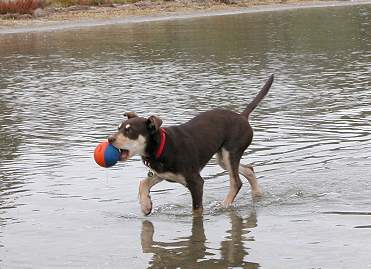 Anyway the Casterton Festival was a great fun day, had to cover Matti's eyes when the Kelpie High Jump was on as our fences are much lower than that ! I have set a goal that next year Matti will enter the hill climb. He is
certainly fast enough but his recall is not the best, so I have 12 months to work on that. I ran into a few Noonbarra dogs over the week end Tammi of course the Train Dog, who we also met at the Million Paws walk in Melbourne but didn't know she was a Noonbarra.
Flynn who is from Max as well and Atilla and Cruze. We met Atilla last year and the owner was talking about
another Noonbarra dog then. Cruze looked like a pretty big dog from what I remember. Maybe I'm just a bit bias but I don't think I saw a Kelpie that had as distinctive markings as Matti and a number of people remarked on this
too. It was interesting to note that last year we met a girl and a dog that was the spitting image of Matti from a small time breeder and they played together well as they were the same age. We met up with them again this
year, he still looked similar to Matti but with a much bigger body and head than Matti but the owner wouldn't let him near Matti as he had a real nasty streak, very aggressive to other dogs and growled and barked at Matti. Janet
now understands better why we put so much effort to chose our breeder so well ! In that situation Matti just walks off, as if to say, if you can't be nice, stuff you !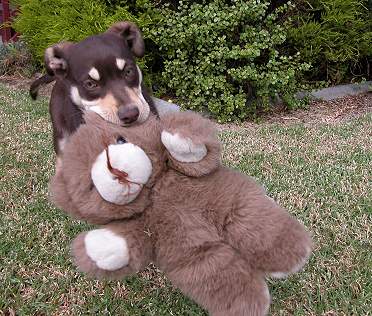 I bet you are wondering why this picture of Dr Evil and Mini Me is at the bottom of the page? I thought Matti would like a Mini Me or a Mini Matti as it would be, so I arranged it. Well if you open the attached picture you
will see what he really thought?

The dog in question is owned by the lady who runs the shop where I get the IAMS and Science Diet Cat food and when I saw the 6 mth old Chihuahua I couldn't believe it, they are almost identical in colour and markings so I
arranged a meeting but I think to say that Matti was a bit freaked out by it all would be an understatement!!
I'll send you a printed copy when I get around to it. Bye for now and I hope the photo brings a smile to both of your faces!!
Greg, Janet and Matti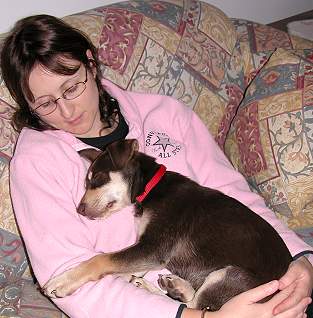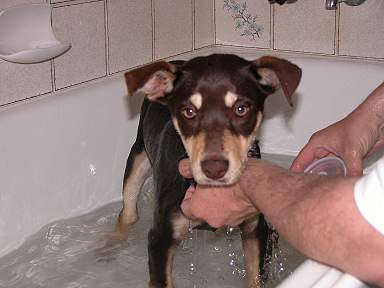 Noonbarra Matti having a bath. He doesn't look too happy. but .....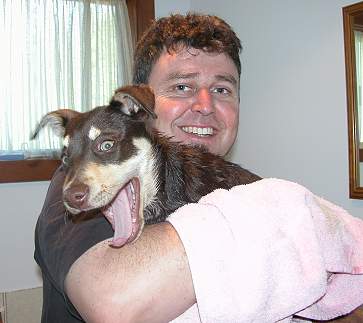 After the bath, Matti was a very happy puppy!
<![if !supportLineBreakNewLine]>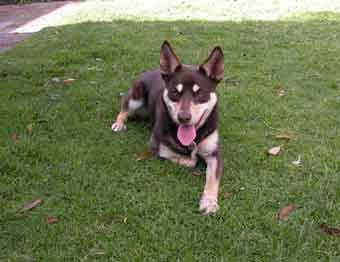 <![endif]>
<![if !supportLineBreakNewLine]> Noonbarra Matti growing up and looking a lot like Noonbarra Chloe and Noonbarra Max<![endif]>
<![if !supportLineBreakNewLine]>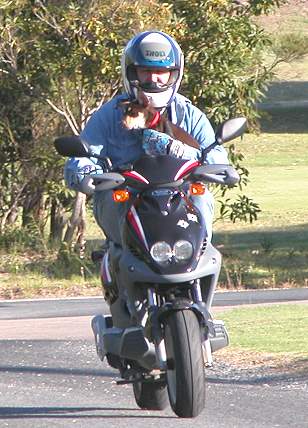 <![endif]>
<![if !supportLineBreakNewLine]> Puppy rides on the bike<![endif]>
<![if !supportLineBreakNewLine]>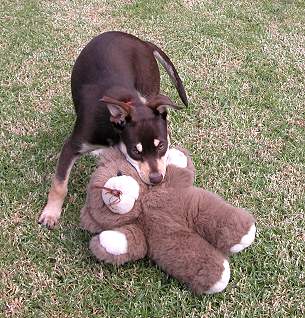 <![endif]>
<![if !supportLineBreakNewLine]>Greg and Janet are great with dog toys but Matti seems to have bitten off more than he can chew here...<![endif]>
<![if !supportLineBreakNewLine]>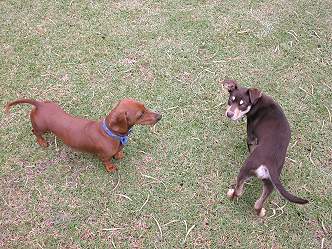 <![endif]>
<![if !supportLineBreakNewLine]>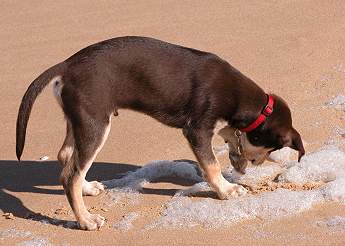 <![endif]>
<![if !supportLineBreakNewLine]>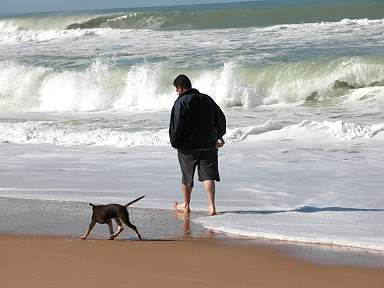 <![endif]>
<![if !supportLineBreakNewLine]>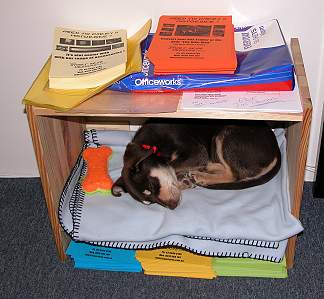 <![endif]>
<![if !supportLineBreakNewLine]>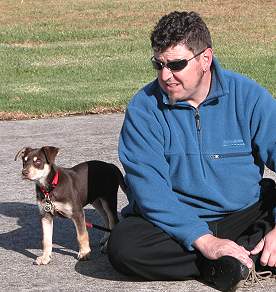 <![endif]>
<![if !supportLineBreakNewLine]>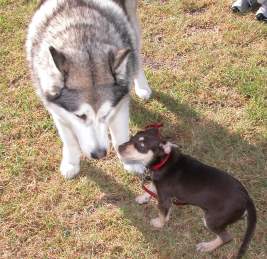 <![endif]>
<![if !supportLineBreakNewLine]>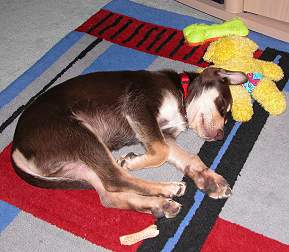 <![endif]>
<![if !supportLineBreakNewLine]>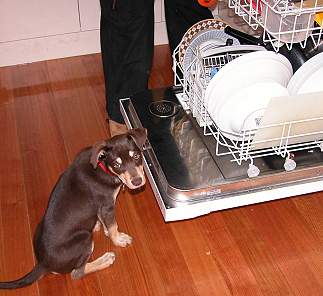 <![endif]>
<![if !supportLineBreakNewLine]>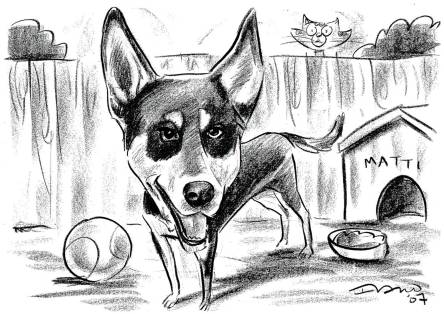 <![endif]>
---
Noonbarra Max X Noonbarra Amy
Born 24th January 2006
Owned by Mark Robson and family. Hamilton NSW.
"Dear Mary, Just a quick message to let you know Roxy is settling very very well. She has grown a fair bit she loves the kids and I think they have worn here out so far."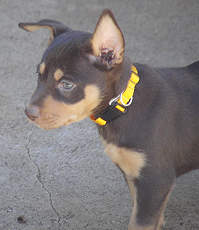 "She had her first visit to the farm last weekend and loved it. Although she didn't go near the cattle she did show a lot of interest from the ute. She came with me when I brought the horses in and
just circled us all the way in clearly showing her inherited characteristics."
"She is learning to sit and come very well already. She has been a very calm and easy to handle pup to date and we couldn't be happier. Best Wishes The Robsons
---
Noonbarra Max X Noonbarra Amy
Born 24th January 2006
Owned by
Chris Dowling. Greenvale. Victoria.
------------------------------------------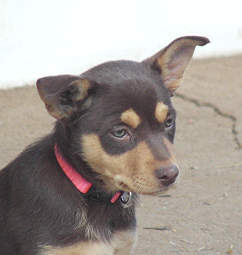 "I picked Amber up from the express depot and met one of her brothers at the same time!

She made the trip safely and is now enjoying a run in the backyard with the children."
--------------------------
"Mary, Amber is settling in very well and becoming more relaxed with the environment each day, she has a lovely personality and is great with the kids.

I have constructed a 3mx3m pen at the side of the house, and spent Sunday working on her being comfortable with me not being there working up from 10 minutes to an hour or so, she quickly understood, and today when I went to work I came home to her quietly sleeping in the kennel in the pen (naturally she was more excited than normal when I let her out to run in the yard with me and the children!).

Also on a side note I have been working on the down-stay training with her at least once a day and its down to a 10-15 min experience before she will settle at the moment, although the first time was more like 30-40 before she stayed there quietly and ended up going to sleep, this may have been partly my fault as I think she was getting a little panicked and confused with me.

She quickly learned about not coming in the door even when its open but then amazed me by learning to sit in about 1 minute yesterday it took 2 attempts with some treats and she now does it every time. I will send some photos of Amber with the children when I get a chance.

regards, Chris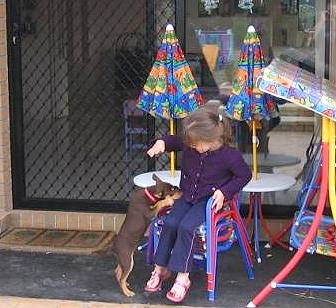 Caitlin playing with Noonbarra Amber II
_______________________________________
"Mary/Steven, just thought I would send a few pics of Amber enjoying the backyard, the temporary kennel I built for her, and her ability to sit for the kids now (without food treats!).

She is settling in well and is wonderful with the girls, also for a pup she was very quick in picking up on the fact we didn't want her jumping at all, The 2 girls and I made a triangle and would call her and if she came when called and then sat she got a treat otherwise she was ignored until she sat...it was really effective, she now walks up and sits and waits for a pat more times than not .

She is starting to get the idea of fetch now...well she will pick up a ball and run away with it...so its a start :) regards,Chris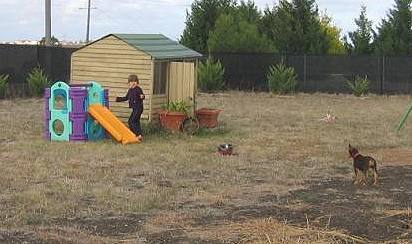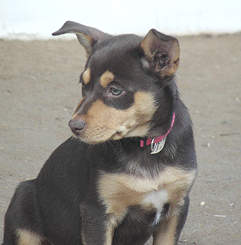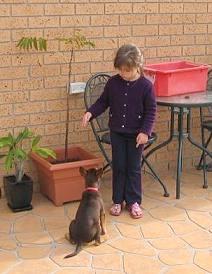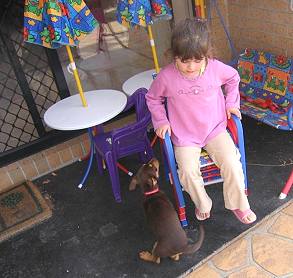 Breanna playing with Noonbarra Amber II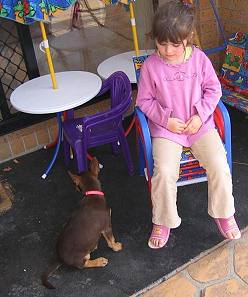 April 2007
Mary/Stephen, I am sure you would like to hear how well Amber has been settling in.

We have just been away on holidays for Easter and I thought I would forward on a current picture Amber, she is growing up now and has started to settle down a lot more around everyone. She is excellent with children (both ours and others) and has been progressing well in obedience, just need to work on her coming with distractions more.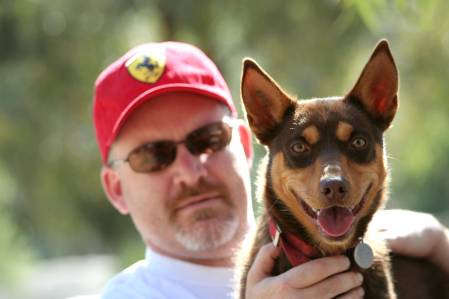 ---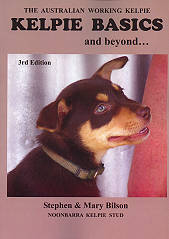 This new 3rd edition is a great book for beginners or experienced Kelpie owners. It is designed for good solid foundation training to ensure you get a well balanced, socialised and obedient Australian Working Kelpie.