NOONBARRA WORKING KELPIE STUD
WHAT OUR CUSTOMERS HAVE SAID ABOUT NOONBARRA STUD KELPIES
---
MORE FAMILY COMPANIONS
---
Noonbarra Roy III X Noonbarra Meg II
Born 26th October 2005
Owned by Janelle Sangster.
_____________________
Noonbarra Jafa was sold to a lovely home in NSW. Janelle's parents are the owners of Noonbarra Jess that they bought in 2002. Jafa is very loved and well cared for.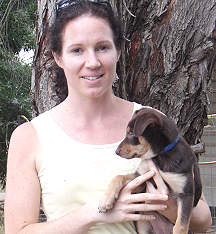 Hi Stephen and Mary

A quick e-mail to let you know Jafa is settling in just fine. Today is her second day at Greg's work she was a big hit yesterday with all the walkers and their dogs. Wore herself out chasing after all the dogs and slept all afternoon.

She has mastered the stairs, doggy door and just about always remembers to go outside to the toilet. We are trying the "down stay" with Jafa but must admit it is much harder than sit, which she got the hang of straight away, but we are persevering.

Thanks for having us on Saturday, making Mum, Dad and I feel so welcome, the tips (for Jess and Jafa) and your time with us was greatly appreciated.

Janelle and Greg.
_____________________
Hi Mary and Stephen

Jafa is just wonderful she has settled in great. She has been to puppy school and started dog training last week.

She just loves going to work with Greg, playing with all the dogs and getting lots of pats off the people that walk around the park in the morning. When she is tired she takes herself back to the shed for a nap. She loves watching the cricketers train and will be the first to go and get the ball if she is asked (not sure who taught her that) but the guys think it's great. They go and find her if she isn't there waiting for them.

She loves the beach and the water. We get lots of comments off people saying how pretty she is and what a lovely dog. Even random people stop us in the street, Jaffa doesn't mind all the attention and thinks of it as another chance to get a pat.

We will send a photo or two next time.

Janelle and Greg.
---
Bonorong Rex X Noonbarra Sarah
Born 7th April 2003
Owned by Chris Cummings.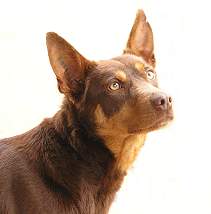 Sue was sold as a young adult to a companion home. She took a few weeks to settle in, which of course is expected with adults going to new homes. Since then, we have had a number of phone calls and she is doing extremely well.
Hi Mary & Stephen,
It's Chris Cummings here, just a quick email to let you know how sue is going. She is fantastic, after the fist 2 weeks of shy behavior, she is really busting out of her shell at 4 weeks, she is great at home.
" I never have any problems she is so relaxed and chilled out, when I take her down to the beach she has a great time, she has been rounding up anything with 4 legs, 2 days ago she had 4 sniffer dogs in one spot they didn't know what to do it was great, she put a big smile on my face and the people down the beach watching. she a wonderful dog and were bonding really well but we still have a little way to go.
regards
Chris Cummings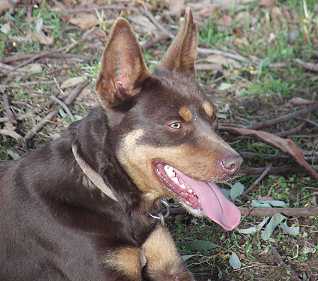 Noonbarra Sue is an outgoing, bold, very friendly dog who is a lovely companion and worker. Like most Noonbarra Kelpies she has a nice faithful nature. Customers who come to the stud often comment on her open friendliness and happy nature as well as her imposing looks and stature.
Her sire Bonorong Rex, is one of the top kelpies in the country and a big winner in both arena 3 sheep trials and yard trials. Rex was bred by Brad Pavey and goes back to many generations of big Trial winners including Capree Zap, Phils Creek Sam, Capree Watch as well as bringing some blood of the famous Noonbarra Butch, who was N.S.W. State and Australian National Open Yard Dog Champion. Her grandsire, Milburn Basil was also an Australian Champion among many other Trial wins. Bonorong Rex recently went into an Open Sheepdog Trials and performed two near perfect runs with 99 points and another 99 points in the final. That is an astounding achievement!
Sue's mum, Noonbarra Sarah, hardly needs any introduction to those who know the Noonbarra Stud. Sarah is one of our best breeders and workers and she is very special due to her style of work which is very steady and smooth with nice distance and eye but very, very, powerful. No sheep ever stands up to her!
Sue is a very clever dog and very agile. Her working ability is very good and she is a nice strong dog and can force when needed. She shows some incredible agile ability in the stockyards.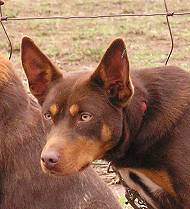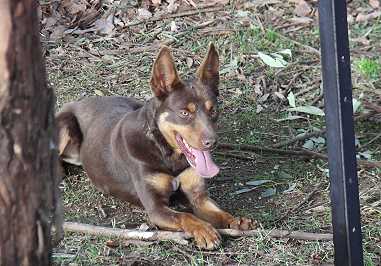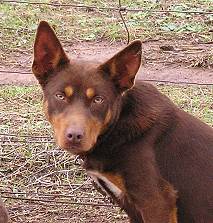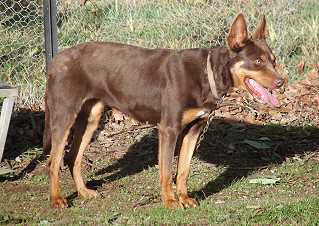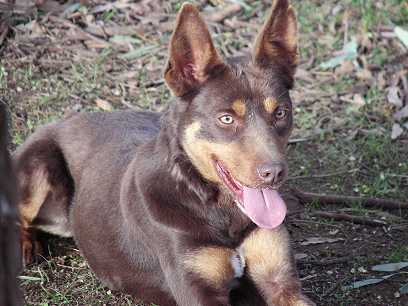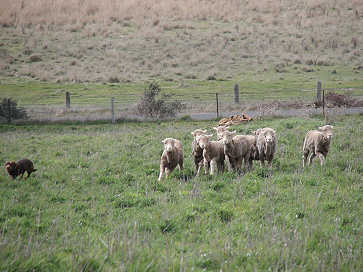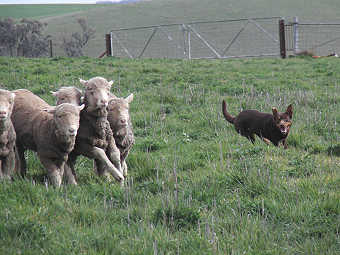 ---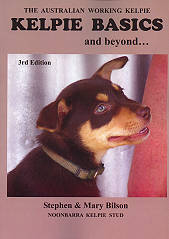 This new 3rd edition is a great book for beginners or experienced Kelpie owners. It is designed for good solid foundation training to ensure you get a well balanced, socialised and obedient Australian Working Kelpie.
Over 100 pages.
---
More information on Kelpie history can be found
in the new 2006 edition of our book