NOONBARRA WORKING KELPIE STUD
WHAT OUR CUSTOMERS HAVE SAID ABOUT NOONBARRA STUD KELPIES
---
MORE FAMILY COMPANIONS
---
Noonbarra Nick X Noonbarra Debbie
Born 19th August 2006
Owned by Rebecca & Robert Babich. NSW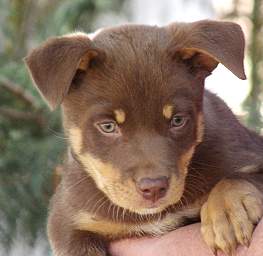 We get some wonderful letters from our customers and strongly encourage them to keep us up-to-date with their dog's progress. Rebecca is a vet nurse. "
"Given that we spend some time in the city, temperament is very important to us, with the ability to socialize with both people and dogs and be a real part of the family."
"A short note to let you know Jack is doing really well. We are very happy with him and hope he is the same with us!! He is such a sensible little dog and comes everywhere with me. All the staff at the clinic are just in love with him and doesn't he know it. "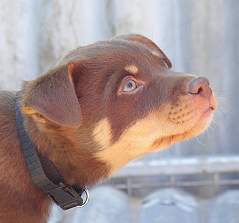 ---
Noonbarra Jackaroo X Noonbarra Meg II
Born 6th November 2006
Owned by Dr. Alison & Trevor Hunt. NSW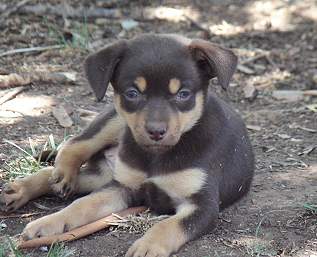 Hi Mary & Stephen,

Katie travelled home really well. No trouble at all especially after I produced a pig's ear for her. She really likes her tucker so I think she may take after the more generously proportioned side of her family!

She slept through the night with the minimum of fuss. So far we are loving the crate. So good to know that she is safe and sound and that when we all need time out we can put her in there with a treat and a toy and she is as happy as can be. She really likes her own space.

"Down" worked great this morning. After she'd had breakfast she went into a frenzy of activity and wound herself right up (as you would expect) but when we figured she needed to calm down we did the "down" and within 10 mins she was fast asleep and looked like butter wouldn't melt in her mouth. Right now she is helping Trev in the shed and they are both having a whale of a time.

Many thanks for putting the time and effort into getting her ready for her new life. She really is great.

Alison & Trev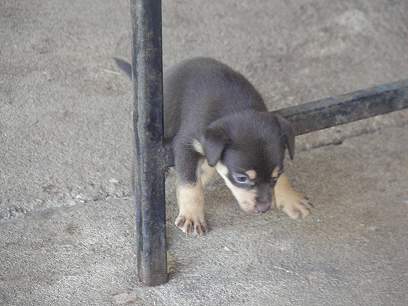 Sorry we missed your call. We were on our way home from our first Puppy School training session which is held at the vets on a Sunday afternoon. It was minus puppies this week but next week Katie will get to go and she will
really enjoy the socialisation. She really loves to get out and about and already interacts really well with dogs, kids and other people.

During her visit to the vet's last week the vet noted that she is a bold and confident little character (yes, us that live with her agree!) and that such confidence is due to the breeding but also the care and socialisation she
received with you before she came home. He could tell as she happily pounced on every dog in the waiting room and then ran up to him with a big smile on her face! He was really impressed at what a healthy little dog she
is and that she'd been given really good quality vaccines and a rigorous worming regime. Apparently none of these things are common and not surprisingly he sees puppies everyday that are malnourished, shy, aggressive
and not vaccinated and wormed. So well done and thank you!

Katie had her first boating day yesterday and was very relaxed about it all. She was very tired when she got back to shore (photo attached). At the moment she is happily rolling around on her mat with a Kong stuffed with
kibble and tiny bits of cheese. Happy days.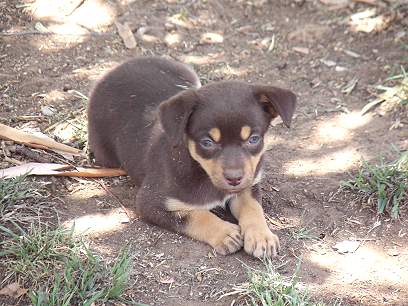 Hi Mary

Katie has more than doubled in size. From a mere 2.4 kg she now weighs 5.5 kg and getting sturdier and bonnier every day. She can now "down", "sit" & "shake hands" on command - at just 13 weeks. How clever is she?? She is incredibly cute and talk about smart! Yeah, we're not biased in any way.
Nonetheless she looks absolutely fabulous. Her coat is beautiful, sleek and shiny and she is a little ball of muscle with a real personality (and VERY headstrong - she has her own opinion on just about everything and she
doesn't mind telling you!).

At the moment she is "passed out" in her crate (door open) upside down and snoring her head off but 1 hour ago she was parading down Newton having people adore her. Yeah, good life!
___________________
---
Noonbarra Mick II X Noonbarra Nicky
Born 6th January 2007
Owned by Mark in NSW
_________________________________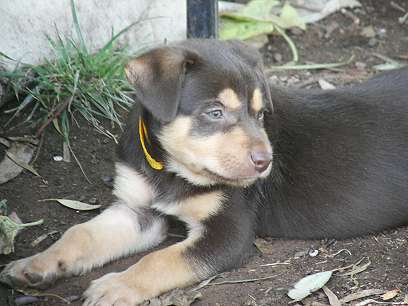 3rd March 2007
I will attach a recent picture of D'Arcy. If this works I will give you a
run down on how he is progressing shortly. Also can you recommend any good training books we could buy?
Hope all is well at Gumble and we miss your farm and hospitality even though we were only there for three hours. You must have made a great first impression on us. Don't forget to call in or stay when you are in Sydney.
Mark Fiona Kristy Alyssa and D'Arcy.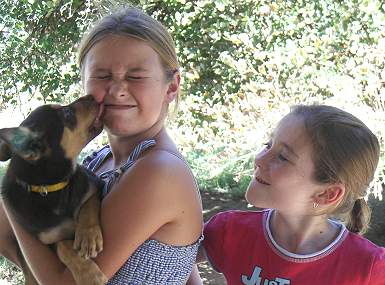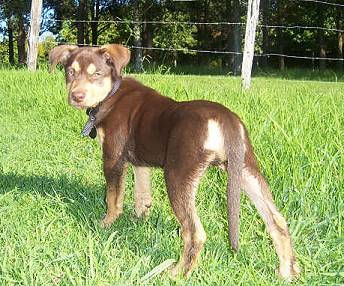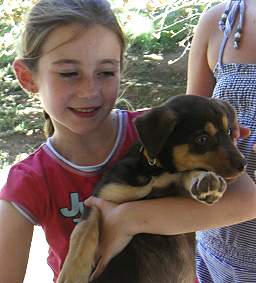 ---
Noonbarra Jackaroo X Noonbarra Meg II
Born 6th November 2006
Owned by Sandie & Buster Beatty in Victoria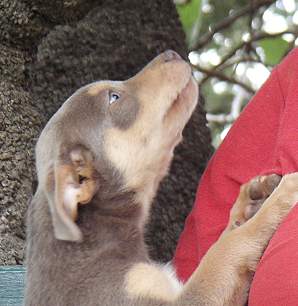 Noonbarra Bronco was another superb puppy by Noonbarra Jackaroo. He is a fawn & tan in colour and we have very strong demand for Noonbarra pups in this colour but only produce a few each year and some years, none at all!
Bronco was a bold, outgoing, friendly type of pup, selected to fit in with the lifestyle of the Beatty family.
Hi there, It's Jess here. I'm sending you some pictures of Bronco!
He has settled in well and he's sleeping through most nights, but some nights he has little tantrums where he likes to scratch his blankets in his crate and make a lot of noises!
He loves his crate and uses it all the time.
He has gotten so big already! I struggle to pick him up now - the cat is lighter than him!
He's a great little dog and he's doing really well. Our other dog Buddy is still getting used to the idea of having a pesky pup around but they are slowly starting to play together.
Anyway I had better go as I am baby-sitting him at the moment!
Hope you are both well.
From Jess.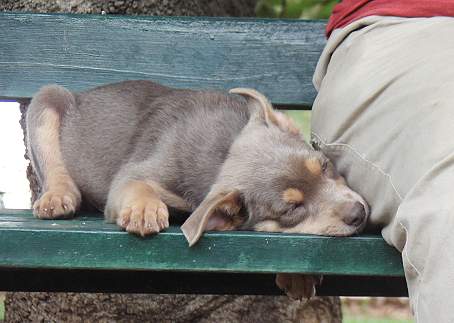 Jan 2007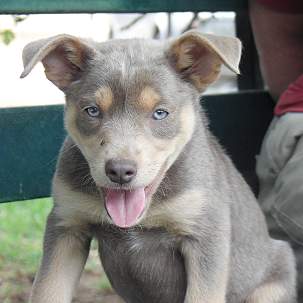 Hi Mary and Stephen, Jes said she sent you some photo's of Bronco a few days ago. We cannot believe how much he is growing. He was just on 5kg a couple of days after we picked him up, he is now 7kg. Has a great appetite. We are giving him exactly the same as you were with a chicken wing every two or three days and he is thriving.
Now sleeping very well at night. We usually only have to get up once for him. Through the day, he usually takes himself outside to wee. He can be very cheeky, like any pup and we now know his cycles. An hour or two of mayhem in the morning then an hour or so at night and the rest of the time...sleep. He walks extremely well on the lead. He walks every night for about 45 mins and sits before we cross a road.
We love him, he has settled right in. I am a little concerned as to how he will go next week when everyone goes back to school/work and it will just be he and Bud through the day. I have been putting his crate outside through the day and he uses it so he should be ok. At least he will have had three weeks with someone home through the day by then. He really does love his crate though. I'm so glad we got one. Don't know where we'd be without it!

Take care,
Sandie, Buster, Jes, Jay, Buddy and Bronco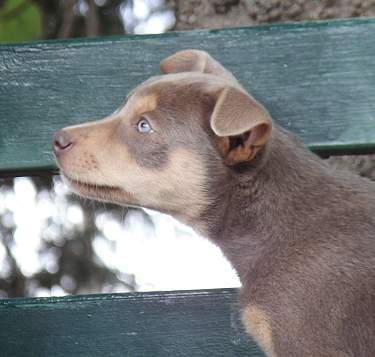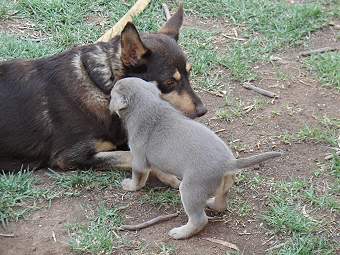 Noonbarra Bronco with his mum - Noonbarra Meg II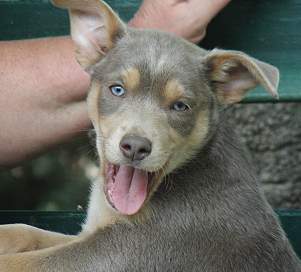 Feb 2007
Hi Mary and Stephen,

Thought you may like an update on how Bronco is doing. We have had him a month now and he has settled right in. He has been out with us a lot. Gone swimming in the river (a little scary even though he could touch the bottom!). Last weekend he went to a Defence open day as Buster had to meet and greet. He walked around with him and got so many pats he fell asleep under a tree after it was all over. Most people commented on his colour but nearly everyone commented on his eye colour as they have remained very pale. He has even been roused from his sleep and driven to a paddock in the middle of nowhere to watch McNaught's comet go over!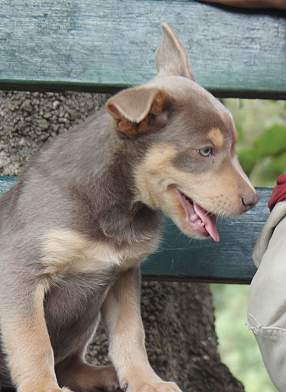 We walk every night after dinner. Bronco has now picked up off Buddy that he is to stop and sit before we cross each road. He walks on the check chain without any problems and ties up in the front yard while we garden without a drama at all.
He had his vaccination and was microchipped earlier in the week. The vet said he was a "good looking" dog. Bronco was very calm while in the surgery. Just sat quietly and took it all in. When other dogs came through the door he didn't go crazy. He now weighs 8kgs.

So, we are very happy with him. He has fitted right in. Sometimes he has his typical puppy maniac moments but we have got the "noonbarra down" down to a tee and he does it instantly now. Any of us can do it and he responds well, usually falls asleep! He loves Jay's skateboard. Gets on it and slides around the pergola. We have to take it off him when we are all at work as he makes too much noise with it!

Keep in touch and thank you for our beautiful kelpie. He is everything we hoped he would be, very intelligent and a little easier to train at this stage than we expected. Hope it stays that way!

Take care,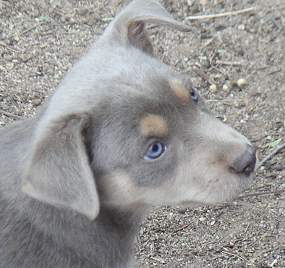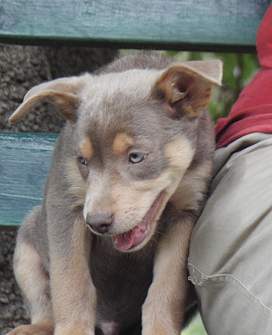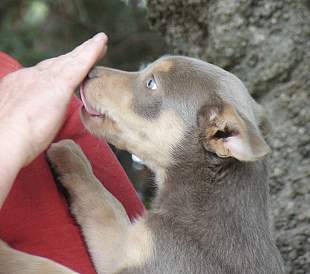 Noonbarra Bronco playing with Mary Bilson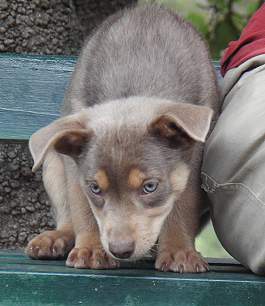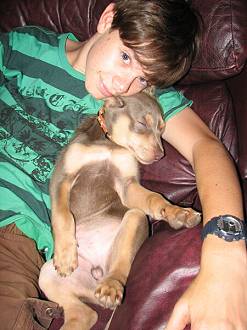 Noonbarra Bronco with his new family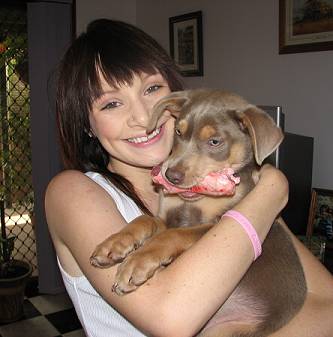 Noonbarra Bronco with his new family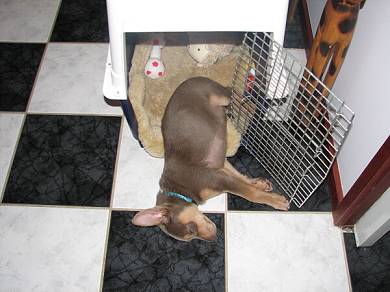 Bronco at his new home with his crate.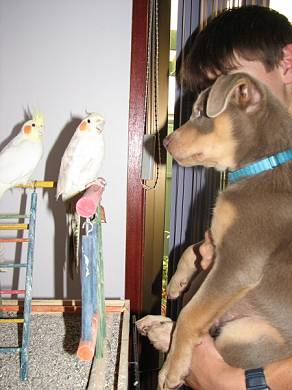 Noonbarra Bronco cautiously meeting other pets.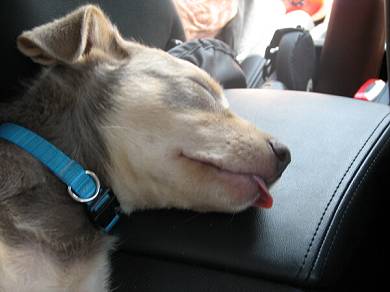 The long trip to his new home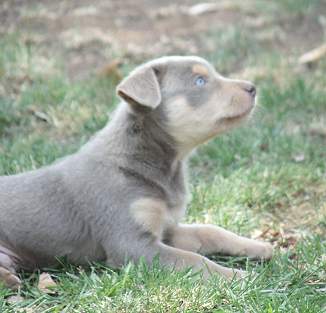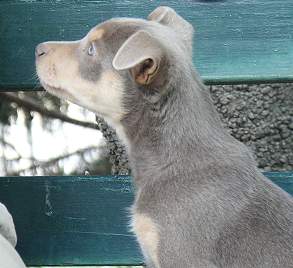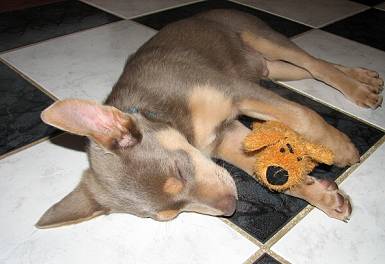 Noonbarra Bronco in his new home.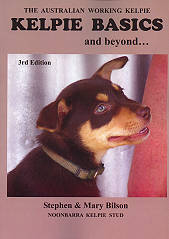 This new 3rd edition is a great book for beginners or experienced Kelpie owners. It is designed for good solid foundation training to ensure you get a well balanced, socialised and obedient Australian Working Kelpie.
Over 100 pages.
---
More information on Kelpie history can be found
in the new 2006 edition of our book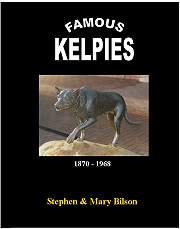 ---
THE ROCKYBAR KELPIES
A GUIDE TO ONE OF THE BEST KNOWN KELPIE STUDS OF THE 20TH CENTURY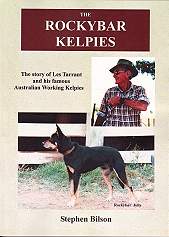 We think this book would be an enjoyable read for anyone with even a passing interest in the Kelpie. It would be a great guide for breeders and trainers with information that is impossible to get anywhere else!
The Rockybar Stud, owned by Les Tarrant, was one of the most famous in Australia for half a century and their influence can be seen in Kelpies all over the world today.
Les Tarrant started with Kelpies in the 1930's. He led a life of droving, mustering and working with horses and livestock. In 1950, he set up the Rockybar Kelpie Stud in the far north-western districts of NSW.
We look at some bush characters and old dog men such as the remarkable priest of Goondiwindi, Father McCormack, Stanley McMaster, Frank Scanlon, Stan Collins, and more. We look at the individual dogs in the old Rockybar lines and the more modern lines (after 1980). We have a huge section on Les Tarrant in his own words explaining how to breed Kelpies and the problems and pitfalls to avoid. There is a good chapter of the book dedicated to how to train Kelpies the Rockybar way. Another chapter is on yard work and yard trials.
There are plenty of photographs and some were very hard to obtain. Many (probably most) would never have been seen by the general public before.
Large A4 format. B/W photos throughout. 166 pages.
CLICK HERE FOR MORE DETAILS & PAYMENT ETC.