NOONBARRA WORKING KELPIE STUD
WHAT OUR CUSTOMERS HAVE SAID ABOUT NOONBARRA STUD KELPIES
---
MORE FAMILY COMPANIONS
---
Noonbarra Max X Noonbarra Kellie
Born 8th November 2006
Owned by Anne Lawler. Figtree NSW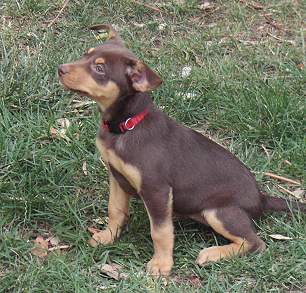 Pretty little Noonbarra Jaffa went as a companion dog to Anne Lawler, south of Sydney.
We get some wonderful letters from our customers and strongly encourage them to keep us up-to-date with their dog's progress.
---
Feb 2007
Hello Mary and Stephen,
I am growing up very fast...must be all the humidity down here in Wollongong.
I travelled home really well in the car...and I have been getting used to my new home.
Anne says that everyone thinks my name is perfect! Mind you...they think I am perfect also...and they can't get over my colour!! At the moment it really is a deep chocolate brown colour...I get lots of compliments.. people are surprised I am a working kelpie and not one of those OTHER ones! (It's because I am so pretty)
Anne has been taking me everywhere!! Walking along highways daily, along busy streets, on ovals, along the beach walking tracks, walking in the rain (no-one told me you get wet), I've talked to lots of people and kids....met heaps of dogs and other puppies. We go to puppy school 2x a week...different vets! My favourite friends are Nelson the black labrador and Millie the beagle. I even went along to see what those clever dogs do at Agility. I watched and met heaps of BIG dogs and little dogs...everyone was very impressed with me...they can't wait till I get to 9 months.. they tell me I will be a natural at all those exciting things.
I went to the off-lead beach today....we had fun.. I love digging in the sand.. but I'm keeping the waves at a distance for a while....I've had my injections/worming...next lot due in March. I got a bit of conjunctivitis...and I hate the ointment Anne puts in...but its working well....pretty much all cleared up now.
I can sit at the door until asked in, I can sit and wait for my dinner, I can sit for rewards or when I am told, I am learning to come when called.......I don't let Anne get too far away from me when we are out and about. I am learning to go from sit to stand...to sit and stay (for a short time.. like seconds!) I've found the perfect hiding places for bones and chews....they have these lovely pots with soft dirt....shame about the plants in them!
I sleep all night in my crate.. and I am teaching the humans how to read my signs for toileting....have made a few mistakes on the carpet chasing the cats...its all that excitement!
I come inside every night...I have my inside toys to play with.. and when I get frantic and race round in circles, Anne makes me lie down.....I usually go to sleep...I am getting much faster at this now.
One thing I have to practise....walking without pulling on the lead. We started with the lead on my collar....and then I got a harness.....I heard whispers about a halti next..
love from Jaffa.
_________________________________________
June 2007
When I booked in Jafffa for her holiday with the Austins, and was telling them where she was up to with training etc.....Vicki Austin immediately said she was too young to be possessive...and that it was probably a little anxiety...and just to laugh and tell her not to be a dill etc....etc.... just as your book says!!! It worked a treat and haven't had a problem since!! I'll have to be more attuned to the periods of anxious behaviour you mention in the book.....must say it is really keeping me on my toes bringing up a kelpie and I just love it!!!! When I dropped her off today, all the girls thought she was gorgeous and made such a fuss....Jaffa was very good and calmed down quickly....I think she is in for a delightful 2 weeks of training and socialisation and fun!!
---
July 2007
Think of you both often...every day in fact as I walk along the beach with Jaffa.. lots of positive thought waves should have reached you out there!!
Jaffa enjoyed her stay with Steve Austin whilst I had the new kitchen put in...just as well she was out of the way...it rained all the time and our backyard was a total mud bath.. he loves working with her.. thinks she is great and doesn't want me to let anyone else input into her training for a while...as it only costs me the petrol to go up, I plan to keep seeing him when he is in the country. He is also setting up an agility course to train dogs...so that will be great.
Hoping to visit with him at least once every 2-3 weeks just to keep us both on track at least for the first 12 months. Jaffa is behaving beautifully...great in the car and the house, loves her toys, loves her walks.. whether it is on the long leash at the beach or when it is a short leash and through the parks...is pretty good on a lead now. Think I just needed to know the age/stage expectations ...and of course she is still a pup.
Please continue to keep us all updated on Stephen's progress, take care of each other....special thoughts .....Anne.
PS Jaffa's colour has changed as she grows....almost a rainbow!!! Lots of white/cream has come through round her neck area and some lighter patches of red in the choc brown along her back...can't wait to see what else appears!!
---
He's perfect and we're so proud of our spoilt little man.
Noonbarra Jackaroo X Noonbarra Becky III
Born 7th October 2006
Owned by David & Kirsty Western Australia
---------------------------------------------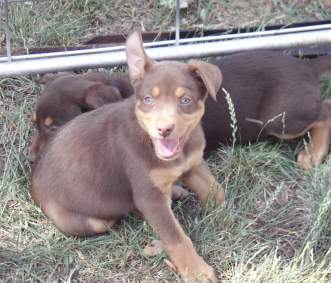 Hi Stephen and Mary,

Just a quick little note to say thank you. We couldn't be happier with the puppy you both sent us,
Jake is an amazing, beautiful dog. So far we've only had him two days, but everyone that has seen him and
come up to him for a pat has said how beautiful he is, especially his colouring and his big greeny brown eyes.
I think it must be the way he looks up at everyone, they all just want to cuddle him and play with him for ages.

The first night we had him we took him to my parents place so they could meet him, he was so well behaved,
he was a little bit put off by the two Maltese at first, mainly due to their annoying little bard, but after 5 minutes
he was walking around trying to get as much attention as he could. Once we left there, we went to Kirsty's
parents, they have two Jack Russels, that don't really bark, he loved them, chasing and playing with them in
the back yard.
I think he would've met about 10 new people that night, not including myself and Kirsty, i was a little worried
that he might feel a little overwhelmed, but he was amazing, it didn't bother him at all, he just tried to get as
much attention as he could.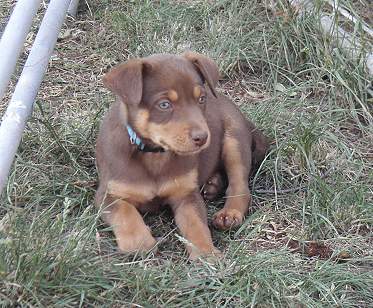 We went down the vet yesterday to get him micro-chipped, wouldn't want to loose him, he was good with
the vet putting the chip in, Kirsty and i cringed at the look of the needle, but all he gave was a tiny yelp and
then went back to eating his treats. The vet said nothing but good things about him, he is in excellent health,
and one of the nicest looking dogs he's seen, he also owns a Kelpie. He also said he's going to be a big
strong alpha male, that was just from looking at his nuts, which he says are large and well developed for
a puppy. Don't worry, they definitely wont be coming off.

As for having him around the house, i couldn't fault him, he basically does what he's told, and he's learning
to come when we call his name. Toilet training is turning out to be easy, he's had 2 little accidents in the house,
but otherwise everything good, he goes up to the back sliding door when he wants to go outside, does
what he has to and comes back inside to get his little treat. He even scratched on the door last night because
we didn't see him there and took a bit long to get up and open it. I've never seen a 9 week old puppy do
that before, he got lots of praise and cuddles for that one.

I think i've gone on enough now, we just wanted you both to know how happy we are with him and to thank
you very much, he is perfect. I don't think Kirsty will be able to restrain herself when it comes to spoiling him.
We'll keep you informed on how things go with him and send you some pictures of him.

Thank you again,
David.

Jan. 2007
Firstly I'd like to congratulate you on such a beautiful, smart and completely adorable Puppy, I am so happy that I had to write you an email to say thank you
And let you know how he's doing.
We've taken Jake to puppy pre school and he graduated last week, he absolutely loved it and by the end of the day after showing the whole class their tricks, Jake and a Labrador performed the best, Jake loves other people and other dogs to bits, he's such a friendly little thing.
Toilet training went really well considering what some other puppies can be like, Jake rarely pees in the house and even after we got him he learnt really fast to Go out side and wee wee as I put it!
We generally put him on the bed to sleep and sometimes in his crate and he doesn't mind at all, one night he was on the bed and I woke up and he wasn't there, he actually had fallen or jumped off the bed and went straight in his crate. When we leave to go out places he sleeps in his crate or digs a nice cool hole in the dirt to sleep in.
He has lots of toys his favorite one is a stuffed sheep that Baa's it's so cute, I didn't think he would fetch a ball because at the start he would catch it then run off and chew on it. After playing with him a bit, he actually brings it back to a few feet away and lets us take it from near his feet. I couldn't believe it. He stands there and waits for us to throw it for him. He doesn't bring us the ball and drop it at our feet, but we can't expect him to do everything.
He's going very well with his training, he will sit, stay, come, drop and eat on command, His command word is cat to eat. We'll work on stop, stand and up soon but we don't want to rush him. He only sits and drops when he wants to though and David and I don't really know why he doesn't listen to us sometimes, but he is a puppy after all.
We loved taking him for walks and to the beach, he runs so fast he keeps up with us and more. He can't start Obedience for another 6 weeks now because he has to wait for his last needle. We'll book him in for some on the lead training and 4 weeks after that he can start doing agility, he deserves the best and we want to give him everything he needs. He brings so much love and joy to David and I with the little things he does.
He's never naughty, he loves stealing our clothes it's so cute, he's very sneaky he'll trot out with it and when he sees the back door he'll bolt with it in his mouth, he even carried a coffee mug outside once too.
He's also quite good in the car and doesn't really get distressed, he'll whine but he generally sits in the passenger seat or on the floor and goes to sleep he likes the air-conditioning on the floor of the car And sticks his nose up right where the aircon comes out.
Jakes not a highly energetic dog, he is when he wants to be, like at the beach and has a running fit in the backyard every now and then but he's generally calm and just wants to play or round me up So you did really well at picking us a calm puppy, he's always on the go but he's not drastic about it or psycho.
Thank you so much for Jake
Kind regards, Kirsty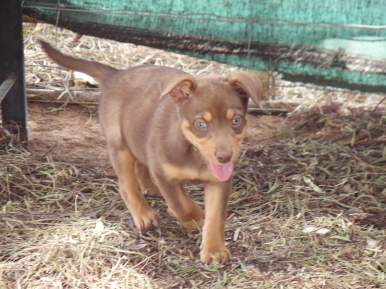 Jan 2007
Just thought i'd let you know that Jakes training is going very well. i was very impressed with his walking last night, he hardly pulled on the lead and every time we stopped at a road and asked him to sit, he would do it every time. if i say leave to him he won't touch or go near anything i tell him not to.
He will only eat on command If we tell him to sit and stay he won't move either even if we walk out of the room, he comes, drops, stops, stands on command, Heals with food but will learn that at obedience anyway. comes in when we tell him, he knows what stay and wait mean and will only leave the house when we tell him he can go out. To be honest i can't fault Jake for all that he learnt all of my family and friends are really impressed and fascinated with all he can do at such a young age. Other puppies his age wouldn't be able to do all that because i see them at the park and beach all the time.
Jake just doesn't listen when he's really excited about something or when he's distracted, i was just wondering if it was a puppy thing is all....
Thanks very much for your help and I'll endeaver to keep on reading the kelpie basics book if anything else bothers me.
---
April 2007
Hi Mary and Stephen, Just thought we'd let you know how our Jake is going, he's turned into such a wonderful dog, he's very handsome, he's over 15 kilos now and vet said he'll keep getting bigger, he can't fit into his crate anymore or he doesn't like to as he can't turn around in it. he sleeps on his bed in the house and he's great he doesn't chew or pee in the house and goes straight to sleep, or rather takes himself off to sleep.
We've had no major problems with him he's finished his first obedience class (after puppy pre school) Stephen was right, all the dogs there were older and Labradors too and Jake still did better than them, even though he was the 2nd most psycho dog there after a whippet, surprisingly he had a lot of self control more so than the Labradors.
He learns very quickly and he's easy to train we just have to get the Distraction thing sorted, he's easily distracted and therefore won't listen....
We got a Kitten on Easter Sat and Jake loves him, he peed in the house when the kitten first got here as a territorial thing but he's stopped now, he's quite gentle with him but stalks the Kitten non stop, he'll follow him everywhere all day if he could,
Take care
Kirsty and Dave.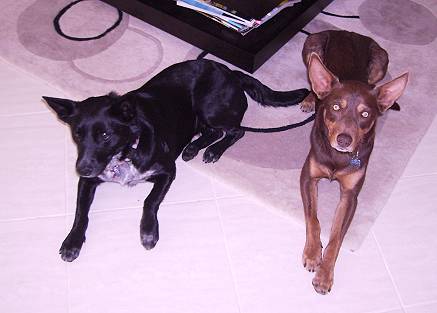 Noonbarra Jake III with his new friend
___________________________________________________________
November 2007
Hi Mary and Stephen, We saw that you have put Jake up on your customer comments page and thought we'd give you an update on Jake and include some pics.
Well what can I say about Jake, Jake is an absolute joy to David and my lives. he's active, playful, charming, handsome and so intelligent. We love him more than anything in this world and life would never ever be the same without him.
He's turned into a very handsome young adult. he learns very quickly and has such a big personality. He's obsessed with anything that moves and a typical happy day for Jake would be chasing a ball or frisbee at the beach and going for a swim!
He's a loving, energetic and playful boy and loves to play tug and go for car rides. he's just brilliant and absolutely perfect there's not one thing bad i can say about him. he communicates well with us and gives us good eye contact, he's very attentive and loves hearing what we have to say. He knows sentences such as "do you wanna......" "shall we....." "would you like to.....". I have not seen or been around a dog that's as smart as Jake. When people come over we show them what jake can do and they stare in awe at how well behaved he is.
He's perfect and we're so proud of our spoilt little man.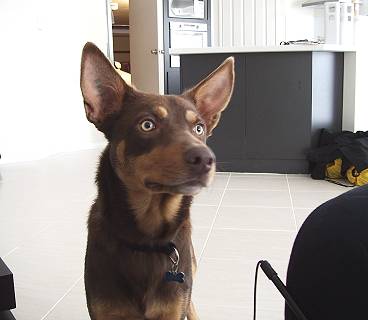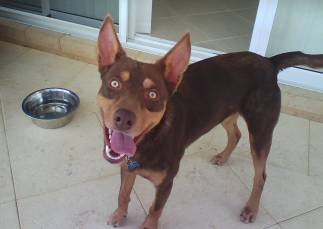 Noonbarra Jake III after a huge run !
---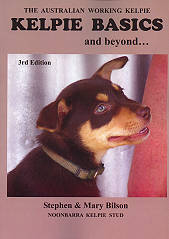 This new 3rd edition is a great book for beginners or experienced Kelpie owners. It is designed for good solid foundation training to ensure you get a well balanced, socialised and obedient Australian Working Kelpie.
Over 100 pages.
---
More information on Kelpie history can be found
in the new 2006 edition of our book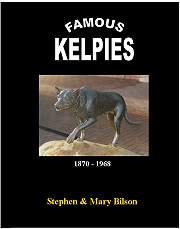 ---
THE ROCKYBAR KELPIES
A GUIDE TO ONE OF THE BEST KNOWN KELPIE STUDS OF THE 20TH CENTURY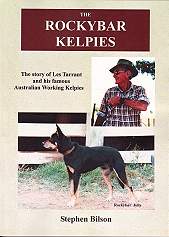 We think this book would be an enjoyable read for anyone with even a passing interest in the Kelpie. It would be a great guide for breeders and trainers with information that is impossible to get anywhere else!
The Rockybar Stud, owned by Les Tarrant, was one of the most famous in Australia for half a century and their influence can be seen in Kelpies all over the world today.
Les Tarrant started with Kelpies in the 1930's. He led a life of droving, mustering and working with horses and livestock. In 1950, he set up the Rockybar Kelpie Stud in the far north-western districts of NSW.
We look at some bush characters and old dog men such as the remarkable priest of Goondiwindi, Father McCormack, Stanley McMaster, Frank Scanlon, Stan Collins, and more. We look at the individual dogs in the old Rockybar lines and the more modern lines (after 1980). We have a huge section on Les Tarrant in his own words explaining how to breed Kelpies and the problems and pitfalls to avoid. There is a good chapter of the book dedicated to how to train Kelpies the Rockybar way. Another chapter is on yard work and yard trials.
There are plenty of photographs and some were very hard to obtain. Many (probably most) would never have been seen by the general public before.
Large A4 format. B/W photos throughout. 166 pages.
CLICK HERE FOR MORE DETAILS & PAYMENT ETC.