NOONBARRA WORKING KELPIE STUD
WHAT OUR CUSTOMERS HAVE SAID ABOUT NOONBARRA STUD KELPIES
---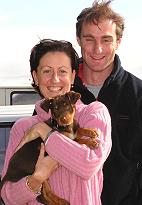 NOONBARRA BODIE
BONORONG REX X NOONBARRA SARAH
Bodie was a lovely, gentle little pup sold to Marcus and Richelle of Sydney.
"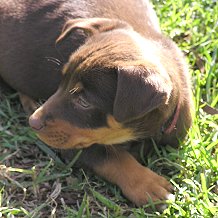 Just writing a quick note to let you know that Bodie has settled in well and is a happy dog.
The tips that you gave in the folder are working well and Bodie is picking up the 'down' and 'stay' commands pretty well at this stage.
Thanks for all your help and advice with Bodie, it is greatly appreciated by Richelle and I.
Will keep you informed on his progress.
---
NOONBARRA MAX X NOONBARRA CHLOE
Red & Tan Male Born 28th Nov 2003
Owned by David and Carol Stacey. Victoria.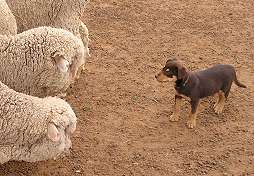 Noonbarra Cody already working sheep as a tiny puppy
Hi Stephen & Mary, Just a few lines to tell you that Cody (Noonbarra Max, Noonbarra Chloe) is
going beaut. We took him to the Vet for his injection & checkup on Friday & the Vet was very pleased with
him & thought he looked great. He is a lovely bright little chap & we love him.
I hope that all is going well with you & the farm.
Bye for now, Carol, Victoria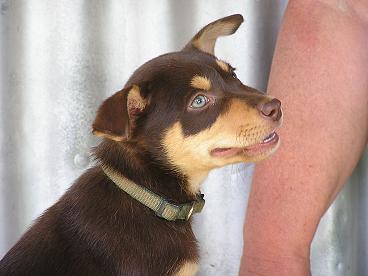 Noonbarra Cody
July 2004
Cody is all we expected he would be. At 8 months he is a bright, affectionate little dog. He is well proportioned. Training is ongoing. Puppy enthusiasm can take over but he learns quickly.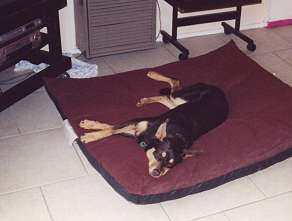 Noonbarra Cody asleep at his new home
Christmas 2004
"You would be pleased and proud of Cody. He is a top dog." - Carol and David Stacey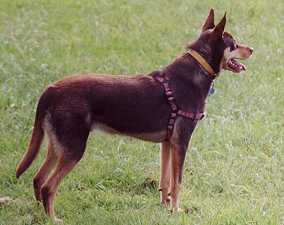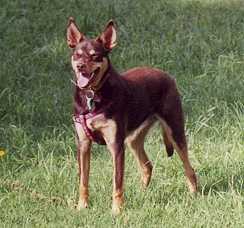 ---
NOONBARRA MAX X NOONBARRA ANGEL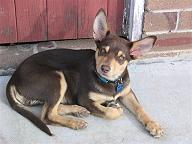 I'm sorry I haven't written to you sooner, its been well over a month since we picked Bailey up and the time has just flown by. I hope your both well. I wanted to let you know how Bailey is going. I can sum him up in one word......Perfect, well almost perfect anyway. Of course he has had a few puppy moments and we are still working on building his confidence (I'll explain later) but on the whole he is just wonderful. He has settled in to the household exceptionally well. The drive home was a breeze and once he met the family he just became a part of it.
Its also great fun to watch his natural herding instinct when we are playing. If I'm running around in the backyard or at a park with him he'll creep up on me and then race around in front and stop and if I then change direction he is off and trying to stop me again. Its loads of fun for both of us.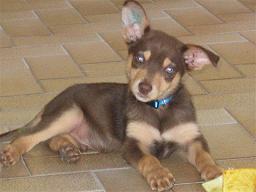 He is a handsome little boy, he is going to grow into such a good looking dog and I already get great comments on how lovely he is. House training went quite well and we now only have the very occasional accident, mostly cause I'm not paying attention or notice the warning signs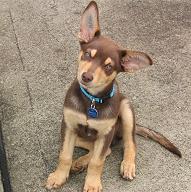 I'd love to thank you both so much for your hospitality when we where out there. I know that I took a lot from all the information and tips that you gave us and the puppy folder had some great information and advice in it. Mum and Dad liked Orange so much they went back there for a couple of days over the Easter Weekend. Thank you both so much, he is a wonderful pup, which you can take all the credit for, and I'm looking forward to him growing up into a lovely fun loving, energetic and well mannered friend
---
NOONBARRA ROY III X NOONBARRA MEGAN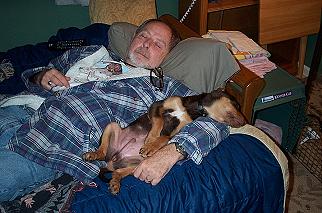 Hello Mary & Stephen - We're calling him 'Copper' because his coloring is so rich. We're all having a lot of fun & he's doing very well at home and at puppy class, where the instructor has already started telling him that he is too smart for his own good because he anticipates commands after being shown them just a few times.
He is very social with other dogs & people, and he really likes children which we are especially pleased with. We're finding him very easy to get along with & quite amenable to all 'the rules' around here, although he had a bad day Thursday - very wound up and demanding (of course we didn't buy into this and you could just see him trying to figure out how to get us to do what he wanted) to the point that Wiccan, who adores him, finally lost her patience, gave him a pretty serious correction and then snubbed him for the rest of the afternoon - by evening he decided to change tactics and put some energy into mending fences all around. It was interesting to watch him working it out.
I'm sure we'll have a few more of those days along the way, right now he's very adolescent - gangly, teething, self-absorbed & inquisitve. Thankfully, he's also very loving and good-natured, so all is well and we just adore him. Thanks so much for making such a good match for us! I've attached a few pictures, and by the way thanks for the training tip, we're using it with very good results already. Ed & Lee
---------------------------------------------------
Good morning from the USA. Thought we'd let you know that puppy kindergarten starts next week, and we have already been working on sit, down, etc. Wiccan and Rocky have become the best of friends and we are very thankful for all the exercise she gives him!
The cats have been amazingly patient but last night he was a little too full of himself and got a lesson in showing some respect. Interestingly, Wiccan will also intervene by putting herself in the middle if he over-pesters the cats which is very effective too.
Housetraining is on schedule & he is learning to head for the outside door - we're learning to be alert for distractions along the way to it. We had his vet check yesterday with no problems and started him on heartworm preventative. Rocky already has more toys than Ed (which is saying a lot!) and loves to play. He also loves to climb and has no reservations about walking on any type of footing so we have hopes that he will be a natural agility dog. We love him already and will stay in touch. Ed & Lee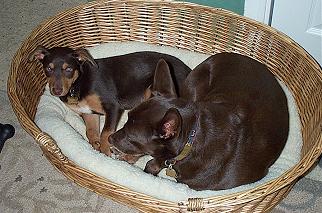 NOONBARRA COPPER II AND HIS FRIEND WICCAN
---------------------------
Hello Mary & Stephen- lately Copper has started to look more like a dog than a puppy, and unless he takes another growth spurt I think he will be about 21 inches at the shoulder - just the right size! Training is going very well - he's returning to heel from the come front position, rolls over on command and I think we'll start on the formal heel quite soon as he is now very reliable about not pulling on lead. He loves his walks, is always ready to make a new friend or say hi to an old one and he loves to go anywhere in the car.
Obedience classes start again in 2 weeks and that will be fun for all of us, plus it will give us a chance to take a look at what the local club offers for agility training. I'm very certain he will enjoy it and I want him to have a good start with instructors who know what they are doing.
-----------------------
Hello from Placerville - it's very cold here! Copper is doing just great & we are having to add little things to his obedience lessons in order to keep challenging him. He really likes to work and is very motivated by both praise & food, though recently he's been a little more independent when at a distance and pretends he just didn't hear what we said. We're working through this and having a lot of laughs at his expense, which he doesn't seem to mind.
He's very much a 5 month old puppy right now - gangly, ear set completely unpredictable & teething like mad. I've always thought Kelpies had very large adult teeth but his molars are enormous and his poor gums are very swollen - the tops are all the way through so we're almost there.
He's really excellent about being handled & inspected & is very trusting and compliant. This really paid off a couple of weeks ago when he managed to get hold of a mushroom on a walk. Some of the mushrooms that grow under our native oaks are highly toxic so Ed took him down to our vet where they promptly emptied his tummy - he was very, very good about it. On a lighter note, he is afraid of nothing and his latest 'thing' is that he wants to be blow-dried too when I'm doing my hair. (He barks to let me know when it's his turn!) He's quite the personality and we love him very much. Hope things are well with you and we'll be in touch again soon. - Ed & Lee
--------------------
Thanks for the quick reply. It was interesting to hear that a lot of your dogs want to catch with their paws. And actually, Copper is retrieving very, very well. He brings back anything we throw for him, it's just that it usually takes 2 steps because if he doesn't catch it with his paws he has to chase it down. I think we'll give him some time and see if he figures it out on his own. He's good at that, as I'm sure you can imagine.
His latest 'Kelpieness' is to do with his toybox, which is a decent sized rubber tub. He methodically takes all the toys out and then plays with the tub - he boxes with it, tosses it, pushes it around with his nose, 'talks' to it and will carry it all around the house. Right now he prefers it to any of his actual dog toys, much to the puzzlement of Wiccan who can't see the attraction at all.
Copper is finally going to agility class and absolutely loves it. He's easy to train, not afraid of anything and very, very fast. In fact, he's so fast that he frequently has to wait for Edward to catch up - I wish you could see it, because what he does while he's waiting is run in small circles until Edward gets there, sort of like an airplane in a holding pattern! Once he gets the next command, he's off again. I feel a little guilty about not working him on stock because he's clearly talented, but that's just not possible right now.
Copper is a delight to live with, so sweet natured and willing. There's never been a hint of aggression towards people or other dogs - he lets our 2 year old niece grab him by the muzzle to give him kisses and he even enjoys playing with my parents' bossy pugs. We love him dearly and couldn't be happier with your choice for us. We'll send some agility pictures next time - until then, we hope you are both well and that things are good there.
Best regards from the California Jacksons
---
BONORONG REX X NOONBARRA SARAH
Owned by the Waldron family of Bathurst.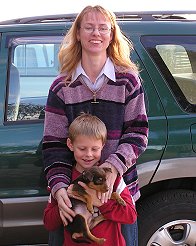 Just a quick note to let you know how Max 2 is getting on, he is settling in quite well in his new environment although he can be a little bit naughty at times (only puppy play I suppose). He is used to his crate now and spends the night in it without any trouble, but he is still a bit nervous travelling in the vehicle in the crate. He much prefers being in the back or
on the back seat.

Toilet training is going along well with only the odd accident now. Sharon has been teaching him some basic commands at the moment and he is responding well to sit, drop, stay etc. We have taken him to puppy pre-school where he loves the play with the other puppies.

He has been out to Sharon's parents property a few times now and enjoys running around the paddocks chasing cows and whatever else he can find. He also gets his afternoon walks in the paddocks behind our place.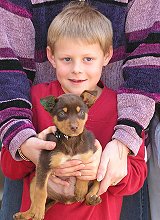 A very Young Michael with Noonbarra Max II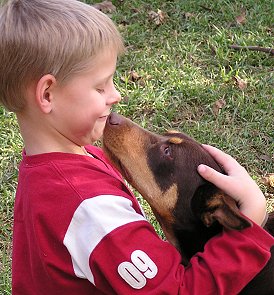 Michael is very good with all the dogs and here he makes a good friend in Noonbarra Cassie
---
RETURN TO CUSTOMER REPORTS