NOONBARRA WORKING KELPIE STUD
WHAT OUR CUSTOMERS HAVE SAID ABOUT NOONBARRA STUD KELPIES
---
MORE FAMILY COMPANIONS
---
Noonbarra Jackaroo X Noonbarra Becky
Born 7th October 2006
Owned by Lyn Richards. Victoria
---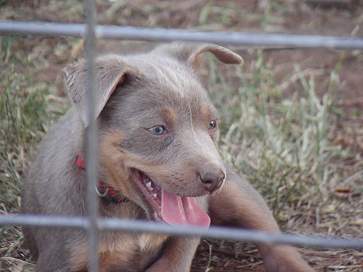 December 2006
Dear Mary and Stephen,
I thought youíd like to know I slept like an angel in my crate (when I wasnít cuddling my new family) all the way down to Melbourne (though we didnít like the smell of smoke from the eastern fires). Iíve slept right through both nights since. Iíve sorted out this new home and itís all pretty good. Lots of good smells and noisy bright birds and looong hikes across the grass between the houses. Learning fast about orchard life Ė it turns out you donít bite drip irrigation lines, and the white nets over apple trees and berries are actually not for rolling in as you chase the little windfall apples.
Iím great at steps Ė upís easy, down tends to be a bit of a somersault - outside and inside too (funny, there were no rugs downstairs, but nice soft one upstairs till I showed them I could get up.) But as you can see there are some relaxing times too when the workís done. Weíre off to the vet this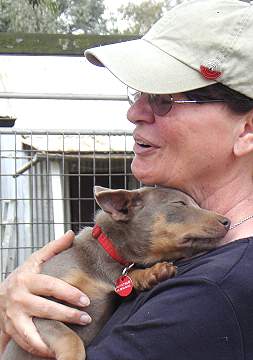 morning and first puppy preschool class next week and Marshall and Big Dog Molly are coming to help me work the orchard. Iíve got two names now Ďcos Lynís 99 year old Dad, who grew up on a sheep farm in West Australia, says every dog my colour is called Bluey. Iíll send you some more photos when I work out how to download them myself.
Love to everyone up there, and tell Jackaroo Iím living up to the family reputation for being a smart, useful cuddlebug. Iím sending a family portrait with him and my brother on the sheepsí backs for him.
Tosca.
-------------------------------------------------------------------
July 2007
Dear Stephen and Mary,
Youíre in our thoughts all the time as Tosca grows with us. We do hope the treatment is being successful, and were amazed and delighted to see that youíre renewing the breeding program. We hope Jackarooís genes bring you another fawn lovely.
Meanwhile, hereís some more of ours, for your pleasure Ė Tosca with my now 7 month old granddaughter Emma. Of course we donít leave them unsupervised, but the gentleness is just wonderful. The baby is reaching here for Toscaís paws, and the little dog just watches lovingly. Anyone who believes kelpies canít be family dogs is welcome to these photos!
Warmest wishes from us all here,
Lyn and Tom and Tosca and all her friends.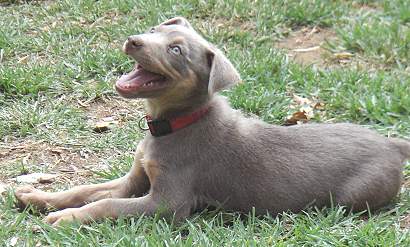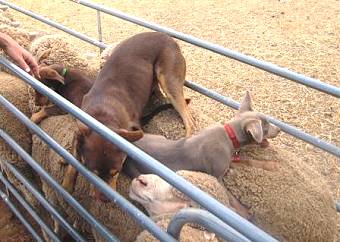 Noonbarra Tosca and her Dad, Noonbarra Jackaroo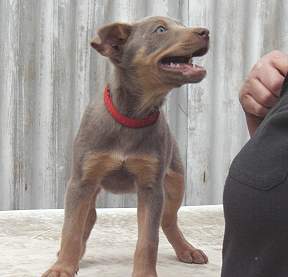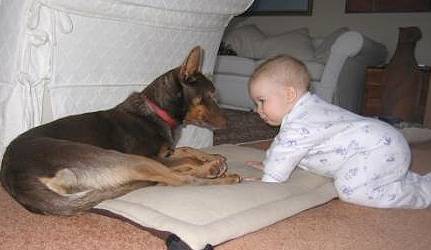 Great Friends!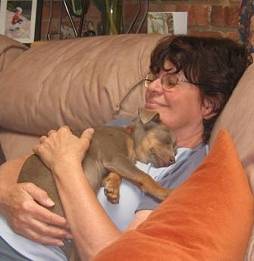 Tosca loves a cuddle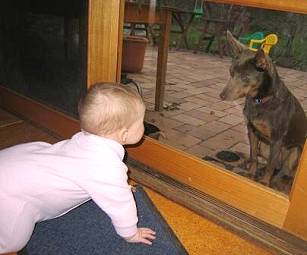 Puppy Love!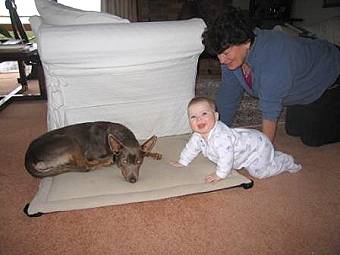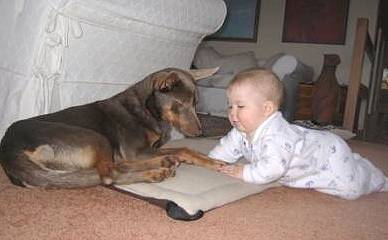 ---
Noonbarra Max X Noonbarra Jessie II
Born 11th November 2006
Owned by Mike & Mary Lenarduzzi Victoria
Mary and Stephen
You were right she is a real sweetie!. After much debate amongst the family we have settled on the name Tammy. We are amazed at how well Tammy has settled in, she had no trouble adjusting to her home. Her appetite is good and she is eating well. I will send some photos for you to enjoy.
Thanks very much for all your help. We will keep in contact and let you know how Tammy progresses
Kind regards,
Mike and Mary Lenarduzzi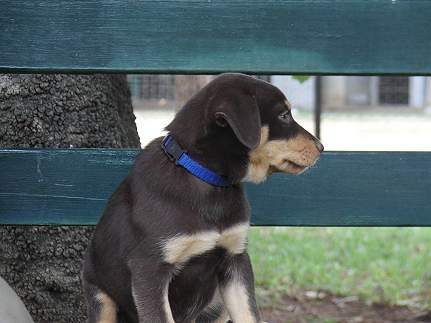 Noonbarra Tammy II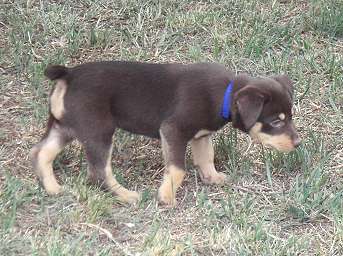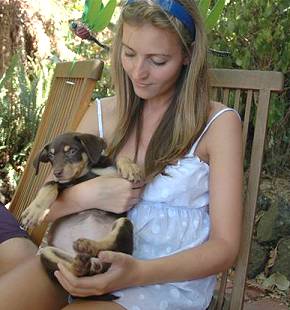 Tammy with her new family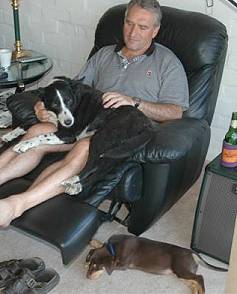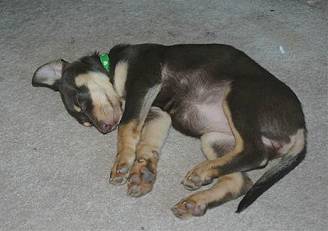 ---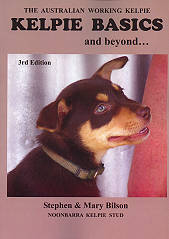 This new 3rd edition is a great book for beginners or experienced Kelpie owners. It is designed for good solid foundation training to ensure you get a well balanced, socialised and obedient Australian Working Kelpie.
Over 100 pages.
---
More information on Kelpie history can be found
in the new 2006 edition of our book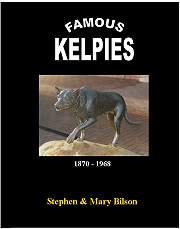 ---
THE ROCKYBAR KELPIES
A GUIDE TO ONE OF THE BEST KNOWN KELPIE STUDS OF THE 20TH CENTURY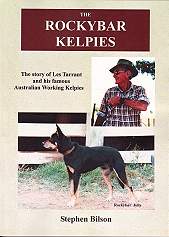 We think this book would be an enjoyable read for anyone with even a passing interest in the Kelpie. It would be a great guide for breeders and trainers with information that is impossible to get anywhere else!
The Rockybar Stud, owned by Les Tarrant, was one of the most famous in Australia for half a century and their influence can be seen in Kelpies all over the world today.
Les Tarrant started with Kelpies in the 1930's. He led a life of droving, mustering and working with horses and livestock. In 1950, he set up the Rockybar Kelpie Stud in the far north-western districts of NSW.
We look at some bush characters and old dog men such as the remarkable priest of Goondiwindi, Father McCormack, Stanley McMaster, Frank Scanlon, Stan Collins, and more. We look at the individual dogs in the old Rockybar lines and the more modern lines (after 1980). We have a huge section on Les Tarrant in his own words explaining how to breed Kelpies and the problems and pitfalls to avoid. There is a good chapter of the book dedicated to how to train Kelpies the Rockybar way. Another chapter is on yard work and yard trials.
There are plenty of photographs and some were very hard to obtain. Many (probably most) would never have been seen by the general public before.
Large A4 format. B/W photos throughout. 166 pages.
CLICK HERE FOR MORE DETAILS & PAYMENT ETC.