NOONBARRA WORKING KELPIE STUD
WHAT OUR CUSTOMERS HAVE SAID ABOUT NOONBARRA STUD KELPIES
---
MORE FAMILY COMPANIONS
---
Noonbarra Jackaroo X Noonbarra Meg II
Born 2nd September 2007
Owned by Kate Alstergren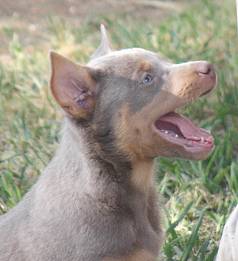 Cricket is a beautiful Fawn & Tan Male. This breeding has be done a number of times and is one of our most popular matings. Two exceptional parents that produce very friendly, good looking puppies that have fantastic structure and loving temperaments with a high level of intelligence and biddability.
Cricket as a puppy, was very gentle and responsive with a wonderful faithfulness. Just the right amount of dependence and boldness. We thought he was perfect for the Alstergren family and their lifestyle. Within one day of him going to his new home we had people who saw him phoning us asking if they too could buy a fawn & Tan Noonbarra Kelpie. We are sure he will turn heads wherever he goes.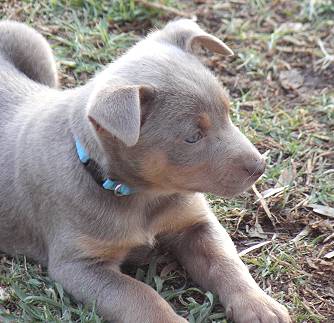 "Cricket in his new bed with Ted and Finn. He is so relaxed, we just adore him. People everywhere we went today admired him. Thankyou so much. Much love will Kate Rup Ted and Finn."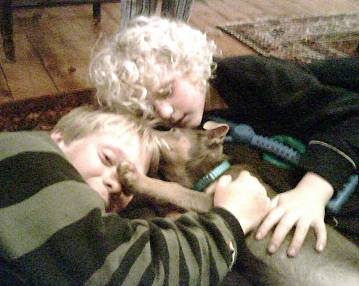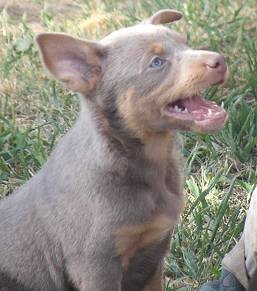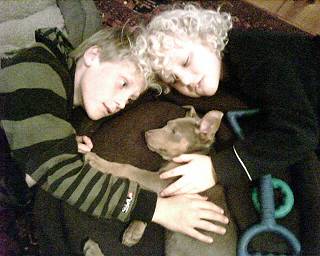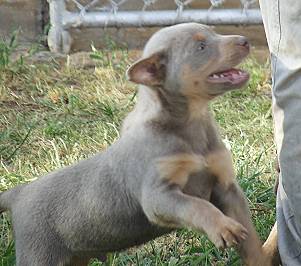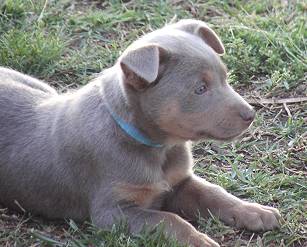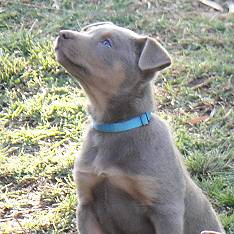 Noonbarra Cricket

---
Noonbarra Jackaroo X Noonbarra Kellie
Born 11th August 2007
Owned by Penny Wilkinson and family. Victoria
_________________________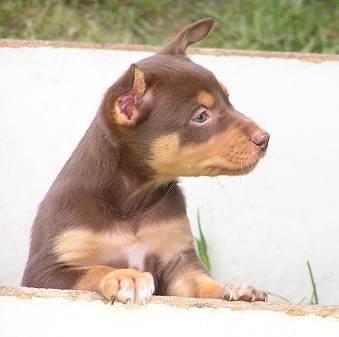 Noonbarra Sassy was a very pretty puppy and by two of our best breeders. Jackaroo's pups are in a growing demand all the time and he is proving one of the best sires we have had in years bringing a long line of great Noonbarra Kelpies behind him. Kellie has had two litters and both have been exceptional. The breeding really shows out in the end.
Hi Mary

Hope you are well and that Stephen's treatment is going ok. I just wanted to get in touch with you to give you an update on Sassy!
She is going really well and has settled into life with Jeremy and I very well. We take her everywhere we go in order to socialise her and ensure that she gets exposed to all sorts of different situations. She is such a beautiful dog and an absolute joy to have. She always attracts so much interest from people in the street who stop to comment on how cute she is.

We think the name Sassy is very apt, because she certainly has a lot of confidence with other dogs and people. She is so clever too! We've been working very hard to train her properly, doing everything you guys recommend in the book. She has mastered the "Noonbarra down", although it can still take a little bit of time to get her down, but we persevere and make sure that we always get our way no matter what! She also knows to sit, stay, drop and to go to her basket! It's funny to watch her reactions to our body language, and we can certainly tell when she is
trying to test us! We've also started to take her on gentle walks and she is learning to heel - which is going along well too.

I've attached some photos of her to see how she is growing! Once again, thank you so much for giving us our little Sass! We just love her to bits!

Cheers, Penny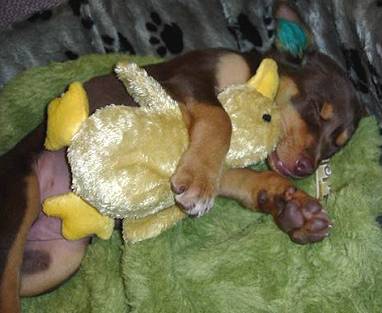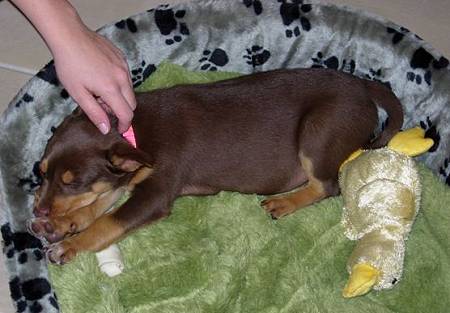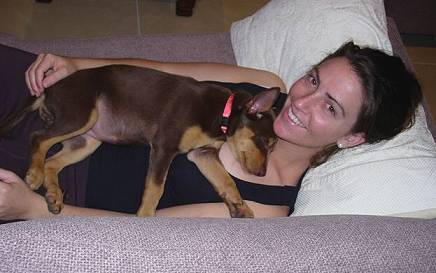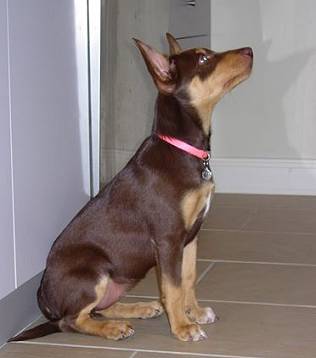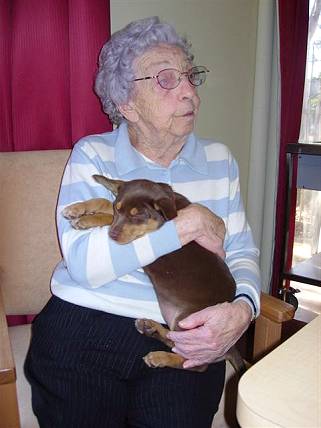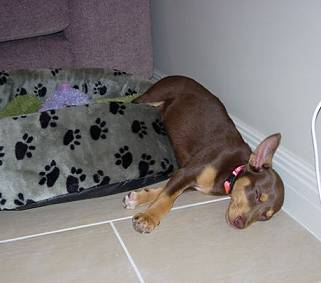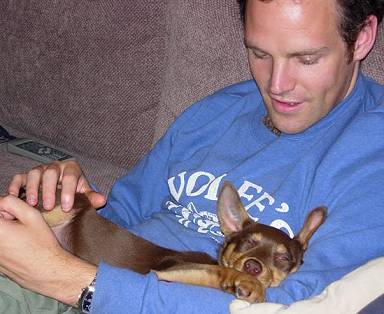 ---
Noonbarra Jackaroo X Noonbarra Meg II
Born 2nd September 2007
Owned by Matt Kent
____________________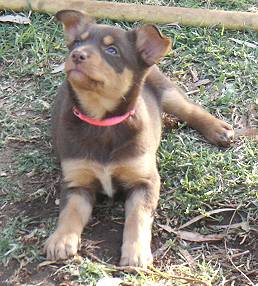 Poor Matt waited some time for his pup. We had picked him one from a previous litter but when we assessed her, we felt she was a bit too excitable for what Matt needed. So unfortunately just when he thought he was going to get his puppy we had to put him off to another litter.
We think Tasha is perfect and well worth the wait.
Hi Mary and Stephen,
"Tasha is settling in well and her and chloe are almost friends now.
I did the first down-stay last night, took almost half an hour but she eventually lay down for 5miniutes and then fell asleep. I thought she would never stop getting up but I persisted as you said.
Thanks for all you help, especially the crate training - its magnificent! I will keep you informed as she progresses
Matt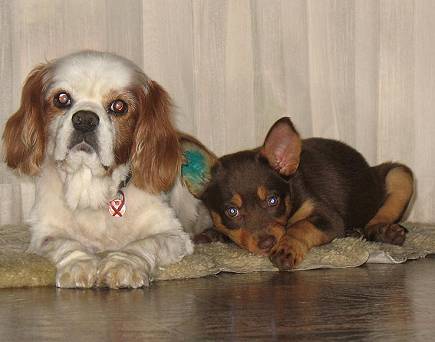 Noonbarra Tasha in her new home with her friend - Chloe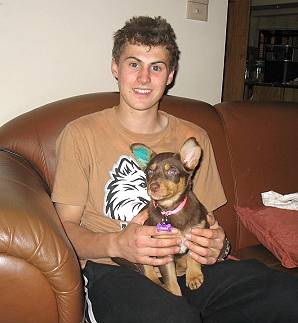 Matt with his new pup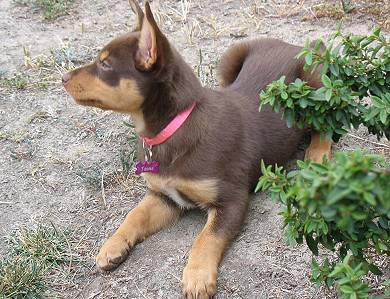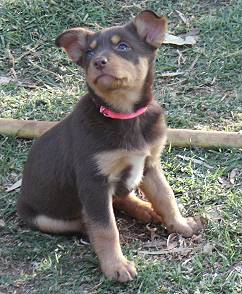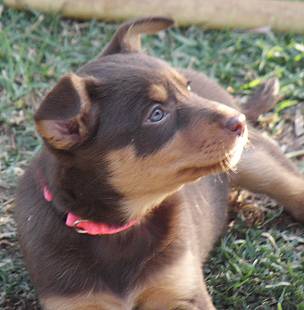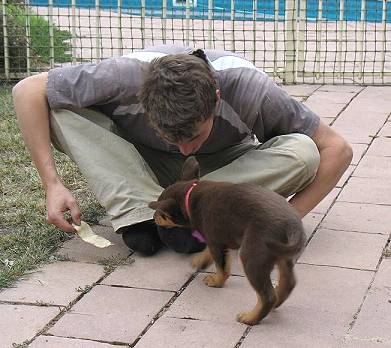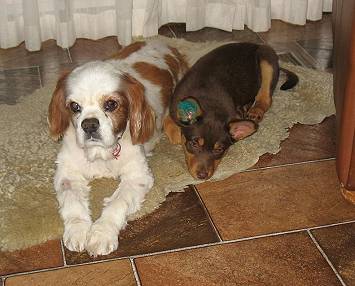 ---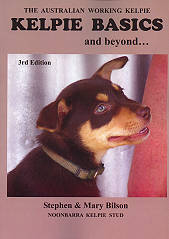 This new 3rd edition is a great book for beginners or experienced Kelpie owners. It is designed for good solid foundation training to ensure you get a well balanced, socialised and obedient Australian Working Kelpie.
Over 100 pages.
---
More information on Kelpie history can be found
in the new 2006 edition of our book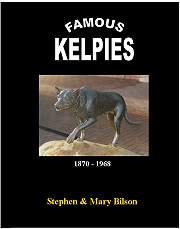 ---
THE ROCKYBAR KELPIES
A GUIDE TO ONE OF THE BEST KNOWN KELPIE STUDS OF THE 20TH CENTURY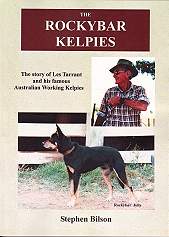 We think this book would be an enjoyable read for anyone with even a passing interest in the Kelpie. It would be a great guide for breeders and trainers with information that is impossible to get anywhere else!
The Rockybar Stud, owned by Les Tarrant, was one of the most famous in Australia for half a century and their influence can be seen in Kelpies all over the world today.
Les Tarrant started with Kelpies in the 1930's. He led a life of droving, mustering and working with horses and livestock. In 1950, he set up the Rockybar Kelpie Stud in the far north-western districts of NSW.
We look at some bush characters and old dog men such as the remarkable priest of Goondiwindi, Father McCormack, Stanley McMaster, Frank Scanlon, Stan Collins, and more. We look at the individual dogs in the old Rockybar lines and the more modern lines (after 1980). We have a huge section on Les Tarrant in his own words explaining how to breed Kelpies and the problems and pitfalls to avoid. There is a good chapter of the book dedicated to how to train Kelpies the Rockybar way. Another chapter is on yard work and yard trials.
There are plenty of photographs and some were very hard to obtain. Many (probably most) would never have been seen by the general public before.
Large A4 format. B/W photos throughout. 166 pages.
CLICK HERE FOR MORE DETAILS & PAYMENT ETC.