NOONBARRA WORKING KELPIE STUD
WHAT OUR CUSTOMERS HAVE SAID ABOUT NOONBARRA STUD KELPIES
---
MORE FAMILY COMPANIONS
---
Noonbarra Max X Noonbarra Amy
Born 12th January 2007
Owned by the Day family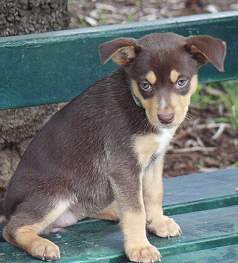 This is one of our most successful and popular matings which we have repeated a few times now. Daysie is the same breeding as Noonbarra Chloe in our Stud. Noonbarra Daysie was a very pretty little puppy with a smudge on her nose so we called her 'Smudge'
Daysie is doing great .Lots of socialising, walks, beach even a trip to look at agility. But by far her favourite thing is playing with Chester. They both `dressed up` for Easter thought you'd get a laugh!!!
Love The Days
Hi Mary and Stephen
Hope you are both doing well. We are always looking on your site to keep updated.
Daysie is doing so well. She is the most beautiful girl and you'll be pleased to know she still has her smudge!
Daysie and Chester and us were at the beach on Sunday morning and stopped to talk to some people with 2 kelpies one black and one chocolate and yes they were Noonbarra. Jess and Jaffa. I looked them up to see their profile. Is it possible to do one for Daysie? Let me know when you have time what I need to do.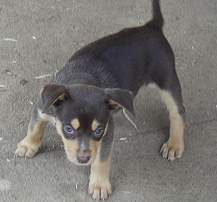 Daysie has done 2 levels of training and we start foundation next week (Chester is doing it to mature student!) Then we can start agility. There apparently is a Noonbarra called Matilda at the club that is a bit of a champion maybe we can keep up the trend.
Keep well.
Love The Days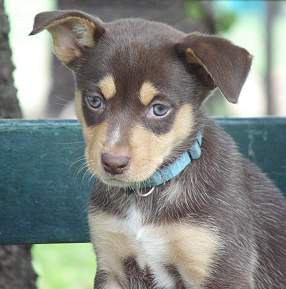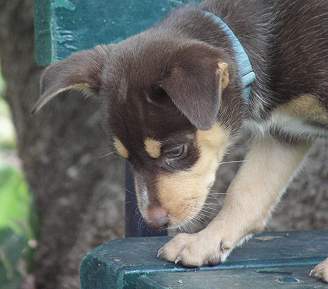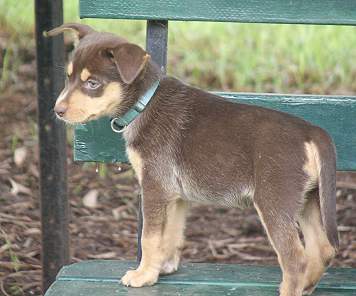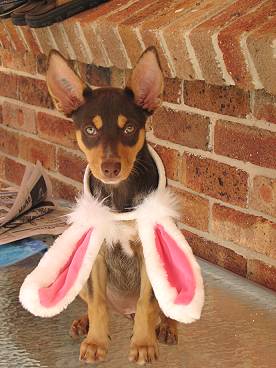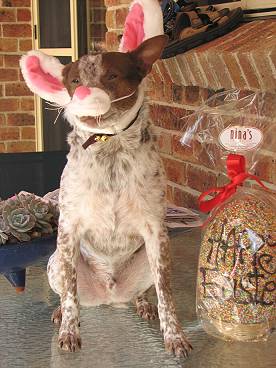 Noonbarra Daysie and her friend, Chester having fun at Easter
---
Noonbarra Max X Noonbarra Kellie
Born 8th November 2006 Red & Tan Female
Owned by Carl Mayall. Tasmania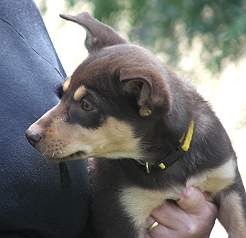 Carl approached us for a dog to do Arena type sheepdog trials. He was an experienced Agility Dog trainer as well as having worked with Border Collies on stock. We chose him a more precise dog that would suit an experienced handler like himself. Also we choose a dog that had eye & style and would be capable when trained, to work a nice distance and still have enough strength to walk-up.
Hi Mary and Stephen,
Sorry for the late communication but time just seems to fly. but I thought I would give you a update on Dusk's progress.
Dusk is a wonderful girl although she can be stubborn and head strong . She learns fast and does not allow small negative incidents to deter her. Her herding instinct is a credit to your breeding.
Thank you for your efforts and dedication to dogdom. I have attached a few pictures of some early herding training sessions
Regards, Carl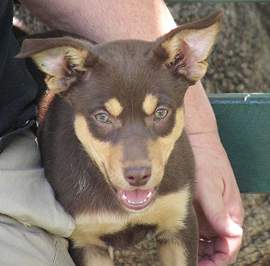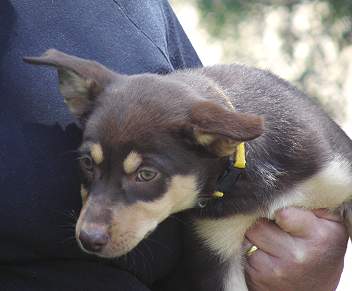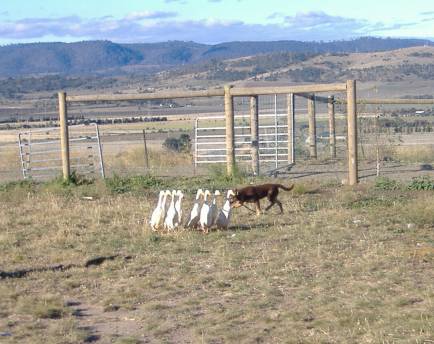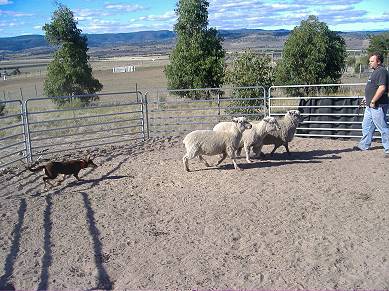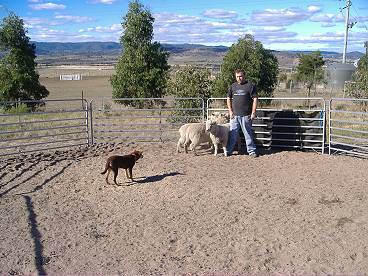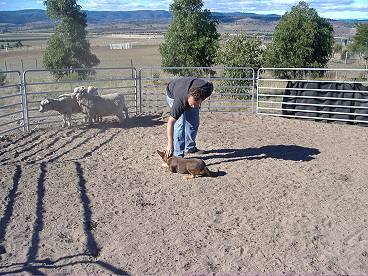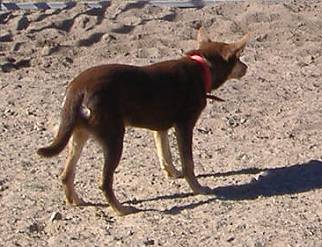 ---
Noonbarra Max X Noonbarra Amy
Born 24th Jan 2006 Red & Tan Female
Owned by Pam Cook.
_____________________________
---
Noonbarra Max X Barclays Kate II
Born 23rd May 2008 Black & Tan Male
Owned by Tim O'Brien.
It was lovely to meet you and thankyou very much for giving me such a wonderful little pup!
Aug 2009: Just thought I would send you a few more photos, these are of Chase and his new playmates, Allie the Alaskan Malamute and Thai the Border Collie! These are both my friends dogs who live down the road from us and they all love to play together! They are spending plenty of time together and all are having fun.
Chase has been nothing but wonderful since we have had him at home and besides the occasional accident when inside, he is a very good puppy!
We take him out with us on weekends to our soccer games and he gets lots of pats and meets lots of new people while we are out. He loves the attention! First time out he wasn't impressed with his leash and still isn't perfect but he does walk along with you now without any major issues. Happy to go the same way we are going and not the opposite direction!
One thing that is great is he is very easy to settle when it is time for a rest and enjoys his sleep! But once you have him up he is all play and loves playing with some little balls we have got him, he sits on command whenever asked at the moment and have got him to sit and stay until we "release" him for his meals.
Have begun training him to chase the ball and return it to me and works well while playing inside in a small area, just gotta get him used to the same idea over longer distances down at the fields!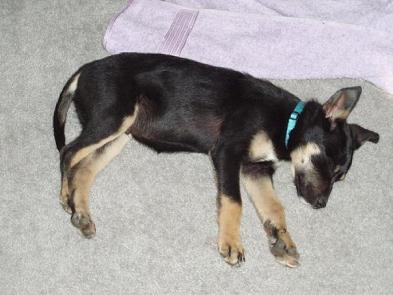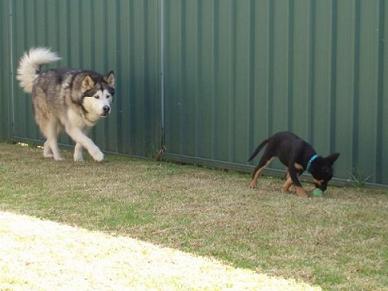 ---
---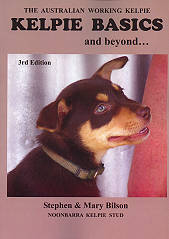 This new 3rd edition is a great book for beginners or experienced Kelpie owners. It is designed for good solid foundation training to ensure you get a well balanced, socialised and obedient Australian Working Kelpie.
Over 100 pages.
---
More information on Kelpie history can be found
in the latest edition of our popular book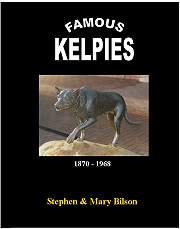 ---
THE ROCKYBAR KELPIES
A GUIDE TO ONE OF THE BEST KNOWN KELPIE STUDS OF THE 20TH CENTURY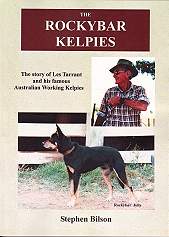 We think this book would be an enjoyable read for anyone with even a passing interest in the Kelpie. It would be a great guide for breeders and trainers with information that is impossible to get anywhere else!
The Rockybar Stud, owned by Les Tarrant, was one of the most famous in Australia for half a century and their influence can be seen in Kelpies all over the world today.
Les Tarrant started with Kelpies in the 1930's. He led a life of droving, mustering and working with horses and livestock. In 1950, he set up the Rockybar Kelpie Stud in the far north-western districts of NSW.
We look at some bush characters and old dog men such as the remarkable priest of Goondiwindi, Father McCormack, Stanley McMaster, Frank Scanlon, Stan Collins, and more. We look at the individual dogs in the old Rockybar lines and the more modern lines (after 1980). We have a huge section on Les Tarrant in his own words explaining how to breed Kelpies and the problems and pitfalls to avoid. There is a good chapter of the book dedicated to how to train Kelpies the Rockybar way. Another chapter is on yard work and yard trials.
There are plenty of photographs and some were very hard to obtain. Many (probably most) would never have been seen by the general public before.
Large A4 format. B/W photos throughout. 166 pages.
CLICK HERE FOR MORE DETAILS & PAYMENT ETC.