NOONBARRA WORKING KELPIE STUD
WHAT OUR CUSTOMERS HAVE SAID ABOUT NOONBARRA STUD KELPIES
---
NOONBARRA MAX X NOONBARRA LIZZIE
Black & Tan Male - Born: 20th May 2003
Owned by John Keeling - South Australia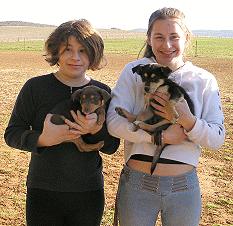 Hi Mary and Stephen, It was a long trip home in the car but Jasper was no trouble, he slept most of the way but was keen to get up and have a look and a walk around whenever we stopped. Wherever we stopped the girls had him out socialising with other travellers who thought he was just adorable.
We stopped overnight at West Wyalong and slipped Jasper into the motel room. He was pretty good and slept through until around 2:00am when he wet his bedding and got a bit upset. We had a change of bedding but he did not want to settle in the crate. Spent the rest of the night in bed with us and settled quickly.
Arrived Adelaide late on Sunday and introduced Jasper to his new surroundings before we all collapsed into bed for a well earned rest. Jasper has settled in quickly and sleeps in his crate in Kelly's room only getting up once during the night to relieve himself.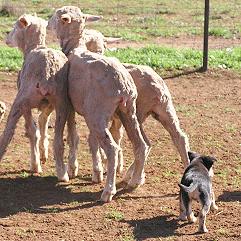 He has discovered his new toys and has a fun time with them. Kelly is being very strict and consistent with him, making him wait until we have eaten before he get his meals, getting him to sit before being fed or let outside, and making sure he follows her out through the door rather than the other way around. No problem for Jasper he catches on quickly and is happy to do what is asked of him as he has learned that this is the quickest way of getting what he wants, especially his food. He gets plenty of praise from everyone when he gets it right. Still having a few accidents inside, as expected, but I don't think it will be long before he will be letting us know that he wants to go outside to relieve himself.
Thanks for all the helpful advice and notes. Will keep in touch and let you know how things progress.
Best wishes, John Keeling, Eden Hills SA 5050
---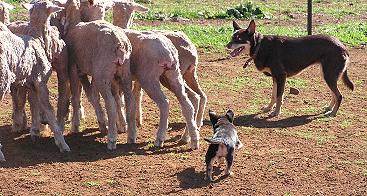 NOONBARRA JASPER WITH NOONBARRA LUCY
---
NOONBARRA MAX X NOONBARRA JESSIE
Hi Mary and Stephen, We thought we should write as we have now had Rusty for 2 months now. He is so adorable. We love him. We wouldn't change a thing about him.

He is such a bright young thing. At 9 weeks, he already knew how to sit and drop. Now, at 14 weeks,
he can also come, stay, beg, shake hands, crawl and we're working on roll-over this week. I have never
seen a puppy so loving towards all humans and all animals, and in return they all love him too. Thank
you.

Once again, thank you for bringing so much joy, love and entertainment into our household.

Nikki and Andy Gates
---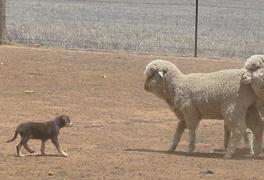 NOONBARRA ROY IV
NOONBARRA MAX X NOONBARRA CHLOE
Owned by Errol and Ros Croll.
Hi Mary and Stephen, Roy IV has found his way to Crib Point ok and dipped his paws in the Lachlan, Murrumbidgee, Murray and Port Philip on the way which we thought was a good effort for a little chap. I know a bloke my age who has never seen the Murray!
I have attached some of the pics I took at your place last week. On reflection your delivery process was quite outstanding and invaluable to us - thanks. The manual is also excellent with so much good practical information.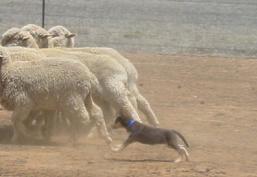 We started on the obedience during the trip over several days and are making good progress with the Down, Come and Sit items. We are very surprised how quickly he learns at this age. The crate is wonderful - hardly a whimper and sleeps to dawn.

The introduction to the other critters is going well. The cats have faced him down and he is learning that a tame goat is not such a pushover as a tame sheep. They are going to be great mates. Hasn't tackled the geese yet.
It now seems so long ago that we were waiting to pick Roy up.
Thanks again for your help. We will keep you posted.
Best regards............Ros and Errol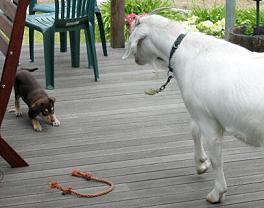 Noonbarra Roy meets Frida the Goat!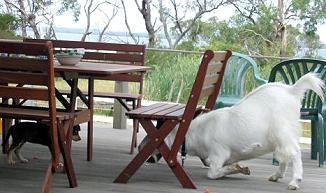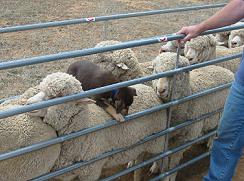 Noonbarra Roy in the Sheep race.
Hi Mary and Stephen,Attached are a couple of recent pics of Roy. He is now 6 mos and starting
to fill out and is developing into a great mate.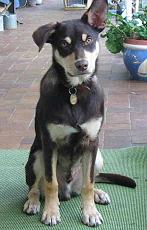 Roy is turning into a handsome boy

He has fitted in well with all the critters, cats, goat ,geese etc and wants to be friends with everyone and everything he meets.
Although full of energy all day long he is happy to amuse himself quite a bit and never makes a sound all night. He sometimes works the other animals but is not mad to work and is not driving them to distraction.
It is interesting to see the great distance at which he works the geese moving very slowly and precisely, never rushing and chasing. He stands up well to the occasional goat charges and will sometimes come back and grab Frida's horn and try to hang on. I have put some rubber hose over the end of her horns to prevent anything serious for Roy's sake.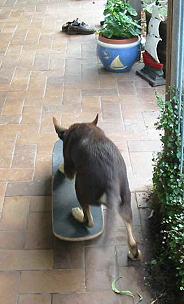 This is one of our favourite photos - what a dog !!

The general obedience training is going well and although always testing the boundaries he is slowly coming around. Still some way to go with bomb-proofing the commands when major distractions and excitement are about. He doesn't make a lot of noise but we have been surprised by his deep voice when he does bark. Puts the neighbors' Boxers to shame!
Roy and friend at the beach

"I have been doing my homework and located Tony Parson's book "Training the Working Kelpie" and have found it absolutely fascinating to gain some understanding into the sought after traits and the methods used to develop them. I plan to try introducing some of the working commands using the geese in due course."
"Roy recently met a cousin on the beach at Point Leo about 20 km away . The dog is Dan and is one of Dusty's pups from about 18 mos ago."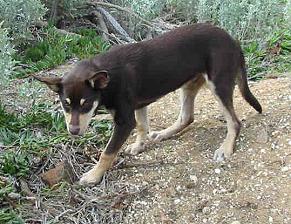 Noonbarra Roy IV
---
RETURN TO CUSTOMER REPORTS