Frankie is going really well, she is a very smart and independent dog which means that she picks up new things really quickly and can easily amuse herself with no desire for any interaction from us (sometimes even despite out best efforts to the contrary). She loves being in her crate and has slept through the night happily, pretty much consistently since we got her home. She also has hardly any accidents in the house and except for the excited little wee every now and then seems to know that the toilet is out side ( I have never seen Alec look prouder the couple of time lately when she has actually left her mat and gone to the door to ask to go outside for the toilet :)). She loves going for walks on the lead and in the last week or so has really started to get the routine down pat, like sitting at the gate to put the lead on, sitting before we cross the road etc. Just this week we started using a check chain to improve her concentration on heeling and to help her get in zone as Cesar would say and we are already seeing improvements. Thanks again for the training you did with her as I doubt we would have been able to achieve all this without the strong foundation you established.
---
Noonbarra Jackaroo X Noonbarra Karli
Born 2nd Jan 2010
Owned by Fiona Baker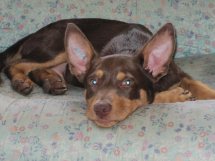 My beautiful little boy is now 7 1/2 months old and makes me laugh every day. He is a delight to be around and life is just one big game to him; I'm sure he thinks I am his personal playmate! He is also super affectionate and I cannot imagine my life without him. I have enrolled Harry in his third lot of training, which involves some agility work . I have also bought him a single hurdle and tunnel so he can do training at home as well-he took to it like a duck to water.
People are drawn to Harry because he is so friendly and I even had one lady tell me he is too pretty to be a boy- I would like a dollar for every person who has said what a gorgeous colour he is. I hope you enjoy the photos of him.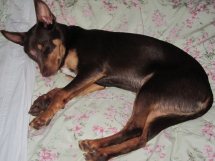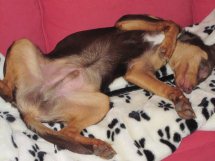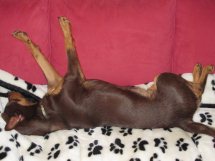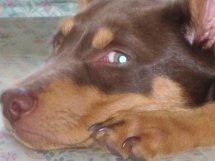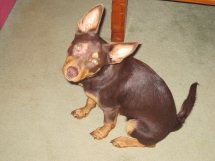 ---
Noonbarra Jackaroo X Noonbarra Misty
Born 16th April 2010
Owned by Mark Frail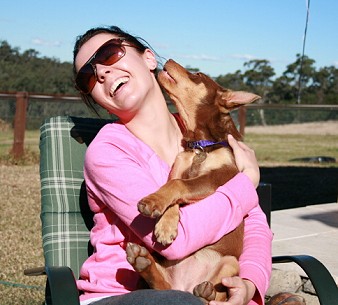 Hi Mary and Stephen, I hope everything is well with you. I just took these photos today and thought you might like to see how Lily & Belle are going.
They spend lots of time playing together and really get on well. They do get concerned when one goes out without the other. They have become great mates
when together.

As you can see in the photo with Teah Belle is just such a happy little pup she just wins everyone over with her happy outlook and just about bursts with excitement when you play with her or she thinks she has put one over you. As you said with Lily she has already started to settle down and shown some instincts that are really quiet astounding and leave me shaking my head. She
is just so smart.
---
Noonbarra Jackaroo X Noonbarra Cassie III
Born 23rd Oct 2009
Owned by Nathan Bayer, Albury.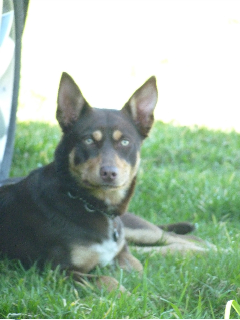 I just wanted to send through some pictures of Roy and I on our farm. He has improved so much over the last 4 weeks and has become such a great mate. He won't leave my side.