NOONBARRA WORKING KELPIE STUD
WHAT OUR CUSTOMERS HAVE SAID ABOUT NOONBARRA STUD KELPIES
---
NOONBARRA FLASH X NOONBARRA WENDY
Born: 2000
Dec 2000: "He makes us smile everyday from when we wake up to when we go to bed." We saw the article in the SUN HERALD with Noonbarra Darcy. We cut the article out and sent to my brother and sister in London to read. Mum and dad are now listening out for any reference to Darcy on the ABC radio by Richard Glover.
I love my puppy and am so happy that he is in our lives. Mum is still keen for a puppy of her own so please let us know when you are intending on having another litter. She is very keen for a female, which would be good with Indy.
--------------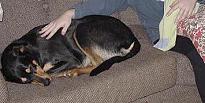 Feb 2003
Indy is wonderful & brilliant around our baby daughter Emma. Emma is at that age where she is exploring everything & Indy is so gentle & calm around her, even when he is getting his tail pulled/ear bitten/nose pushed!!...he's amazing & is a perfect fit for our family...you really chose well for us. Thank you. He is a very docile dog & loves his sleep!!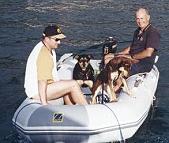 Noonbarra Indy with Noonbarra Kelly
---
(Noonbarra Dusty X Noonbarra Valerie)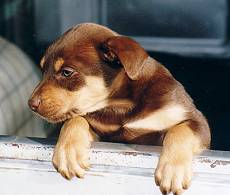 Rusty and I are having the time of our life. He has calmed down soooo much that sometimes we think he's sick because he's that quiet, but he still loves a play and loves to be with us. As he gets older and older he gets smarter and smarter. He loves to fetch and when he gets the ball or stick he brings it back a couple of meters away from us and drops it. We're working on getting him to drop it closer. When he wants to play he gets his ball and carries it to me and drops it in front of me however I don't play with him because that's on his terms. Sometimes I get him to do something before I play with him.
Our friendship is growing as Rusty now has a good respect for me and the family. He understands what "no" means and when he's done something really bad. His behaviour has gotten so good.
We go to the beach about twice a week and he loves it. As soon as I say 'lets go to the beach" he gets so excited. When I first got Rusty he was terrified of the water but he has improved a lot. He often has a bit of a paddle when I go for a swim- he jumps in after me. Going for walks is really good especially at the beach. Sometimes when it's not busy we can let him of the lead and he walks next to us.
He just loves other dogs. I am trying to teach him that he can't play with every dog because when he sees another dog he tries to run and play with them...." - Gervais, Queensland
---
(Karrobar Moss X Noonbarra Abby)
Hi Mary, I've been meaning to let you know how Danny has been going for quite awhile now but never seemed to be able to get to it until now. He is such a wonderful, lovely dog. We are having a terrific time with him. He is so quick to learn and we are sure he is going to make a great working dog. He has the most brilliant nature.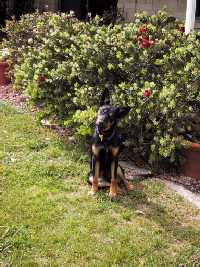 "He obeys his 'down, sit, come, stay' commands most of the time and is getting better every day. He brings a small mob of sheep up and can control them very well and it's only when he has got a bigger mob and is getting a little overawed that he forgets to listen. He will still come eventually though then gets a ride if we think things are too much for him or on the lead. He is very brave and bold when faced with stubborn sheep and does not give in. "
"Under the guidance of a more skilled trainer we think he would be amazing. We are doing our best however and are reaping the rewards with our fine dog. The kids love him and he has been great for our old dog who seems to have a new lease on life (and got much slimmer). He had a visit to our sons school and to our other sons kindy, where he got smothered by kids who thought he was gorgeous. He is bigger now and growing all the time. "
Thanks for selling us such a lovely dog. Regards, Helen Proude
Photo from the Proude family.
---
(Noonbarra Flash X Noonbarra Gabby III)
"I had to laugh. Balto is doing really well at puppy pre-school (of course) - he's even in front of the little border collie pup (not that I'm keeping tabs, mind you). We'd just like a little more work. On Saturday we were told that, as next Saturday is the last day, and "Graduation Day", we should teach our puppy a little trick for the ceremony - something like "shake hands" or "roll over", & we could practice that during the week.
Well, it's Monday morning, & I've already taught him both of those on command. What do we do for the next 5 days?!!!
I now have an understanding of what parents of gifted kids go through at school!!!!"
---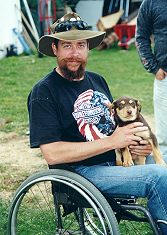 NOONBARRA BASIL
(Noonbarra Marco X Noonbarra Judy)
Noonbarra Bail went to Pete on the north coast of NSW where he has a few acres, as a companion Kelpie for him and his young son. Pete had a motorcycle accident some time ago and is dependant on a wheelchair.
He needed a dog that he could control easily that would also be very faithful and a good playmate for his son.
---
(Noonbarra Dusty III X Noonbarra Valerie)
"Thanks for the info on Jack. He is having a ball. The 'grumpy old' dog has taken to him nicely and is not so grumpy any more, the two are good play mates. The kids are also wrapped with Jack and play and wrestle with him. He's a beautiful dog and a bit of a ratbag at times."
''He knows when he wants to ignore you and when he wants to listen. (Usually when there's some chicken necks involved). He's great with Ned (our other dog) and follows his lead. which is good if you want him to listen, you just call Ned or give him a cuddle and Jack comes running)."
"I get worried that I feed him to much but the vet reassures me he's looking good. He has a very varied diet and his coat is looking sensational. He's beautiful. He's made friends with the dogs next door and with my brother in laws dogs and is a very confident friendly dog. He's really become part of the family." - Sonia Mt. Isa Queensland
---
(Noonbarra Flash X Noonbarra Wendy)
Noonbarra Loki was bought by Katie Rollo of Melbourne Victoria as a companion. She drove up and stayed overnight in Parkes. I guess it would be a 1600-1700 km round trip from Melbourne.
"I can't tell you how wonderful he has been! He slept almost the entire way home - he seemed to be happiest in the back seat, so I put his pillow back there and that was the last we heard from him!"
"He has settled in here without so much as a whimper. He sleeps beside our bed and lets us know when he needs to go outside. He is sleeping pretty solidly through the night, which is a good thing because I'm exhausted! We got home after midnight on Saturday; Loki decided that it was time to play, so we didn't get to bed until after two. "
"Loki is a very self-contained pup. He seems to adapt to new environments with ease. When he's awake, he is just so happy and bouncy. He leaps around the house with toys hanging out of his mouth, sticking his nose into absolutely everything!"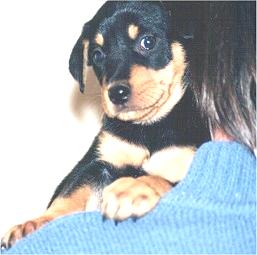 NOONBARRA LOKI
"Tom and I had such a great time with you both on Saturday. I wish we could have stayed longer! Noonbarra was all that I'd hoped it would be. I talk about "Auntie Mary and Uncle Stephen" with Loki just so he doesn't forget the two wonderful people who took such good care of him early on. I've taken lots of photos already and will send you some when I get them developed."
"Sometimes I look at him and he takes my breath away. He is simply so, so beautiful. Everyone comments on what a perfect puppy he is. He really is too good to be true. I will keep you updated with Loki's amazing progress as it happens. Gee, he is a clever little thing. He is beginning to watch our faces for changes in expression and mood. It won't be long before he is reading our minds...." Katie
Sometimes I look at him and he takes my breath away. He is simply so, so beautiful. Everyone comments on what a perfect puppy he is. He really is too good to be true.
I will keep you updated with Loki's amazing progess as it happens. Gee, he is a clever little thing. He is beginning to watch our faces for changes in expression and mood. It won't be long before he is reading our minds.... Katie
"Loki is doing marvellously. We've now had three weeks of puppy school, and I'm afraid to say that he is by far the cleverest. But you knew that already, didn't you! He can sit very well now, and he's pretty much got the hang of "drop." He is great on his lead and loves going for walks which we take him on at least twice a day. He is so much more advanced than the other puppies in his group in terms of 'worldly experiences' and getting along with other dogs. We began taking him out with us the day after we brought him home, and it has certainly paid off."
"EVERYONE loves him, all dogs included. I've never owned a dog or even seen a dog who attracts so much positive attention. Everywhere we go people stop us to comment on just how beautiful he is. "Ohhh, look at his coat! What do you feed him?" "Isn't he just the most gorgeous thing? Can I take him home?" etc etc. I may be his mother, but I think I speak for all when I say that Loki is simply stunning."
It is letters like these from our customers that makes breeding dogs such a satisfying endeavour for us.
---