NOONBARRA WORKING KELPIE STUD
WHAT OUR CUSTOMERS HAVE SAID ABOUT NOONBARRA STUD KELPIES
---
NOONBARRA PRINCE X NOONBARRA VALERIE
Red & tan Female Born: 10th Feb 2000
Owned by Mary Mairs in California U.S.A.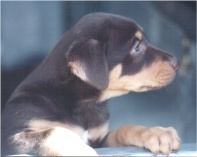 Noonbarra Merida was bought by a lovely lady with a small farm in California, USA. Mary Mairs already had experience with Kelpies as she has owned two working Kelpies bred in the USA.
.."Little Merida is adjusting well, She's a wirey little thing and so quick. She was the easiest canine I have ever bathed!! You must have spent a lot of time with her as she even knows "sit". She has a wonderful coat. " - Mary
" .. Your "Merida" book is fantastic!!!! What a wonderful idea. The little girl is doing quite well. She's settling down a bit and paying attention. Everything was so new at first. I am going to start my educational reading tonight!!
.." I was watching television one night and Merida was just chewing on her "chewy" when all of a sudden a lady started talking with an Australian accent and she jumped up, perked her ears up and stared at the TV. I almost felt sorry for her. She probably thought it was you!! She has a lot of energy, and she isn't timid, nor does she piddle like some females do when they're excited. She listens well. She has a little place she sits right next to me in the little pick-up and sometimes she lays her head on my shoulder.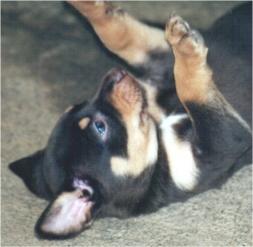 MERIDA LOVES TO PLAY
---
(Noonbarra Dusty X Noonbarra Valerie)
Red & Tan Male Born: 16th July 2000
Noonbarra Chance was sold to the Ledbetter family in Alabama USA. They run a horse Stud there.
---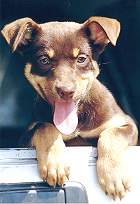 "He is wonderful!!! I can't believe he has only been here three weeks, seems like much longer. Chance is a delight. He is happy hanging around the house, helping to run errands, going to the barn, playing with our other dog or laying at my feet as I am working on the computer. It really doesn't matter to him. He has yet to meet a stranger, two or four legged. He is growing so fast. We had our veterinarian visit this week the Vet was impressed with how calm Chance is."
Letter Dec 2000: ..." He learns so quickly and thinks so fast, you can practically see the wheels turning in his head. I am staying just one step ahead. As I write this Chance and Dixie are in a long down stay right behind me. Chance is doing 20-25 minutes nicely as long as there are not too many distractions. You should see him when the word "treat" is said. It does not matter where in the house we are he runs to where the treat jar is kept, sits and waits.
..."I can see why Kelpies spoil you for other breeds. Chance's understanding and behavior at 5 months is more what I expect from a nine month to a year old dog. Chance is so willing to please! He tries his best to do whatever you're are asking.
Letter March 2001:"I can't express how thrilled we are with Chance. I have been smitten with him since I brought him home from the airport and still can't believe how lucky we are to have been sent a wonderful dog like Chance.
Chance's vocabulary is growing daily. He totally understands when he is asked to do something and he will not only comply but will also wait for his release word to go back to doing whatever he wants to do. At times I forget how young he really is.
The little daily things we do like automatically sitting at doors or for me to take his lead on or off, sitting and waiting for release word. Wait is a command I use frequently, wait when the door is open for permission to go out, solves the problem of rushing through the door. Wait is also used in the truck for the same thing. When I open the door and get out he has to wait till I release him to come out of the truck.
He is calming down around the horses. He still wants to bark at them at inappropriate times but we are working on it. Yesterday while we were at the barn sitting in the aisle, Chance was watching several of the horses when our yearling popped his head up startling him. Chance jumped backward about two feet, I called softly to him, reassuring that it was okay, Chance was great, he looked straight at me walked up to me then turned to look at what scared him. Not long ago he would have barked wildly at a horse that scared him.
Chance and I have truly bonded. He constantly looks to me for approval even with my husband. Michael will call him and Chance will look to me to tell him its okay, go. He is my shadow. Everywhere I go in the house, he watches. Even when I think he is asleep if I get up to walk out of the room his head pops up to watch. If I go in a room and close the door Chance is waiting right outside the door for me. Michael says he is totally MY dog, and he is right!
We just had two training sessions to stop Chance from pulling you off your feet when on a loose lead. I expect to be able to hold the lead with two fingers and not have it pulled out of my hand. Really comes in handy if you're bringing bags of groceries in the house. Halfway through the first lesson Chance would modify his pace without a lead correction. The second lesson using voice only (lots of "good easy") Chance would slow down just enough for slack in the lead at one point I said one loud "EASY" after that whenever he felt tension in the lead he was self correcting.
This is what I love about Chance, he learns so quickly. I try to stop unwanted behavior as it crops up. For instance, all of a sudden he thought the easy chair would be a great napping place, well furniture is off limits to dogs. Or for about a week Chance decided to forget about being housetrained. I did a urine check just to make sure no infection and then kept a really close eye on him. He is now back to trouble free in the house. The one thing I still am on guard about Chance is popping up with his nose into your face, it hurts! I try to sit on the floor at his level to discourage that and he already understands that I don't like it but still can't trust that he will not pop someone petting on him.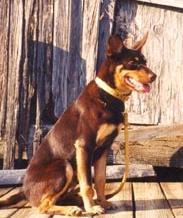 The other night I was eating fast food in the den, had Chance at his station, well the cat kept teasing Chance by popping his head around the door. Chance jumped up after the cat a couple of times and I put him back down, then he tried rising slowly, (like maybe I would not notice) and I just said his name and he went back down, finally he decided to just take a nap. I try so hard to be consistent. Michael and the kids ask me sometimes why don't I just put him outside or in his crate, I explain to them that he won't learn that way and the problem will still be there the next time.
---
(Noonbarra Dan IV X Noonbarra Penny III)
Black & Tan Male Born: 1st May 2002
Owned by Rick Ferreira of Rhode Island U.S.A.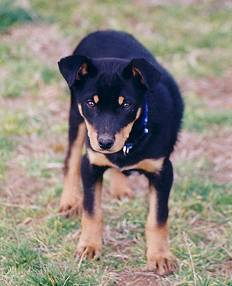 "Kobe is doing great. The vet said he was 'perfect'. He was referring to his behavior as well as his health. Kobe's been meeting new people almost everyday and there hasn't been any problems. He loves people. Everyone comments on how calm and good looking he is. He's very good with my 4 and 8 year old cousins ...." - Rick. Rhode Island. USA.
------------------
I realized it's been awhile since my last email so I thought I'd drop you a line and let you know how Kobe is doing. He's doing great. He's growing to be a very strong and agile dog. He's also getting smarter by the day. He very quick and eager to learn. Right now I'm teaching him to bark on command. It's been a little slow since he doesn't bark very often but he's developed a very big and deep bark. He sounds much bigger than he is. He loves the car. Loves going to the vet. Loves everything and everybody. Hopefully I'll be able to get his pictures on line over the holiday. -Rick Long Island U.S.A.
---
Noonbarra Dusty III X Noonbarra Lucy II
Red & Tan Male Born: 7th Dec 2001
Owned by Kristen in Virginia in the USA.
Noonbarra Aussie was exported to America. She went as a companion dog but is likely to compete in agility. She is a full sister to our wonderful sire here, Noonbarra Max and to Noonbarra Maggie in the Merrynvale Kelpie Stud.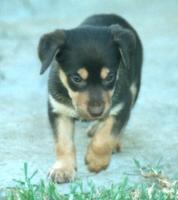 "Aussie is now in her new home, safe and sound. .... She's so beautiful! Her coloring is just perfect. We've already used to the forced down and sit and she's great... Thank you for Aussie's name tag. We were happy to see that. I've ordered a new one that has her name, our phone number and address engraved on it. It's come in handy in the past with our previous dogs ... I'll send more updates if you like as the days progress. Thanks again!
My husband took Aussie to a playground yesterday with our son where she got to go down a slide and run across a bridge. She really enjoyed it. Our previous German Shepherd eventually was able to climb up the ladders to slides and slide down herself. Aussie will probably be able to do this once she gets taller. I'll have to start looking into Agility to see what we might be able to do. It would not only be good for Aussie, but would keep me in shape too! Funny, I was just talking to my husband about possibly making an A-frame so that she can climb as she seems to always want to climb up our wood pile! I think she enjoys being high up so that she can check things out!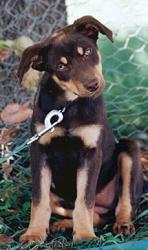 Thanks again for your e-mails and your advice. I hope that you don't mind my e-mailing you as I figure it'd be best to get advice from you rather than from some book or other person that doesn't know anything about this breed.
******
Hi there! Just wanted to let you know that we are really enjoying Aussie. She is certainly a hand full, but we love her and so does our 4 year old son! Aussie is so good with our son and puts up with a lot from him without getting upset. Winter has come but she's not enjoying it much. But it's nice for us since she likes to snuggle up with us to stay warm! She's remained thin and is only about 28 lbs., which is good since she likes to walk all over us! This must be a remnant from walking all over the sheep.
---
Noonbarra Max X Noonbarra Jessie II
Born 8th May 2006
Owned by Valerie Steir. U.S.A.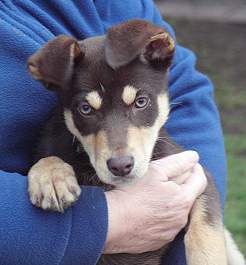 Hi Mary,

Just wanted to say Mac is doing well. He is growing like a bean pole and is almost as tall as my sisters 9 month old ACD puppy. I have to say he is all legs and ears. He is a constant joy to be around and always makes me laugh. I haven't done a whole lot with him, but he goes everywhere to watch.

Yesterday he had the chance to go out to the sheep farm and he had a blast herding the sheep. He has a lot of natural talent and impressed all that watched him. I hope I can do him justice. I am sad I forgot to bring a camera to take pictures.

Thanks for sending me such a great puppy.
Feb 2007
Hi Mary,

I just wanted to ask you if you could recommend a good source for me to learn how to train Mac in sheep herding. The small sheep dog club now has 12 sheep, but nobody to train.
We just had a snow/ice storm several day ago. Mac does not like it and he was slipping a lot when running with the other dogs. He has finally got his long legs under him and now looks as graceful running on ice as he does over grass. He is now 20 and a 1/4 inches and 36lbs. Hopefully he stays under 21" so he can jump 22" in agility.

I do have to say he is the star pupil in class and I get lots of complements on how fast he picks thing up. He is always used as the demo dog. The teacher loves to take him from me and work him. He could probably make anyone look like a star trainer.

I have also been asked to breed him with my friends kelpie. She is from two imported dogs from the Kirkcaldy stud. They supposedly came from the old Kalari lines. I would get a puppy. Mac has this fawn undercoat and I really love the color. I have been thinking of getting on a waiting list since I see you occasionally get the fawn color. My friend says she thinks her kelpie has fawn in the background and if I am not mistaken so does Mac? There both too young yet and we will have to see how they both turn out.

Thank You for all your help and for giving me such a great dog.

Valerie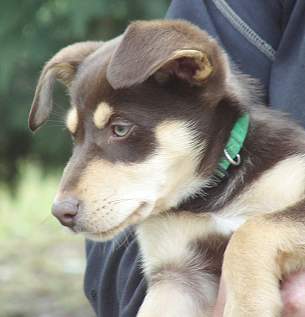 ---