NOONBARRA WORKING KELPIE STUD
WHAT OUR CUSTOMERS HAVE SAID ABOUT NOONBARRA STUD KELPIES
---
NOONBARRA ROY III X NOONBARRA MEGAN
Black & Tan Male. Born: 3rd April 2004
Owned by Brian Mc Gee. Parkes.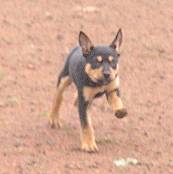 Noonbarra Kevin was an exceptional pup and quite typical of Megan's pups. He had already just started on sheep when Brian purchased him. It was easy to see the potential in him.
"Mary and Stephen, Brian McGee from Parkes, I purchased a pup off you, Noonbarra Kevin, in 2004. Kevin has been a joy to own, a great friend and a great help to me. ..
Thanks very much,
Brian McGee
McGee Pastoral Co. "Glen Elgin" Parkes 2870
Brian's father has since ordered a puppy from us as well.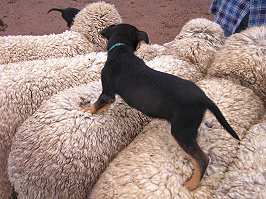 Kevin loved to back the sheep as a puppy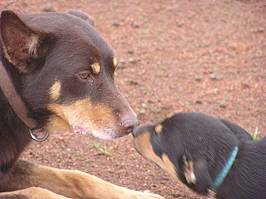 Kevin with his mate, Noonbarra Flash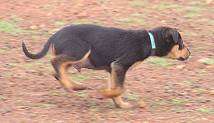 Kevin as a puppy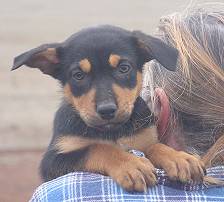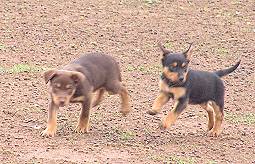 Kevin with litter mate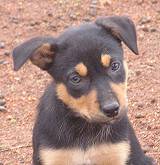 Noonbarra Kevin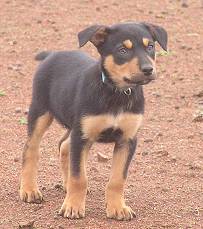 Noonbarra Kevin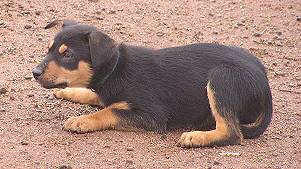 Noonbarra Kevin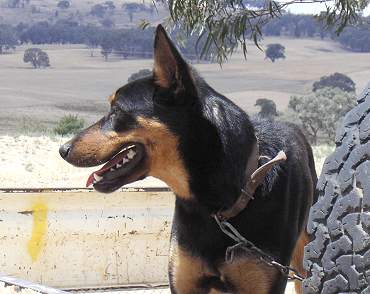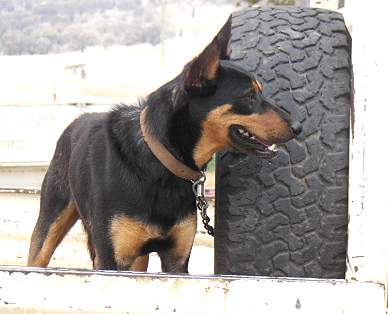 Noonbarra Kevin on visit to Noonbarra in 2006 to buy new pup.
---
NOONBARRA ROY III X NOONBARRA MEGAN
Black & Tan Male. Born: 27th May 2005
Owned by Rob and Toni Daly - Dubbo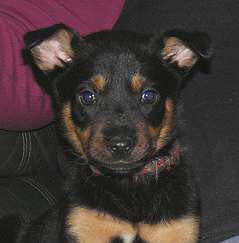 Hi Ben has completely settled in and now learning some more commands. After initial excitement he settles and works steadily. He decided to try Rob out and went in and tried to round up the horses by himself and he did not listen to any commands!!!!!! Just trying out his limits. I don't think he will do that again!!!!
He Luvs the ute... Of course he gets to ride in the front...and the lounge is always a good place after a hard days play. I find it very hard to make sure I don't make him my dog as he has the most loving expression but have been strong. I will organize a lesson with Stephen for Rob sometime in January or Feb. At the moment am just trying to get Rob to stick to some commands he feels comfortable with. He has read your book from cover to cover which has been great.
_________________________
August 2006
We spent all day cattle work, Rob is very reluctant to take Ben, worry he would make a mistake, Rob that is, used Ben to shift them afterwards, was a champion, I took control and Ben did the best a young dog could and was made feel very special, got loads of confidence and with the weaners did a dam good job!! .. Ben could not be more loved than he is anywhere!
Toni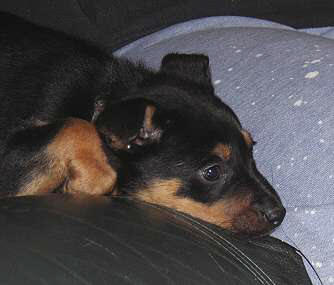 "Not having the experience of working dogs like you but having spent my life involved with conformation classes and around working dogs on the land in my lifetime, we just want to congratulate you on your kelpies.
"Ben is such a structurally sound athletic dog, to watch him gait around the yard is so easy. So many people both in the working game and show game both forget if you don't have structure and soundness than you don't have a working dog that can do what they are bred to do for their life. People say conformation classes is for prettiness but for the serious advocate of the breed it is for structure and soundness.
It's essential to have that working ability but if a dog does not have the soundness than that's the end of it. You have achieved both in your dogs and not just the odd one.
Ben also is growing out of teen hood at the moment, becoming more devoted to Rob every day and in fact is "listening" more. With the heat and now burrs training in the yards has come to a halt, but training in manners and obedience continue every day.
He's pal is a 15 month Border bitch who plays hard but also tells him off, than they will curl up together. Like his mother everything is a game, the harder the game the more the knocks the more he comes up laughing. .
<![if !supportLineBreakNewLine]>
<![endif]>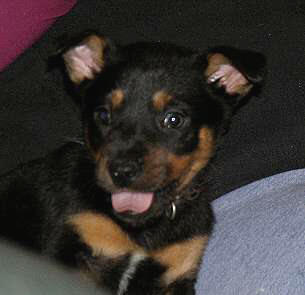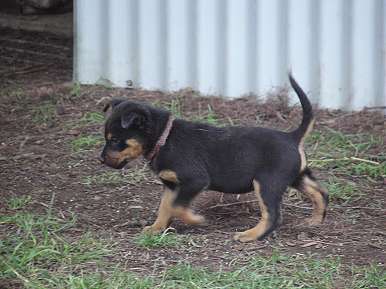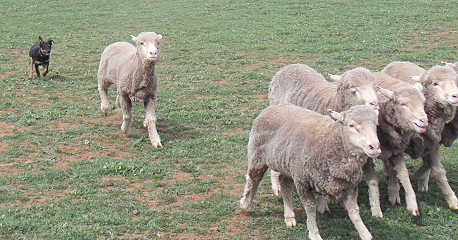 Hi, how hot has it been? Ben is very partial to the air conditioning. He loved Christmas, was overly exited with so many people but settled after a while. We have joined the Kelpie Council but was wondering how we find out about the yard trials and when they are on at Ag shows. We know that Ben is far too young but would like to take him to socialise and for Rob to watch when I go to the Ag breed shows as well.
We are soooooo impressed with Ben. Ben has tried out Rob... racing in and jumping on the lounge... no one is allowed to be on the lounge unless invited, Ben has learnt that one. He now ignores the horses and the cats he watches without being so intimidating. Rob adores Ben and Ben now waits at the gate for Rob and knows the difference between playing with my dogs and when Rob is home. Thank you for Ben it is soooooo great to meet kelpie breeders that treat their dogs as dogs and intelligent ones at that, not just a machine. - Toni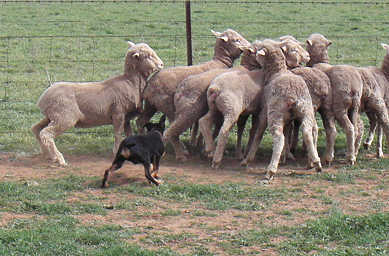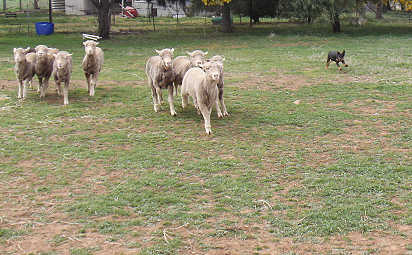 _____________________________________________________________________
NOONBARRA MAX X NOONBARRA JESSIE II
Red & Tan Female. Born: 8th May 2006
Owned by Rob and Toni Daly - Dubbo
Rob and Toni bought Noonbarra Jessie the following year after purchasing Noonbarra Ben.
Hi went away to Canberra on Friday and Saturday, Jessie on the front seat. She was much more settled this weekend and has started to get the hang of the routine, she is learning to ignore dogs that bark at her, flapping tents vehicles galore. I said to Rob its such great training, they learn to do as they are told, (you cannot take 5 disobedient dogs with you or you'd go mad...and so would everyone else!!) that manners are required and you ignore 500 hundred other dogs on the one showground.
She responds to firmness, and now greets me first rather than the other dogs...which is very heartening. She also likes to sit as close as she can to me in the car, one foot must be touching and a nose...thatís as close as she is allowed. She still sits starring at me thinking things out.. would love to know what her thoughts are.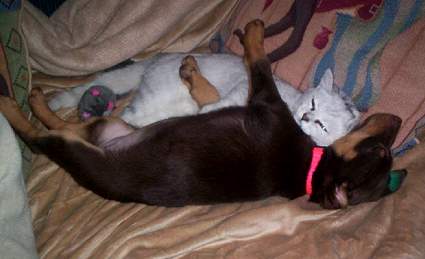 As a puppy, Jessie found a special friend!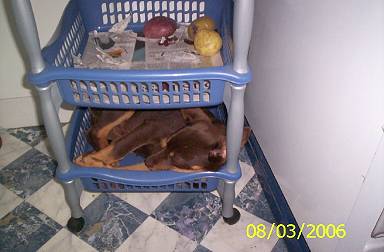 A quite place to sleep
---
NOONBARRA MAX X NOONBARRA AMY
Red & Tan Male. Born: 24th Jan 2006
Owned by Graeme & Kathy Pink. Victoria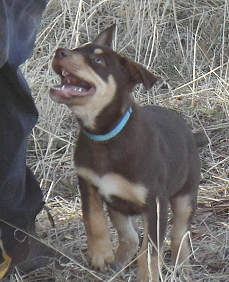 Hi Mary,
Just a note to let you that Zack is going well.
He is showing a lot of potential now. ... He hates being left behind and is always quick to jump up on the ute or the 4 wheeler motorbike, if he thinks Graeme is going anywhere. He has good eye on the sheep and if any break off from the mob he soon brings them back in.
He still has a tendency to want to work from the front, but is beginning to come to the back of the mob more and work there now. Graeme took him out to the paddock where the rams were and sent him around them, he brought them all the way back to him at the gateway just quietly bringing them along. He was very impressed. He has a lovely quiet personality and always looks for a pat from visitors.
He loves being were ever Graeme is and always has to be involved in watching what everything he is doing. We do let him inside only occasionally now and he lies on a mat near the fire and sleeps there for a while.
Thankyou for all the help and follow up you gave us.
It would be a pleasure to purchase again in the future.
regards Graeme & Kathy Pink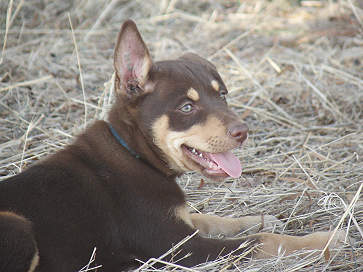 Zack as a puppy before he left Noonbarra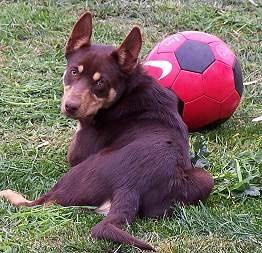 Noonbarra Zack II at his new home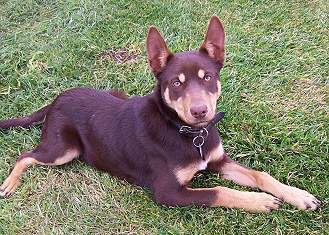 Noonbarra Zack II
---
---
RETURN TO CUSTOMER REPORTS