NOONBARRA WORKING KELPIE STUD
WHAT OUR CUSTOMERS HAVE SAID ABOUT NOONBARRA STUD KELPIES
---
Noonbarra Prince X Noonbarra Valerie
Tank is owned by professional stockdog handler, Charles Ridener in Arkansas USA. He was bought for Charles by Pam Beahm who has Noonbarra Shiloh. He has also released a stockdog training video that has sold thousands of copies in the USA. He mainly works cattle and a few sheep and of course has Border Collies although he has had some experience with Kelpies before.
"Tank and I are getting along real good about now.. He sure does a nice job when working the sheep. He seems to have enough confidence to handle the stock. Of course I have not been putting him on anything that would test him. But he walks around like he is boss. I don't like to send a child to do a grown-up job until the time is right. - Charles Ridener
"He really likes Tank and thinks he will be a great worker... (Charlie) said that Tank shows no fear and moves quietly and confidently around the sheep. We are both happy with the pups. Charlie said he plans on keeping Tank and using him as a Stud some day. If Charlie is saying that this early on he must really like him." - Pam Beahm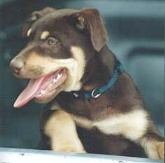 NOONBARRA TANK
I don't know if you have been told but I sold my Tank dog about a year ago and I just sold Shiloh to a man in Texas who had bought a dog from you and he got killed by a car.
I think I told you how Tank turned out, but he was a very nice dog and he was a very good worker. He was very confident in his work and I didn't use him as much as I should have. I felt like he and Shiloh were going to waste and not getting to do what they were born to do so I sent them to places that had work to do so they would be much happier and would be appreciated for their talent. I have about 300 head of sheep but I am a dog trainer and I use the dogs that need to be trained for most of my work and that leaves the good dogs not getting to do what I train them for.
I have trained a number of Kelpies to work but have not trained any who had as much natural talent as the two dogs we got from you.
Thank You For Help
Charlie Ridener
---
NOONBARRA KATIE

(Noonbarra Dusty X Noonbarra Wendy)
This pretty little Black & Tan puppy went all the way To Evelyn Schisler in Maryland USA. She is to be a companion as well as work sheep and goats. The Noonbarra Stud is getting a very good reputation in the USA lately.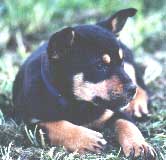 "Well Katie has finally arrived, she is doing great. When I picked her up she wasn't a bit upset. She is very out going and self assured, she has a lovely disposition. I am sure she will be a great working dog. She is very pretty, she already knows her way around.
I have had her around the stock and she shows a lot of interest in them. I am sure she is going to be a great worker. She likes laying on the couch with you and watch TV she really doesn't miss much that is going on. She has a neat personality.
...Katie is doing great. We have a small area with some sheep and goats in it, she goes in there with me. She is already showing her working ability around the stock. She is a very calm, patient girl, yet she will show force if need be. She has a lot of power for a puppy so young. I didn't really expect that so soon. She is going to be a very nice worker, we need that with some of our stock. She is a very pretty girl, my husband really likes her.
... She was out with me today while I was feeding goats and sheep and she gave me a scare. She was outside the fence where the goats are when a bull came moseying by. Well, she thought she was big enough to take him on. I was so afraid he was going to kick or step on her. She doesn't show any fear towards anything. - Evelyn Schisler in Maryland USA.
---
Phils Creek Sam X Avenpart Gayleen
Born: Feb 1991
"Thank you for your hospitality when we picked up our pup and the information you have sent to us. Tina is very quiet and friendly natured dog who when put onto sheep for the first time was very calm and easy to control. She is showing a lot of natural ability which is making her easy to break in. Although she is only 8 months old, she has the makings to be a very good dog." - Ken Skinner Gulargambone NSW
---
NOONBARRA DUKE
Ron Robb has bought 4 Noonbarra Kelpies over the last 12 years. He has worked as a stockman, drover and contract musterer for many years in the dry western areas of New South Wales. He brings in feral goats from the mountains and has done most stock work. Noonbarra Kelpies he has owned were Noonbarra Mac (Noonbarra Shane X Avenpart Gayleen) [who went to his cousin at Nyngan], Noonbarra Candy II (Noonbarra Gabe x Noonbarra Tina), Noonbarra Duke (Noonbarra Gabe X Noonbarra Vicky) and Noonbarra Tina III (Noonbarra Boss II X Noonbarra Tina)
He said Noonbarra Tina III (NO5F) was excellent in the paddock and the yards. Had lots of eye and style and great backing ability. A bit more versatile than Noonbarra Duke who "was a great paddock dog.".
He said "I've had a few great male dogs in my time but not many females. Tina was one of the few great females I've ever owned. I used her around the shearing sheds and a lot of shearing contractors wanted to buy her.".
"I have been happy with all of the Kelpies I bought from you."
Ron is currently working on a cotton farm but hopes to go back to stockwork next year and will be looking for more good dogs.
---
NOONBARRA RUMOUR (Noonbarra Dusty III X Noonbarra Lucy II)
Noonbarra Rumour was sold to Sharon & Andrew Barry of the Andron Working Kelpie Stud in Victoria to be trained for Yard dog Trials.
"Just thought I'd drop you a quick line to thank you both for all your advice on the weekend, and the time that you gave to Laurelle and I. We both really appreciated it. (not to mention the good time we had!!!) Rumour is settling in well, she came home a little worried about the whole thing but has since taken to playing with the cats. I'm sure that being white & fluffy she thinks they are small sheep. ... Anyway, once again thank you so much for the efforts you went to get us both the right pup and for your time & patience on the weekend."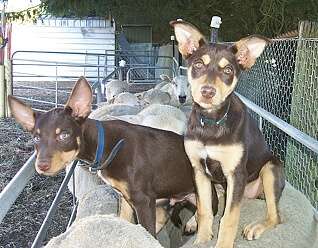 NOONBARRA RUMOUR

ANDRON RALPH AND NOONBARRA RUMOUR
"Rumour had her first run on sheep on Sunday and loved it. She has been doing some lovely work on the ducks to date so I thought it was time she moved up to some real stock.
"I was really happy with the way she went, I have noticed with the ducks she is a great heading dog and once she gets there she squares up nicely and moves in front on and very steadily. She has nice distance too- she will move along the fenceline in the yard until she heads them".