NOONBARRA WORKING KELPIE STUD
WHAT OUR CUSTOMERS HAVE SAID ABOUT NOONBARRA STUD KELPIES
---
(Noonbarra Max X Noonbarra Valerie)
Noonbarra Ned went to Rob Atkinson at Warren in outback western NSW. The property runs 29,000 sheep so Ned is going to have plenty to do. Rob already owns Noonbarra Jim (IV) and has given glowing reports on his ability. Ned is about 75% the same breeding as Jim. We have been told there are now a number of young breeders using this dog as a sire in their breeding programs.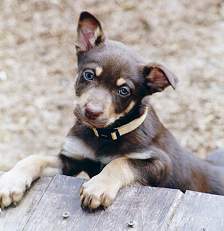 NOONBARRA NED III
---
Noonbarra Max X Capree Dyna
Born: April 2002
Noonbarra Ben (the 5th) was a wonderful dog right from the beginning. He had the temperament and the ability we wanted to see. He was a full brother to Noonbarra Betje we sold to a Stud in Belgium, Europe and a brother to Noonbarra Rue in America.
Noonbarra Ben was kept to be a future Stud sire for the Noonbarra Stud. However at the time we had five sires in the Stud so we have decided to make him available to customers in NSW only. There was also a condition attached to his sale, which was that we can bring up to three females mate to him in the future if we need his bloodline.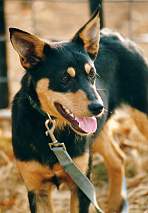 Ben is extremely well bred on both sides. Max has produced some of our best workers and is a friendly, happy dog that can work equally well in the yards or the paddock and shows a lot of classic style out in the paddock. Max showed fantastic natural working ability right from a pup. He has beautiful break out and cover on sheep and a very keen dog.
Dyna has bred some very impressive pups for our Stud over the last few years. She (like Max) is a very happy outgoing friendly dog. She too is an allrounder but probably has a slight leaning to the yard work. Shows nice eye in the paddock and keeps her cool in close.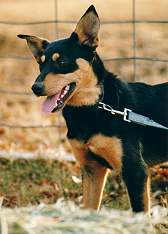 Ben showed wonderful ability the very first time he was ever put on sheep. Eye and style but with determination and strength. He really concentrated on the job and is extremely keen. Shows very good cover and hold. This dog is really exceptional for his age and has the makings of a champion sheepdog.
He is very friendly and outgoing and loves everyone. You could not fault his temperament. He is also an easy dog to handle and train and he just wants to please and be with you.
We had a lot of enquiries for him but we wanted to use him as a future sire so refused to sell him. Unfortunately we had a lot of males in the Stud at the time so when Julie and Craig from nearby Canowindra came out to see our Kelpies we decided to sell him with breeding rights to service three of our bitches in the future.
He was a nice working dog with good style and excellent holding ability. His new owners phoned us often to say how well he was going.
Unfortunately poor Ben got hit by a vehicle and killed before he ever got to be used as a sire. His owners have since purchased Noonbarra Spike.
---
Noonbarra Flash X Noonbarra Penny IV
George Woodford hails from Trundle and is an old customer of ours. He bought Noonbarra Debby back in the 1980's. She was by Noonbarra Shane from Avenpart Gayleen. He told us that she was a wonderful dog and even though he worked other dogs she did all his drafting work and was a great companion as well. It was a very sad day when she passed away.
In 2003 we were able to supply him a new pup that should be every bit as good as Noonbarra Debby was. This pup is by our top sire, Noonbarra Flash and is a sister to Noonbarra Meg in our Stud. He is an outgoing, friendly bloke but has a calmness about him as well. He was already comfortable in the race with the sheep.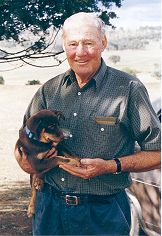 George with Noonbarra Boss III
---
Noonbarra Dan IV X Noonbarra Jillaroo
Born: 9th March 2003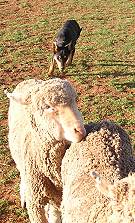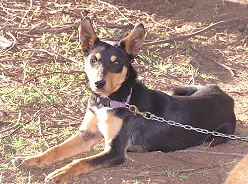 Ben was sold at 7 months as a started Kelpie to Michael Duffy who runs a Boer Goat Stud.
This black and tan male has always been our favourite in the litter because he is such a calm, gentle dog and so friendly. He really did endear himself to us. He runs up and sits at your feet waiting for a pat and we can't resist him!
Ben was a good dog for a sire or hard station work. He had already started well in paddock on sheep with a lot of keenness and not too pushy but with plenty of strength.
Noonbarra Ben showed a good point of balance, break out, hold and heading ability. Good walk in. Has had a couple of short spells in stockyards and will be a very versatile all rounder.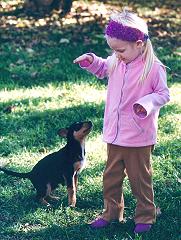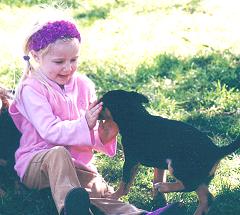 This is a repeat mating and Jill's last litter to Dan produced some superb pups including Noonbarra Amy who is in the Noonbarra Stud here as a future Stud female. These pups have gentle natures and are outgoing and friendly types.
Noonbarra Jillaroo is a lovely Kelpie. She is an outgoing, very friendly Kelpie that is just as much at home working in the stockyards as mustering a mob or working a few sheep with precision.
She is a good dog indoors and when away travelling and enjoys the company of people. She also shows some pretty eye and style when working on a few sheep but prefers to use more force on a large mob and shows very little eye in that situation.
Photos are of Emily Bell playing with the pup when she was at the Noonbarra Stud. (Emily's family own Noonbarra Ruby).
---