NOONBARRA WORKING KELPIE STUD
WHAT OUR CUSTOMERS HAVE SAID ABOUT NOONBARRA STUD KELPIES
---
& NOONBARRA GABBY III
Noonbarra Gabe X Noonbarra Vicky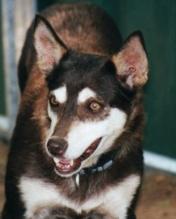 Merrilyn and Kate Mulcahy of the Koonawarra Downs Kelpie Stud have bought four Kelpies from our Noonbarra Stud over the last 10 years or so.
"I have bred some lovely pups out of Maggie. She is a good all round dog. She will do yards and paddock. She has enough force without being nasty with it. She will give them room in the paddock and has good cover but will come in when needed. She's such a nice little dog. I will probably be keeping a young male from her last litter" - Merrilyn Mulcahy. Molong Australia
We leased Noonbarra Gabby back for a mating to Noonbarra Dusty III in 2000.
From this mating we got three puppies. These were Noonbarra Tally, Noonbarra Penny IV and Noonbarra Scamper. All wonderful pups. One of them, Noonbarra Scamper was exported to the USA.
Noonbarra Gabby III was a lovely gentle bitch with a very loyal nature. She loved being right next to you like a shadow.
We also leased Noonbarra Gabby back for another mating in 2001 to Noonbarra Flash with excellent results.
NOONBARRA GABBY'S LITTER BY NOONBARRA FLASH
This was Gabby's second litter for us and we were very pleased with the quality of the pups from the first litter. Her last litter only had three pups but they were some of the best pups we have ever had.
We used Noonbarra Flash as the sire in this mating because of his great temperament and athletic build. He is a fantastic worker and has a lot of excellent qualities we wanted to have in the puppies. Flash is one of the big favourites with customers.
The puppies have turned out very pretty and they are very friendly. The litter included Noonbarra Lucy III and Noonbarra Caddie.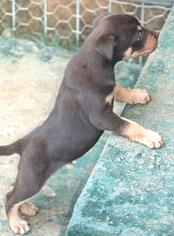 One of Noonbarra Gabby's puppies.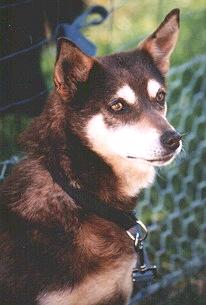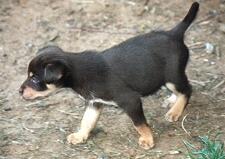 One of Noonbarra Gabby's puppies
---
NOONBARRA DAN IV X NOONBARRA JILLAROO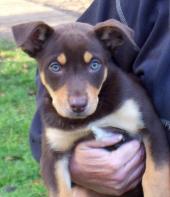 Noonbarra Missy went to Graham Thomas of the Bullenbong Working Kelpie Stud in Queensland. This is one of the older Studs and was originally owned by the late Mike Donelan who wrote the very popular book 'the Australian Kelpie'. The Stud then went to Bill Mc Neilly and then to Graham so it has had a bit of history.
"Missy arrived safely and has settled really well. We are very happy with her and will keep you informed of her progress. Thank you for the information on your Stud and the way you presented your handbook is most professional ..... Keep up the good work. Your promotion of the Kelpie breed is most outstanding."
Graham later retired to town and Missy went to a very large cattle station in Queensland working 1000 Braham cross cattle in 2,000 acre paddocks and timbered areas. Her owner phoned us and said she was a wonderful young bitch, one of the best he's ever had.
---
(Noonbarra Dusty X Noonbarra Valerie)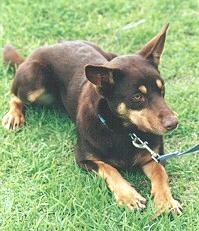 Noonbarra Abby was a worker and breeder for the Noonbarra Stud and later sold as an adult to a farming property in Victoria.
Noonbarra Abby is one of the nicest dogs you'll ever find. She has a great temperament. She is faithful and easy going. She is a keen worker and is versatile. She loves people and is very friendly.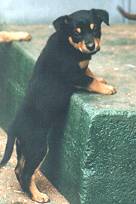 Noonbarra Abby is by Noonbarra Dusty III who is one of our best Kelpies ever and who has proved himself to be an exceptional sire for the Stud and his offspring are highly sought after. See more about him in our bloodlines and Sires section. Abby's dam is Noonbarra Valerie, one of our old females and is very calm but has inner strength and a dog that can handle any stock with gentle control.
The photo is one of Abby's black & tan puppies.
---
NOONBARRA BEAU
Bonorong Rex X Noonbarra Sarah
Born: March 2003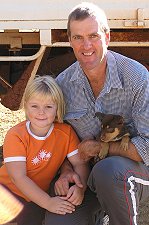 Beau went to Les Mc Master out at Hillston as a stock dog. Photo is Les and his daughter Merida when they arrived to pick up Beau.
Rex is a superb working dog that has won lots of sheepdog Trials. Both Yard and Arena Trials. In 2004 he got 2 scores of 99. He goes back to three generations of Noonbarra breeding through Noonbarra Butch and this links up nicely with Noonbarra Sarah who goes back to similar breeding.
Noonbarra Beau is a full brother to Noonbarra Sue and Noonbarra Kay in our Stud.
---
Noonbarra Dan IV X Noonbarra Becky II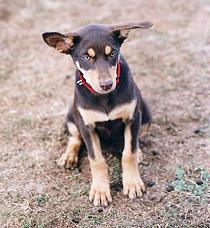 Noonbarra Amber has gone to work on a property near Walcha in western NSW Australia.
She was already working well when she left and was comfortable on the back's of the sheep. She showed some very nice style with plenty of strong walk in.
Her owner contacted us in 2006 looking for another Noonbarra Kelpie. This time a male to mate with Amber. He told us that Amber was an exceptional working dog.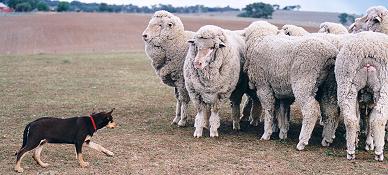 ---
(Noonbarra Dan IV X Noonbarra Angel)
Noonbarra Danny went to Nikki and Peter in Melbourne as a companion dog but has since been to a sheepdog training school..
"Hi Mary, Just a little update on Danny's progress. I have never come across a pup that has settled in so quickly. He is very confident, eager to please and very quick to learn. He is already doing the sit command and using the dog door to go in and out. Still working on the toilet training. Luckily we are able to spend most of the day with him at this stage so I can put a lot of time in to his training and playing with him. "
-----------------------------------------------
"Mary, Danny is 6 months old now and turning into a lovely dog. He is very laid back and easy going. After he has his long walk and run on the beach he is quite happy to come home and just sit around chewing on one of his chewies or sleep. I have him in the house 95% of the time and he is very well behaved."
"I took him to Paul McPhails a few weeks ago and he was amazing at rounding up the sheep which is more than I can say for myself. Paul said he was a bloody champion. He is also by far the best at dog school with his sits and stays. Not a day goes past that someone doesn't comment on his beautiful colour. He is a very dark chocolate. Although he is still very young he is starting to respond much better to my commands but a bit naughty when he gets involved with another dog about coming back. I think your assessment of him was very accurate and he will make a fabulous companion. "
_______________________
Oct 2006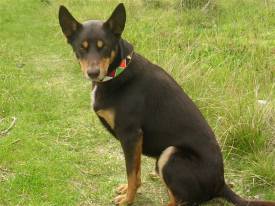 "Hi Mary, Danny is 4 now and he is fabulous, the best behaved dog I have ever come across. He is seen here with his collar from Africa that was hand made by
the Masai."

Best Regards
Nikki McLoughlin and Danny
---
Noonbarra Roy III X Noonbarra Megan
Owned by the Merrynvale Kelpie Stud. Victoria.
Here is another outstanding working dog from Noonbarra Megan. She produces some of the most natural, keenest and versatile working dogs we have ever seen. This pup was on order from us for over a year. The stud also owned Noonbarra Blitz (since passed away) and Noonbarra Maggie.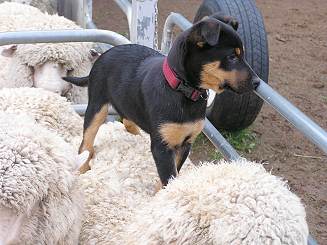 Jaffa started working very early and was just as good in the paddock as in the yard. He could back the length of the race with ease, even with the sheep moving and with large gaps. In the outside field he was always keen and trying to get to the head and turn the sheep. another excellent quality was that he wasn't always pushing and upsetting the sheep. He had good distance and allowed sheep to settle but he was also happy to come in close and stand up to them when needed. All this from a very young pup.
Letter from owner: "Thought you both might like to see how our boy has settled into the family! This shot was taken 6 days after Jaffa arrived and the night before was the first real sign that he had adjusted to two little girls in his life. As you can see, the girls believe that no puppy can survive without several toys, just so that if Jaffa got bored with one, he could easily move on to the next!!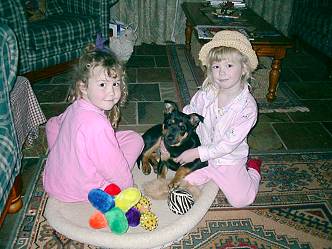 "He is exceptional!! I put him on some older lambs (only newly broken in) on Thursday for the first time and the "wow" factor came in! I had him on them again today and his confidence has come along in leaps and bounds just from Thursday. He went around the sheep both sides and when I got him to hold them in a corner, he slowly walked up and was nose to nose with a lamb.
"He stops when I ask, and listens when I growl.. if I need to. He went up to Breanna on Friday and just before he got to her, he sat down so she could pat him. He didn't jump up. I wasn't sure what he would do but just watched. I had a hunch he might act that way because he just seems to be so knowing and learns really quickly when I show him something new. He's my "wow" baby!"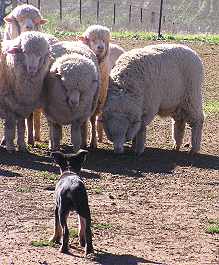 Noonbarra Jaffa showing ability at just 10 weeks of age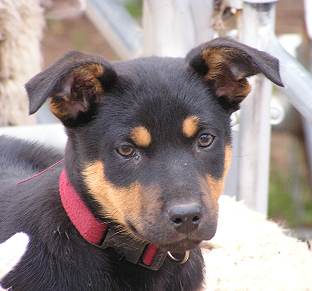 Noonbarra Jaffa up on the backs in the yard race
Noonbarra Jaffa has since been featured in a video training guide for agricultural students.