NOONBARRA WORKING KELPIE STUD
WHAT OUR CUSTOMERS HAVE SAID ABOUT NOONBARRA STUD KELPIES
---
(ROCKYBAR SMART X ORVALE ROSE)
Born: 1st August 1985
---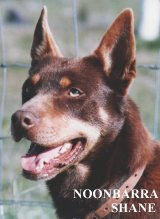 Noonbarra Shane was a full brother to Noonbarra Tina. He went to the Corvette Kelpie Stud as a puppy. He grew into a tall, good looking red & tan Kelpie and was used by us as a sire by our Stud on five occasions. He was a strong dog that could back sheep well in the yards and had a deep bark. He had a calm temperament but was strong willed. Strong walk up force on sheep.
His first mating was over Rockybar Valerie, a wide working paddock bitch we bought as a pup from the Rockybar Stud in Queensland. This litter produced some very good dogs including Noonbarra Libby, Bill, Tandy and Vicky. We also mated him over Noonbarra Kate (Twice) and got a number of good dogs including Noonbarra Smart I, Noonbarra Pearl, Noonbarra Cassie II, Noonbarra Ram, and a bitch we liked a lot, Noonbarra Kelly II. He was also mated twice to Avenpart Gayleen but we didn't get very big litters. Noonbarra Ben III and Noonbarra Debby were Stud Kelpies we got good reports back on. He was also used by the Corvette Stud over Noonbarra Tracey (a full sister to Noonbarra Tim) with good results.
---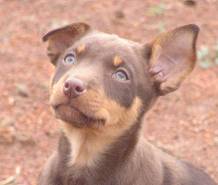 NOONBARRA BILL II
Noonbarra Tim X Spinifex starlight
&
Noonbarra Roy III X Noonbarra Megan
Owned by Allen Carter - Dubbo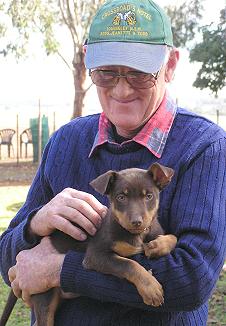 Noonbarra Becky III was another outstanding working dog from the Roy X Megan litter. She was especially chosen for Mr. Allen Carter who is a stock contractor, and owned Noonbarra Bill II in 1988. He said when all his other dogs were exhausted and went to lie in the shade, Bill was still working. He said that buying Bill was one of the best things he ever did.
Bill was a great dog for him and he was looking for another exceptional dog that was versatile and had a high degree of natural ability.
Becky started working stock at just 7 weeks of age. She could back sheep the length of the race with ease and was a natural in the yards. She had strong heading instinct and showed plenty of calm strength. As we get more feedback we will give her a page of her own.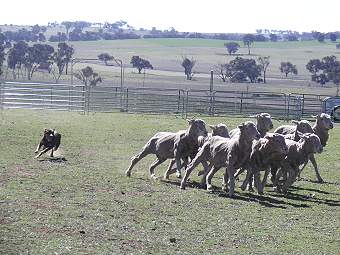 2008 update.
Unfortunately Allan sold up before Becky matured and she now lives a spoiled life of luxury in town. Her favourite treat is a sausage roll. She turned into a lovely dog. We have since leased back Noonbarra Becky for two litters. The first was in 2006. She had 7 pups and the whole litter were wonderful dogs. Going to farms and as family companions. We still get a lot of feedback from some such as Noonbarra Tammi, Noonbarra Tosca and Noonbarra Jake III who went to western Australia.
In June 2008, we once again leased Becky for a litter and we want to keep one of her pups and Allan wants one as well. We are looking forward to her having another outstanding litter.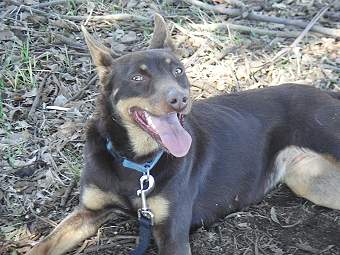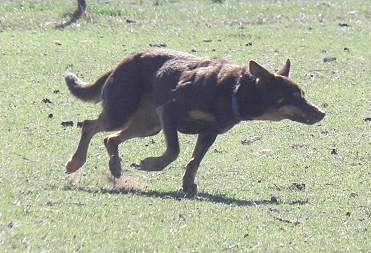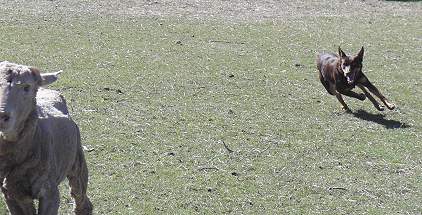 ---
(Rockybar Smart X Avenpart Gayleen)
Born: 17th July 1987
Noonbarra Luke was sold to Bruce Boland in Nyngan in outback Western NSW. Noonbarra Luke was a good-looking fawn and tan male and a son of Avenpart Gayleen. Before he was sold we got a 5th place with him in a puppy sheepdog trial at Manildra. His brother Noonbarra Nap and sister Noonbarra Judyrose also took places.
Bruce Boland trialled Noonbarra Luke in a number of yard trials and made him a trial champion. He did very well with him in many areas of western NSW. Although we don't have a full list of all his results some of them were: 1st -Trangie Open Yard Trial, 2nd - Collarenebri Open Yard, 1st - Cobar Open Yard Trial, 5th -Nyngan Open Yard Trial, 2nd - Bourke Open Yard Trial.
He was also used as a sire by a number of Kelpie Studs including,
Clovaville Kelpie Stud
Kennedys Kelpie Stud
Mafeesh Kelpie Stud
Waroo Kelpie Stud.
---
Noonbarra Roy III X Noonbarra Megan
Black & Tan male. Born: 3rd April 2004
Owned by Anna Carson in Victoria
"He his growing up to be a great dog. He has really become part of the family now, each night he comes inside and sleeps at our feet while we're watching television."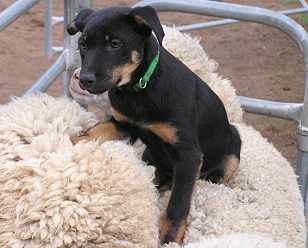 Noonbarra Zac was already working well before he was sold. He was especially good at backing sheep in the stockyards. This was another exceptional litter from Noonbarra Megan and every pup was working stock from a very early age. They had a lot of drive but also calmness and have settled in to homes that mostly combine work with a companion for the family.
Dear Mary & Stephen,

Thought I'd drop you a quick line to let you know that Zac has settled in here at San Remo. He has slept every night and we have had only a few accidents inside. He has been to netball and met all the girls and yesterday went to the beach and met a few other dogs and owners and had a lovely time playing in the sand. He has met a few of the neighbours and the kids across the road and the two nephews came over and spent time playing with him yesterday.
Zac follows Anna everywhere and wasn't too sure when she left for work this morning. He is now asleep at my feet.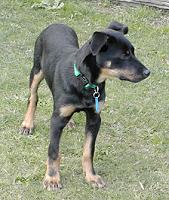 ___________________
Dear Mary & Stephen, Here are the latest pics of Zac. He has settled in well now, and learning very quickly. He already has become quite good at Sit, Stay, Down and Come, and is starting to hold these positions for longer periods of time with every time he does it. He has also learnt not to eat his food until told to do so and can shake hands.
He loves going for walks on the beach, and meeting new people and other dogs.
Regards, Anna & Jeanette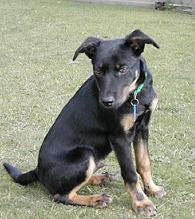 Noonbarra Zac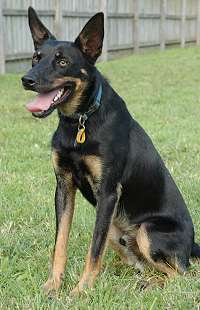 Have just taken Zac away for the weekend to a place called "Best Friends Holiday Retreat" about 20 minutes out of Yarrum in Victoria. It is a Caravan Park specially designed for your dog, with fenced cabins and caravan/tent sites, off leash fenced areas, beginners agility course etc etc. We went away with 7 other dogs, he loved it! It was the first time he has really had the chance to play and socialise with so many other dogs at once, and I must say he came home pretty worn out. He spent most of his time chasing and circling the other dogs. He was very very fast.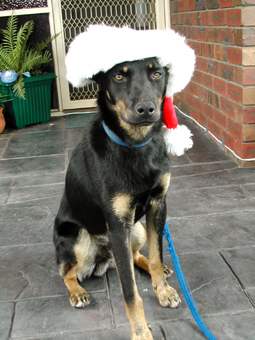 Noonbarra Zac - Christmas 2004
Photo by owner
----------------------------------------
April 2005
Hi Mary and Stephen,
Thought it was time for a quick update on Zac now that he has turned 1. I have attached a couple of photos of him taken a couple of weeks prior to his 1st birthday. He his growing up to be a great dog. He loves going for walks along the beach, and its now got the the stage when we get his lead and say to him 'want to go for a walk', his ears prick up, and he's straight for the door. We have had plenty of comments on our walks from other people saying what a good looking dog he is. Its funny too, because I think he knows when he is being paid a compliment, because he stands up straight and sticks his nose in the air, as if to say 'I know'. He loves playing ball on the block of land beside us, the photos attached were taken of him waiting for the ball to be thrown.
He has really become part of the family now, each night he comes inside and sleeps at our feet while we're watching television.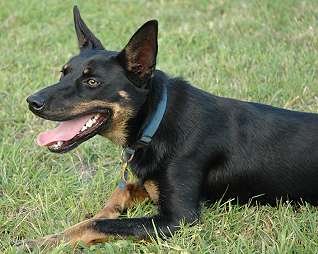 Noonbarra Zac
NOV 2006
Hi Mary & Stephen, it has been quite a while since my last update on Zac, so I thought it was about time to send some more photos, and let you know what has been happening.
Well for starters Zac is now a father. He mated with a Border Collie named Zoe at his second home (a farm, where he goes for the occasional day trip, and a place he stays, if we go away for any length of time). Last December Zoe gave birth to three pups, 2 female and 1 male. My brother who lives and works on huge properties up north in the Kimberley town of Kununurra adopted one of the female pups for himself naming her Chloe. I have attached photos of Zac with Chloe when she was a pup, and also some photos of Chloe at around 7-8 months (I think) We think that Chloe looks very much like her father, except for the markings. According to my brother she is turning out to be a great dog, and everyone on the farms up there just love her! It will be great to see her again when they hopefully come home for Christmas.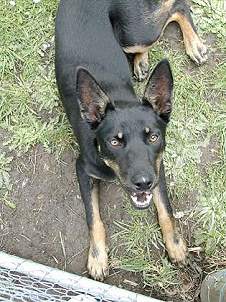 Unfortunately for him, Zac's days of making pups ended shortly after the birth of these three. After a couple of heartstopping moments when he took himself off for a wander, we made the decision to have him fixed up, and since that, he had really settled down and become an extremely loyal dog.
As much as I may have been the one who trained Zac as a pup, it is Dad he loves. The exciting prospect travelling the farms in the ute, and spending his Days around the tractor, far outweights anything either Mum or Myself have to offer. So every morning he comes inside, finds Dad, and doesn't let him out of his sight. Dad's shadow, we call him. Tuesday is my day off work, and so is the day he stays home and goes for a long walk along the beach, but every Tuesday morning when the ute leaves without him on board, he get a little stroppy. Each night after spending his day as a working dog, he comes home, eats his dinner, and retires to the lounge in front of his heater, where he sleeps until put outside for the night. What a life! He has the best of both worlds really.
Dads work takes him around many dairy farms in the area, and he gets lots of comments about Zac from the many farmers. A few even get a little disappointed when Zac isn't with him on the days he stays at home. When I have Zac along the beach, I also have many people say to me, "what a lovely dog", or the other day I heard someone say, "wow, look, that's a traditional kelpie."
Regards,
Anna Carson and family.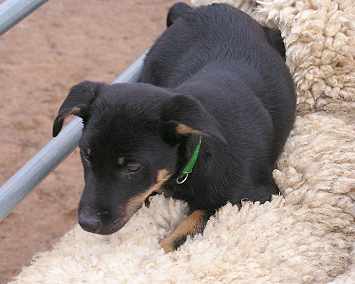 Noonbarra Zac as a young puppy on the sheep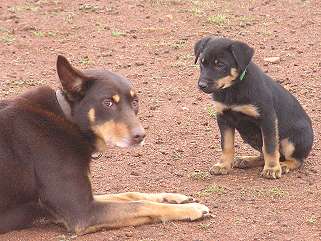 Noonbarra Zac with his friend, Noonbarra Flash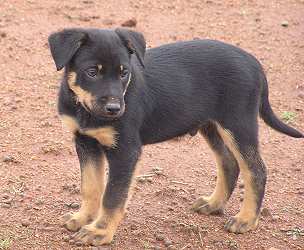 Noonbarra Zac as a young puppy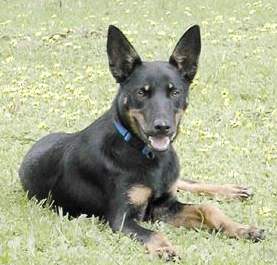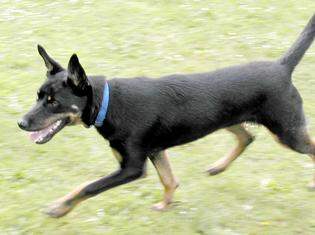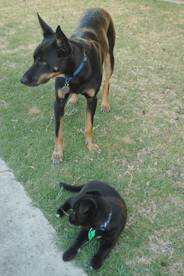 Noonbarra Zac and Chloe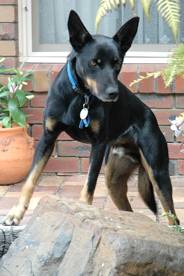 Dec 2007
Hi Mary and Stephen,
Thought I should drop you a quick line to let you know about what Zac has been up to in the last few days. He had a visit to the Southern Animal Referral Centre in Moorabbin, Vic, to see an vet orthopeadic specialist, after breaking his back leg when it got caught in the step of a tractor as he was jumping out. (This happened Wednesday afternoon). He had surgery to repair the fracture using a 6 hole narrow plate with screws (on Thursday afternoon). The surgeon was happy with everything and seems to think he should make a full recovery. Problem is now we have to keep him quiet for the next week or so, and his excercise has to be restricted for the next 8 weeks while everything heals. He arrived home yesterday afternoon, and already he is wanting to play with his ball and go to work with dad... It's going to be a long 8 weeks! He goes back to the specialist on the 13th December to be checked and to have a session of physio, which includes an underwater treadmill.
I have attached some photos I have taken of him with his bright orange bandage, and also the X-ray of the broken leg. I have also attached some photos I took of him back in October.
Hope all is well with you guys...
From Anna and Family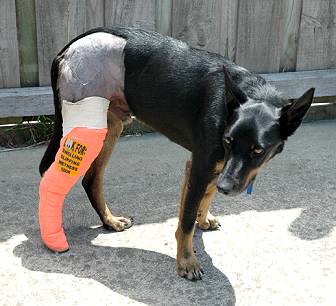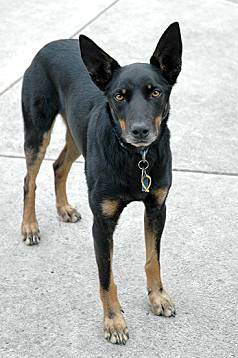 ---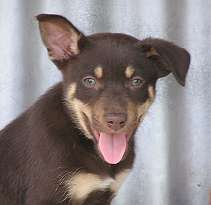 NOONBARRA CODY II
Noonbarra Max X Noonbarra Chloe
Owned by Mark Palmer. Mulgrave Victoria.
Noonbarra Cody II was an unbelievable young pup. At less than 8 weeks of age he was heading sheep, walking them backwards, bringing back breakaways. He was using footwork to cover and nice style. He was also working in the yards. This was all done on quiet dogged sheep and showed remarkable inherited natural working ability. This is so common with pups by Noonbarra Max.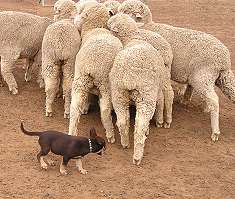 Noonbarra Cody II holding sheep together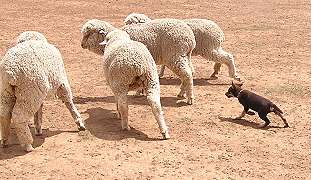 Noonbarra Cody II forcing a few sticky sheep.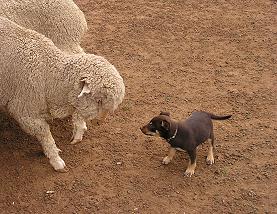 Noonbarra Cody II showed a lot of courage for a young pup at just 7 weeks of age
---
RETURN TO CUSTOMER REPORTS