NOONBARRA WORKING KELPIE STUD
WHAT OUR CUSTOMERS HAVE SAID ABOUT NOONBARRA STUD KELPIES
---
NOONBARRA ROY III X NOONBARRA SARAH
Black & Tan Female. Born: 4th June 2004
Owned by Ross Graham of Cowra NSW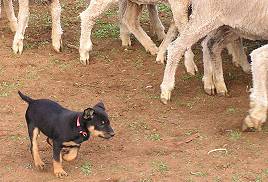 Noonbarra Brooke was a wonderful young black and tan bitch who was sold to Ross Graham. In 1986 we sold the fist Noonbarra Dusty to Lex Graham, Ross's father. Dusty I was a full brother to noonbarra Tim one of the best sires we ever had in the Noonbarra stud.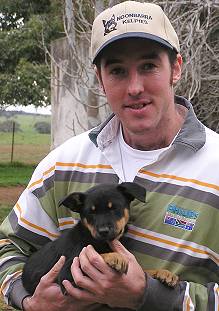 Noonbarra Brooke was already working before 8 weeks of age. She was a joy to watch. She had just the right amount of eye and style and terrific cover. whenever the sheep made the slightest move she just slipped smoothly into place and blocked them.
"Hi there, Have just been looking through your web site and noticed a litter that is of interest to myself. Noonbarra Roy X Noonbarra Sarah. I was wondering if there was any pups still available within this litter or whether orders had been filled, if not ideally I am looking for a bitch. "
"I operate a mixed farm in the Cowra district with my parents. We have previously bought a pup from your stud some 20 years ago. We run Crossbred ewes so are looking for a strong dog that is versatile in the paddock, yards and wool shed." - Ross Graham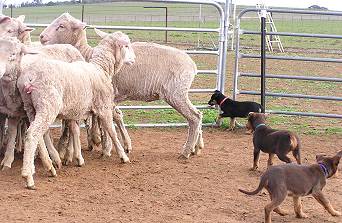 Noonbarra Brooke with Noonbarra Mark and Noonbarra Matilda III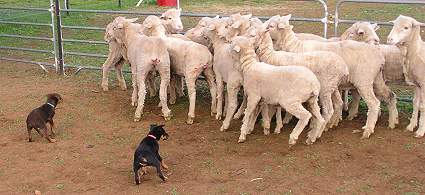 Noonbarra Brooke and Noonbarra Mark
---
NOONBARRA MAX X NOONBARRA VALERIE
Red & Tan Male. Born: 21st Jan. 2003
Owned by .... NSW
Solo was a single pup in the litter, hence his name. He is a good looking, confident and bold young male. He has a smaller build like his sire, Noonbarra Max. He started showing excellent working ability on sheep from just 9 weeks of age and is very keen.
He has a great nature about him and seems to be an even combination of the good traits from both parents. A very easy dog to work with and a nice gentle nature. He is very friendly but not excitable which is just what we wanted.
His breeding is the same as Noonbarra Gemma, from another litter. He has been one of the easiest dogs ever to train and handle and in that regard quite like Noonbarra Max was as a youngster and other Noonbarra Max offspring.
His ability on livestock has exceeded our expectations and this is the type of Kelpie we are trying to breed more and more of and the type we like. He was mated over Noonbarra Amy in 2004. We reluctantly decided to sell him to a working property in the Snowy Mountains as we already had Noonbarra Jackaroo, Max, Dusty and Flash all on similar lines as well as Noonbarra Nicky, Gemma as well as numerous Dusty offspring.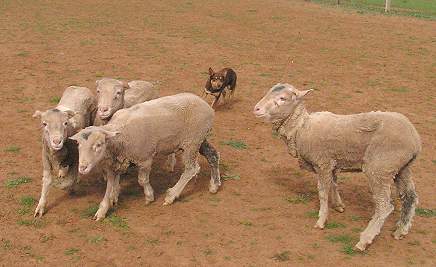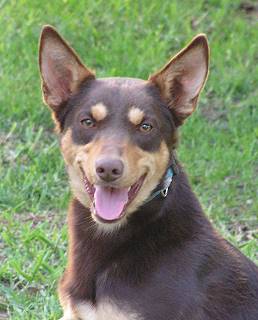 ---
NOONBARRA MAX X NOONBARRA ANGEL
Red & Tan Male. Born: 6th Jan. 2004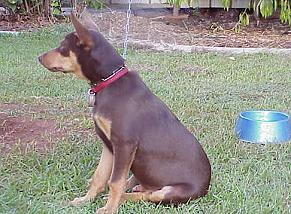 Owned by James Lyon, Katherine Northern Territory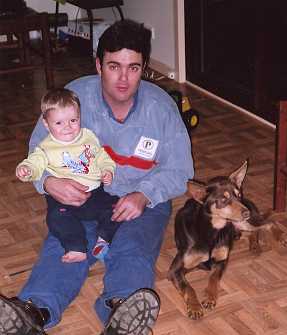 Max III was sold up to the Northern Territory for cattle work. James said one of the things they particularly liked about him was his keenness. Although they have other dogs, Max was the dog who would not give up on a hot day and was focussed on the job.
James and family have now moved into Northern NSW and run a cattle property there with Max and a Kelpie from another Stud and have just purchased Noonbarra Roy V (See below).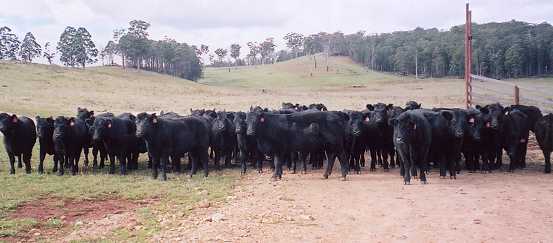 Some of the Cattle that Noonbarra Max III works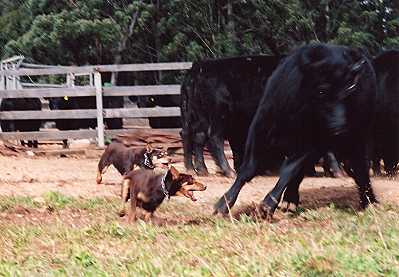 Max in front busy turning back the cattle.
---
NOONBARRA ROY III X NOONBARRA MEGAN
Black & Tan Male. Born: 27th May 2005
Owned by James Lyon, Walcha. NSW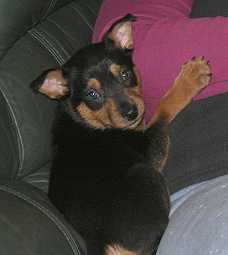 James runs an Angus cattle property in the New England district of NSW. He already owns Noonbarra Max III. Roy is from one of one of our very best matings for working dogs and this litter is a third time repeat with both sire and dam being very well proven breeders.
This breeding is well known for their lovely temperaments and working versatility. Past pups include Noonbarra Jaffa and Noonbarra Pedro.
"It was only this morning while fuelling up the car and patting Roy. That I realised that Roy is that one in a life time "Magical" dog, the type of dog
that isn't for sale or replaceable at any price."
---
NOONBARRA ROY III X NOONBARRA SARAH
Black & Tan Male. Born: 29th April 2005
Owned by Todd Pritzler of Queanbeyan. NSW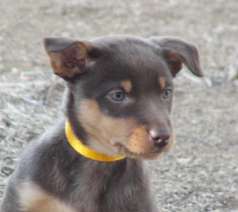 Jess was another pup who was booked for some time until we found the right pup. Todd lives on a working property with his family and wanted a good mate as well as a good working dog. We tried to get him the best possible dog that combined a lot of natural working ability with some steadiness and style on stock as well as being faithful and friendly. we needed a pup who was slightly outgoing and confident but not too 'in your face' or strong willed. At the other end , we didn't want a pup who was too reserved or dependent. We think we finally got the mix right. And Todd's assessment of new pup .." She's heaps good" !!
We got a phone call in September 2005 to say Jess was going great and had her first beginners day in the stockyards and the whole family is very impressed by her.
---
NOONBARRA ROY III X NOONBARRA SARAH
Black & Tan Female. Born: 29th April 2005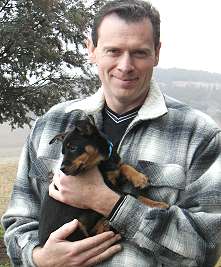 Owned by Shane and Debra at Braidwood. NSW
Lucy was sold as a cattle and sheep worker and companion dog to Braidwood. Lucy was an extremely calm pup and very easy to handle.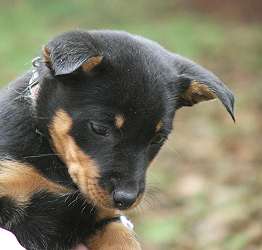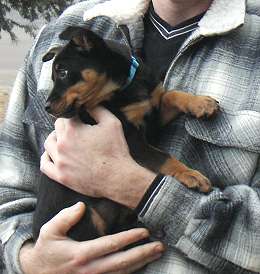 ---
NOONBARRA ROY III X NOONBARRA SARAH
Red & Tan Female. Born: 29th April 2005
Owned by John and Renee in Queensland.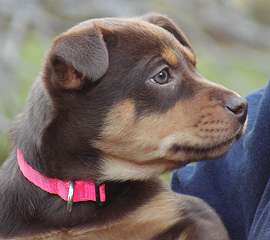 Meg was sold as a cattle working dog as well as a companion dog. She was flown up to Queensland.
---
---
RETURN TO CUSTOMER REPORTS