NOONBARRA WORKING KELPIE STUD
NOONBARRA LUCY III
(Noonbarra Flash X Noonbarra Gabby III)
Born: 17th August 2001
Owned by Geoff & Jill Steward. Sydney NSW
---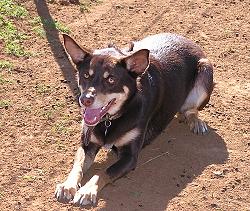 Noonbarra Lucy was sold to the Steward family in 2001 as a puppy. She has done very well as a city dog and a family companion. She has been back to the Noonbarra Stud a couple of times and had a bit of work on the sheep here. She is a lovely dog and very much loved by her owners. In 2003, the family decided to buy a second Noonbarra Kelpie. They chose a cream colour this time and called him Ding (short for Dingo, due to his colour). A friend of theirs with a property up north also purchased Noonbarra Toby III, a very good black & tan. Photo of all three Noonbarra Kelpie further down the page.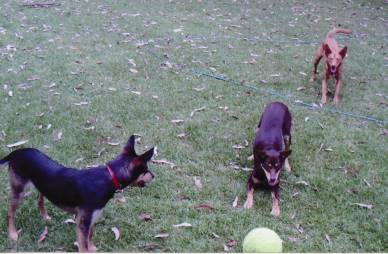 Noonbarra Toby III, Noonbarra Lucy III ad Noonbarra Ding all playing a game of Soccer.
"We must let you know what a good chicken herder Lucy is. We let the chickens free range in the garden on the weekends and Lucy takes great delight in rounding the three chooks into a corner of the garden and keeping them together. This is quite a feat as the chickens do not flock very easily. On Sunday she herded them together and then very quietly and slowly brought them down the garden - about 30 metres and between 2 wheelbarrows which Geoff was using - about 1 metre apart and onto the chicken run. We all watched this with amazement and amusement at her cleverness. She thought she was pretty clever too."
"Every morning she sits on my lap after breakfast for a cuddle and a talk. Lucy is really settling into her new life and routine now and greets each day with great enthusiasm and a large helping of adventurous spirit. We are beginning to wonder how we managed without her - life was very much more mundane. Attached are some photos of Lucy looking very relaxed with a new friend."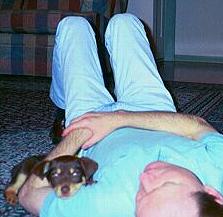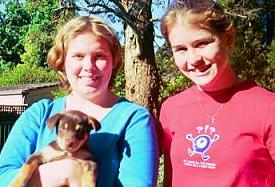 ---------------------------------------------------------------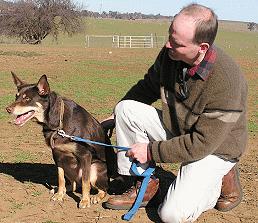 Geoff with Noonbarra Lucy on a visit to the Noonbarra Stud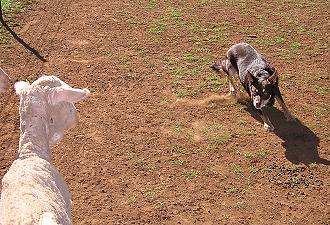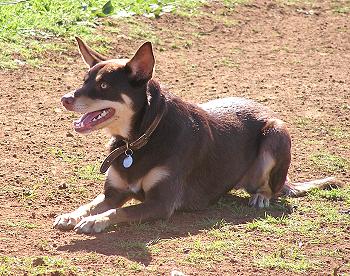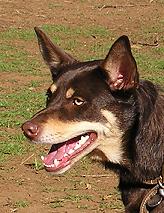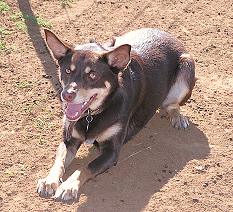 ---
(Bonorong Rex X Noonbarra Sarah)
Born: 7th April 2003
Owned by Geoff Steward and family. Sydney NSW
---
Jill and Geoff have purchased two Noonbarra Kelpies and their friend owns Noonbarra Toby. The Stewards have travelled up to the Noonbarra Stud on a couple of occasions and it is always a joy to see them and get feedback on their Kelpies.
"Thought you'd enjoy these photos. The is two hard working dogs after a long day in the suburbs. The second is a visit from Noonbarra Toby. The dogs just knew they were all related and had a great game of soccer on our back lawn. Lucy plays centre forward, Toby makes a great goalie and Ding plays everything else as he tends to hog the ball if you let him. Hope to get up to see you again and let you see how well Ding has got on. Love Jill and Geoff.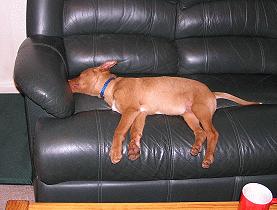 Noonbarra Ding relaxing on lounge at Noonbarra Stud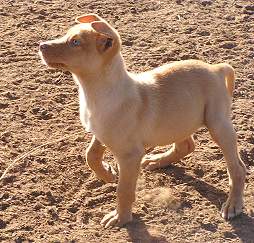 Noonbarra Ding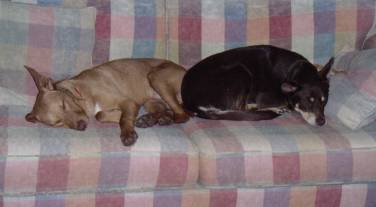 Noonbarra Ding and Noonbarra Lucy III at their Sydney home.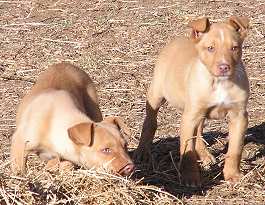 Noonbarra Ding and Noonbarra Eddie - litter brothers.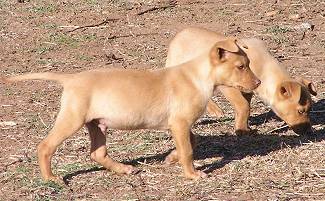 Noonbarra Ding and Noonbarra Eddie - litter brothers.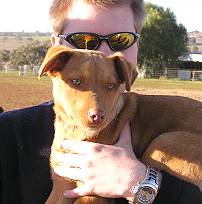 Noonbarra Ding.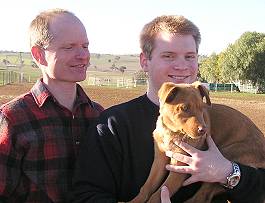 Noonbarra Ding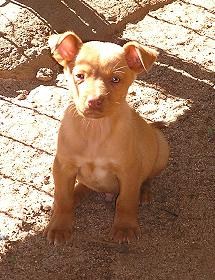 Noonbarra Ding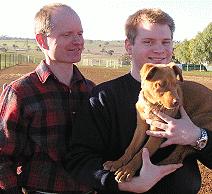 Noonbarra Ding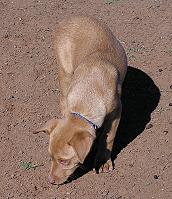 CLICK HERE FOR MORE INFORMATION ON CREAM KELPIES