NOONBARRA MAX
(Noonbarra Dusty X Noonbarra Lucy II)
Born: 16th March 2001
---
Noonbarra Max has been kept in the Noonbarra Stud as a sire. We feel he is one of the best young dogs we have ever bred. He has a friendly, outgoing personality and is biddable and calm. One of the easiest dogs we have ever worked with. Inside the house, he is very well behaved and basically toilet trained and crate trained himself. Great dog to travel with and take places. Very well socialised and loves people including children.
On sheep he is showing some of the best work we have seen in many years. He is strongly linebred on our Noonbarra genes and has many of the best traits of our past top sires such as Noonbarra Tim, Noonbarra Gabe and his own sire, Noonbarra Dusty.
---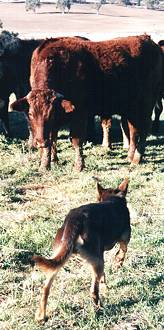 NOONBARRA MAX ON CATTLE
---
He was always very well behaved and could be left in the house unsupervised at just 12 weeks of age. He is very easy to train and wants to please. He is also very faithful and will come on command and likes to be close. These traits came down from Noonbarra Gabe and Noonbarra Dusty III.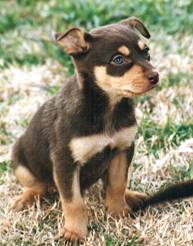 MAX PUPPY FROM VALERIE
---
He is, and always has been a dog that can be very calm when nothing is happening and usually just lies down and goes to sleep but is always ready to go when needed. A very affectionate and biddable dog. He started working sheep at 11 weeks of age and showed exceptional natural ability right from the start. He has the force to shift them but also gives them enough room so as not to unsettle them. Will work wide or close and is not afraid to squeeze them out of a corner or off a fenceline.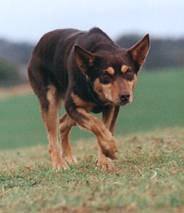 He is a remarkable young dog. He has been carefully linebred and it is doubtful if there is another Kelpie in Australia that is as well linebred as Noonbarra Max. His first litter was to Capree Dyna in April 2002. He has also been mated twice to Noonbarra Valerie and to Noonbarra Liz and Noonbarra Megan. we hope to mate him to Noonbarra Jessie soon.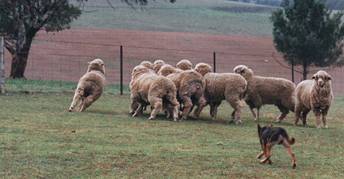 Max is not a tall dog nor is he a heavy built dog, which seem to be popular at the moment but he can move faster than many big dogs and turn with the agility and speed of an athlete. You could not ask for a keener dog. He will work until he drops. Max is a lovely dog to work with and has quickly become one of our mates.
---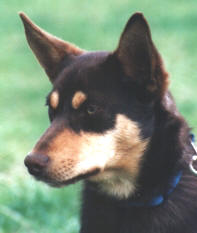 Noonbarra Max at 6 months
---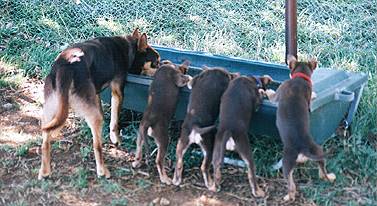 NOONBARRA MAX AND HIS LITTER OF PUPPIES FROM NOONBARRA VALERIE
---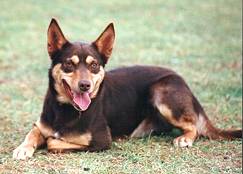 ---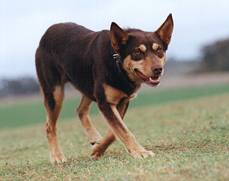 ---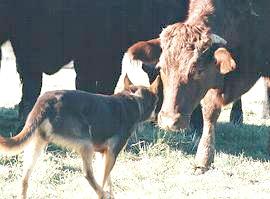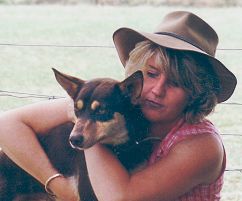 Noonbarra Max with Wendy Bilson
---