NOONBARRA KELPIE STUD
NOONBARRA ROCKY
(Noonbarra Dan IV X Noonbarra Megan)
---
Noonbarra Rocky was sold to Tim and Tara, a wonderful home and a dog that is greatly loved.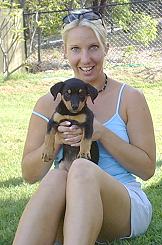 "Hi Mary & Stephen, Just to let you know that Rocky is here safely and already the most important person in the house!!!
"He was quiet & shy for about 1 minute when he arrived in his crib but then we took him out and got rid of the newspaper and he was running around playing with the newspaper like a kid in a candy store. He slept very peacefully the whole way home on my lap and then felt obviously very much at home when we got home - he was rolling around in the grass, playing with his new toys and busy exploring everything before falling asleep on the cool tiles underneath the table in the pergola area."
"We love him dearly and thank you so much for such a beautiful dog."
...........................................
Just wanted to let you know that Rocky has settled in superbly, he is just such a delight and we are so fond of him. I have attached some photos. We took him to our vet on Sunday and he has been microchipped. We have also subscribed to the Kelpie Club.
"He doesn't seem to finish all of his dinner but he has been doing some training - he knows to sit, come & stay and thus has been given quiet a few liver treats & the odd chicken wing so maybe that is why he doesn't finish his Supercoat & Puppy Milk. The toilet training is going better than we thought. We will keep you posted and thankyou for such a little treasure."
---
Mar 2003: "Just thought we'd drop you a line to let you know how little Rocky is - we love him to death, he's very toilet trained, can do lots of tricks and is an absolute delight. He has doubled in size since we got him and is extremely healthy. We'll keep you updated." Regards, Tara & Tim
APRIL 2003: "Just to let you know that Rocky is still an absolutely delightful part of our family! He graduated from Puppy preschool with flying colours last night and we were very proud. We honestly couldn't have ended up with a more beautiful perfect dog, we are so happy and he loves it here."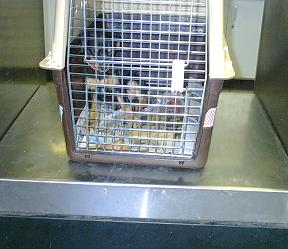 Noonbarra Rocky arriving at airport
---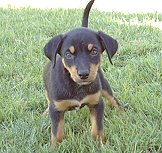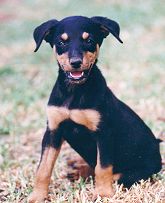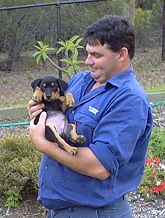 Tim's new baby!
---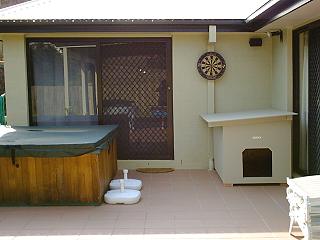 Noonbarra Rocky's new home
---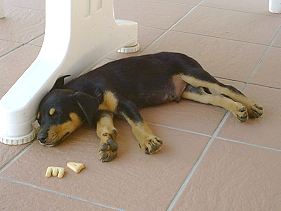 Tired out !!!
---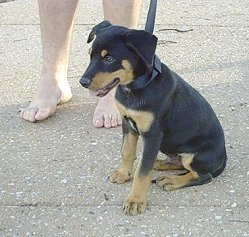 Noonbarra Rocky's first day at the park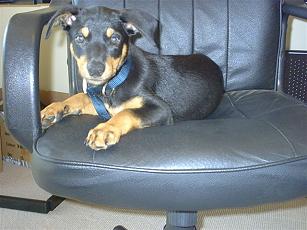 Rocky in the Office
---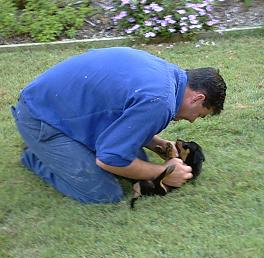 Tim playing with Rocky
---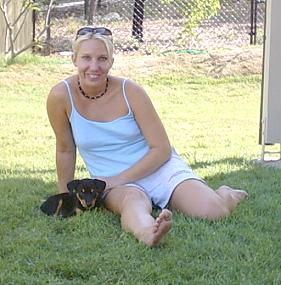 Noonbarra Rocky with Tara
---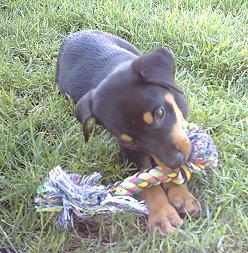 NOONBARRA ROCKY WITH HIS 1st TOY
Hi, just keeping in touch - photos of our precious Rocky - he has his own special couch in the lounge where he sits with us every night to watch TV - god help anyone who tries to sit on it!!!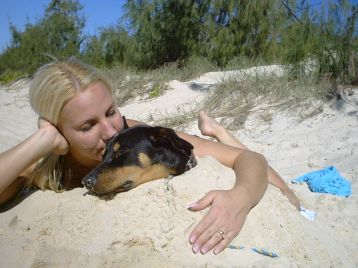 Noonbarra Rocky on holiday covered to neck in sand (and loving it!)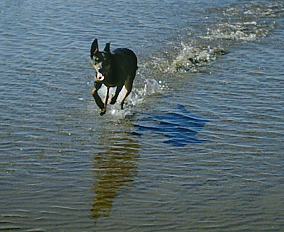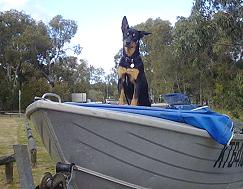 ---
RETURN TO CUSTOMER COMMENTS SECTION