NOONBARRA LUCY II
(Noonbarra Gabe X Noonbarra Vicky)
Red & Tan Female.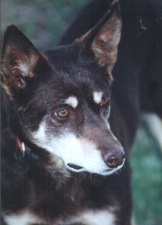 Noonbarra Lucy is featured on our video of the Noonbarra Stud 2000/2001
Lucy was one of the last Kelpies we were able to use in our breeding program who was a daughter of Noonbarra Gabe. She produced us some very good dogs with an amazing amount of natural inherited working ability. Noonbarra Max is one of our favourites but Noonbarra Emma down at Cooma in the Snowy Mountains is also doing well and can even back cattle. (See separate information on these two dogs under Bloodlines and Customer Reports.
One thing about Lucy was that she would go out and gather the stock with no commands and bring them back to you every time. It was beautiful work. She had a lot of force too and could stand up to anything.
She was a keen worker even as a puppy and showed very good gathering ability and backing in the yards. We bred her to Noonbarra Dusty twice and got one of our best males in Noonbarra Max.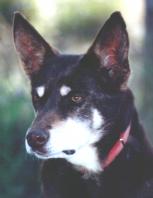 She would work all sheep from just a few to mobs and yard work. She will back the sheep in the yards. She can be quite forceful and a very active worker that could go all day. She liked to keep the sheep moving. She has no problem getting the sheep off away from fences etc and is a strong worker.
Apart from her work, Lucy is a lovely companion dog. She loves people, including children and has a nice faithful nature. She is an excellent house dog too.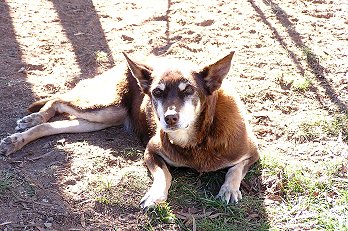 One of he last photos taken of Lucy as an old dog