NOONBARRA KELPIES
AND EXTREME WEATHER
---
Our Noonbarra Kelpies are bred to handle extremes in temperature. This surprises most people because they expect them to handle the hot dry Australian summer but they don't expect them to be able to handle freezing cold conditions.
We have Noonbarra Kelpies in cold Winter countries such as Canada, Italy, Croatia, Hungary, northern United States, Germany, New Zealand, Belgium, Switzerland, Norway, Japan and Sweden. Often they fit in right away but if they have come directly from our summer to a cold winter it can take a while to adjust.
---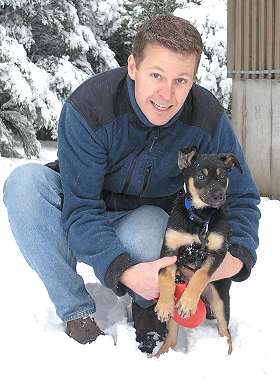 Noonbarra Tiger as a puppy in Tasmania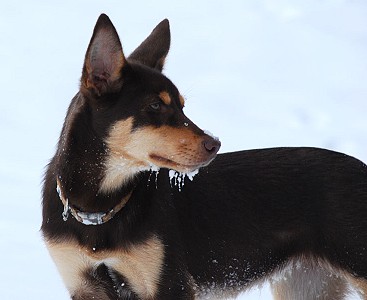 Noonbarra Janis in Switzerland
Just a few words to keep you posted about the life of the kelpies in Switzerland. Janis is growing to be a solid dog. She is indeed easy to train, faithful, very friendly and most clever. The relation to Mudgee is perfect as they play a lot together while Mudgee takes an important part in her education.
So far, Iíve contented myself to take Janis around with me and confronted her with odd situation. Her reaction is always very positive and she seems to feel comfortable in any situation. I should wait for the beginning of (northern) spring to start a light training in agility. As you can judge by the attached pictures, she is indeed a very good looking dog. I should thank and congratulate you for breeding such perfect pups. - Dominique and Pascal. in Switzerland.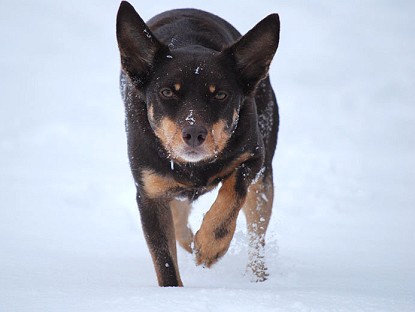 Noonbarra Mudgee in Switzerland
---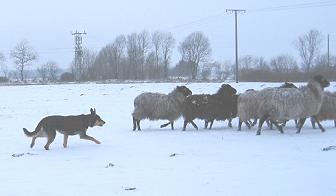 NOONBARRA MATE WORKING SHEEP IN THE SNOW. GERMANY. CHRISTMAS 2002
---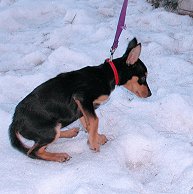 Noonbarra Krypto as a puppy in New England USA.
---
Just wanted to tell you that Bob does very well here in Sweden, he gets along very well with Cleo and they play a lot. I did not think to very much about the calm of your strain of Kelpies since Cleo always been calm, but Bob even calmer and really a very easy pup to raise, the other day he fell asleep in busy pet shop, so he is very good in new environments ,just as I had hoped . I think he will be very good for tracking ,search and rescue and obedience.
Just wanted to tell you that Bob is doing very well , He has handled the cold winter very well (-20c) much better than Cleo and as you can see grown a bit, He is a very nice dog very much the way you described him as a puppy.
Bjarne - Sweden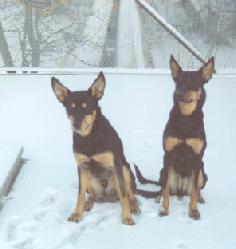 NOONBARRA BOB (LEFT) AND CLEO (RIGHT) IN SWEDEN'S WINTER SNOW
DOWN TO MINUS 20 DEGREES CELCIUS.
---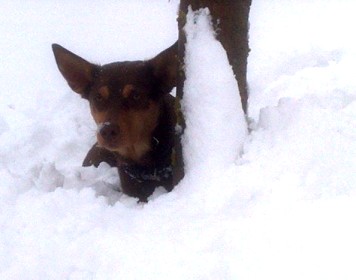 Noonbarra Mou in Italy.
---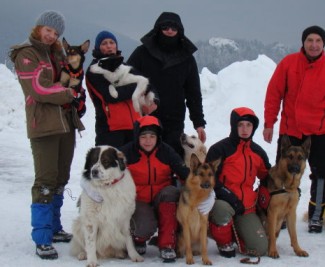 Snow Avalanche Dog Rescue Team in Croatia. Noonbarra Brynn & owner, Nina on left.
Both dogs (Noonbarra Will & Noonbarra Brynn) are doing agility, and Brynn also does search and rescue. She was probably the first kelpie doing avalanche search and rescue, as far as I know it. She enjoyed herself very much. I really love working with her, she is so smart and learns so quickly, I have never seen that before in a dog. I only need to show her once and she knows it, and even better, she doesn't forget, like ever. She can be reminded at everything I ever taught her in few seconds. Will is also doing great. He enjoys agility so much and is really fast and extremely motivated. I will try to make some videos of him doing agility soon so I can send it to you. Maybe you can upload it on your web site. - Nina Croatia.
---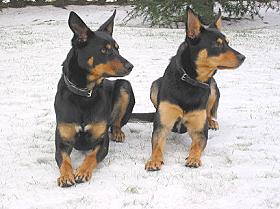 NOONBARRA MATE AND SCOTT ON ICE IN GERMANY
---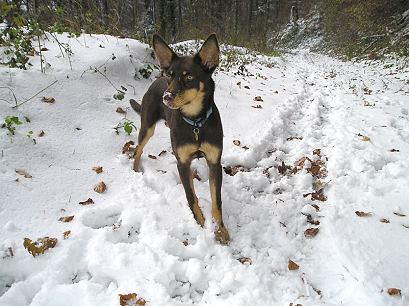 Noonbarra Mudgee in Switzerland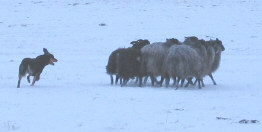 NOONBARRA MATE WORKING SHEEP IN SNOW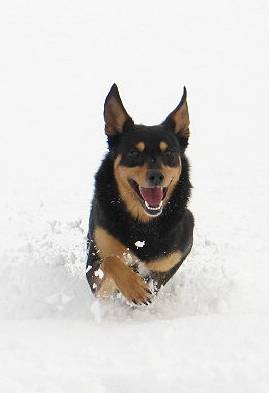 Noonbarra Mate running in snow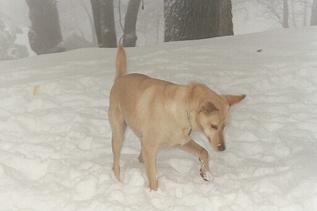 Noonbarra Scamper in Snow - Washington State USA.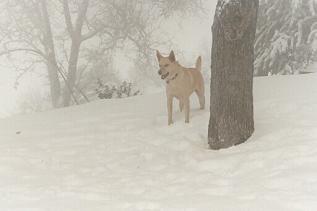 Noonbarra Scamper.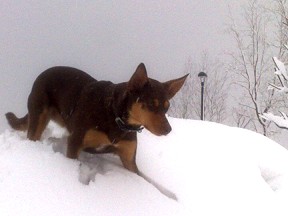 Noonbarra Mou in Italy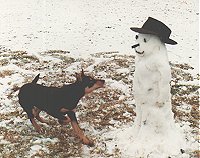 Tara at our farm at Cargo N.S.W. in 1984.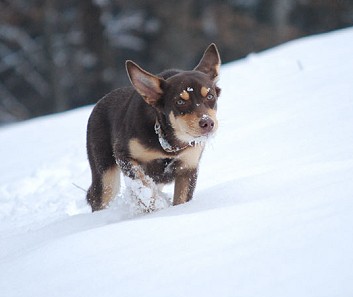 Noonbarra Janis in Switzerland Jan 2010
---
Kora is now just under 12 months and I am thrilled with her development. She is a great dog when in the house and spent most of the winter in here, but now spends more time at night in her kennel & run. Sheep work is progressing really well and is as keen as mustard, and now is stopping and looking for her sheep before casting. I like to get the dog to pause- -- command " Look ", when sighted the stock give the sendout command either left or right. We are working on the cast. Walkup is great with great strength and natural balance.
I love her to bits. Noonbarra Down such a breakthrough in basic training. I am recommending to all that I talk to to get a copy of your Kelpie Basics book. Such full of wisdom.
Photo of Kora inside during the winter( Why do kelpies spend most of their sleeping time on their backs with 4 paws in the air ? )
Noonbarra Kora enjoying the warmth of a fire in New Zealand