NOONBARRA CHLOE
Red & tan female. Born: 3rd April 2002
Sire: KARROBAR MOSS ( Phils Creek Nap X Reedy Creek Casey)
Dam: NOONBARRA ABBY (Noonbarra Dusty III X Noonbarra Valerie)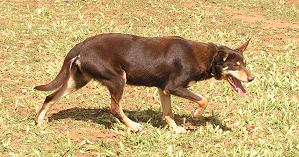 Very well bred young female Kelpie. She is a tall, athletic type of dog with long legs and a fast turn of speed and excellent break out on sheep. She is very much like her dam, Noonbarra Abby. She shows good natural inherited ability in the stockyards as well as the paddock. Chloe is obedient and travels well and is friendly. She has often been an inside dog here at the Stud and likes to be around people.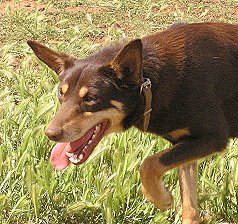 She is quite bold and confident and will come in very close if needed with no fear. She shows some very nice style out in the field and heads the sheep well. She is not frightened to be in close or move sheep off the rails.
Her sire, Karrobar Moss is one of Australia's top champions and has won major sheepdog trials including the Australian National title. He is good on cattle or sheep and has had a background of mustering big mobs of sheep. He has won Yard trials, Utility farm trials and the traditional 3 sheep arena trials. He is a friendly dog and has produced very good pups over a number of our females.
Most of the photos here were taken when Chloe was in pup with her first litter.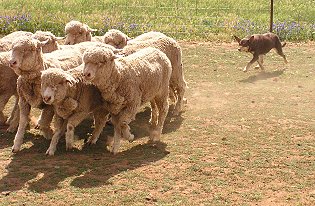 NOONBARRA CHLOE SHOWS NICE STYLE IN PADDOCK
---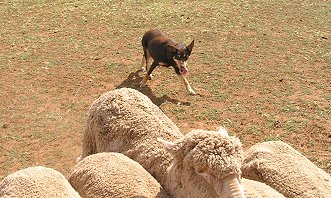 NOONBARRA CHLOE HAS EXCELLENT COVER ON SHEEP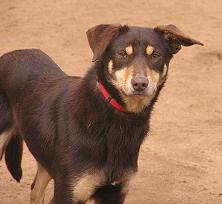 CHLOE LIKE MANY KELPIES HAS EARS THAT GO UP AND DOWN
---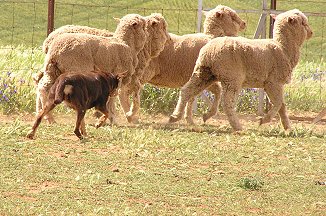 ---
Her litter to Noonbarra Max produced some of the best pups we have seen. They were working around 7 weeks of age at an amazing level. Pups like Nova were heading sheep, breaking out and using footwork to block them. They were showing calm strength and boldly walking in to sheep stamping their feet. In the yards they were very happy to run along the back's of the sheep in the race. This was a beautiful litter and similar to the Noonbarra Max X Noonbarra Lizzie litter we did a little earlier and we got Noonbarra Jackaroo from that!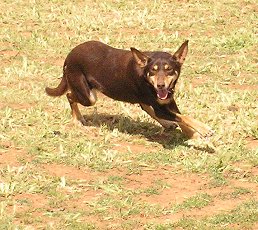 SHE IS FAST AND AGILE
---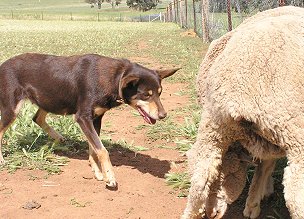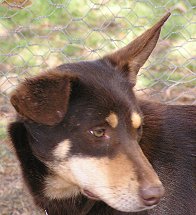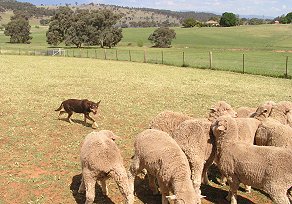 Noonbarra Chloe was sold to an old customer of ours from Wellington and he wants her for work but also intends to breed from her at a later stage.
---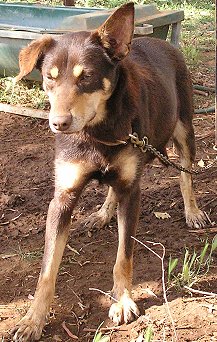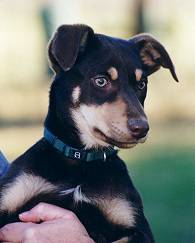 Noonbarra Chloe as a young pup.