NOONBARRA DUSTY IV
(Capree Cobb X Noonbarra Libby)
Black and Tan Male
Owned by the Snape family
---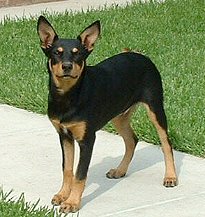 Hi Mary & Stephen,
"I hope all is well up your way. Dusty is growing into a very handsome dog. He graduated from puppy pre-school and we have been to two obedience classes. He has a girlfriend there who is exactly the same colour and age and they have a ball romping and getting tangled up! Last weekend was a disaster as someone left a jar of liver treats on the table outside and being a champion at jumping, he got into them and scoffed the lot on the saturday night. Well needless to say we had a very hyperactive dog who wouldn't listen to one command at obedience class!!! "
I take him for a walk every morning and he is really good at commands. He is still up to heaps of mischief at home and I am glad we took photos of our garden and yard looking beautiful before we were blessed with his presence!!!!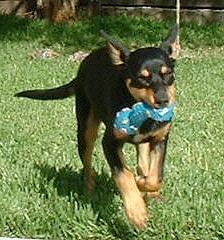 Although there are times when I could send him back, I love him to bits and look forward to ordering a bitch later in the year. Anyway just wanted to say Hi and hope this finds you all well.
Regards, Sandy , Greg, Tim, Jason and most of all Dusty.
*****************************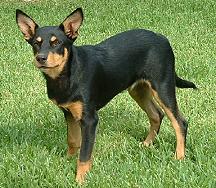 "How delightful to see Dusty featuring on your website. I hope you find a good home for his Mum Libby. He looks so handsome in the customer referrals page and glad you could use the photos of him. We have told all our friends to look at the website."

"Dusty is curled up at the moment in his basket in the lounge room, he is changing into a calmer dog sometimes (although last night he destroyed half of a pot plant I had!) Despite that he really is the love of my life (after Greg and the boys that is!!!).
He just loves anyone to kick a big tennis ball to him, he can play that game for hours. He doesn't like the drop command, and still likes to play at obedience classes more than obey! His friend Sally is the same, so we have to make sure we are in separate groups of second class.
---
We had a good morning at dog school, Dusty did as he was told 80% of the time. We then let him off the lead for the first time with his friend Sally and he had a ball, where we have lessons is a great place to do just that.
I'm amazed at how fast he is. We will have to work on the come command though. We get so many comments on how he is such a good looking dog, but we all know that don't we!
When I took the first class, Debra and Richard walked past with (Noonbarra) Darcy and I was hoping Greg would see them as he hadn't met Darcy before. He did see them so he had a chat to them and said Darcy is a very good looking dog also and very obedient.
---
Hi Mary and Stephen, I hope this finds you both well. Yesterday we once again went to obedience classes at Leichhardt only this time we let Dusty have a huge run beforehand as he has been full of energy when we start the lessons and all he wants to do is play with the other dogs.... It seemed to put him in a bit of a better frame of mind for the lessons, we are constantly reminded by the
trainers that he is still only a puppy. We let him have another run after lessons and he loves to round up the other dogs and go wide.
When we were leaving a guy came up to us and said "I bet that's a Noonbarra dog" He was a young guy having coffee with his wife and two young daughters. He really wants a Kelpie and has been reading your website. He remarked how handsome Dusty was and how shiny his coat was. His wife is a bit unsure about a Kelpie with the two young girls. We told them a lot of things and
suggested they call you and have a chat. He was so impressed with Dusty, he had a smile from ear to ear. It's nice to have people comment on him.
---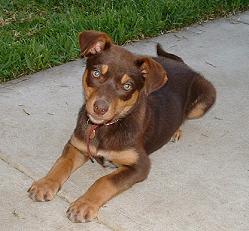 (Noonbarra Flash X Noonbarra Penny IV)
Red and Tan Female - Owned by the Snape family, who also own Noonbarra Dusty IV
Hi Mary and Stephen, Dusty was pleased to hear he is to become an uncle with the litter due. :)
I have attached some recent photos of Dusty and Tilly like any proud owner!
Dusty is continuing to develop into a fine looking Kelpie, he is now about 17months old and has a great personality. He loves Tilly and it is great to see them play together.
Tilly is now 6 months old and has such a lively nature and always seems to be smiling. She loves to run and jump. She is a beautiful looking dog, quite a bit smaller compared to Dusty at the same age. She loves Dusty to bits and regardless of where she is or what she is doing, she is always looking for him. Dusty loves to play with a big tennis ball and she has just started to join in although he sometimes lets her know it is his game, but he is slowly coming around. She sometimes annoys the heck out of him so we try to give them time out from each other. We haven't taken her to dog training as we are trying to do it on our own. I sometimes think though that we maybe should take her as it is hard with Dusty around for her to focus on us.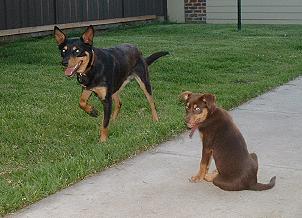 Noonbarra Dusty IV and Tilly
We both thought your newsletter was a great idea and enjoyed reading it very much.
Greg and I are going to Rylstone at the end of April to watch the Kelpie Trials as we thought it would be great to see kelpies in action (and to get out of Sydney).- Regards Sandy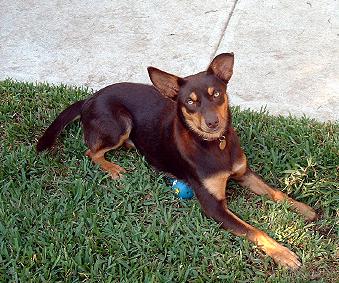 Noonbarra Tilly
"Hi Mary and Stephen, Greg and I returned home this evening after a wonderful weekend at the National Kelpie Trials at Glendale.
"We had the fortune to meet Chris Stapleton and of course Dusty's dad Capree Cobb and his Aunt Capree Katie. We now after 2 days realise the work you people put into your profession. We didn't think we would enjoy the weekend as much as we did. I feel so refreshed. We were very impressed with Cobb who came equal 2nd (he got the highest score in the final) and as Chris said imagine what he could have done with 4 good legs (we were told he broke a back leg not long ago). He had it bandaged and limped but when it was time to work he went like a rocket!
"Katie was also very impressive she came equal 3rd. With Dusty's Noonbarra and Capree bloodlines I'm not surprised by his good looks and intelligence, but you already knew that didn't you:)
When we got home Dusty and Tilly ran up and Dusty couldn't stop sniffing as if to say where have you been without us!

Regards
Sandy and Greg (and of course Dusty and Tilly)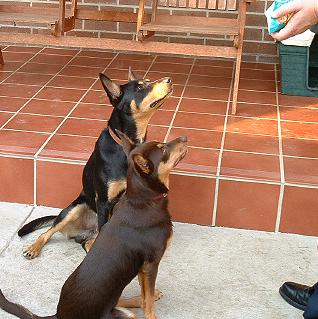 Noonbarra Dusty IV and Noonbarra Tilly
---
S