INFORMATION INDEX
NOONBARRA KELPIE STUD
WHAT OUR CUSTOMERS SAY ....
PAGE THREE
OF OUR CUSTOMERS REPORTS
---
We think these are our most important pages on the whole web site. We now have three big pages filled with reports and stories directly from our customers about their own Noonbarra Kelpies
We are very proud to have supplied so many customers with the Kelpies that they needed. We feel it is important because instead of us just promoting our dogs, it is the actual customers giving their independent comments. It is easy for a dog breeder to say they have great dogs - but ask to see if their customers agree. It is always a two-way deal. the customer has to do the training as well or the dog will not reach their full potential. We are very lucky to have so many customers that care about their dogs and stay in touch to let us know how their dogs are progressing. We always get a thrill out of hearing the positive feedback on Kelpies we have sold.
Page One

Page Two
---
Click on a dog to read about them or just scroll down the page
PAGE 3
Please note that cross-bred Kelpies, Show Kelpies, dogs from Pounds, and Kelpies from other breeders may not behave in the same way as Noonbarra Kelpies. We have spent many years and a lot of money to get our Stud to the level it is today.
We have had a number of people recently that have liked what they read about Noonbarra Kelpies but mistakenly thought it applied to the entire breed and even to cross-bred dogs. Many have bought dogs elsewhere that did not behave the way they expected and they then got no support from their breeder. We can only talk about how our Noonbarra Kelpies behave in these situations but we are happy to try and help people who are having problems with dogs that they have bought somewhere else. We of course give full on-going support to all Noonbarra customers.
---
Boris was sold as a companion dog to the Akins family in Sydney.
"Thank you so much for your hospitality on Saturday when we picked up Boris. We just wanted to let you know how he is going. He was pretty playful in the car on the way home, but after chewing on the schmacko he was tired and slept on my lap for the rest of the journey home, with a few toilet stops in between."

"That night we put him in the crate (brilliant invention) and he was so quiet after 5 minutes of whimpering that I had to check if he was still breathing!"
"He is a very loyal dog and very clever. He already knows not to go onto the carpet areas of the house and to stay out of the bathroom (he likes the clothes in the hamper). He loves to just play at my feet when I am cooking or washing up."

"At the moment he is sleeping in the kitchen area which is located at the back of our house. He also has the freedom to run around and play in this area."
"Also wanted to let you know that even in this short period of time he is very good on the lead for such a young pup, he does not mind having it on. He is also great around children. I took him for a visit to see my 15 month old nephew. I was frightened that he might nip at his toes but he almost sensed that there was a child and was so gentle and let my nephew pat him with no problem at all."

"He is a wonderful puppy and we thank you for choosing us such a great little dog, with a fantastic temperament."

Thank you so very much for the photos of Boris and his brother Jet, they are so cute!
Boris is doing great. He loves sleeping in the laundry in his crate and has made it his den and resting place. We found a great obedience school that runs in conjunction with our vet and Boris is doing really well. He is socialised with other dogs and has
learnt to Come, Sit. Stay and drop.
He is growing very quickly and loves the mixed diet that we give him. The puppy notes that you gave us have really come in handy. After he settled in he really did try to push the boundaries to see what he could get away with, but he now knows that the clothes on the line are to stay on and seems to know the difference between what he is aloud to do and what he is not.
I have followed your advice with the dominance behaviour. If I walk down the stairs and he goes before me I make him come back up and wait for me to pass, and he knows the rules.
He enjoys going to work with Mark, however if the building site is too dangerous he is happy to stay in the yard whilst we are at work. We have plenty of toys for him and have set up some tunnels and obstacles in the yard to keep his mind active.
I take him for runs with me, but he gets very puffed out quickly.
He is a great little dog, when I take him for walks everyone comments on how cute he is and he loves to get a pat from anyone that is willing to give him one. He is improving in his behaviour everyday and he is a great companion.
Once again thank you for the photos and the helpful advice.

Nicole & Mark Akins.
Boris is doing fine after his brush with my ramset drill at work. I can not believe what has happened.
He is still up at the vet, to reduce the infection to his wound; we walk him every night and then take him back to the vet.
This will happen until they remove his stiches. You where right about how tough your kelpies are, he acts as if nothing has happened.
My mother recons that Docs for dogs will be after us soon the way Boris is going.
He has had quite a few stiches and they look to be coming out on this Friday 2nd of August. We still want to get another kelpie after Boris turns two, that is if you think we are still fit parents? We will keep you informed to how Boris is progressing.
---
Mary and Stephen, A photo of our little mate. Every thing is fine and he is in good health. He goes to work with me (Mark).
On Sundays we take him to the dog park where he can run free and mix with other dogs in a fully fenced area of about 1000m2. Every body can not believe his great nature and how fit he looks. He is a credit to the purebred working Kelpie and all your good works. Itís true that good temperament comes first and working ability comes with out saying in your dogs. Well done!
All the best for Christmas and the New Year. Mark and Nicole Akins.
---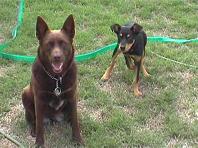 Hi Stephen and Mary, I have attached some photos of Brock and my older kelpie Ella. I will let you know how I go with finding training for the sheep dog trials.

Damien
_________________
I will have to send you up a few more pics of Brock. He is coming along
really well, and has a real personality about him. Most of his time is spent wrestling with Ella, who is starting to become quite protective of him. He is an extremely fast learner, but he is still noticeably a puppy, still quite excitable around others!
We have taken him out to Erskine Park a few times now and he has gone quite well. We started him in a small pen with 3 sheep, and now we have him out in the slightly larger yard. There are plenty of people out there who are willing to give us pointers, and so far most people have been really impressed with his ability.
Unfortunately we don't really get the time to go out every week, but we try and get out there every few weeks just so Brock (as well as Steph and I!) can have a bit of fun. We tried to take Ella out as well, but she wasn't interested in the slightest.
---
Thanks for the email and the interest in how Felix is doing.
I have told my two work partners (dog owners ) about your technique, and will probably show them this email as I think it explains it very well.
As you probably expect Felix seems to be a very smart boy, it probably took about 4 minutes of the "drop" and put down, before he capitulated, then about every five minutes for 15 minutes he tried to stand up, then off to sleep. Today (his second go ) I 'dropped him (the word I had taught Oscar) and after (as I type) forty minutes he hasn't tried to get up, hard when you are asleep I guess. He also is doing well with 'sit', 'no' and quite well with 'here', I think the other dog helps a lot with this. The down side is I think he has already got it over my wife kylie. If you could be bothered replying I would be interested in knowing if you had done this 'forced down' with Felix before I got him?
Thanks again for your time on Saturday, I learnt more by watching you folks than I have before, and thanks for the great pup
Mark Woodard
---
NOONBARRA RUBY I (Noonbarra Dusty x Noonbarra Cassie)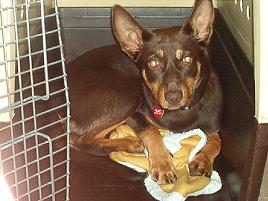 Mary,
Thank you very much for the information you sent and the chat the other morning I have read it over a few times and think I know what I'm doing.
Here's hoping! my beautiful Ruby is doing really well I can't tell you enough how pleased I am with her. She is starting pre-school tomorrow night and I have also booked her into dog obedience in April.
I'm always ahead of myself. I found out that my old mate Bart was from Glenlogie Sadie and cobanco rockie and his name was bungaree Bart. I have done well if I got all that spelt right. Andrew is a wonderful man and I am
dying to see him and show off my baby. He said I will never be sorry for buying a dog off you as you breed lovely dogs and was very pleased I went to you. So there's a lovely compliment for you. Thank you again for all you have done for me I will keep you posted on little Ruby's progress.
yours sincerely
Bev.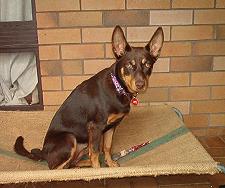 Well my little Ruby is wonderful as always keeping me very busy.
We do the down stay all the time and I watched it really pay off at puppy
pre school the other night as she stayed down for most the time
someone not a fan of the working dogs as I told you already said she's doing
really well that's amazing.
I was only to happy to give my reply which was thank you very much but i cant take all the credit its because she's a working dog and they are very intellegent and keen to learn it was my proudest moment 8 dogs,10kids;9 adults all in a small room and my baby did everything I asked. So thank you for the information you sent on the down because its working and thank you for such a bright little pup.
CLICK HERE FOR MORE INFO AND PHOTOS ON NOONBARRA RUBY
---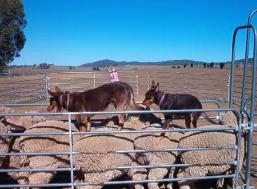 NOONBARRA RUBY AND HER DAD - NOONBARRA DUSTY
Photo by owner, Bev Bell.
---
NOONBARRA DOOLIN AND NOONBARRA GABRIELLE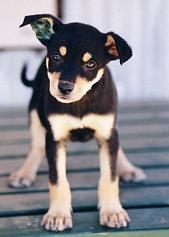 Gabrielle and Doolin have been here over a week and seem to be settling
in quite nicely.
I took them to the Vet on Monday and he said that they were in great
shape. He immediately picked up on the difference in personalities. I
think he was a little partial to Doolin. That seems to be the consenus of a
lot of people they have met.

That may also be because he is such a puppy.Gabrielle is definitely a handful but I think that I am up to it. She comes when her name is called. She will sit and stay on command for a while. I have used the down/stay with her at least once usually twice a day and she goes for it after about five to ten times depending on her level of
excitment. She then just goes to sleep. Is this okay? I wake her after 1/2 hour and release her but she usually just goes back to sleep. We had our first puppy class last night. It was just for Richard and myself. The pups get to go next week. The trainer already told everyone else in the class that these two dogs were extremely intelligent and would exceed their dogs by a long way. Of course, we already knew that.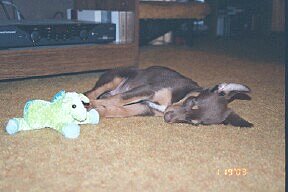 The pups are a delight and we enjoy them more every day. Doolin is such a lover. He wants to snuggle up all the time. Gabby does so when she sees him getting too much attention.
CLICK HERE FOR MORE INFO AND PHOTOS ON GABRIELLE AND DOOLIN
---
Mary and Stephen, Thought I should drop you a line and let you known Banjo is going really well.
Well he's not the small pup, on Saturday he when to the Vet for his last injection and we put him on the scales 10kgs. He has grow but he is not fat has for temperament we could not have asked of better.
The cat would think other wise as Banjo thinks she a sheep that need rounding up but the cat puts her self in that position. He has been on the yacht for 9 day over Xmas only fell in 2 times off the dingy trying to catch splashes had a life jacket on.....
Regards one proud Kelpie owner.
---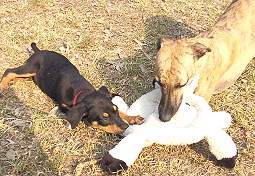 Dear Mary and Stephen, I'm just writing to thank you and let you know how Matilda is settling in. As you said she is a wonderful pup and she has a fabulous temperament as you promised. Everything I could hope for!
The whippets have accepted her surprisingly well. Matilda is already "sitting" on command and we are working very well towards our down. We were at an agility trial at the weekend and everyone was very impressed with her.

She has been doing a lot of socialising and meeting other people and dogs. I have booked her into Puppy pre-school so she can have a chance to play with other puppies. Her and the whippets haven't really worked out what sort of games to play yet, the whippets think playing is running in circles really fast but Matilda thinks that they should let her round them up... it's very funny to watch! Hope you enjoy the photos of them in our back yard!

Thanks again, Sue Smith
---
NOONBARRA ATILLA (Noonbarra Dusty x Noonbarra Cassie)
Hi Mary and Stephen,
You must have ESP......I am just in the process of putting together a little package for you with some new photos and lots of information about the little one. I'll keep this email short at the risk of repeating what I've already written but to sum it up he is ABSOLUTELY WONDERFUL so far !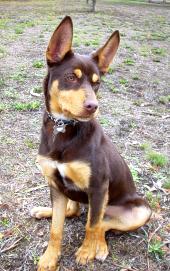 Have only done informal 'play' training in both obedience and agility but the speed at which he learns is astounding and he is absolutely obsessed with agility equipment ! We play games with the tunnel and the tyre on the ground and although he's too young to do any jumping training I've seen his style when he's taken off and launched himself over anything lying on the ground that he can find outside.
I will try and finish up what I have been doing for you and get it in the mail early next week so look out for it ! (You have to see his ears at the moment, too cute to believe !)
PS: He's been very well behaved for me so far, but he tries Liam out which is funny for me to watch as I can really see a difference in the way he responds to us.
Thanks again for everything and for caring so much about him to ask !
Just wanted you to know what a great choice you made and how much we love him.
Regards, Julia (and Atilla!)
CLICK HERE FOR MORE PHOTOS AND INFO ON NOONBARRA ATILLA
---
---
NOONBARRA KRYPTO (Noonbarra Dan x Noonbarra Megan)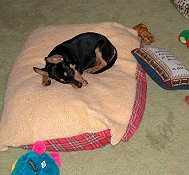 Stephen and Mary, Krypto has grown so much in just two weeks. What a clever dog she is! She is doing very well in asking to go outside when need arises. She sits down on the scatter rug by the front door, or jumps on my lap and gives a big kiss on the nose as if to say, "OUT!"

Her favorite toys are the fuzzy stuffed animals with microchips in them that "talk" when the toy is squeezed -- for example, the chimpanzee that chatters or the parrot that sings when squeezed. Krypto also has been moving small, empty boxes around the house. She loves to drag boxes onto the couch in the living room and play with them. One wonders what she is thinking of!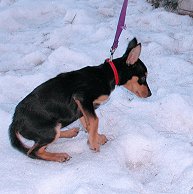 Spikie gets along well with Krypto...Krypto has adjusted well to the snow. Just now it is warming a bit, and as the snow pulls away from the bare ground, Krypto is so interested in the damp earth and vegetation. Krypto also met the deer who live in our yard.

She has charmed everyone at the vet office, and is in perfect health. Krypto is so wonderful, and we are so happy with her.

Krypto is not only gorgeous but also smart! She is following Spikie's lead about what to do. Krypto loves snuggling with people and is a delight. Krypto is quiet through the night. What enthusiasm she has for pleasing people.
She knows to come when called, and can "sit." I am working with her on "stay." We will be signing her up for "puppy obedience" classes this week.
I mentioned that she flew in a private jet. I took photos of her in her luxurious surroundings. The pilots took turns holding her, and giving her biskits that they brought especially for her. Krypto is doing well in the snow. It is a great adventure to her.
We are so grateful for a perfectly wonderful kelpie!
All the best wishes, Sallie
CLICK HERE TO FIND OUT MORE ABOUT KRYPTO AND SEE MORE PHOTOS
---
NOONBARRA ROCKY (Noonbarra Dan x Noonbarra Megan)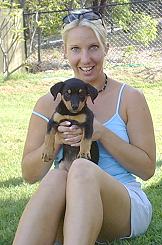 Hi Mary & Stephen, Just to let you know that Rocky is here safely and already the most important person in the house!!!
He was quiet & shy for about 1 minute when he arrived in his crib but then we took him out and got rid of the newspaper and he was running around playing with the newspaper like a kid in a candy store. He slept very peacefully the whole way home on my lap and then felt obviously very much at home when we got home - he was rolling around in the grass, playing with his new toys and busy exploring everything before falling asleep on the cool tiles underneath the table in the pergola area.
We love him dearly and thank you so much for such a beautiful dog.
...........................................
Just wanted to let you know that Rocky has settled in superbly, he is just such a delight and we are so fond of him. I have attached some photos. We took him to our vet on Sunday and he has been microchipped. We have also subscribed to the Kelpie Club.
He doesn't seem to finish all of his dinner but he has been doing some training - he knows to sit, come & stay and thus has been given quiet a few liver treats & the odd chicken wing so maybe that is why he doesn't finish his Supercoat & Puppy Milk.
The toilet training is going better than we thought. We will keep you posted and thankyou for such a little treasure.
Mar 2003
Just thought we'd drop you a line to let you know how little Rocky is - we love him to death, he's very toilet trained, can do lots of tricks and is an absolute delight. He has doubled in size since we got him and is extremely healthy. We'll keep you updated. Regards, Tara & Tim
APRIL 2003
Just to let you know that Rocky is still an absolutely delightful part of our family! He graduated from Puppy preschool with flying colours last night and we were very proud. We honestly couldn't have ended up with a more beautiful perfect dog, we are so happy and he loves it here.
CLICK HERE FOR MORE PHOTOS AND INFO ON NOONBARRA ROCKY
---
NOONBARRA COPPER (Noonbarra Dan x Noonbarra Megan)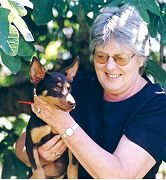 Copper is just so beautiful and is bringing so much joy and pleasure to my life. Diesel (my other dog) at this time has accepted well and I think is going to take a definite part in the training of Copper. Copper has been introduced to a number of my close friends and becoming a part of an extended family.
Played with the Hose (of course did not wet him) but he wanted the round up the water from hose like sheep, he came behind and stalked and moved just at the right time pre-empting where the water was going to go. You could actually see him thinking. What a pleasure to watch.
Stephen thank you for showing me the training of down and we are practising it each night for quite time with TV and before bed.
By the way I put the video on and was great, full of lots of information. If and when you make any other video's would like to purchase as thoroughly enjoyable.
Thank you, my life is enriched with Copper in it.
-----------------
Have attached update photo's of Copper. You can see how much he has grown and I have lots of play toys to keep him amused all day when I am at work.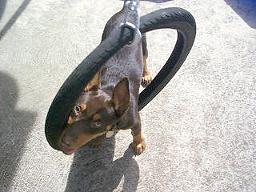 We have only had one accident in the house and is used to the schedule of dinner, play outside with bone 8pm inside on his little bed in lounge room for a play and more chew things. The toilet outside and into Create for sleeping and baby chimes pulled to remind him it is sleep time. Now he wakes in the morning to my alarm. Out side breakfast and more chew things and toys for the day.
I can assure Stephen, I am looking after Copper he loves his baths and likes playing with water. Can't wait till after injections when I can take him to the beach and see his reaction.
Thank you so much Copper has a wonderful personality and with Diesel's temperament and help I'm positive will be the talk of HARBORD.
CLICK HERE FOR MORE ABOUT NOONBARRA COPPER
---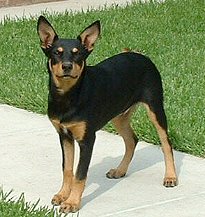 Hi Mary & Stephen,
I hope all is well up your way. Dusty is growing into a very handsome dog. He graduated from puppy pre-school and we have been to two obedience classes. He has a girlfriend there who is exactly the same colour and age and they have a ball romping and getting tangled up! Last weekend was a disaster as someone left a jar of liver treats on the table outside and being a champion at jumping, he got into them and scoffed the lot on the saturday night. Well needless to say we had a very hyperactive dog who wouldn't listen to one command at obedience class!!!
I take him for a walk every morning and he is really good at commands. He is still up to heaps of mischief at home and I am glad we took photos of our garden and yard looking beautiful before we were blessed with his presence!!!!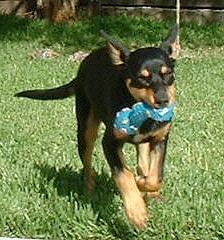 Although there are times when I could send him back, I love him to bits and look forward to ordering a bitch later in the year. Anyway just wanted to say Hi and hope this finds you all well.
Regards, Sandy , Greg, Tim, Jason and most of all Dusty.
---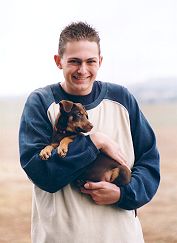 Hi just dropping you a line to say Rex is going well. He had his first puppy pre-school lesson Monday night and did well. He was playful with the other dogs and people. Currently he can sit, stay, come and the down command is almost there. Rex had his 12 week needle also on Monday as well as a vet check which was fine. He surprised me how quickly he learns and how he behaves around the other dogs at the pre-school. He preformed all the commands first time even with the other dogs around him, the others struggled to do this. We joined the class a week late but he is a couple of weeks ahead anyway in the case of basic obedience. I am very happy with Rex and so are a lot of other people who have seen him.
Thanks Nicholas & Rex
---
NOONBARRA CADDIE (Noonbarra Flash X Noonbarra Gabby III)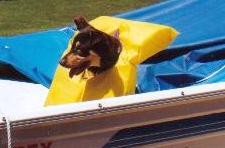 Caddie is going great and growing by the minute. She is a very popular puppy in our area. Attached are a couple of recent pics of Captain Caddie. Well bye for now and have a wonderful Christmas. Kind regards Kevin Thompson Diamond Beach. PS: My vet said Caddie is a credit to you both.
The attached pastel painting of Caddie was created by a well know local artist who thought that Caddie would
make an interesting subject. The painting was shown at an art show, and although not winning a prize was sold very quickly.
The artist is going to paint Caddie again in the new year in a pose of my choosing and I will not be letting anyone else buy that one.
---
NOONBARRA DJ (For Dusty Junior)
DJ was sold to the Brown family pictured below.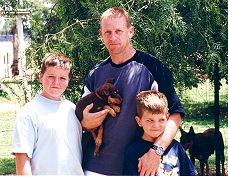 ---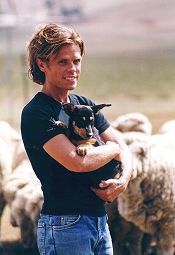 Sold to Steve Miller. A very nice looking pup, already started to work sheep by Noonbarra Dan X Noonbarra Becky.
CLICK HERE FOR MORE PHOTOS AND INFORMATION
---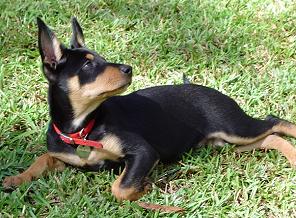 Hi Mary, I've attached a photo of Tikka at nearly 12 weeks old now. Everything is going well. We had her in the crate in the bedroom for the first 2 weeks, now she sleeps on a large dog bean back with a blanket in the
hallway just outside our room. She took to it straight away and can do the whole night without any dramas.

She will meet a bunch of other puppies on Monday and I will let you know how she gets on. Tracey and I would love to see your other kelpies in action so if it's ok we would like to arrange a visit to your property sometime.

Regards, Malcolm Russell (Australia)
MORE PHOTOS OF NOONBARRA TIKKA
---
NOONBARRA RUSTY III (Noonbarra Dan X Noonbarra Megan)
A very friendly outgoing puppy that was sold to Mick Ferris of Wyongan NSW.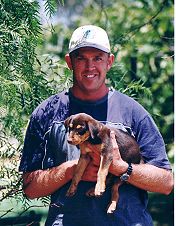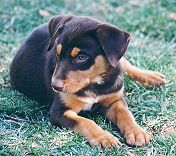 ---
NOONBARRA MEGAN II (Noonbarra Dan x Noonbarra Megan)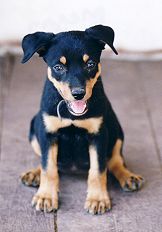 Hi, attached are some photos of Megan II, with my 6 year old dog Morris. Nothing seems to worry her at all, she throws herself into other dogs, gets up again and looks for an other one to play with.
She has met, dogs, people, cats, ducks, bulls, ferrets, birds & not a worry in the world. She even meet Dr Katrina from Harry's Practice when we were filming for the TV show, but sorry to say she won't be on the show, I did try hard to get her on there though. Unfortunately Morris cut the pads of his two back paws three days before the shoot, his was pulled because we had Australian Championships three weeks later (which he finished 4th in) It was his 5th Australian Championship.
Talk to U later. Justin Allen
CLICK HERE FOR MORE INFORMATION ON NOONBARRA MEGAN II
---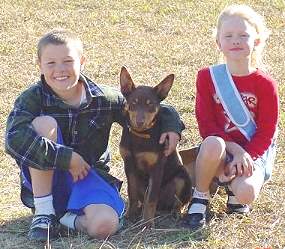 Hi, Mary & Stephen,
Just a short e-mail to let you know we arrived home safe. Nippa travelled well for such a long trip for him. He was a little unsettled on his first night at home. He has bonded well with the kids and joins in for some fun. He has been on numerous walks with the kids around the streets near home. We took him down to the property we have bought and he had a great time running with the kids through the paddocks, then down to Robyn's parents place for lunch where he meet 2 other dogs and played with them. He saw his first cow & calf today and thought wow they are big sheep. He went for a ride in the back of a Ute with the kids around their poppy's farm.
We came home and he had a couple sleeps and a chicken baked dinner for tea. He seems a lot more settled to night and is sleeping in his new home. We will keep you updated on Nippa's progress and hope to have some pics to go with it. Once again thanks for him, I think when we work out who is boss things should be fine.
Ian & Robyn Townsend
---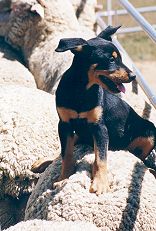 Dear Mary and Stephen, A short note to keep you up to date on "Kell".
We had a really good trip home. Kell slept most of the way. We stopped in Cowra for dinner. A delightful picnic of McDonalds on the local oval. Kell enjoyed an Oz burger and some fries. Once home, before we put him to bed, supper included some Pal Puppy kibble and some Puppy Pal tin food. He's a terrific little eater. He's really quite chubby, even though he tears around with the "big dogs".
He settled in immediately, the other dogs have really taken to him ( not in a bad way, of course!) . We'll email a photo of the tribe soon. Neville believes Kell's a really smart dog...sometimes too smart. He's already learn't that even though chooks are a better size than sheep, there out of bounds. ( day 1- a mouth full of feathers, and a full on chase. First with Kell rounding up a straying chook, then with Neville after Kell. He doesn't chase chooks anymore.) He quickly learn't that puppies don't socialise with geese. Their not as big as sheep, but they're mean, and they like to bite little puppies.
He's spent a little time helping the big girls with the sheep. Both girls are on heat at the moment, and even at 10 weeks, Kell seems to know what he'll be able to do a little later down the track. They smell really nice, and he's got the hip movement up against the back leg thing going too. All in all, we are delighted with him. We'll keep in touch. Leanne
---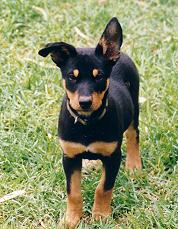 Noonbarra Saber is another Noonbarra Kelpie that has gone to Japan as a companion dog and to compete in Frisbee Competition which is high profile sport in that country.
Hi Mary & Stephen, Saber arrived in good condition yesterday.
He didn't seem the strain of traveling.
I'm thankful to you for your job, and I grateful appreciate your kindness.
Saber is good health . I think he is sensitive but not too excitable .
He is a gentle dog . I am very glad .

---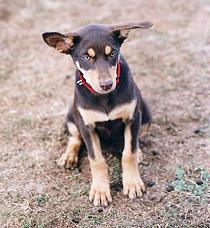 Noonbarra Amber has gone to work on a property near Walcha in western NSW Australia.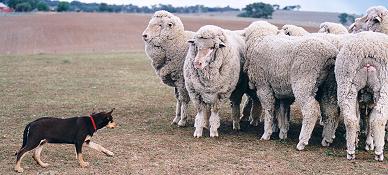 CLICK HERE FOR MORE ON NOONBARRA AMBER
---
To Mary and Steve, Just a quick update on the luckiest dog in Willoughby.
Little Ruby turned 4 months old today and seems to be very happy. Her days consist of eating, being taken for walks, sleeping, chewing on pigs ears, chasing flies, going for drives and going to the park. Night time is made up of dinner (followed by hypo time of ~ 10 mins) and watching tv with us. Then its back to bed in the laundry to recharge the batteries for another day of puppy life.
Ruby is a very fast learner and training one on one in the backyard has been excellant. But down at the park with all the action going on she wasn't so obedient. However in the last week or two, I have been pleasently suprised at her responsiveness to my commands despite the distractions of other dogs and people around her. She knows all the commands and is quickly learning to carry them out when asked (especially for a treat).
Ruby is the most social dog at the park and has made lots of friends with other puppies and older dogs despite the sizes of some of them. Occasionally she gets a growl or a nip from other cranky dogs and quickly learns to behave around the not so friendly ones.
Her puppy coat is all but gone and she now has a beautiful dark red/tan coat the same colour as Flash. We are both just so happy with her.
CLICK HERE FOR MORE ON NOONBARRA RUBY II
---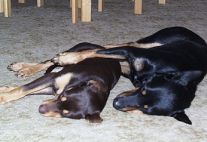 Bindi went to Graham in Sydney. His daughter, Susanne bought Noonbarra Calis (click here) some time ago and they are having great fun together so her father thought he would get himself a little mate as well.
---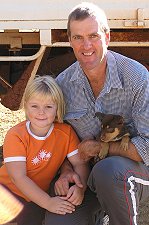 Beau went to Les Mc Master out at Hillston as a stock dog. Photo is Les and his daughter Merida when they arrived to pick up Beau.
---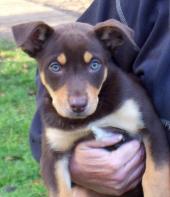 Noonbarra Missy went to Graham Thomas of the Bullenbong Working Kelpie Stud in Queensland. This is one of the older Studs and was originally owned by the late Mike Donelan who wrote the very popular book 'the Australian Kelpie'. The Stud then went to Bill Mc Neilly and then to Graham so it has had a bit of history.
"Missy arrived safely and has settled really well. We are very happy with her and will keep you informed of her progress. Thank you for the information on your Stud and the way you presented your handbook is most professional ..... Keep up the good work. Your promotion of the Kelpie breed is most outstanding."
---
NOONBARRA MOLLY II (Noonbarra Dan x Noonbarra Megan)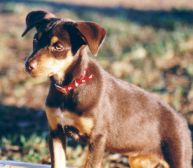 Mary, Thanks for the info. She has been a wonderful addition to the family. She takes great pleasure in herding the 4 kids instead of livestock and is an extremely bright little girl.
Regards, Brian
---
---
---
Noonbarra Stud Video 2000/2001
This video shows the Noonbarra Kelpies working at all aspects of sheepwork including Droving, Mustering, Sheepdog Trials and Yard work. There are also special sections on Kelpies as companion dogs and pets and a section on Kelpie puppies. It shows our dogs interacting with children and strangers and being indoor dogs. Professionally finished with Titles, commentary and music.
Includes cover case and colour insert. For more detailed info see our video page. Click here.
AUD $15.00 plus $5.00 postage (Australia). Available in international formats too!
CLICK TO GO TO PAGE TWO
MORE PHOTOS AND RECENT FEEDBACK ON NOONBARRA KELPIES
---
Noonbarra Working Kelpie Stud
Mary and Stephen Bilson.
P.O. Box 1374, Orange NSW 2800, Australia
Ph. (02) 6366 1641

Email: kelpies@noonbarra.com
www.noonbarra.com
---

---
CLICK TO GO TO PAGE TWO
MORE PHOTOS AND RECENT FEEDBACK ON NOONBARRA KELPIES
---
NEXT PAGE OF CUSTOMER LETTERS


NOONBARRA INDEX