BACK TO MAIN PAGE
NOONBARRA KELPIES
INFORMATION PAGE

Noonbarra Working Kelpies have been bred on carefully selected bloodlines generation after generation to ensure that each litter produces the very best Kelpies in working ability, temperament, intelligence and devotion to their owners. Each Noonbarra pedigree directly goes back more than 100 years to the greatest dogs in history, including Kalari Basil, Red Hope, Liscannor Pace, Newton Nap, Kalari Joker, Le Cliff Jock, Chondo Chance and the famous 'immortal' Quinn's Coil of 1897.

---
OUR NOONBARRA CUSTOMER COMMENTS AND REVIEWS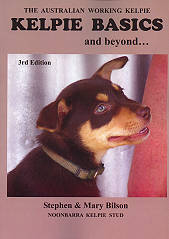 Latest edition of this very popular manual designed for all Kelpie owners of every level from raw beginners through to experienced trainers. This practical manual deals with everything involved in owning and training a Kelpie to ensure he grows up to be a well mannered, obedient dog.
The book is not about training on livestock! It deals with general obedience training, socialising your Kelpie, feeding, crating, toilet training, preventing problem behaviour, dominance issues, car travel, bathing, digging holes, stealing food, walking on a lead, coming when called... and much more.
Over 100 pages.
---
Information on Kelpie history & the outstanding Kelpies of the past can be found in the latest edition of our book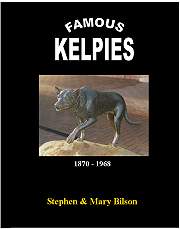 Softcover 136 pages.
CLICK HERE FOR MORE DETAILS & PAYMENT ETC.
---
LINKS TO OTHER KELPIE WEBSITES
THE ROCKYBAR KELPIES
A GUIDE TO ONE OF THE BEST KNOWN KELPIE STUDS OF THE 20TH CENTURY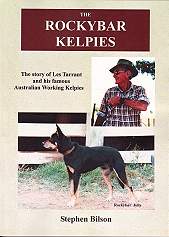 We think this book would be an enjoyable read for anyone with even a passing interest in the Kelpie. It would be a great guide for breeders and trainers with information that is impossible to get anywhere else!
The Rockybar Stud, owned by Les Tarrant, was one of the most famous in Australia for half a century and their influence can be seen in Kelpies all over the world today.
Les Tarrant started with Kelpies in the 1930's. He led a life of droving, mustering and working with horses and livestock. In 1950, he set up the Rockybar Kelpie Stud in the far north-western districts of NSW.
We look at some bush characters and old dog men such as the remarkable priest of Goondiwindi, Father McCormack, Stanley McMaster, Frank Scanlon, Stan Collins, and more. We look at the individual dogs in the old Rockybar lines and the more modern lines (after 1980). We have a huge section on Les Tarrant in his own words explaining how to breed Kelpies and the problems and pitfalls to avoid. There is a good chapter of the book dedicated to how to train Kelpies the Rockybar way. Another chapter is on yard work and yard trials.
There are plenty of photographs and some were very hard to obtain. Many (probably most) would never have been seen by the general public before.
Large A4 format. B/W photos throughout. 166 pages.
CLICK HERE FOR MORE DETAILS & PAYMENT ETC.

BACK TO MAIN PAGE