!- Created using the FREE Meta tag generator at http://siteannounce.com ->

NOONBARRA KELPIES
NOONBARRA KELPIES AS PETS AND COMPANIONS
---
---
NOONBARRA WORKING KELPIES AS FAMILY PETS
Most of our Noonbarra Kelpies make great pets. We have sold hundreds of Noonbarra Kelpies over the years as companion dogs into cities, suburbs and hobby farms and we are very proud of what we have achieved in regard to their temperament and how well suited they are to life with a suburban family. Our experience in getting great companions for families over many years makes a huge difference. We recommend all readers see the wonderful customer testimonials about Noonbarra Kelpies.
CLICK HERE FOR CUSTOMER REVIEWS OF THEIR NOONBARRA KELPIES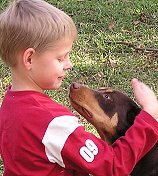 Not all Kelpies make good pets, just as not all dogs make good pets. Different breeders will breed their dogs for different goals and many breeders unfortunately just don't give temperament, intelligence, calmness or biddability even a passing thought. We think that even in a full time stock working position your dog still has to bond in closely with their owner and be obedient to commands.
A few Australian Working Kelpie breeders do not like their dogs being sold as pets at all! Some breeders don't think Kelpies should ever be pets. There are various reasons for this but the main one tends to be that they think the good working ability of the dog is wasted. Other breeders will only sell to handlers that will do sheepdog trials and promote their dogs. We disagree with these views and we only care that the dog has a good loving home with people who are willing to care for their dog and do at least a minimum of general obedience training.
[Most of the more experienced Studs that have been successfully running for a long period and bred a reasonable number of Kelpies to be able to evaluate & select puppies well, do sell selected Kelpies as pets. Well known Studs such as Avenpart, Meson, Elfinvale, Barclays, Capree, Spinifex, Karrobar and more].
We feel it is more important that every dog has a good life and we don't worry too much about anything else. We want happy customers and happy dogs. If we don't feel that is likely then we don't sell. There are of course always going to be some bad or stupid dog owners in the city but there are also many owners on huge sheep stations with thousands of acres that don't deserve to ever own a dog.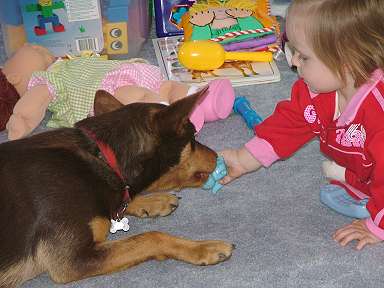 Noonbarra Blaze II
Our Kelpies don't need to work stock to be happy. This is a myth that persists with all working breeds. If you take them to a farm they will love it for sure but they'll also love going to the beach or doing Agility or Frisbee competitions. There are thousands of Working Kelpies around Australia (and overseas) living their entire lives as companion dogs and have never seen any stock ever!. Their owners would never think about owning a different breed. There are a number of testimonials to this effect, further down on this page. When I had cancer and was fighting it for for well over 2 years, none of our dogs got any work at all. But they were still the loving, happy dogs they had always been.
Not all Working Kelpies are the same. It's not just about good and bad dogs. There is a lot of variety. Some are not bred for temperament or calmness or ease of training at all. The breeder may just want an aggressive sort of working dog to handle difficult cattle and that is the only criteria selected for. This sort of dog would be no good with children at all. Most families that want a Kelpie, really need a dog that is not too intense or independent. They certainly don't want a dog that is hyper-active or aggressive. The dogs we select for many family companions are often the same type of dog we select for young Jillaroos and Jackaroos who need a good faithful mate, a dog that is not going to let them down. These young stockmen and women often need a Kelpie that travels well, is able to settle and relax when there isn't work going on and a dog that is smart enough and biddable enough to learn things easily.
The dogs we sell for close stock work and knock-about yard work are often good dogs for Agility and dog sport people. These are dogs that can run across the backs of moving sheep and jump across the gaps and take a few knocks. They are fast and agile. The competitive world of Dog Agility is similar in some ways.
The dogs we select for beginners and retired couples tend to be our softest and gentlest dogs. These are calm dogs that would not be suitable for Agility or Yard Dog Trials. They are more laid back. Often these are the dogs that are also the best for working on nervous runny sheep. They stay out wide and don't panic the sheep. They have a gentle approach and often get sheep to drift nicely to where they are wanted.
Some Working Kelpies would not be suitable for companions or suburban living and includes some of ours. If you don't buy a dog from us, at least make sure the breeder you choose understands your needs and has sold Kelpies as companions in the past with good results. Some will be too excitable or too intense, too aloof, too aggressive or too strong-willed or too big or just not relate well with people. Take your time to get the best dog possible. Ask for testimonials from past customers and if possible ask to see some video of their dogs.
We have sold a lot of Noonbarra companion Kelpies over the years to homes in cities and suburbs and even overseas as pets. They have done extremely well. Many of these customers have come back to us years later and purchased a second Noonbarra Kelpie. Some families have their children grow up and move out of home and the whole family ends up with Noonbarra Kelpies. We have made a lot of life-long friends in our time with Kelpies and it is a very satisfying endeavour.
We tend to breed the type of dog we like ourself. I think most breeders would do the same. We are in our 50's and don't want a challenge when it comes to training dogs. We like dogs that are fairly easy to work with and over many generations we have been especially selecting for a calmer type of dog. A dog that knows how to relax and settle. That applies whether we are out travelling, in the house or working livestock. Our breeding is very strongly based on the old Kalari lines and anyone who has read about the great old Kalari Basil owned by Les Tarrant will know about his little 'cat naps' while waiting to fill the drenching race with sheep and his relaxed style. (You can read more about him in 'Famous Kelpies' and 'Rockybar Kelpies').
Depending on the year, we sell anything from about 15% up to about 40% of our Kelpies as companions. They have often surprised their owners with their intelligence and behaviour. We like our dogs to be calm in the house but playful and active outside. Our Kelpies are very smart and learn things quickly and that includes general house rules, toilet training and other important everyday tasks.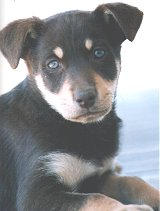 We also usually start teaching your pup before you even get him. We have a number of optional packages that help start your pup for you. We supply you with written information and advice (often by phone and email as well) and follow up after you have bought your dog and check on progress. We also supply you with a puppy kit, which includes lots of training tips. We are currently working on a new video called 'The Right Start', that shows inexperienced Kelpie owners how to do general training and handling with their new dog. This includes toilet training, crate training, being firm, preventing chewing, teaching sit and down commands, control techniques, Walking your pup and much more...
We recommend that beginners especially get a copy of 'Kelpie Basics' before they purchase a puppy. This will give you enough information to make an informed decision and is a great training manual to be able to understand your Kelpie and have a well mannered, obedient dog.
---
GREAT PERSONALITIES ARE NOT AN ACCIDENT!
Temperament has always been an important selection quality for our Noonbarra Stud. This has always given us a big advantage over many other breeders. We feel a good natured Kelpie works better with their owner and as well as making a better companion dog also makes a much better working dog!
We breed our Noonbarra Kelpies to be friendly, even tempered, good with children and able to handle noise, traffic, crowds etc. Every year we improve more and more in our breeding program and we now have a reputation that other breeders envy and many have tried to copy. Some are even using bits and pieces taken from our own website. We are very proud of our reputation and as a result we are often contacted by other Stud breeders to supply them with quality Kelpies to improve their own breeding stock.
These special qualities have not happened by accident. We have spent many years improving these special Noonbarra bloodlines and spent thousands of dollars and many hundreds of hours working to continually improve the pups we produce. The result has been very special Kelpies that are versatile and very keen as workers and very devoted mates to their owners.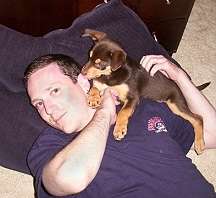 NOONBARRA TALLY AS A PUPPY WITH HER OWNER, SAM
TALLY LIVES IN THE CITY OF MELBOURNE
"If someone offered me a million dollars for her she wouldn't be for sale, I love her very much and I'm pretty sure the way she looks at me that the feeling is mutual." Sam with Tally (Born 2000)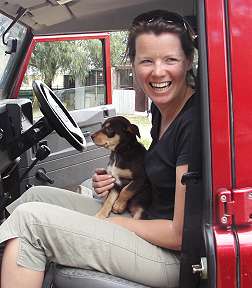 Noonbarra Tashi
___________________________
The Bilson family, with Max Bilson, George Bilson & Stephen Bilson have sold and trained Kelpies from the early 1920's and sold them as pets and workers. So we have a strong history of understanding what sort of Kelpie is suitable for family companions.
We have always found our Noonbarra Kelpies to be excellent pets. Certainly a lot better than many of the most popular pet dog breeds. As a pet, the Noonbarra Kelpie has to up there as one of the very best family dogs ever! Back in the old days when we were kids, there was a Kelpie or two in every street in the Aussie suburbs. If you talk to anyone over the age of about 55 or 60 they will tell you the same thing. That only changed when Australia relaxed it's import laws and started to bring in the exotic show breeds and everyone wanted a rare breed. In the last ten years or so there has been a big swing back to having a genuine Australian dog as a companion.
Noonbarra Kelpies have been selectively bred for decades with a carefully planned breeding program. Not all Kelpies are the same! There are always a few Kelpies that are (genetically) extremely active all the time or too excitable or too intense or don't relate to the handler or are too strong-willed or too independent and these do not make good pets. Nearly all our Noonbarra bred Kelpies are easy going and calm as house dogs and love people and are faithful, loyal types. See our DVD. They do not need acres of land to be happy - but they DO need to be part of the family to be happy! (See the section on exercise). They also NEED basic obedience training if you want a good dog.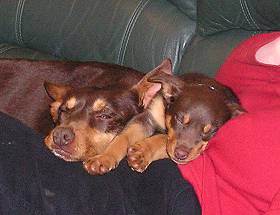 We like our Noonbarra Kelpies to be calm in the house, active outside and intelligent enough to learn what you want. They are very faithful and friendly. Because of their size they are not too big for an indoor dog but still perfect for going out for a walk or a run with. The breed is considered one of the healthiest of all dog breeds in the World with very few health or grooming problems.
Noonbarra Kelpies are easy dogs to train in obedience or for tricks and are excellent at agility and we've been told they also do well at tracking. One well known Australian entertainer, (Arthur Rep) has used Kelpies in his act as trick dogs for more than 30 years. They do balancing tricks and even walk a rail blindfolded. (See our section on Agility and Dog Sports)
We sell quite a few of our Noonbarra Kelpies to companion homes. Many of these customers come to us through meeting others with Noonbarra Kelpies or are family or friends of someone who owns a Noonbarra Kelpie. We actually have one of the highest rates of repeat customers and their friends/family in the business, and we are very proud of that! That doesn't happen unless you sell great dogs and understand the needs of your customers.
Our companion dog sales have increased every year and now we would probably sell around 20% or even 30% of our Noonbarra Kelpies to companion homes each year (Some years even higher) and we could not be more pleased. We consider many of our dogs going as companion pets to be going to the very best homes. However, in some respects we also find them the hardest to supply as we need to look at additional traits. We always try to sell the best and most suitable Kelpie to each customer.
Every Kelpie we sell is a top Sheep worker and has a good temperament but as a family pet we also have to look at a lot more than that, other aspects such as calmness, faithfulness, biddability (easy-to-train), obedience, friendliness, and of course the right type of dog to cope with city traffic, children, and lots of noise. We have been in business a long time and we never sell inferior pups (culls) as pets as some breeders are inclined to do.
You don't stay in the Kelpie business very long unless you have quality. We have put an enormous amount of time and money to ensure we have great dogs. As a companion owner you still get one of the very best stud Working Kelpies in the country. And who knows, maybe one day you might be driving in the country and can lend a stockman a hand moving a mob of sheep or cattle or have a farm holiday helping in the shearing shed.
There are now even a few Sheepdog Training schools around Sydney and Melbourne. We know a number of our customers in Sydney, Melbourne, Brisbane etc. that have given sheepwork a go for a bit of extra fun and some have gone on to do very well and even win sheepdog trials against seasoned stockmen!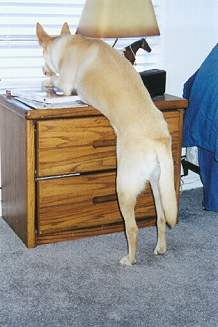 NOONBARRA SCAMPER LOOKING OUT THE WINDOW AT HER HOME IN THE USA.
---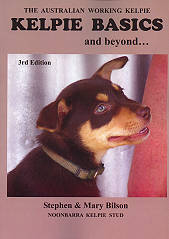 New edition of this very popular manual designed for all Kelpie owners of every level from raw beginners through to experienced trainers. This practical manual deals with everything involved in owning and training a Kelpie to ensure he grows up to be a well mannered, obedient dog.
The book is not about training on livestock! It deals with general obedience training, socialising your Kelpie, feeding, crating, toilet training, preventing problem behaviour, dominance issues, car travel, bathing, digging holes, stealing food, walking on a lead, coming when called... and much more.
---
WHAT MAKES THE BEST COMPANION?
A calm, friendly dog with a faithful nature that likes to be with their owner is what we feel is the ideal for a companion dog. Not too independent or over-confident. Not too bold. Not too intense either. Our Noonbarra bloodlines are well known to be calm inside the house and active outside. This is a special thing that really stands out with many of our visitors. They expect them to be a bit wild in the house but usually you wouldn't even know a dog is in the house. You will see this behaviour in the house on our latest stud Video. This makes them a terrific pet. (Please note that puppies will still be typically excitable sometimes).
We like reasonably bold, confident, outgoing pups but the more confident a puppy is, the harder that pup will be to handle for the novice owner. A pup that is at least a little dependent on their owner is often a better choice for any owner that doesn't have a lot of experience with dogs.
Although all our dogs work sheep and can go all day in hot, dry, dusty conditions, they are still our best mates and take turns at living in the house. We work around 3200 sheep here. We also do contract stockwork for a few farming properties in the district with Cattle, Goats and different breeds of sheep.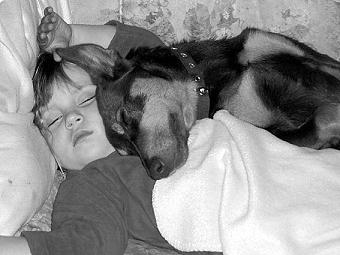 Some Kelpie breeders look down their noses at non-working customers and treat them like second class buyers. We would prefer more customers like them. On the whole, we have found these are people that love their dogs, spend an enormous amount of time with them, train them in obedience and take them to interesting places. Some of the companion dogs we have sold have been hiking through the woods with hiking clubs, sailing, 4-wheel driving, jogging, fishing, cycling, swimming, sailing, shopping, socialising etc. They often have a better life than we do!
---
COLOUR
Most of our companion dog customers also want nice coat colour and markings and while we do NOT breed especially for those things, we can easily understand someone wanting a good looking dog as a companion and we do our very best to supply it. But we MUST point out that we discourage anyone who is just buying for looks or colour. So many other things are more important in a companion dog and as a future owner you should give more consideration to other aspects.
For example, we think you should be looking for a dog that likes to be around you and is a devoted type, a dog that is very smart and learns quickly, a dog that is built like an athlete so he can keep up with whatever you want to do from hikes to extreme sports. A dog that travels well in a car is also a big asset to anyone who wants their dog to go on drives with them, perhaps even extended holidays. We think it is extremely important to have a dog that is calm and quiet inside and will lay at your feet and not be destructive. A dog that is biddable and easy to train and wants to please you. A happy dog that enjoys life and is friendly with people and children and can adapt to new situations and changing conditions. A dog that can handle noise, traffic, crowds etc.
We are starting to see a worrying trend lately with people just wanting a certain colour or size and not even considering any other aspect of the dog they are buying. This has been one of the major problems with show dog breeds and we'd hate to see it ever happen to the Working Kelpie. We need to breed for working ability, intelligence and temperament and a number of other important things and appearance is the least of our breeding criteria. We can understand people wanting a pretty dog and we try to fulfil that for them but all the same owning a dog is a long term commitment and other aspects need to be considered as well.
---
A Kelpie is not the perfect pet for every home or every situation but neither is a German Shepherd or a Staffie or a Maltese. The dog breed should be suitable to the person buying. That is just common sense. Some people are not willing to be responsible with a dog nor are they willing to train a dog or spend time with a dog. We really don't think people with that attitude should really own a dog at all.
Australian Working Kelpies need to be a part of what is going on in a family and they need to be loved. They also need to know the rules and respect their owners. You must be firm with your commands, especially when they are puppies. They must be regularly walked. That is not a lot to ask for.
DO NOT EVEN THINK OF BUYING A KELPIE UNLESS YOU ARE WILLING TO SHARE YOU LIFE (AND TIME) WITH YOUR DOG!
When customers come to our Noonbarra Stud they are often amazed that we keep Kelpies in the house. They have been told or read somewhere that they are over-excitable and not suitable for house dogs. We have all our Kelpies in the house at different times. We like our dogs to be part of our life and we think they benefit from it. They take turns. Sometimes we only have one dog in and sometimes as many as three or four. Some may be in for a week at a time, some only a few nights.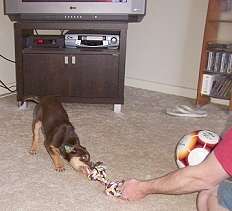 Some like Noonbarra Judy, don't like being in the house much and prefer to be an outside dog. Others like Noonbarra Flash (Judy's son) would stay in the house forever. These dogs are such good house dogs we have had many visitors that didn't even know a dog was in the room as they were lying quietly in their dog bed. These dogs are no trouble at all. They have their own dog beds and behave themselves. They are not destructive or a nuisance in any way as our customers will attest to. We even have little puppies inside. While you have to be more observant with their toilet training it is still not a problem. Some of these dogs (and puppies) in the house are featured on our Stud DVD.
So many of our Noonbarra Kelpies have gone to companion homes in the past. We well remember Noonbarra Darcy, many years ago (mid 1980's) that went to St. Ives on the North Shore of Sydney. He was so calm that the local vet said he'd never seen a dog more relaxed and wanted to know if they had given him a drug or something to make him quiet. He was very spoilt and certainly had a very good life in the city.
Another one, Noonbarra Ram went to a family in the country town of Carcoar. He was owned by a young couple who were both in the Police force. He got a big name for himself in the area because his owners, Andrew and Kylie Holland, taught him to do tricks. Every Friday night he would go down to the local pub and perform for the locals. He would pick up coins, fetch his dinner dish, carry things, speak on command, shake hands and a host of others things. We met people that lived hundreds of kilometres away who had heard of him and his ability.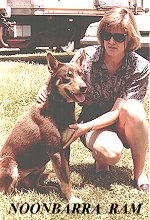 Another one was Noonbarra Scamper, sold to Washington State in the USA as a companion dog. This dog has good stock working ability and has gone on to do very well in the sport of dog agility and is a loved family pet.
There were plenty of other Noonbarra Stud Kelpies that went to non-working homes such as: Noonbarra Sport, Debby, Ram, Dawn, Darcy, Sally, Trixie, Dan, Ben II, Ned, Meg, Red, Delboy, Kip, Jessie, Ubu, Loki, Gem, Bindi, Jessie, Basil, Darcy I, Darcy II, Cassie, Chance, Rusty, Kelli, Toby, Andy, Penny, Jim, Judyrose, Scamper, Dawson, Tally, Indy, Basil, Pekoe Balto, Kayla, Bronte, Jackson, Hunter, Daisy, Caddie, Lucy III, Laenie, Yogi, Kelly III, Jack IV, Seven, Noonbarra Jay, Copper, Ruby II, Megan II, Tikka, Atilla, Krypto, DJ, Saber, Dusty 4, Rocky, Matilda, Rex, Gabrielle, Felix, Boris II, Doolin, Brock, Hunter, Sheena, Kobe, Anise, Kayla, Brontee, Banjo, Oscar, Danny II, Bobbie, Nickel, Steeler, Belle, Jess, Bob, Saco, Nippa, Aussie, Indy II, Calis, Bee Jay, Bronte, Daisy, Tally, Caddie, Bindi II, Rose, Ding, Bailey, Flame, Ned III, Cody I, Cody III, Kit, Roy IV, Nova, Rusty VI, Sam IV, Rusty VII, Rex II, Zibi, Roxy, Noonie, Tilly, Mitzi, Blaze II, Daisy II, Dash, Rocky II, Jim V, Bonnie, Bodie, Tammi, ... and many, many more.
We have a lot of experience in understanding what people require in a family dog and a pet. we are also finding more and more working homes want a companion dog AND a working dog.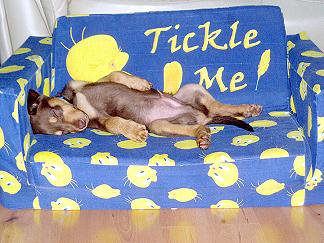 All our Noonbarra Kelpies are workers. It doesn't matter if they go as a pet or to a working home. Some go to companion homes and then a few years later the owners move to a small farm and need a working dog. Some bring their dogs back to Noonbarra for a visit and are surprised when they work sheep although for years have been only a city pet.
A little while ago we sold Noonbarra Ubu, a lovely looking black & tan male, who was working very well on sheep and even backing the length of the race in the yards as well as showing lovely heading ability in the paddock from just 6 weeks of age. He has since been sold to Melbourne as a companion dog with no prospects of ever seeing sheep again. Our main concern when selling dogs has always been that the dog gets a good life and a loving owner.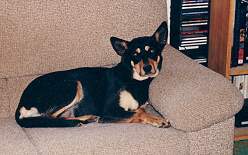 NOONBARRA WENDY (retired) MAKING HERSELF AT HOME
---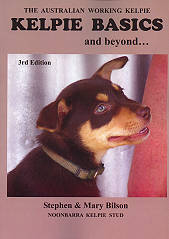 Latest edition of this very popular manual designed for all Kelpie owners of every level from raw beginners through to experienced trainers. This practical manual deals with everything involved in owning and training a Kelpie to ensure he grows up to be a well mannered, obedient dog.
The book is not about training on livestock! It deals with general obedience training, socialising your Kelpie, feeding, crating, toilet training, preventing problem behaviour, dominance issues, car travel, bathing, digging holes, stealing food, walking on a lead, coming when called... and much more.
---
CLICK HERE TO SEE WHAT DOGS WE HAVE FOR SALE
What Our Customers Think!
SEE OUR KELPIES ON VIDEO
READ MORE STORIES FROM OUR CUSTOMERS
SEE NOONBARRA KELPIES AS PETS ON VIDEO
---
---
Noonbarra Working Kelpie Stud
Mary and Stephen Bilson.
539 Lookout Road, Mullion Creek via Orange
Postal Address: P.O. Box 1374, Orange NSW 2800, Australia
Ph. (02) 6366 0499


Email us
---
Information on Kelpie history & the outstanding Kelpies of the past can be found in the latest edition of our book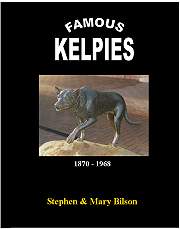 Softcover 136 pages.
CLICK HERE FOR MORE DETAILS & PAYMENT ETC.
---
THE ROCKYBAR KELPIES
A GUIDE TO ONE OF THE BEST KNOWN KELPIE STUDS OF THE 20TH CENTURY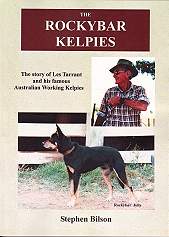 We think this book would be an enjoyable read for anyone with even a passing interest in the Kelpie. It would be a great guide for breeders and trainers with information that is impossible to get anywhere else!
The Rockybar Stud, owned by Les Tarrant, was one of the most famous in Australia for half a century and their influence can be seen in Kelpies all over the world today.
Les Tarrant started with Kelpies in the 1930's. He led a life of droving, mustering and working with horses and livestock. In 1950, he set up the Rockybar Kelpie Stud in the far north-western districts of NSW.
We look at some bush characters and old dog men such as the remarkable priest of Goondiwindi, Father McCormack, Stanley McMaster, Frank Scanlon, Stan Collins, and more. We look at the individual dogs in the old Rockybar lines and the more modern lines (after 1980). We have a huge section on Les Tarrant in his own words explaining how to breed Kelpies and the problems and pitfalls to avoid. There is a good chapter of the book dedicated to how to train Kelpies the Rockybar way. Another chapter is on yard work and yard trials.
There are plenty of photographs and some were very hard to obtain. Many (probably most) would never have been seen by the general public before.
Large A4 format. B/W photos throughout. 166 pages.
CLICK HERE FOR MORE DETAILS & PAYMENT ETC.
---

---