BACK
NOONBARRA KELPIES AND WATER
Around boats and swimming
---
We get many enquiries from potential customers as well as existing customers on introducing their Noonbarra Kelpie to water. Genetically our Noonbarra Kelpies are usually very good dogs around water and love to swim but a little puppy should still be introduced gently and with patience. Here we have collected a number of stories and photos from our customers about Noonbarra Kelpies and water. (Including some of our Noonbarra Kelpies overseas).
---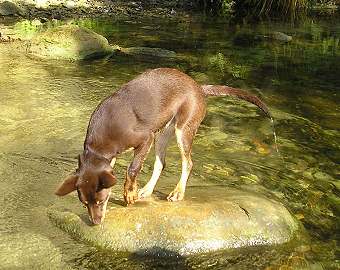 Noonbarra Mudgee in Switerland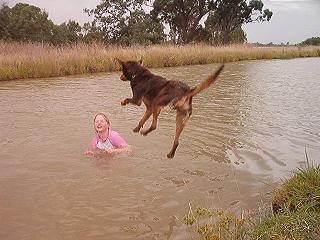 Amy Bell playing with Noonbarra Ruby in water Channel on their farm. (Australia).
---
NOONBARRA HUNTER
Hunter is going extremely well. He is experiencing lots of new things and is either excited by them or a little unsure but generally adjusting well.; he has had his first swim (he jumped in after our labrador and got a bit of a shock when he realised what was going on), first long walk into the local shops and over busy roads to get used to traffic, getting used to being tied up briefly in the back yard etc.
He also sees a lot of other dogs either in the park or our neighbours so is already very well socialised. He has also proven himslf to adore children and always goes running up to young todlers in the park much to their delight. he is very gentle with them and usually just attempts a quick lick.
---

Noonbarra Brynn in Croatia (Europe).
---
NOONBARRA MATE AND NOONBARRA SCOTT (Germany)
"As you can see we took a few days off and went to Denmark. Weather was not too good which was good for me because there were not too many people at the beach so the dogs had a good time. They met a lot of people and dogs, had to go to restaurants and do a lot of new things and there were no problem at all."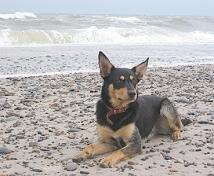 NOONBARRA MATE AT BEACH (Europe)
---
Noonbarra Ruby VI
We have been down the beach most days and she has just started to run into the water with a bound, she came across an older dog chasing a thong in the water and followed him in, she forgot that she only had ever walked in the water before and stopped to have a think and then realised "what the heck - I want that thong". So I was very pleased to see that she had done this all on her own, in her own time, because the last thing I wanted was to have her scared of the water.
---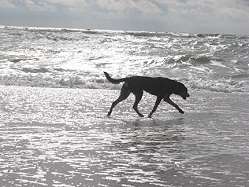 NOONBARRA SCOTT AT BEACH (Europe)
---
NOONBARRA CADDIE
Noonbarra Caddie lives a great life and at one stage went on a long fishing trip to the Great Barrier Reef
"Caddie is going great and growing by the minute. She is a very popular puppy in our area. Attached are a couple of recent pics of Captain Caddie. Well bye for now and have a wonderful Christmas. Kind regards Kevin Thompson Diamond Beach. PS: My vet said Caddie is a credit to you both."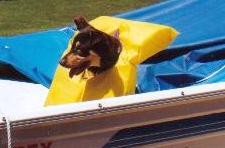 NOONBARRA CADDIE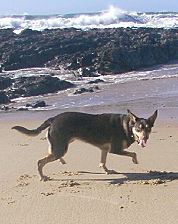 Noonbarra Caddie at the beach
---
NOONBARRA PEKOE
"Pekoe travelled very well to Perth and had a fantastic time. We stayed with some friends who had a dog called Bella and the two of them just got on so well. We went to the beach every morning which can have up to a hundred dogs at a time so Pekoe thought he'd died and gone to heaven. He did lots of swimming which kept him worn out which was great. We spent some time in Margaret River where my family has a small vinyard and Pekoe got to chase some real live kangaroos (didn't catch them, but stopped them from eating all the grapes). All in all I think he ended up having a better holiday than us!"
---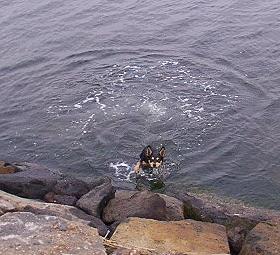 NOONBARRA DAISY SWIMMING IN MELBOURNE
Noonbarra Myfonwy (as a puppy) and friend Lilly enjoying a swim in Northern Territory
Lilly and Myf have quite a lot of fun together it's lovely to see them play - Alan Thomas
---
NOONBARRA BRONTE
"Bronte loves the water! We took her to the shore at Botany Bay (you are allowed to take dogs to that beach) we threw the ball in the water and she dove straight in after it. She doesn't like to put her head under and if she can help it she wont swim. The soft sand tires her out, she'll come home and sleep for a couple of hours, same as with the Frisbee at the park."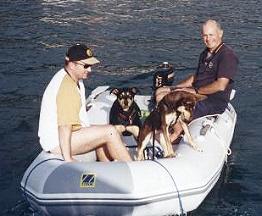 NOONBARRA INDY AND NOONBARRA KELLY ENJOYING SOME BOATING
Photo by owners
---
NOONBARRA CALIS
"He has met my expectations on every level and is showing himself to be intelligent, extremely agile, affectionate, curious, funny and most of all adorable. He goes out in the field with me once a week, to the beach every week, and visits my friends in other towns."
As for Calis himself, he is quickly becoming a surf dog - it will only be a matter of time until he gets on the board with me! - and he particularly loves camping and long long walks. Soccer, tennis and chasing bubbles are also rating highly, and he is still the most sociable dog I have ever met.
---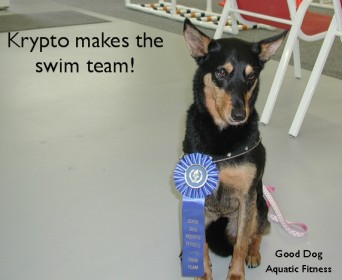 Noonbarra Krypto wins first place swimming award in America
---
NOONBARRA PADDY
It is so hot here, and I guess it would be hot out your way as well. I walked the dogs down to the dam at lunchtime and Paddy just swam and swam. He loves the water. It's only just happened in the last week, because previously he would just splash around the edge and bark at Henri who was swimming out to chase the ducks. But suddenly he realised he could swim as swell and there's just no stopping him. He sleeps for about 2 hours afterwards!
---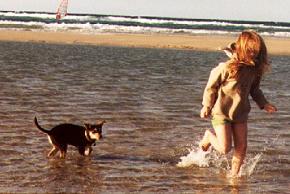 Noonbarra Rose having fun with Helena
---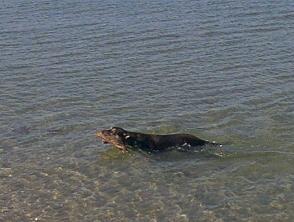 NOONBARRA TALLY OWNED BY SAM & ANTHEA OF MELBOURNE
---
NOONBARRA BALTO
"He's a beautiful looking dog, lean and lanky, with a face - when I look through his "family album" - like his grandfather, Tim's. He's a lot of fun. Loves a game of "catch" (& is extraordinarily good at it - he'd do very well at agility training, methinks); has (finally) learned to swim, and loves playing with the kids in the water. We have an unleashed dog exercise area nearby which is on the water, & it's a lot of fun. He's very well socialised with the other dogs, has all the right doggy manners, which is interesting to see."
---
NOONBARRA INDY II
Re: Indy around water. I've been trying to let him find his own footing around it but he seems EXTREMELY timid around water. I see a lot of working dogs that love the water, I remember Dusty jumping into the trough on your property and I could never think of Indy doing that as he is just to frightened.
-------------------
Indy has just gone past 7 months and his training is going very well. I am off food rewards now as I have found a new love of his.. the tennis ball and frisbee. He absolutely frets over me throwing the ball or frisbee for him so it's a good way to motivate him out on walks or to get him to perfect his downs in situations were he definately wants to be doing other things (like chasing the frisbee). We've also conquered his fear of water with a little patience and encouragement. He even jumps over waves now! Quite the difference from a few months ago.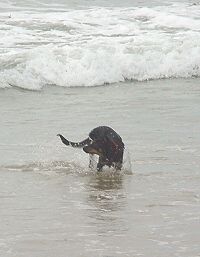 NOONBARRA INDY II
Photo by owner
---
NOONBARRA KAYLA
"My friends and I went to Phillip Isand 2 weekends ago. One of my friends has a kelpie x collie that is 13yrs. She and Kayla had a ball (well, Kayla did, Nellie just put up with Kayla and jumped up onto her special log when she had anough and Kayla couldn't reach her). We took them to the beach and they ran around for ages. We also went walking on some rock pools....Kayla had a ball. Followed us around everywhere, and even enjoyed the water. She fell in one pool, but 2 seconds later was out again tail waging, ears pricked and running aorund barking. She obviously didn't mind it that much."
---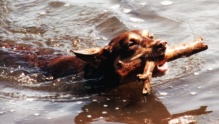 NOONBARRA CRUISER (USA)
Photo by owner
---
NOONBARRA BALTO
I took him for a walk along the beach yesterday, which was hysterical. All those new sensations - sand! cold water! waves!. He was actually pretty quiet for a while & stayed close, which was a surprise, because he's such a confident little pup, but he was obviously being very cautious. After a while he let himself go and went for a romp.
---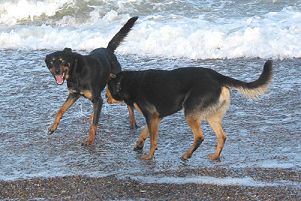 Noonbarra Mate and Noonbarra Scott having fun - Germany
---
NOONBARRA LILLYPILLY
"Anyway the other night we were walking at a local park as it was too late to go up on the mountain. There is a small pond there, and I decided to take Lilly down to the edge of the water for some interesting smells. She thought it was scary, and refused to go near the water. We went to the park again the next night, and this time we took Daisy to the water first. Daisy loves water, and she jumped in and swam around. So we brought Lilly to the water and she jumped right in too."
---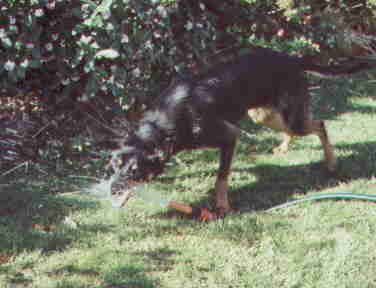 NOONBARRA KAYLA AND HOSE
(Photo by owner Fiona Mc Cure in Victoria)
---
NOONBARRA RUSTY II
We go to the beach about twice a week and he loves it. As soon as I say 'lets go to the beach" he gets so excited. When I first got Rusty he was terrified of the water but he has improved a lot. He often has a bit of a paddle when I go for a swim- he jumps in after me. Going for walks is really good especially at the beach. Sometimes when it's not busy we can let him of the lead and he walks next to us.
He just loves other dogs. I am trying to teach him that he can't play with every dog because when he sees another dog he tries to run and play with them...." - Gervais, Queensland
---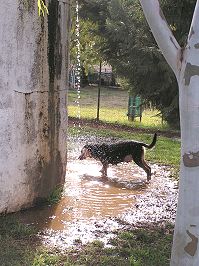 Noonbarra Lizzie enjoying a drink from the underground bore overflow
---
(Noonbarra) "Copper loves the water, whether it is a bath or hose of surf or rock pools or even just the rain."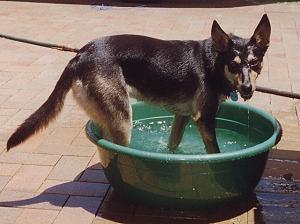 Noonbarra Bonnie enjoying a dip
---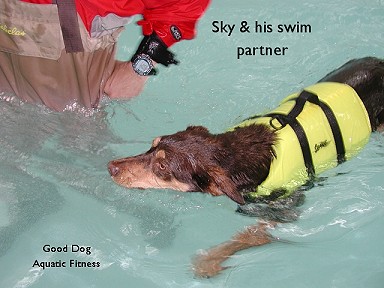 Noonbarra Sky in America
---
We hope to expand this page so any customers that would like to contribute their comments or photos would be very welcome.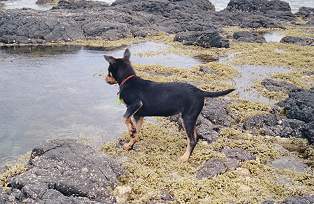 NOONBARRA KAYLA AT A ROCK POOL
---
IMPORTANT NOTE
Please note that NOT all Kelpies are the same. Cross-bred Kelpies, Show Kelpies, dogs from Pounds, and Kelpies from other breeders may not behave in the same way as Noonbarra Kelpies. We have spent many years of careful, selective breeding and a lot of money to get our Stud to the top level it is today.
We have had a number of people recently that have liked what they read about Noonbarra Kelpies but mistakenly thought it applied to the entire breed and even to cross-bred dogs. Many have bought dogs elsewhere that did not behave the way they expected and they then got no support from their breeders. We can only tell you about how our Noonbarra Kelpies behave in these situations but we still try to help people who are having problems with dogs that they have bought somewhere else. We of course give full on-going phone and email support and written information to all Noonbarra customers.
---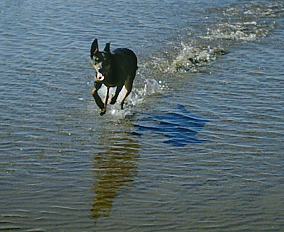 Noonbarra Rocky on holiday
---
NOONBARRA BONNIE
She loves to go for walks along the beach and she is very social towards other dogs that she meets. Sometimes other dogs try to show their dominance but she stands her ground. We take her out in the car as much as we can and she loves it. Today we took her to the Nursing Home where Denzil used to work. The residents and staff gave her lots of attention. We were very proud of her as she behaved A1.
She loves to play in water and therefore we have no trouble with baths - she loves them.
---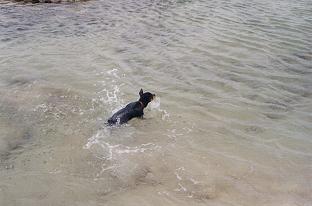 NOONBARRA KAYLA SWIMMING AT THE BEACH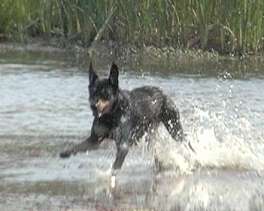 Noonbarra Oscar loves the water
---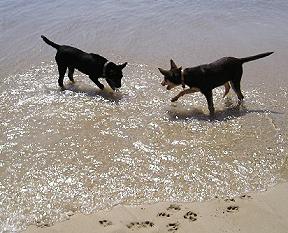 NOONBARRA ROSE AND FRIEND AT THE BEACH
" Rose loves it when I throw balls, sticks...whatever into the water and she leaps in and swims to get them...BUT she will never bring the object out of the water. She lets go of it about a meter or so from the edge and then looks at me and waits for me to throw it back in....which is sometimes very hard if I don't want to get wet feet and we've lost a few things as a result......
Today I brought my daugther to the park as it's school holidays...and guess what! I've been trying for weeks to make this dog bring things out of the water and suddenly she does it for Helena...over and over again! I asked her "how" and she just said "I told Rose to do it". Then I tried to throw the ball in...and she did the same old thing...dropped it in the water...not until I left did she bring it out of the water and gave it to my daughter!! Explain that! "
---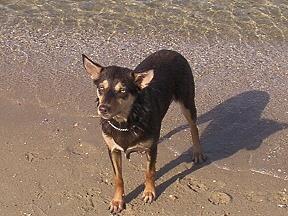 NOONBARRA TALLY HAVING FUN AT THE BEACH
We are now walking for 2 hours in the morning on the beach and most of the time they go for a swim no matter how cold the water is.
---
Lots of our Kelpies go boating with their owners. This is Noonbarra Zing in New Zealand.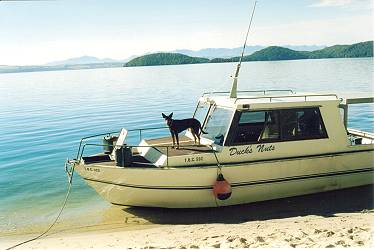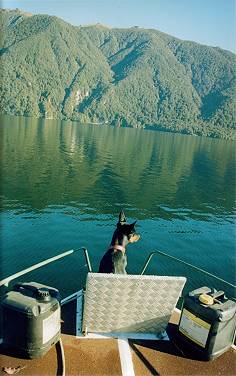 ---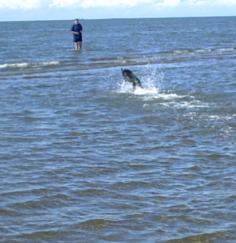 Noonbarra Rocky at the beach
---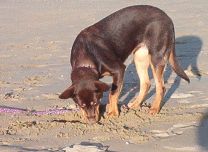 NOONBARRA RUBY AT THE BEACH
... She is a real honey loves the beach more than ever as she grows ....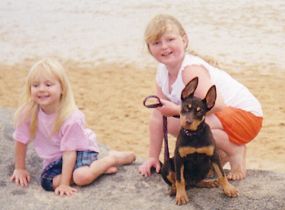 Noonbarra Ruby as a puppy on the beach
with owners Emily and Amy
---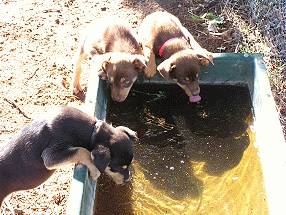 Pups by Noonbarra Max X Noonbarra Lizzie getting a drink from the sheep trough.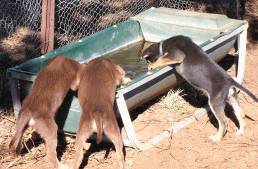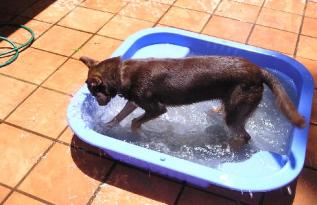 Noonbarra Rose playing in her splash pool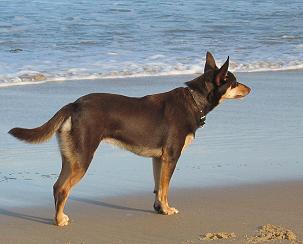 Noonbarra Bobbie at the beach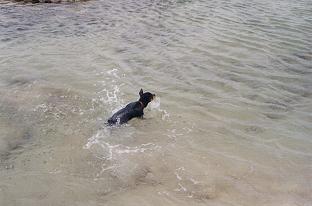 Noonbarra Kayla
---
Noonbarra Lady (in Japan)
"Mary and Stephen, It's been extremely hot and humid here in Japan. Lady has been doing pretty good in this weather and she now likes water very much. So we often take her to the beaches and rivers. She can swim pretty well!"
---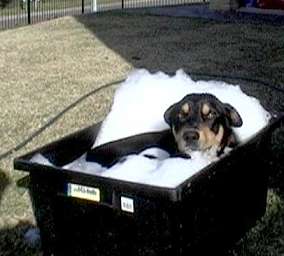 Noonbarra Oscar - Wash Day
---
Noonbarra Kayla
"In the last year or two Kayla has really taken to swimming in a big way - and now we can't stop her running into the water even if we tried...."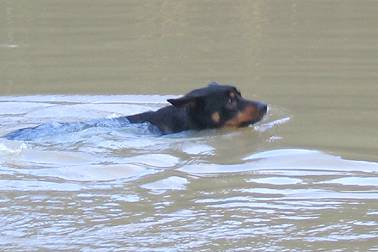 ---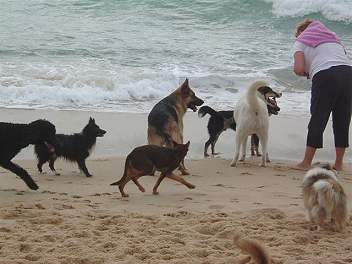 Noonbarra Matilda III at the beach with her friends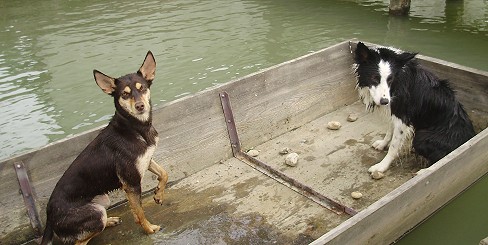 Noonbarra Brynn in Croatia (Europe) with her friend Turbo.
---
Noonbarra Bindi V at the beach ....
http://www.youtube.com/watch?v=xCTumxXGrTg
---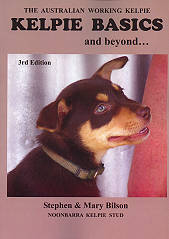 New edition of this very popular manual designed for all Kelpie owners of every level from raw beginners through to experienced trainers. This practical manual deals with everything involved in owning and training a Kelpie to ensure he grows up to be a well mannered, obedient dog.
The book is not about training on livestock! It deals with general obedience training, socialising your Kelpie, feeding, crating, toilet training, preventing problem behaviour, dominance issues, car travel, bathing, digging holes, stealing food, walking on a lead, coming when called... and much more.
---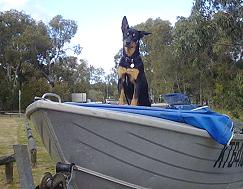 Noonbarra Rocky loves to go boating!
---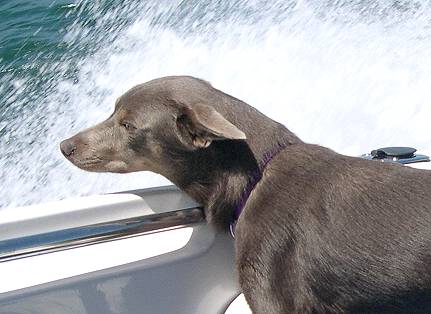 Noonbarra Meg IV enjoying a very fast boat trip