BACK
NOONBARRA KELPIES
WITH CHILDREN & STRANGERS
AND AS FAMILY PETS
---
Over the years we have strived to produce the highest quality Working Kelpie who is versatile to do any job on a farm or sheep/cattle station. An important part of breeding a great dog in our opinion is also ensuring that the dog has a great temperament.
We like our Noonbarra Kelpies to be comfortable around children and to be friendly to all strangers. We don't ever promote our Noonbarra Kelpies as guard dogs. We think it is better to buy yourself an alarm system for your house and have a loving friendly dog.
Not all Working Kelpies are good with children. Not all Working Kelpies are good with people. Some breeders don't socialise their pups and don't breed for temperament at all. Therefore we can only give information on our own line of dogs. It has recently come to our attention that people are reading our web site and then buying an entirely different line of dogs and are disappointed and then writing to us for advice. Cross-bred Kelpies and other lines of Kelpies may not be the same.
Below we have included some bits and pieces sent in by our customers on their Noonbarra Kelpies and children.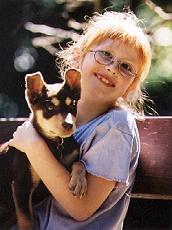 NOONBARRA ROSE & HELENA (Her Owner)
"Rose is also extremely good around our 2 year old and never snaps or growls even though she (Juliet) can be very mean."
"Rose has her "sanctuary" in Helena's room where she knows she can go and be left alone. Of course, we're also trying to teach Juliet to be nice to the dogs, but she can be very unpredictable and pat them one second and lash out or grab their ears and pull the very next."
---
NOONBARRA CALIS
"I must say also that I have never known such a friendly and fearless pup. He thinks every other dog is his friend (whether they are or not!), and has never shied away from any person, object, or been scared of any bus, truck or train, even on a trip to Sydney. "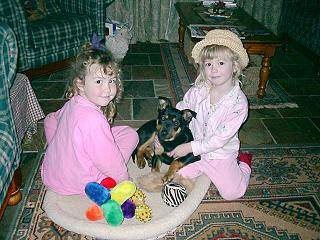 Noonbarra Jaffa with Brianna and Corrine
---
NOONBARRA HUNTER
"Hunter is going extremely well. He is experiencing lots of new things and is either excited by them or a little unsure but generally adjusting well.; he has had his first swim (he jumped in after our Labrador and got a bit of a shock when he realised what was going on), first long walk into the local shops and over busy roads to get used to traffic, getting used to being tied up briefly in the back yard etc. "
"He also sees a lot of other dogs either in the park or our neighbours so is already very well socialised. He has also proven himself to adore children and always goes running up to young toddlers in the park much to their delight. he is very gentle with them and usually just attempts a quick lick." - Julie, DVM (VET) Sydney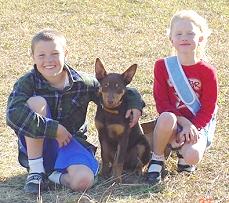 NOONBARRA NIPPA and his family
---
NOONBARRA KOBE
Noonbarra Kobe is a companion dog in Rhode Island. USA. He is a very easy going and calm dog by Noonbarra Dan.
"Kobe is doing great. The vet said he was 'perfect'. He was referring to his behavior as well as his health. Kobe's been meeting new people almost everyday and there hasn't been any problems. He loves people. Everyone comments on how calm and good looking he is. He's very good with my 4 and 8 year old cousins. I taught them that when he gets too excited and starts jumping to stand still cover their face and ignore him (I was supervising of course). Kobe realized very quickly that he needed to settle down." - Rick Rhode Island. USA.
---
Just send some pictures because normally there are not many kids around our place. But we had friends from Guatemala, not used to animals at all. The dogs were just great and did not bother at all!!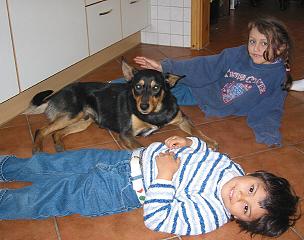 NOONBARRA MATE WITH CHILDREN HE DOESN'T KNOW
GERMANY
---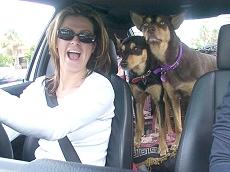 NOONBARRA DAISY AND NOONBARRA TALLY
MELBOURNE CITY DOGS!
---
NOONBARRA BORIS II
"He is also great around children. I took him for a visit to see my 15 month old nephew. I was frightened that he might nip at his toes but he almost sensed that there was a child and was so gentle and let my nephew pat him with no problem at all."

"He is a wonderful puppy and we thank you for choosing us such a great little dog, with a fantastic temperament." - AKINS FAMILY . SYDNEY
---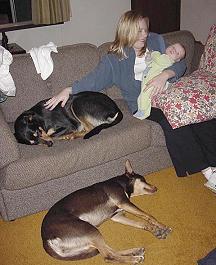 NOONBARRA INDY I AND NOONBARRA KELLY
WITH INDY'S OWNER AT HOME
Indy is wonderful & brilliant around our baby daughter Emma. Emma is at that age where she is exploring everything & Indy is so gentle & calm around her, even when he is getting his tail pulled/ear bitten/nose pushed!!...he's amazing & is a perfect fit for our family...you really chose well for us. Thank you. He is a very docile dog & loves his sleep!!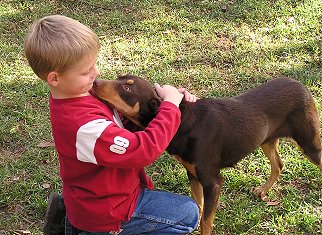 MICHAEL WALDREN AND NOONBARRA CASSIE AT OUR STUD
MICHAEL AND HIS FAMILY PURCHASED NOONBARRA MAX II AND NOONBARRA REX II
---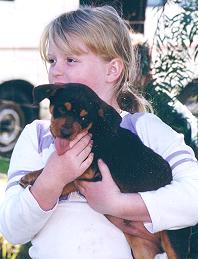 Amy Bell getting a lick from a puppy
Amy's family own Noonbarra Ruby
---
Noonbarra Elmo in Hungary
He simply loves children...from the moment a child appears when we're playing frisbee, he gives the disc to the child and only wants to play with him/her. He is especially patient and friendly with children, they can do everything with him without Elmo going crazy :)
---
Please note that cross-bred Kelpies, Show Kelpies, dogs from Pounds, and Kelpies from other breeders may not behave in the same way as our Noonbarra Kelpies. We have purposely bred our dogs for these traits over many generations and spent a lot of money to get our Stud to the level it is today.
We have had a number of people recently that have liked what they read about Noonbarra Kelpies but mistakenly thought it applied to the entire breed and even to cross-bred dogs. Many have bought dogs elsewhere that did not behave the way they expected and they then got no support from their breeder. We can only talk about how our Noonbarra Kelpies behave in these situations but we are happy to try and help people who are having problems with dogs that they have bought somewhere else. We of course give full on-going support to all Noonbarra customers.
---
We hope to expand this page so any customers that would like to contribute their comments or photos would be very welcome.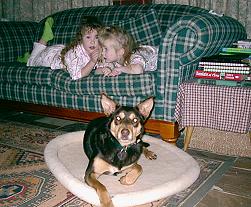 NOONBARRA MAGGIE AT HOME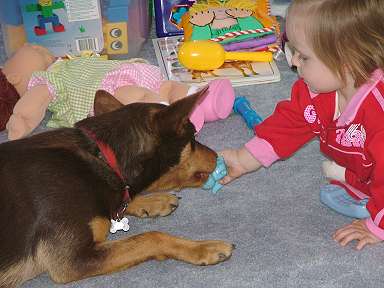 Noonbarra Blaze II
---
NOONBARRA FRANKIE
May 2006,
Dear Mary & Stephen, Just thought you might like to see the attached photo of Frankie with Ben & Jackie. She has taken them on just as I hoped she might - she is very protective and gentle around them. If I am at the clothes line or outside and one of the babies wakes up there is almost instantly a gentle prod from an orange nose on my leg to let me know. If we go out for a walk with the pram and another dog or stranger gets too close she is instantly in their way stopping them getting too close to "her" babies, it is lovely.
"And the twins love her too, Jackie's first clear word was "Frankie" believe it or not! I thought I was imagining things, but it was obvious enough that Frankie stopped and turned back to look at her.
Best wishes to you both, Cate Hunt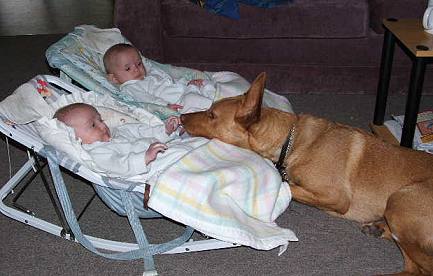 ---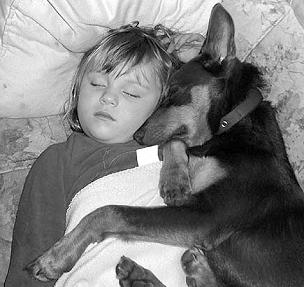 Noonbarra Jax asleep with his young owner.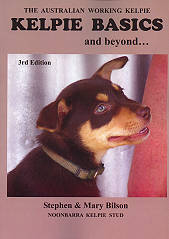 New 3rd edition of this very popular manual designed for all Kelpie owners of every level from raw beginners through to experienced trainers. This practical manual deals with everything involved in owning and training a Kelpie to ensure he grows up to be a well mannered, obedient dog.
The book is not about training on livestock! It deals with general obedience training, socialising your Kelpie, feeding, crating, toilet training, preventing problem behaviour, dominance issues, car travel, bathing, digging holes, stealing food, walking on a lead, coming when called... and much more.
Over 100 pages.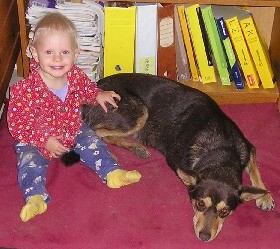 Noonbarra Rose and Juliet
---
Noonbarra Copper II in the USA
Copper is a delight to live with, so sweet natured and willing. There's never been a hint of aggression towards people or other dogs - he lets our 2 year old niece grab him by the muzzle to give him kisses and he even enjoys playing with my parents' bossy pugs. We love him dearly and couldn't be happier with your choice for us. We'll send some agility pictures next time - until then, we hope you are both well and that things are good there.
Best regards from the California Jacksons.
---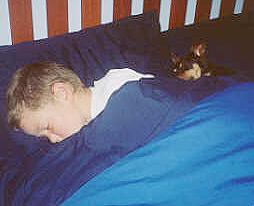 Noonbarra Libby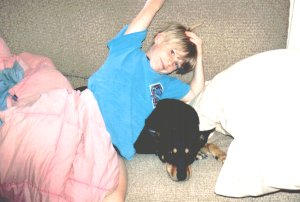 Noonbarra Tina and Michael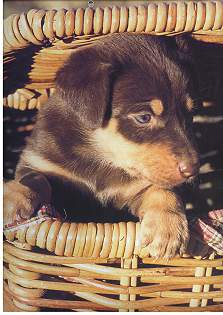 Noonbarra Kelpie Puppy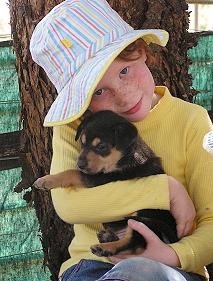 Tully with a Noonbarra puppy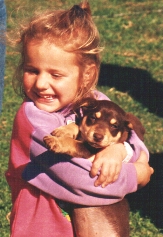 Noonbarra Tui with a fan !!