BACK TO PETS
NOONBARRA KELPIES
GETTING ON WITH OTHER DOGS
---
We get lots of customer enquiries about how our Noonbarra Kelpies get along with other animals. We thought it might be a good idea to list some snippets of letters we have received back from our customers on the subject. This is an ongoing page and if you have a Noonbarra Kelpie and would like to contribute to this page with photos or comments, we'd be very pleased to hear from you.
Please note that cross-bred Kelpies, Show Kelpies, dogs from Pounds, and Kelpies from other breeders may not behave in the same way as Noonbarra Kelpies. We have spent many years and a lot of money to get our Stud to the level it is today. We have concentrated on getting the personality and temperament we like in our dogs and now have a reputation envied by other breeders.
We have had a number of people recently that have liked what they read about Noonbarra Kelpies but mistakenly thought it applied to the entire breed and even to cross-bred dogs. Many have bought dogs elsewhere that did not behave the way they expected and they then got no support from their breeder. We can only talk about how our Noonbarra Kelpies behave in these situations but we are happy to try and help people who are having problems with dogs that they have bought somewhere else. We of course give full on-going advice and training support to all our Noonbarra customers.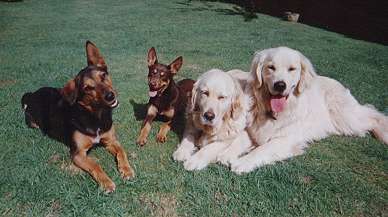 Noonbarra Bindi (centre) with friends
Bindi has since gone on to win Obedience, Agility and Sheepdog Trial awards
---
Noonbarra Kelpies and other dogs
We get a lot of enquiries from people who want to buy a Noonbarra puppy but are worried about how their older dog will react. We have sold dozens and dozens of our dogs to homes where there are already older dogs and we have never had a problem. We have even sold to homes where the older dog is known to be very grumpy or dominant or even slightly dog aggressive.
What usually happens is the older dog sniffs the new puppy and by smell knows instantly that it is a puppy and no threat. But that doesn't mean they automatically become friends. Usually the first 24 to 48 hours is spent with the two dogs getting to know and understand each other. The puppy often does not have good dog manners but the older dog will put him in his place. That is quite acceptable and the owner should not go crook at their older dog unless he is being too rough or very likely to injure the pup. He should be allowed to growl at the pup if the pup is irritating him. This teaches the pup his dog manners.
Our Noonbarra Kelpie pups here get time around older dogs that they don't know so in many cases the pup is already on the road to having good dog manners and already understands that some older dogs don't like to be bothered by youngsters all the time!
After this short getting to know you period in nearly all cases the older dog starts to take on a protective and teacher role to the puppy. Within a couple of weeks the two should get along very well and in nearly all cases they become the best of friends. This is because a puppy is not a threat in any way and the older dog knows this by instinct and knows the puppy needs looking after.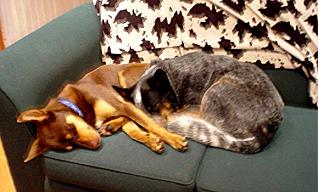 NOONBARRA ATILLA AND BOSNICH (Cattle Dog) SLEEPING TOGETHER
We have sold Noonbarra puppies to families with very old grumpy dogs and they often worry the pup will upset the older dog. Usually the opposite effect happens. After the initial getting to know you period the old dog now has a purpose in life and has to teach the young pup. We have seen so many very old dogs that do nothing except lay around all day get a new lease on life after a puppy comes into the family.
Always remember that when you bring a new cute little puppy into your life you also have to continue to look after your older dog and not neglect him. Treat him with the respect he deserves and in turn he'll help you to train the new pup.
If you have any serious concerns about bringing a puppy into a home with an older dog, please give us a ring and we'll discuss it with you and try to work out if you are likely to have any problems.
CATS

HORSES

OTHER DOGS
---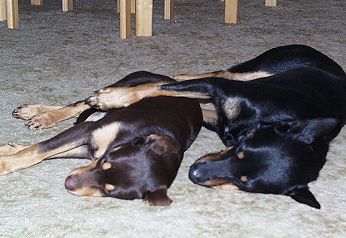 Noonbarra Calis and Noonbarra Bindi II in Sydney
Calis is owned by Suzanne and Bindi by her father, Graham.
---
NOONBARRA KAYLA
"Last weekend we went to my dads cousins house (the one with the Brittany Spaniel). He also has his daughters Golden Retriever and his son was there with his Kelpie. The four dogs had a blast, and Kayla slept all the way home after running round their property for a few hours."
---
NOONBARRA BALTO
I took him for a walk along the beach yesterday, which was hysterical. All those new sensations - sand! cold water! waves!. He was actually pretty quiet for a while & stayed close, which was a surprise, because he's such a confident little pup, but he was obviously being very cautious. After a while he let himself go and went for a romp.
Neighbours a few doors down have also just got a new puppy, a female Ridgeback, & they've had some plays together - gorgeous to watch, they've had such fun. They're starting Puppy Pre-School together on Saturday.
---
NOONBARRA KOBE
Kobe is doing great. The vet said he was 'perfect'. He was referring to his behavior as well as his health. Kobe's been meeting new people almost everyday and there hasn't been any problems. He loves people. Everyone comments on how calm and good looking he is. He's very good with my 4 and 8 year old cousins. ... He's also become very good friends with my father's dog Jessie, an English Springer Spaniel. My father lives close by so they see each other every few days. My Dad also raises pheasants and when Kobe sees them he starts that slow, steady movement that all your dogs do when they're holding sheep." - Rick Rhode Island. USA
---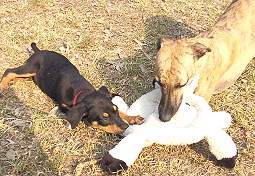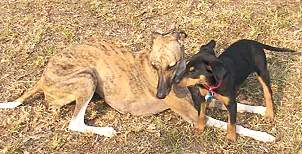 NOONBARRA MATILDA WITH CHARLOTTE THE WHIPPET
---
NOONBARRA CHANCE
"He is wonderful!!! I can't believe he has only been here three weeks, seems like much longer. Chance is a delight. He is happy hanging around the house, helping to run errands, going to the barn, playing with our other dog or laying at my feet as I am working on the computer. It really doesn't matter to him. He has yet to meet a stranger, two or four legged." - Ledbetter (Horse Stud in Alabama USA)
---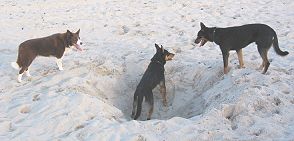 Noonbarra Scott, Noonbarra Mate and Jan the Border Collie
All having a great day at the beach! These dogs all live in Germany
---
NOONBARRA LILLYPILLY

Lilly is in Idaho USA and is being trained to work Alpacas. Her owner picked her name from an Australian flower. The family also have a rescue dog Called Daisy that has a number of problems and they were worried how Daisy would react to Lillypilly's arrival.

"As soon as we got her home from the airport, we introduced her to Daisy outside the house. Lilly did all the right things, and Daisy never even barked at her. Now they are very good friends, and one of the high points of their day is going out to the outside pen for their playtime. ... The last two days I have left them to play without my supervision and they seem to do fine .. Daisy has mellowed a lot since we got Lilly. I think she derives a lot of security from her presence. Also, Lilly is socializing her. Lilly accomplished in a week what we hadn't succeeded in doing in the 5 months we have had Daisy. Daisy has always gone ballistic when she sees another dog."

"I was very interested to read about the forced down/stay. We will definitely remind Lilly of it. Mostly Lilly's house manners are very good. Daisy, on the other hand , could easily be the dog in your example who rockets around the room and up on the furniture. I would like very much for her to be able to just lie quietly in the room while we watch TV or whatever. "
---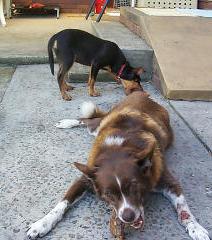 NOONBARRA COPPER AND HIS MATE DIESEL IN SYDNEY
---
NOONBARRA CALIS
I was just wondering how things are progressing, hoping everything is going smoothly! Dad and I (and Calis) are eagerly awaiting the new addition to our family, although Dad still hasn't told Mum - I think he is going to surprise her. We are crossing our fingers that you will get plenty of red females in the next 2 litters, and that we find just the right little personality.
I have no concern whatsoever that Calis and the new pup won't get on, as Calis has yet to meet a dog that he didn't think was his best buddy. He has developed quite a little social network of doggie mates. Apart from spending a day a week at a workmate's place with his Jack Russell, he also regularly visits a friend with a border collie, and another with a kelpie and a cattle dog cross. This of course apart from the neighborhood dogs that wander over. We are travelling to Nundle in May with these last two to participate in the 'Great Nundle Dog Race'! I will let you know how we get on.
---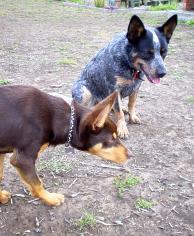 NOONBARRA ATILLA AND BOSNICH THE CATTLEDOG IN MELBOURNE
---
NOONBARRA KRYPTO (USA)
The two dogs here -- a papillon mix and a Japanese terrier -- have accepted Krypto. They are playing a bit and sharing rawhide chewies.
Krypto is not only gorgeous but also smart! She is following Spikie's lead about what to do. Krypto loves snuggling with people and is a delight. Krypto is quiet through the night. What enthusiasm she has for pleasing people.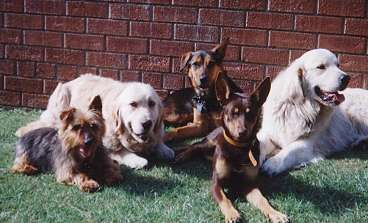 Noonbarra Bindi (front) with doggy friends
---
NOONBARRA MEGAN II

Nothing seems to worry her at all, she throws herself into other dogs, gets up again and looks for an other one to play with.

She has met, dogs, people, cats, ducks, bulls, ferrets, birds & not a worry in the world.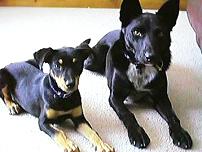 NOONBARRA MEGAN II AND HER BEST MATE MORRIS IN CANBERRA
---
NOONBARRA RUSTY II
We go to the beach about twice a week and he loves it. As soon as I say 'lets go to the beach" he gets so excited. When I first got Rusty he was terrified of the water but he has improved a lot. He often has a bit of a paddle when I go for a swim- he jumps in after me. Going for walks is really good especially at the beach. Sometimes when it's not busy we can let him of the lead and he walks next to us.
He just loves other dogs. I am trying to teach him that he can't play with every dog because when he sees another dog he tries to run and play with them...." - Gervais, Queensland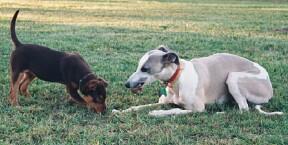 Noonbarra Louise and Bill the Whippet
---
NOONBARRA MATILDA
She loves all other dogs (even if they don't love her so much) and I have no problem taking her anywhere. So far she has also represented Springwood and District Dog Training Club at our local (Springwood) Foundation Day demonstration (and marched in the parade) and our Anzac Day March. She happily accepts being crated and staked out when we are out and about and gets on really well with Charlotte and Harvey (my other whippet who is just a pet). She comes on a walk most nights with Charlotte, Harvey and my neighbours dogs.
---
NOONBARRA RUBY (BELL)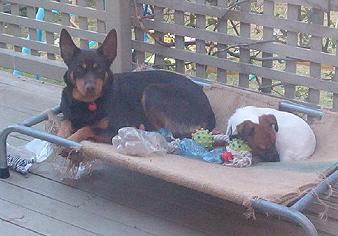 "Here's a photo of Ruby resting with her best friend Millie. As you see by the photo Ruby makes her own day bed."
---
NOONBARRA ROSE
"Rose has met a new friend. A Kelpie/Cattledog cross. They're the same age and have the best plays/wrestles."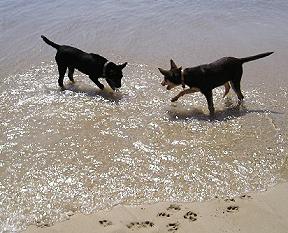 NOONBARRA ROSE AND FRIEND AT THE BEACH
---
NOONBARRA KRYPTO
She is always trying to engage the other dogs in play (we inherited two dogs from my retiring boss, so now we have Spikie (Jack Russell terrier), Jennie (Japanese terrier) and Alfie (papillon mix). They are all older than 8 years.)

Krypto likes to count the dogs when they return from outside. She also minds that they do not wander too far, or get into trouble.
---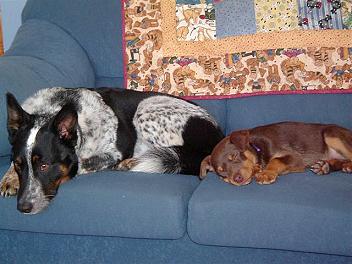 Noonbarra Matilda III and PJ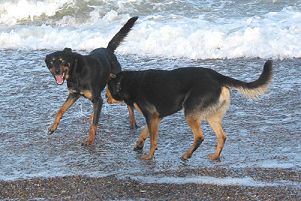 Noonbarra Mate and Noonbarra Scott having fun - Germany
---
We hope to expand this page so any customers that would like to contribute their comments or photos would be very welcome.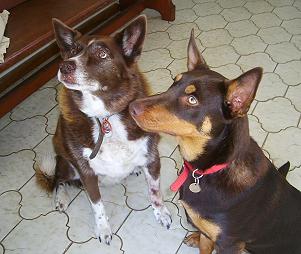 NOONBARRA COPPER AND DIESEL
---
Noonbarra Nugget
My brother and I took our 2 Kelpies, Millie and Toby, to visit Nugget a few weeks ago. ...Well, Millie and Toby are so close now that they fret if they are separated for too long.
Anyway we decided to introduce our 2 to Nugget. We would have done it earlier but other things conspired against us. Here I was worrying about how they would all get on. Jessie is boss of them all, so she wasn't a problem. Millie and Toby ran up to Nugget on arrival. Nugget gave them both a lick on the face and that was that.
A few things happened after that. Millie gave a startled look, Toby sat down with his ears back and a pleased look on his face, and Jessie went to bed. I suppose she thought that "others" could entertain the boy while she had a rest. The day was a complete success. I have included a few pictures.
---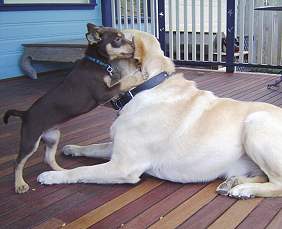 Noonbarra Bailey II and big Noah.
---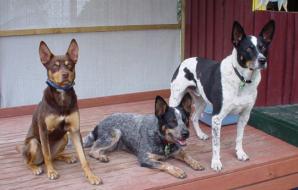 Noonbarra Atilla and friends
---
NOONBARRA SCOTT and NOONBARRA MATE
"I do not know if I ever told you how great the social behaviour of our "boys" is! They get along with almost every dog. And they love to play with fast and active dogs like the Rhodesian Ridgebacks of our friends." – Kirsten. Scott and Mate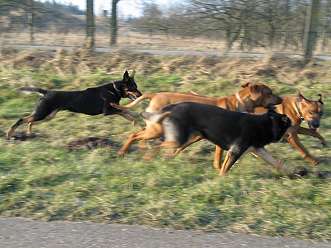 ---
Noonbarra Copper II in the USA
Copper is a delight to live with, so sweet natured and willing. There's never been a hint of aggression towards people or other dogs - he lets our 2 year old niece grab him by the muzzle to give him kisses and he even enjoys playing with my parents' bossy pugs. We love him dearly and couldn't be happier with your choice for us. We'll send some agility pictures next time - until then, we hope you are both well and that things are good there.
Best regards from the California Jacksons.
---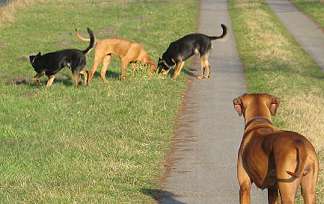 ---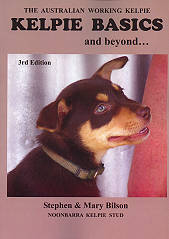 New 3rd edition of this very popular manual designed for all Kelpie owners of every level from raw beginners through to experienced trainers. This practical manual deals with everything involved in owning and training a Kelpie to ensure he grows up to be a well mannered, obedient dog.
The book is not about training on livestock! It deals with general obedience training, socialising your Kelpie, feeding, crating, toilet training, preventing problem behaviour, dominance issues, car travel, bathing, digging holes, stealing food, walking on a lead, coming when called... and much more.
Over 100 pages. ... $30 (Plus $5 post Aust.)
---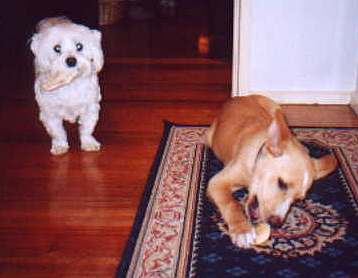 NOONBARRA JASPER II AND FRIEND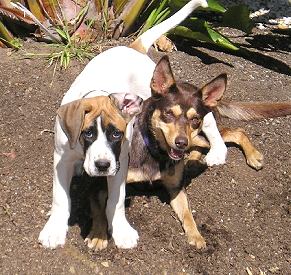 Noonbarra Rose and Dixie
October 2006
"Rose and Dixie (our Great Dane cross) get on very well. Rose is still boss...but they are fed next to each other, which is fine as long as Dixie doesn't try to snatch anything out of her bowl....which she does if Rose turns her back on her."
"They play and run together at home, but when we go to the dogpark/beach Rose switches to ball-mode, while Dixies' looking for someone to wrestle."
"Rose is also extremely good around our 2 year old and never snaps or growls even though she can be very mean."