PRICES FOR 8 WEEK OLD PUPPIES FROM THIS LITTER

These Kelpie Puppies ... $1100 - $1200 (pickup price)
(See training packages for pups being flown)

See puppy training packages & additional customer information

Some Customer comments from the 2015 litter (Noonbarra Dave & Noonbarra Katie)

Jedda is doing so well. I look at her each day and think how blessed we were to get her. We were the lucky ones to see her at the right time and be able to have her in our lives. She is learning quickly with instructions and commands. She is so admired by everyone that meets her. On her visit to the vet for her latest vaccination she won the vet over. I think he would have taken her home if he could have. The kids love playing with her and keeping her entertained. She has also started to be good company for our other dog Pablo.

"One word WOW !!! Make it two. Thank you or is that 3 ! Lol What a wonderful companion .... He slept nearly all the way home to Wollongong on Aleks lap. His first night by himself he was far better than expected with minor crying. He already know's he can't come in side unless I say so and also knows when he is in he goes to inside cushion bed. Very very smart dog indeed. He's very loving and enjoys just being beside both myself and partner Jess. We're just sitting on the back deck now playing with him and enjoying his company. Again thank you very very much. Shane and Max

Rusty is now 5 months old and is the most amazing dog possible. Emma and I can't believe how good he has been right from the very beginning, you truly picked the perfect dog for us.

Within the first couple of days of getting him Rusty was toilet trained and now he even knocks on the door when he needs to go outside. He sits with us every night while we watch tv either playing with his toys or asleep on our lap. Rusty absolutely loves going for rides in the car, he sometimes won't even get out when we get home preferring to stay in the car ready for the next trip.

We are so happy with our little boy he is exactly the dog we wanted. Everybody can't get over how friendly and well behaved he is. On many days he has come to work with me and just fallen asleep either on or under my desk and my fellow work colleagues don't even know he is there. Thanks again for our perfect little friend and family member.

Price include all vaccinations against serious dog diseases, Parvo/Distemper and Hepatitis. These puppies will also be Microchipped. They will be Vet checked, given regular worming, registration with W.K.C. in National Stud Book for Purebred Working Kelpies, also have a Noonbarra Dog folder and Kelpie information.

We want each puppy to be the best possible match for their lifestyle and situation.

Firstly we work out which litter would best suit and than we do a lot of evaluating of each individual puppy. So, for example, we would match a different dog to a retired couple who are home 24/7 than we would for a young bloke who is very active and needs a running partner or for someone doing dog sports or maybe someone needing a strong willed cattle worker compared to someone with three little kids looking for a soft natured affectionate family dog.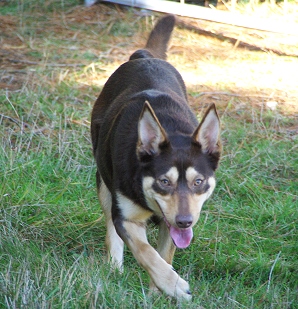 All our pups get the best start to life here at the Noonbarra Stud. We think happy, healthy puppies are more likely to be easier to train, are better bonded to their owners and it helps to make them happy, well adjusted adults. We even have a basic puppy training program which includes socialising, exposure to noise, car travel and the beginnings of learning good manners and basic obedience. It also includes (very importantly) comprehensive day by day crate training sessions for each puppy. This is an incredible advantage for our customers. There is a page outlining this training on our website and much more detailed information in our book 'Kelpie Basics'.
Click here for more about crate training.
Early socialising and handling of puppies makes it all so much easier for our customers. We often have a puppy or two in side on the lounge with us at night watching TV. Our mothers have the highest degree of nutrition when pregnant and after they whelp, so pups are very healthy and Mum is easily able to look after them with no stress.

We handle each puppy day by day, so they get used to human touch and we start to supplemental feed the puppies at 3 weeks of age. They also undergo a full worming program with a Veterinary supplied Fenbendazole based medication, all are carefully checked over by a Vet and each puppy is microchipped and vaccinated against major diseases, so you get the healthiest pup possible. They are well socialised right from the start and that makes them so much easier to handle and train for our customers. It also gives each puppy a strong connection to humans and makes them more affectionate and helps to build a better bond between you.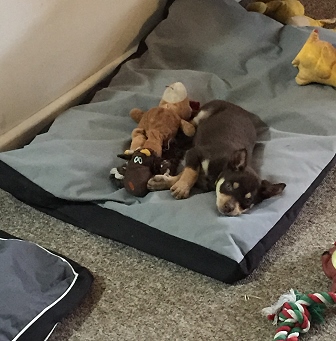 Puppy from Katie's last litter.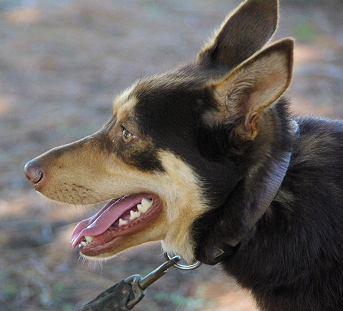 Noonbarra Katie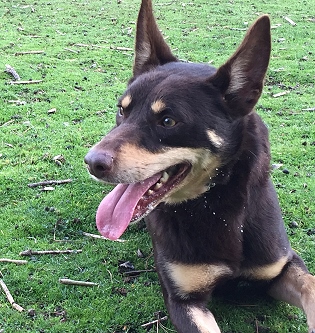 Noonbarra Dave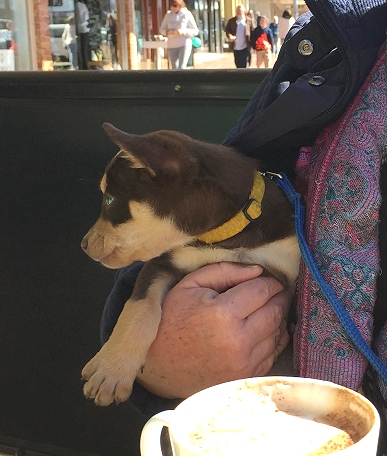 Puppy from Katie and Dave's last litter. (2016)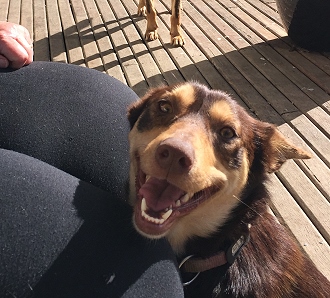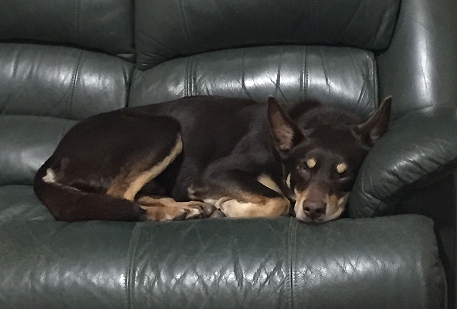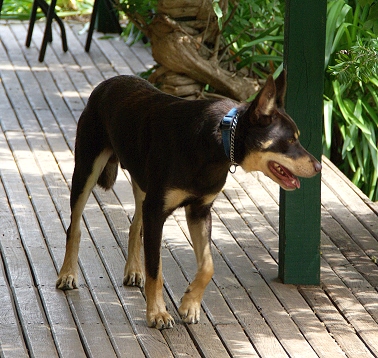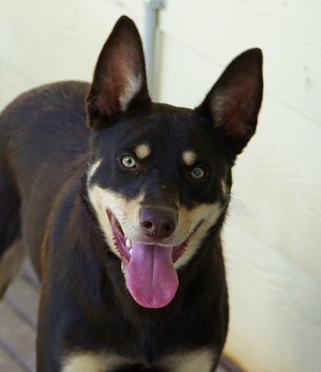 ---
Price ... $1200 (Available next week.)
We have a lovely natured puppy available for sale in the next week. More details and photos soon.

---
Price ... $1250 (NOW SOLD)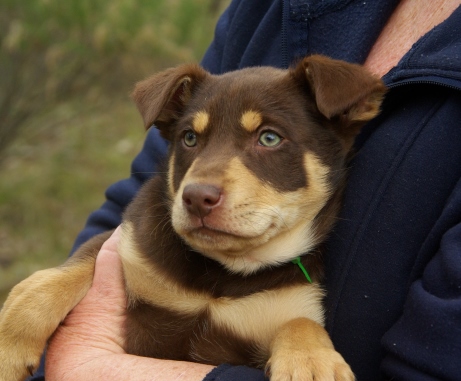 We have a wonderful young Kelpie for sale at the moment. (which doesn't happen often). So here's a chance to get a well bred Kelpie with a fantastic pedigree, WKC registration, microchip etc. that has already had quite a lot of basic puppy training including crate training, car travel, and socialisation, exposure to various situations, noise etc. He has had vaccinations against the major dog diseases.

We haven't a name for him yet, so you can choose your own name. He still comes running to us when we call 'puppy'.

He is a lovely natured little pup. Very playful and friendly. Gets along with all the adult dogs here and is quite brave for a puppy. Nice affectionate nature and likes to be around whatever is going on.
If you are looking for a male puppy that is a happy, outgoing sort, then this may be the dog for you. He is very gentle and sweet. This puppy has already had basic puppy training and has had some crate training too. He has had a lot of socialising, been exposed to new situations, traffic, machinery, etc.
This pup would make a great companion dog or family dog. Loves to be with people and very affectionate. He has good traits for competing in dog sports such as Agility (he is fast & agile) or tracking (great sense of smell) and would also suit obedience competition. He is very good around people and other dogs and has a very loyal nature. He looks a bit bigger and older in the photos than he actually is. He is really still only a little puppy. He responds well to training.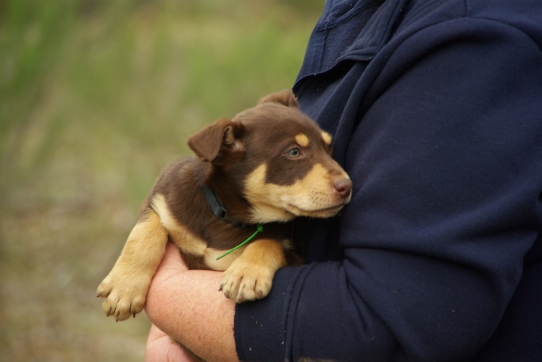 Price includes all vaccinations against serious dog diseases, Parvo/Distemper and Hepatitis. He has been Microchipped and vet checked. He has been given regular worming. Registered in the W.K.C. National Stud Book for Purebred Working Kelpies. Comes with a Noonbarra Stud Folder which includes photos and info of her parents and relations, tips on training and care. Vaccination & microchip certificates, pedigree, and other information.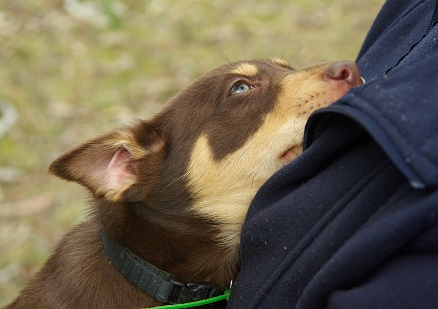 Australian Kelpie pup For Sale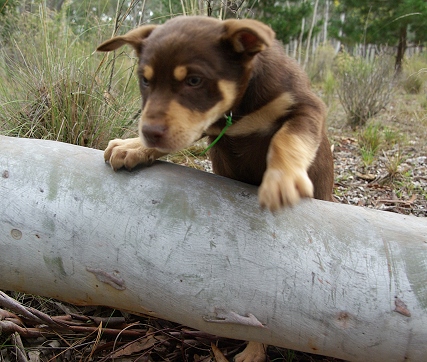 Kelpie pup for sale

Australian Kelpie puppy For Sale


These matings are expected to be done sometime over the next few months when the females come into season.