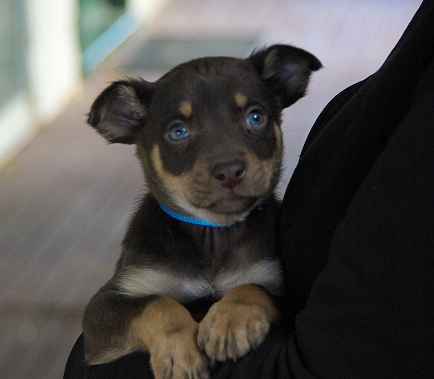 KELPIE PUPPY - Red & Tan Male.




Special

Price .... $1100





SORRY THIS PUPPY HAS NOW BEEN SOLD






---



KELPIE PUPPY
- Red & Tan Male.



$1250

*SORRY NOW SOLD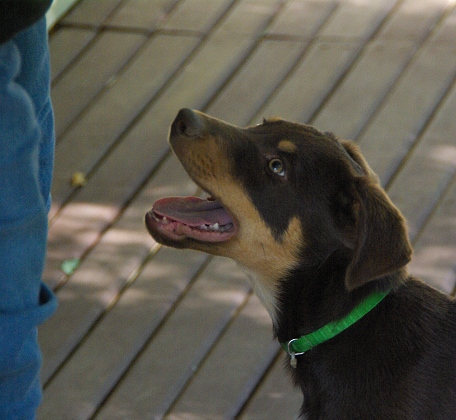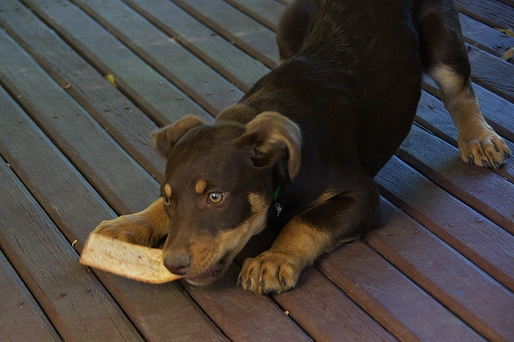 We have just made this puppy available. He is 12 weeks old so has had a bit of additional training and handling which puts him on the right track to being an absolute wonderful adult dog. He has had a lot of crate training and car travel too. He also has had his 2nd official set of vaccinations. He doesn't have a name yet so customer can pick one. He will grow to be a medium sized adult.
He is a very friendly and happy dog. He sleeps overnight in his crate and is well behaved in the house. This is a more laid back, gentle type of Kelpie which we are renowned for. However, like all puppies he will have his moments.
He loves to play with toys and is very affectionate. If he's not out running with the motorbike on farm, he's just as happy lying on the lounge with you watching TV. We like this puppy a lot. He would make a great companion dog. Like most of our Noonbarra Kelpies, he wants to be with you and involved with whatever you are doing. He has such a wonderful temperament. Easy going and playful but also calm and able to settle well. He adapts to new situations well and you can take him anywhere. As he is not too independent he would make a very nice running companion as well. He loves to be patted and will be a loyal, faithful friend.
He'd be a perfect dog for a young family and should be good around other animals too. He has had limited exposure to young children and has been excellent. If you want a wonderful young Kelpie with great breeding and a easy going personality then this pup may be just what you are looking for.
He's not too excitable but still loves a good play. He has a great sense of fun and really likes his toys and chews but will often drop them to come for a pat. He is very clever and can learn new things very quickly. He'd be a good choice for Dog Sports too. Many of our dogs in the past have gone on to do well in Agility Trials, both here and overseas. He has all the qualities to do well too if that is something you are interested in pursuing. He would be a wonderful dog for sheepwork as well. He's probably not hard enough for aggressive cattle work but would after basic training, be a nice calm worker on Merino sheep.
He has some fantastic breeding behind him. He's a happy, friendly puppy and has a nice personality. He is the sort of dog that loves a cuddle and a pat.
His breeding goes right back to the 1800's. He is related to many famous Kelpies including, Capree Boss II, Noonbarra Butch, Avenpart Zondo, Bonorong Rex, Liscannor Pace, Kalari Basil, Glenlogie Lucky, Noonbarra Gabe, Barambogie Mack and Phils Creek Sam. (Most of these can be found in the book - 'Famous Kelpies'. )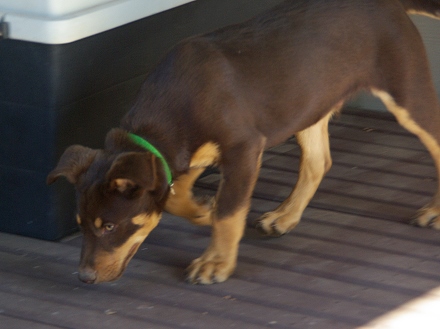 He has also had his 2nd set of vaccinations so he's ready to go everywhere with you.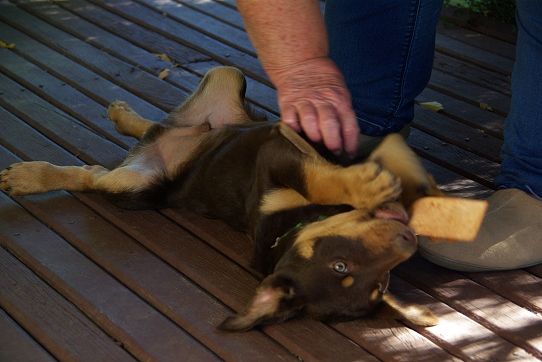 He's very playful and lots of fun.


We take our breeding program very seriously and over many decades of professional breeding we have a huge practical and first-hand knowledge base about these bloodlines going back many generations and that combined with detailed pedigree information, related litters and our detailed evaluation sessions means that each customer gets the very best puppy to suit them in terms of behaviour, personality and abilities.

He has had some basic puppy training as well as lots of crate training, so he will be able to be crated at night. (see our info on crate training benefits).

Price include all vaccinations against serious dog diseases, Parvo/Distemper and Hepatitis. He has been carefully checked over by Vet. He has also been Microchipped. He has also been on a complete program of worming. Comes with written pedigree and papers. Registration with W.K.C. in National Stud Book for Purebred Working Kelpies. He also has a Noonbarra Dog folder and Kelpie information, photos and other information. So you are getting a very special little dog.

So if interested contact us as soon as possible. If you email make sure you leave a phone number so we can get back to you as quickly as possible.