PRICES FOR 8 WEEK OLD PUPPIES FROM THIS LITTER
These Kelpie Puppies ... $1200 - $1500 (pickup price)
(See training packages for pups being flown)

See puppy training packages & additional customer information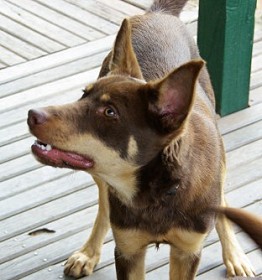 This is a wonderful combination of two lovely parents. We like it so much we have repeated this mating because of how good pups were last time. This upcoming litter is already getting a few bookings.
Jillaroo is a very pretty, beautiful natured young Kelpie. This is her third litter and she has been an incredibly good mum.
She's an extremely clever dog and learns very quickly. She has a wonderful personality that is a combination of gentleness and friendliness. We love her to bits. She's sociable and happy and loves to play but she's also very soft and sweet and settles well. Rare to get all that in one dog.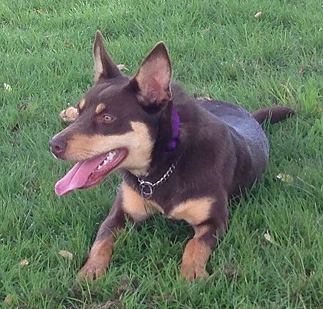 Jillaroo is by Noonbarra Jim, and most customers know the lovely gentle pups he produces. Her mum is Noonbarra Roobie, owned by our friend, Dale. Another fantastic Kelpie who is very smart and has been taught a number of tricks by her owner, including ringing a bell to go outside.
Jillaroo is a good dog indoors and settles well. She loves to go for a car ride. Loves the motorbike too. Noise is not a problem. Very friendly dog and a kind nature. She loves to sit with us at night and watch TV. Excellent in crate or kennel. Gets along extremely well with other dogs.
She's a very good dog working sheep and has a nice smoothness in the paddock but can also bring some extra power and push when working in the stockyards. She shows a lot of the old style our dogs are noted for such as break-out, point of balance and calmness when in close. She's a very classy worker.
Noonbarra Brock is a fantastic sire by Ameroo Ned and Noonbarra Emma. He was a superb dog right from a puppy. Very easy to handle and adapted to new situations well. Always happy and a devoted type.
He has been a delight to own and train and makes the most wonderful companion. A dog who is faithful, easy to train, friendly, wants to please and very intelligent. He travels well, and adapts to new situations easily. His breeding goes back to many of the great Kelpies in Australia. He has a great temperament and is a very happy dog.
The combination of Brock and Jillaroo should give us very nice pups with wonderful temperaments, good with kids, versatile workers. Happy, friendly outgoing dogs suitable for family companions, dog sports, trick training and sheepdog trials.
Brock is one of the best sires we have ever had and is being put over an increasing number of females. He has a happy, friendly personality. He is a great mate to have around and is quite gentle while still being a wonderful dog that doesn't get bothered by much and adapts to new situations. Many of his pups have gone to family companion situations and have been ideal for that purpose. He is a very faithful dog himself and tends to produce that in his pups.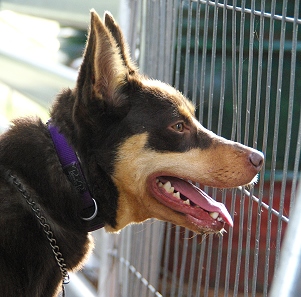 His work on sheep is very good. Has good bounce in yards that he inherited from his dad, Ned and he has lovely style in the field from his dam, Emma. Capable of any job. His pedigree brings in fantastic old famous Kelpies like Phils Creek Nap, Capree Cobb, Glenlogie Lucky, Hortons Squire, Avenpart Zondo and more. Good break-out, point of balance and correct distance on sheep and a good strong approach that tends to keep stubborn sheep moving freely. Nice power to force in races and yards when required. Many of these these traits are difficult to obtain in working dogs these days.
He loves to come out in the car for a drive and we often take him with us to cafes or the leash free dog park in nearby Orange. Sometimes he just goes for a ride and doesn't get out at all, but he still enjoys the drive and being with us. He walks very smoothly on a lead at your side with no pulling and at home is the type of dog that just likes to quietly come up to us and get a pat and maybe a scratch behind the ear and then he likes to sit at our feet.
We expect this lovely combination to give us pups that are fun loving and outgoing but also have a gentle side and settle well and take instruction easily. Would be a good choice for competition training too such as Obedience, Agility, sheepdog trials or even TV and movie work. Pups from these two outstanding parents would learn complex tasks easily. Both parents are highly intelligent and both have excellent skill sets.