---
KELPIE BASICS
This is our very popular manual designed for all Kelpie owners of every level from raw beginners through to experienced trainers. This practical Kelpie manual deals with everything involved in owning and training a Kelpie to ensure your puppy grows up to be a well mannered, obedient dog. It also works with adults too. A lifetime of experience with Kelpies is in this book.
The book is not about how to train Kelpies on sheep or cattle but this foundation training is important for all dogs! It deals with general obedience training, socialising your Kelpie, feeding, crating, toilet training, preventing problem behaviour in your Kelpie, dominance issues, understanding your Kelpie, Kelpies and car travel, bathing, digging holes, stealing food, walking your Kelpie on a lead, coming when called... and much more.
Over 100 large pages of information.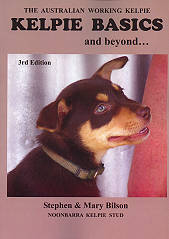 ---
This specialised training is a huge plus for you and your puppy. It is now included at no extra charge with every Noonbarra puppy sold. This training package is for crate training your puppy before you get him. This is to help your puppy sleep in a crate at night, in your home, with minimum or no disruption to your sleep. This training usually takes between 4 and 6 days. To prepare your puppy we first introduce a number of puppies together and gradually get down to the puppy in the crate on his own an for extended periods including a couple of overnight sessions. Puppies are usually ready to go by 8 weeks of age. This is designed to get your puppy off to a great start and to learn to be relaxed and comfortable at night in a crate.
We do a number of days and overnight training of your puppy to accept and be comfortable when confined to a crate. Most see this as their own special den and will go in of their own accord. This is a great help to all customers but it is essential to any pup being transported by plane to their destination. [See info below]. Getting your puppy started well in a crate is a big help to new puppy owners. Some people prefer to do all the training themselves and we are happy with that (unless the puppy is being flown) but for most people getting the timing right and knowing what is normal behaviour in a crate etc. can be daunting and we recommend this basic package to get them started in the right direction.
Without this training, many pups are likely to bark or howl for many hours (night after night) or even panic. We have seen pups from other breeders that haven't been trained get so panicked and upset they completely break down and need a lot of extra training just to get over the ordeal. We have seen untrained pups urinate, soil their crate or even vomit just from the stress & panic so the initial crate training should be done gradually and with lots of understanding and preferably with two or three pups together for short day periods and then the period in the crate gradually lengthened and the pup in on his own for short periods until you are able to crate overnight. We have very experienced in doing this and have crate trained hundreds of dogs including dogs from other breeders.
You have to know when a pup needs to get out to relieve himself and when he is just frustrated at being restrained. Experienced dog owners know how to do this but new dog owners can have a nightmare time of it unless the breeder does the first few days of crate training for them.
This crate training package is a 'restraint' lesson and is good foundation training and teaches your pup that YOU are the ADULT (parent/pack leader) and he must sometimes be restrained and comply to what you want. It gives him boundaries and teaches him to be able to settle. It makes him a happier dog. It also helps with toilet training.
Down-Stay training and tie up are two other important restraint lessons. Crate training stops your puppy from panicking in a crate and makes all your other training much easier. More info on how to crate train is in our book 'Kelpie Basics'. Please note that by no means can we make your puppy perfect in a crate within that short time frame. We can make the puppy accepting of the crate, not panicking and content & relaxed most of the time but most pups are not 100% happy to be restrained in a crate until they are at least 5 months of age or older. You should still expect 5 minutes of whining or protest at night for the first few nights. If you continue your pup's crate training he will absolutely love his crate just like our dogs here!
MORE ON CRATE TRAINING WITH PHOTOS AND SOME CUSTOMER FEEDBACK
---
HOW WE EVALUATE YOUR PUPPY
VISITING TIMES OF NOONBARRA KELPIES
CLICK HERE FOR INFORMATION ON BUYING A NOONBARRA KELPIE
---
DURING COVID THE STUD IS CLOSED TO ALL VISITORS EXCEPT CUSTOMERS PICKING UP (Special conditions such as masks & meeting outside may apply at certain times)
---
IMPORTANT INFO ON KELPIE DEPOSITS