---
KELPIE PUPPY LITTER EXPECTED

We are hoping to get this proposed upcoming litter soon. Very likely to be both Jim and Angie's last litter. Jim is the main house dog at the moment but he's getting old so we don't know how long he can continue to produce puppies. Past puppies from this breeding have been outstanding and we have had numerous glowing reports back from customers. Very clever puppies that fit in with families very well.
We actually expect a couple of our breeding females to be in season during April and this year we will have at least a couple of litters over winter. This is one of the proposed litters this year.

NOONBARRA JIM - NOONBARRA ANGIE
All pups will be Red & Tan in colour
Kelpie puppies at 8 weeks of age : $1800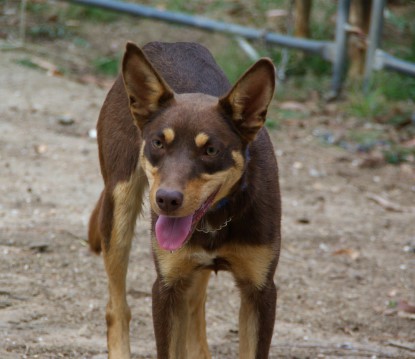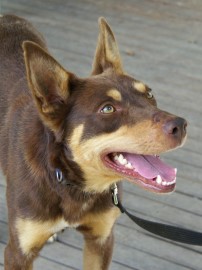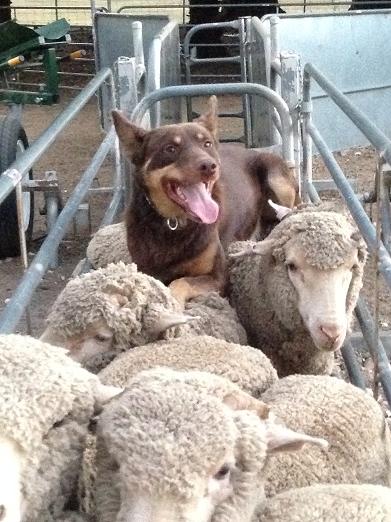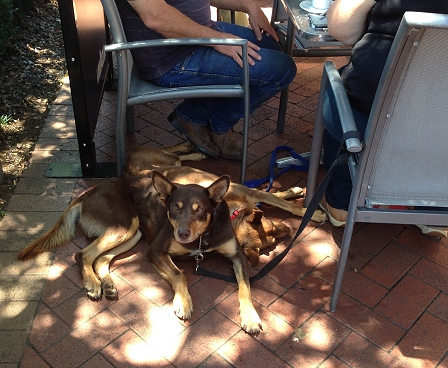 ---
KELPIE PUPPY PRICING
Prices listed here for Kelpie puppies are for 8 week old pups only.


Pricing for our Noonbarra Stud Kelpie puppies : $1800.
We prefer our Kelpie puppies to go to their new homes around 8 weeks. This is the perfect age. This allows the customer to have the puppy when they are at their most dependent. We want the puppy to fit in well with their new home and owner.
If you need us to hold a pup for you longer than the standard 8 weeks, we charge an additional $100 to hold one week. We can only do this when we have enough time to be able to devote to the puppy. The period from 8 weeks is the most important in a pups life and it's when they learn a lot. As we usually have a number of puppies and lots of adults to look after, it's difficult to give one puppy the one-on-one attention that an owner can give. Except in exceptional circumstances we usually do not hold puppies more than 10 weeks of age. If you cannot take a puppy at 8 - 9 weeks of age then let us know within 24 hrs of us notifying you of a puppy and we can cancel that booking and look at a future litter. If you do not notify us then you will forfeit your deposit.
Sometimes when we are not busy and can devote enough time to raising a pup a bit longer we do sell pups over 3 months of age. Cost is around $2200 - $2600. This includes another set of vaccinations and two or three extra worm treatments. A lot more time one-on-one is put into these older pups. So they are better crate trained and have had lead training and car travel as well as being exposed to various situations, noise, strangers etc. We also do a number of down-stay lessons and often take them to a cafe and about town.
---
KELPIE BASICS
This is our very popular manual designed for all Kelpie owners of every level from raw beginners through to experienced trainers. This practical Kelpie manual deals with everything involved in owning and training a Kelpie to ensure your puppy grows up to be a well mannered, obedient dog. It also works with adults too. A lifetime of experience with Kelpies is in this book.
The book is not about how to train Kelpies on sheep or cattle but this foundation training is important for all dogs! It deals with general obedience training, socialising your Kelpie, feeding, crating, toilet training, preventing problem behaviour in your Kelpie, dominance issues, understanding your Kelpie, Kelpies and car travel, bathing, digging holes, stealing food, walking your Kelpie on a lead, coming when called... and much more.
Over 100 large pages of information.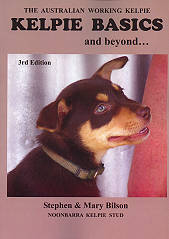 ---
This specialised training is a huge plus for you and your puppy. It is now included at no extra charge with every Noonbarra puppy sold. This training package is for crate training your puppy before you get him. This is to help your puppy sleep in a crate at night, in your home, with minimum or no disruption to your sleep. This training usually takes between 4 and 6 days. To prepare your puppy we first introduce a number of puppies together and gradually get down to the puppy in the crate on his own an for extended periods including a couple of overnight sessions. Puppies are usually ready to go by 8 weeks of age. This is designed to get your puppy off to a great start and to learn to be relaxed and comfortable at night in a crate.
We do a number of days and overnight training of your puppy to accept and be comfortable when confined to a crate. Most see this as their own special den and will go in of their own accord. This is a great help to all customers but it is essential to any pup being transported by plane to their destination. [See info below]. Getting your puppy started well in a crate is a big help to new puppy owners. Some people prefer to do all the training themselves and we are happy with that (unless the puppy is being flown) but for most people getting the timing right and knowing what is normal behaviour in a crate etc. can be daunting and we recommend this basic package to get them started in the right direction.
Without this training, many pups are likely to bark or howl for many hours (night after night) or even panic. We have seen pups from other breeders that haven't been trained get so panicked and upset they completely break down and need a lot of extra training just to get over the ordeal. We have seen untrained pups urinate, soil their crate or even vomit just from the stress & panic so the initial crate training should be done gradually and with lots of understanding and preferably with two or three pups together for short day periods and then the period in the crate gradually lengthened and the pup in on his own for short periods until you are able to crate overnight. We have very experienced in doing this and have crate trained hundreds of dogs including dogs from other breeders.
You have to know when a pup needs to get out to relieve himself and when he is just frustrated at being restrained. Experienced dog owners know how to do this but new dog owners can have a nightmare time of it unless the breeder does the first few days of crate training for them.
This crate training package is a 'restraint' lesson and is good foundation training and teaches your pup that YOU are the ADULT (parent/pack leader) and he must sometimes be restrained and comply to what you want. It gives him boundaries and teaches him to be able to settle. It makes him a happier dog. It also helps with toilet training.
Down-Stay training and tie up are two other important restraint lessons. Crate training stops your puppy from panicking in a crate and makes all your other training much easier. More info on how to crate train is in our book 'Kelpie Basics'. Please note that by no means can we make your puppy perfect in a crate within that short time frame. We can make the puppy accepting of the crate, not panicking and content & relaxed most of the time but most pups are not 100% happy to be restrained in a crate until they are at least 5 months of age or older. You should still expect 5 minutes of whining or protest at night for the first few nights. If you continue your pup's crate training he will absolutely love his crate just like our dogs here!
MORE ON CRATE TRAINING WITH PHOTOS AND SOME CUSTOMER FEEDBACK
---
VISITING TIMES OF NOONBARRA KELPIES
CLICK HERE FOR INFORMATION ON BUYING A NOONBARRA KELPIE
---
DURING COVID THE STUD IS CLOSED TO ALL VISITORS EXCEPT CUSTOMERS PICKING UP (Special conditions such as masks & meeting outside may apply at certain times)
---
IMPORTANT INFO ON KELPIE DEPOSITS
IMPORTANT: You must make a booking to be considered for a puppy from an upcoming litter. We get many hundreds of calls and emails. A deposit separates the customers who are really serious about getting a Noonbarra puppy. Deposits are $150. (Non-Refundable). Once we have your deposit, you go on a special list that we continually refer to in order to match you to a great little puppy. We discuss your needs and your lifestyle and try to get you a 'perfect' match. Along with your deposit please send as much detail as possible also your phone number and address so we can discuss getting the best puppy match with you in more detail.
Deposits can be paid with Personal Cheque, Cash, Direct Deposit, Money Order.
Let us know as soon as you have made a payment as in some cases we are not informed by bank and we want to get your booking signed in as quickly as possible so you don't miss out.
Please send cheques, money orders etc. to:
Mary and Stephen Bilson
Noonbarra Kelpie Stud
P.O. Box 1374, Orange NSW, Australia 2800
--------------------
Direct deposit is; Reference: (Your name)
Account name: Noonbarra
St. George Bank. Australia.
BSB: 112 879
Account: 0396 195 64

Our bank branch is
St. George Bank, 183 Summer Street, Orange NSW 2800 Australia (The BSB number should tell them that address)
St George Bank Head Office is St. George House 4-16 Montgomery Street, Kogarah. New South Wales, 2217. Australia.
Our Noonbarra Stud address with St George Bank is PO Box 1374, Orange, New South Wales, Australia 2800
---
All prices are in Australian dollars
VISITING TIMES & DEMONSTRATIONS AT NOONBARRA KELPIE STUD
LOCATION OF THE NOONBARRA STUD
Noonbarra Working Kelpie Stud

Mary and Stephen Bilson

'Bimaru', 539 Lookout Road, Mullion Creek via Orange
Postal Address: P.O. Box 1374, Orange NSW 2800, Australia


Phone: 02-6366 0499