SALES INDEX
NOONBARRA KELPIES
STUD KELPIES FOR SALE
---
Noonbarra Kelpies
We are a small family run and well established Australian Working Kelpie Stud. We are regarded as a 'Parent' Stud, breeding along many years of our own proven Noonbarra bloodlines and supplying many Noonbarra Kelpies for other breeders. We often only breed a small number of puppies each year. For example, some years we have less than 20 pups but it really depends a lot on litter sizes. Despite only selling small numbers of puppies compared to some other Studs, we have a National and International reputation for breeding outstanding Working Kelpies. We also have a very high profile with our customers who are proud to own a Noonbarra Kelpie and often help to promote our Stud through word of mouth. These days more than 70% of our sales are to returning customers or their friends and families who have bought our dogs in the past. Some have purchased a number of Noonbarra Kelpies over the last 40 years.
We breed our Noonbarra Kelpies to be good natured, very clever, friendly dogs. We like them to be able to settle and have a degree of natural calmness in them. We prefer kind, gentle dogs that are devoted to their owners. This type of dog is ideal as working companions for Jillaroos, stockmen and farmers as well as for families living in the cities. Our dogs have been selected and very carefully bred to have the very best attributes and abilities of the bred. Noonbarra Kelpies are smart thinking, steady workers who are extremely versatile and have the ability and stamina to work at the highest level on cattle, goats, sheep, ducks, and other livestock as well as close yard work or wide outrun and break out when mustering in paddocks.
We only breed a small number of Kelpies each year but our dogs tend to get high profiles are highly sought after. Our Noonbarra Kelpies are very much bred along the old-time sheep and cattle station bloodlines and have retained their superb holding ability, break-out and style that is sadly missing from so many of the modern lines.
We have bred State and National Sheepdog Trial Champions and winners in Yard, Utility and Arena Sheepdog Trials. We have Noonbarra Kelpies working on 5 acre Hobby Farms and on Sheep & Cattle Stations of more than 500,000 acres as well as in the cities and suburbs as fantastic companion pet dogs.
Our dogs have also made a big impact with people wanting good loyal companion dogs. Our stock is so highly regarded that they have been used in more than thirty other Kelpie breeding establishments around Australia as well as overseas. We are very proud to be producing some of the very best breeding lines in Australia.
---
BEFORE YOU BOOK YOUR NOONBARRA KELPIE
We like our customers to be 100% sure before they book their Noonbarra Kelpie. With that in mind, it is best if you have seen a few Kelpies and understand that they are very intelligent and are dogs that want to be involved with you and your family. They need regular walks and exercise like all breeds. No more - no less. Don't buy on a whim. Owning a dog is a serious commitment. We suggest you get a copy of our 'Kelpie Basics' book first to ensure you know what is involved in owning one of our Kelpie pups.
Before you book and send a deposit please give us as many details as possible about what you require in your puppy. Have one main priority only. Then whatever is next in importance to you... and so on. Obviously in dealing with nature we can't get things that clash in a genetic sense so probably won't be able to get you everything you might desire if you have a long list but we should get close.
---
PICKING UP YOUR NOONBARRA KELPIE
It is important to be prepared for the arrival of your pup. If you are picking your pup up from the Stud please bring a dog crate if you have one. If not, we have bought in a few good sized crates for our customers at good prices ($120 in 2021). This size is suitable even for small - medium sized adults. We crate train all our own puppies and have found it the easiest way to work with little pups. We used to have a charge for crate training but it is so important in teaching a puppy that we now include it with every puppy we sell. It is not just a lesson in how to be crated comfortably but also as a fantastic lesson in being restrained and understanding normal boundaries and limitations that are going to occur during their lives. It helps with toilet training, walking your dog and so much more. Even car travel. It takes at least a week to crate train and involves more than most people think (see details in Kelpie Basics) even then it won't be perfect but it is well on the way.
Bring a small lightweight leash with you as you will need to stop on the trip home to let the pup relieve itself. An old towel or those wet wipes are great for cleaning dirt off puppies feet. Your puppy will already have an adjustable collar on. If you have a colour preference for the collar, please let us know. We usually have a good range of colours. Black, light Blue, Dark Blue, Yellow/Gold
Sometimes, when get your pup it may be a good idea to get the pup Vet checked a few days after arrival and get your Vet's recommendations on any particular diseases or health problems in your area such as Ticks, Heartworm or Parasites. There are now new products available for Ticks and Heartworm.
After getting your pup don't waste any time in getting a dog tag. The last thing you want is for your pup to go missing in the first week or so.
INFORMATION AND PHOTOS ON CRATES AND CRATE TRAINING
---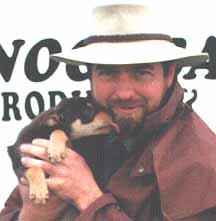 If you email or phone us and let us know when you want a puppy we'll contact you and let you know of upcoming matings etc that may be suitable for your needs.
If you wish to proceed with the purchase there is a deposit of $150 required to secure your choice. Deposits are non-refundable.
As most litters have a number of bookings and some are fully booked before the pups are even born, we strongly suggest that if you are really serious about buying a Noonbarra puppy that you get a deposit to us as soon as possible. It doesn't have to be for a particular litter. It might just be for a certain sex, colour, size, behaviour or working ability or by a particular sire or dam.
We are very happy to spend time discussing your dog needs and what would suit your situation. We strongly encourage every customer to send in a email or letter describing what they would like. It doesn't have to be too long as that can sometimes get confusing. Just a few lines describing one or two main aspects /traits that are important to you and then if you want, maybe a couple of other things that are less important but desirable if possible. That helps us a lot in getting you a good match. Also maybe a little bit of information about your situation and/or lifestyle. If you have owned dogs before, what you liked/disliked about them. If you prefer a big dog or a small dog, if you have children, if you have other animals, if you run, hike, mountain bike, go to dog parks, beaches etc. etc.
We then keep this on file for you. We try to help everyone to the best of our ability and we especially try to be clear about what owning a dog entails. We will try to give you an indication of what is coming up but it is difficult to be precise before puppies are born with regards to gender, size, colour and numbers in a litter. The more details we have, the easier it is for us to get you a great match to fit in with your lifestyle, experience with dogs, traits, requirements etc.
From this point, a deposit is absolutely essential if you want to secure a booking and have a puppy held for you. Once we have your deposit you are put onto a special list with details about what you require that we refer to constantly and your needs are discussed in relation to the puppies we have and that are coming up. This list is what we work from. Customers who have booked and paid a deposit are always our priority. Unless someone is on the secured booking list we can't do any planning or evaluating of pups for them.
A deposit is an indication that you are genuine about purchasing a puppy. We need to spend the time & effort with people we are know are serious about owning a puppy. We get a lot of young people (and a few older people) enquiring that often don't have the money to buy a puppy or don't have the facilities to house a puppy. Others enquire and seem serious about it all but enquire about litters every few months without ever making a purchase and this may go on for years as they are really only wishful. Others are not prepared to wait for a quality pup. Each year, we get many thousands of inquiries and we need to know which are genuine because we like to put a lot of time into evaluating and discussing each customer's situation on an individual basis. The sooner you are on 'The List' then the sooner you will get your puppy.
REFUNDS
Your deposit is not refundable!
The whole idea of a deposit is to show that you are genuine and are making a commitment to purchase a puppy. However, if the pup you have ordered is locked into only one particular mating or locked into a very short time period and this has been discussed with us clearly (best to have this in an email to us) before you have proceeded with your deposit and for some reason is not available or we feel the pup/dog is not fully suitable, then your deposit will be refunded in full. Obviously in a case such as this where you are completely locked-in to one litter we will not be looking at any other litters or individual puppies for you and we will automatically allocate those pups to other customers.
The normal wait for a pup to be born that we feel is suitable for your requirements, lifestyle and level of experience may take from about 6 weeks to about 16 weeks (sometimes sooner) but if the customer has special requirements or wants unusual colours or have a large number of locked-in traits or requirements they feel is important to them etc. it could take 12 months or more.
Please do not secure a booking with a deposit unless you fully intend to purchase a Kelpie from us. If you haven't fully decided, then it would be best to wait. This is a serious commitment and it's not like just booking a dinner reservation. We want our customers to be 100% sure before they go ahead. We are happy to answer all your questions (most answers will be on the website anyway) until you are 100% ready to put down a deposit. There is no hurry our end. We are never desperate to sell anyone a puppy. We prefer our customers to wait if their situation is not quite right for them at a certain time (new job, new house, new baby etc.). It is always nice to be able to spend time with a new puppy and enjoy the experience in full.
Please note that a deposit is non-refundable if you just change your mind, postpone after we have allocated a puppy for you or buy a pup somewhere else. The whole idea of the deposit is to show you are committed to buying a Noonbarra Kelpie. It allows us to plan our breeding program, our advertising and to organise customers and puppies. Most customers need a few weeks to organise getting a new dog. They may need to take time off work or plan the trip to our Stud, or just set up for a puppy (fencing) etc.
We need to make sure you are serious as a good amount of time and effort goes into selecting you the right puppy. If you want to only book a certain litter and accept nothing else, (or a certain colour, size or gender) then let us know that clearly when you make your deposit so that we don't look at puppies in other litters.
TRANSFERRING YOUR DEPOSIT OR POSTPONING YOUR PURCHASE
You can transfer your deposit from litter to litter and we encourage that if the exact puppy you want is not available in a litter. If you prefer to buy an adult and the right one is available you can transfer your deposit that way as well. You can also postpone your purchase. Some customers in the past have postponed for six months or more. You can postpone up to a maximum of one year if needed. This happens for a number of reasons such as health issues, family problems or when a stockman loses their job or a city person is temporarily posted interstate or overseas or a new home is not completed when it was expected to be. If possible, please let us know as soon as possible if you need to postpone so we can make puppies available to other customers.
You cannot postpone once the pup is born and has been allocated to you. [Your deposit will be forfeited]. Late postponements mean a lot of work for us. Even though we always have customers waiting for puppies, not all puppies are going to be right for all people. If you postpone at the last minute, we have to find someone who wants a puppy that exact colour, gender, size, temperament, abilities, personality and behaviour. We have usually also turned a number of people away as the pup was already sold. As well, we can't give customers any time to organise themselves. So it usually takes a lot of time and effort to be able to rearrange a puppy for new customers at such short notice. Most customers need at least a few weeks notice. Often we have to re-advertise the puppy. So unfortunately, late postponements or cancellations will forfeit your deposit.
Once we contact you and let you know that we have a puppy allocated for you from a litter we need you to confirm that you are able to take the puppy at 8 weeks of age. Once you do that we work at getting you the best match within that litter and once our extensive evaluations are finished and your puppy has been vert checked, vaccinated and microchipped, we send you out photos and final details. If you can't take the upcoming puppy at that date (8 weeks of age) and we notify you, then it is important that you contact us within 24 hours and let us know that you wish to postpone. If not, then you will forfeit your deposit.
DEPOSIT PAYMENTS
Deposits can be paid easily and quickly by Direct Deposit. Deposits are $150.
Let us know as soon as you have made a payment as we are not informed by bank (it takes a few days to show up in our account too) and we want to get your booking signed in as quickly as possible so you don't miss out.
Click here to Email us or Phone: 02- 6366 0499

Mary and Stephen Bilson
Noonbarra Kelpie Stud
P.O. Box 1374, Orange NSW, Australia 2800
Direct deposit is;

Ref: (Your name)
Account name: Noonbarra
St. George Bank. Australia.
BSB: 112 879
Account: 0396 195 64

Our bank branch is
St. George Bank, 183 Summer Street, Orange NSW 2800 Australia (The BSB number should tell them that address)
St George Bank Head Office is St. George House 4-16 Montgomery Street, Kogarah. New South Wales, 2217. Australia.
Our Noonbarra Stud address with St George Bank is PO Box 1374, Orange, New South Wales, Australia 2800
All prices are in Australian dollars
---
CLICK HERE TO SEE WHAT DOGS WE HAVE FOR SALE
Payment or deposit can be made via : Cash, Moneyorder, Direct deposit.
_______________
It is important to us that our Kelpies go to good homes where they are cared for and have a good life. Unlike some other breeders we are quite happy for our dogs to be sold as family pets and companions. We have had great success in this area with very happy customers (see our Pets page or Customer Comments.) As long as the dog has a good life and training, we are happy.
While the pup is young, we expect our customers to at least be able to spend a couple of hours each week doing some basic obedience or behaviour training with their dog. That's just 3 or 4 lessons of about 30 minutes. It is essential that the pup gets a daily walk. If you haven't got that time to spare it may not be a good idea to buy a pup (of any breed). Perhaps think about getting something a little older, a dog that has already had the basic training, although walking is still needed.
All Noonbarra Stud puppies sold are fully wormed, registered in the stud book of the Working Kelpie Council of Australia, vet checked and vaccinated for all major diseases. [C3]. They are also microchipped. In some of the older pups usually some basic obedience has already been taught. Started dogs are also often filmed working sheep. We are happy for the customer to pick a simple name and we will try to register the dog in their chosen name.
Our Noonbarra Kelpies are registered in the National Stud Book for purebred Working Kelpies, held by the Working Kelpie Council of Australia (The official registering body).

NOONBARRA DUSTY III MOVING A MOB OF CATTLE SOME YEARS AGO
_____________________
PRICES (In Australian Dollars)
Young puppies ... $2200 (average price)
vaccinated/wormed/Stud registered/microchipped/puppy folder/ Vet checked) Approx. 7-9 weeks
Lightly trained & started Kelpies ... Approx. $2500 - $3500 (Australian)
Fully trained adult Stud kelpies are rarely available but can range up around $5,000 - $6,000.
Some Stud Kelpies have been offered up to $25,000!
See individual dogs and litters for exact pricing.

Finn was perfectly matched to what Pete was after, and I know he has mentioned before how delighted he is with the job you both did in matching his request with his puppy.
PRICING
Puppy prices listed on this web site are for 7 to 8 week old pups. If you want a pup held a bit longer, we charge $100 per week after that period, which includes any extra wormings, feeding, cleaning etc. but excludes any extra Veterinary requirements. We do not like to hold pups much longer than 9 weeks. After 9 weeks this is the main period for training and socialising. Prices after 3 months will be based on individuals. We will only hold dogs for a customer when we have the time to put into them. Often we have other puppies at the same time and it is not possible.
BASIC CRATE TRAINING PACKAGE ... Now included with every puppy
This package is for crate training your puppy before you get him. This is to help your puppy sleep in a crate at night, in your home, with minimum or no disruption to your sleep. This training usually takes between 4 and 6 days. To prepare your puppy we first introduce a number of puppies together and gradually get down to the puppy in the crate on his own an for extended periods including a couple of overnight sessions. Puppies are usually ready to go by 8 weeks of age. This is designed to get your puppy off to a great start and to learn to be relaxed and comfortable at night in a crate. (It does not include travelling in a crate - which can be a bit different. See Puppy Training package for more details)
We do a number of days and overnight training of your puppy to accept and be comfortable when confined to a crate. Most see this as their own special den and will go in of their own accord. This is a great help to all customers but it is essential to any pup being transported by plane to their destination. [See info below]. Getting your puppy started well in a crate is a big help to new puppy owners. Some people prefer to do all the training themselves and we are happy with that (unless the puppy is being flown) but for most people getting the timing right and knowing what is normal behaviour in a crate etc. can be daunting and we recommend this basic package to get them started in the right direction.
Without this training, many pups are likely to bark or howl for many hours or even panic. We have seen pups from other breeders that haven't been trained get so panicked and upset they completely break down and need a lot of extra training just to get over the ordeal. We have seen untrained pups urinate, soil their crate or even vomit just from the stress & panic so the initial crate training should be done gradually and with lots of understanding and preferably with two or three pups together for short day periods and then the period in the crate gradually lengthened and the pup in on his own for short periods until you are able to crate overnight. You have to know when a pup needs to get out to relieve himself and when he is just frustrated at being restrained. Experienced dog owners know how to do this but new dog owners can have a nightmare time of it unless the breeder does the first few days of crate training for them.
This crate training package is a 'restraint' lesson and is good foundation training and teaches your pup that YOU are the pack leader and he must sometimes be restrained and comply to what you want. It gives him boundaries and teaches him to be able to settle. It also helps with toilet training. Down-Stay training and tie up are two other important restraint lessons. Crate training stops your puppy from panicking in a crate and makes all your other training much easier. More info on how to crate train is in our book 'Kelpie Basics'. Please note that by no means can we make your puppy perfect in a crate within that short time frame. We can make the puppy accepting of the crate, not panicking and content & relaxed most of the time but most pups are not 100% happy to be restrained in a crate until they are at least 5 months of age or older. You should still expect 5 minutes of whining or protest at night for the first few nights. If you continue your pup's crate training he will absolutely love his crate just like our dogs here!
The crate training you did with him worked wonders and he happily trots into his crate whenever I go to bed, and in the morning is happy to stay there until I decide to wake. James Boyle and Noonbarra Scamp. 2010.
IMPORTANT NOTE: Pups being transported by plane!
We will not allow any pup to fly without doing some basic 'Puppy Training'. It is not fair to the pup to send them by plane without a lot of crate training, exposure to traffic, noise, travelling and people before they leave. We want our pups to enjoy their flight and not be stressed. Often pups can be delayed at airports and we don't want any of our pups stressed in any way. With this training, your puppy arrives a lot more relaxed and happy.
He's been a little champion. . . He sleeps all through the night in his crate and has just been a perfect little puppy ! -Rohan Davies June 2012
We also strongly suggest you get a copy of our basic training book - Kelpie Basics!
She loves being in her crate and has slept through the night happily, pretty much consistently since we got her home. She loves going for walks on the lead and in the last week or so has really started to get the routine down pat, like sitting at the gate to put the lead on, sitting before we cross the road etc. Thanks again for the training you did with her as I doubt we would have been able to achieve all this without the strong foundation you established. Noonbarra Frankie owned by Tara and Alec.
-----------------------------------------------------------------------------------------------------------------------
*STARTED PUPPIES AND YOUNG DOGS
From time to time, we also start young pups on sheep and then sell them as 'started'. Pups can start at any time so it varies. It's not unusual to see dogs take no interest in sheep until 12 months or later and probably the most famous Kelpie that was a late starter would be Glenlogie Lucky who was very, very slow to start but became one of the greatest Kelpies of all time and her owner had offers of up to $20,000 for her in the 1980's. (which were refused).
Pups can sometimes be interested very early, around 8 or 9 weeks but this is not what we'd normally see. Quite a few start to be interested around 12-14 weeks but most would be closer to 18-20 weeks of age or later. We have seen dozens of good Kelpies not be interested until well after 6 months of age so that's not unusual.
Being 'started' varies from just being comfortable and confident on the backs of sheep (but not focussed on working) to a switched on interest in trying to hold sheep. But a little more advanced we would be looking at a basic interest in the sheep with the dog quite keen as well as fundamental negative and positive commanding and stopping and then right up to a young dog who is very keen and had a number of basic lessons (we call them 'play training') who can usually be on point of balance and go to the head in the open (very small) paddock and perhaps backing sheep in a race and knowing some basic commands such as 'stop'. A few will be even more advanced with good recall, better obedience training and beginning side commands as well as being handled and having training in other behaviours. Prices for buying a started Kelpie from us ranges from about $2500 - $3000. We only have them from time to time when we have kept pups back. So they are not available all the time, just a few times a year.
PUPPIES HELD LONGER THAN 8 WEEKS $100 a week.
If you can't take your puppy at 8 weeks of age we charge $100 a week to hold your puppy over an extra week. We do not normally hold puppies longer than 9 weeks. After 8 weeks is the period where they need the most socialising, handling and training.
If absolutely necessary to hold longer than 9 weeks of age, and we are in a position to do it and agree, then the price per week rises considerably. We recommend against this and it would be better to wait for another litter and get an 8 week old puppy.
_______________________
Overseas customers
Sorry. We are no longer exporting overseas. Please contact the Working Kelpie Council of Australia and they will give you a list of breeders who will export.
CLICK HERE TO SEE WHAT KELPIES WE HAVE FOR SALE
_____________
---
Wherever possible, we try to have puppies registered in the same or at least similar name as the customer calls their dog. Working Kelpies do not have long complex names like show dogs and the pedigree system will just cut them off. They usually have simple names the same as people such as Julie, Sam, Ben, Molly, Fred, Amy etc.
If you have a name in mind that is short and can be easily understood and pronounced in English then we'll try to get the same name registered for your dog. We prefer names to be around 8 or 9 letters and single words. You can have two words but they must be very short such as 'Noonbarra Big Red'. You can of course call your dog anything you wish but for the purpose of registration we need a short, easy to pronounce name. It doesn't have to be English but we'd like to be able to pronounce it. Some strange names and spellings (such as Welsh names) in the past have caused a lot of confusion.
---
The last email I sent to you I said I was so amazed and impressed with how he was everything I'd wanted and asked for, and he's still definitely living up to that.... He continually amazes me with how much joy he gets out of everything he does in life; ... He has this awesome, infectious personality; … that is exactly what I wanted and asked for and I couldn't be happier with how he's turning out. I loved kelpies before getting Zeke but he has completely and totally hooked me on the breed for life… Emma with Noonbarra Zeke.
---
VISITING THE NOONBARRA KELPIE STUD
Because we are so well known and have a good reputation for matching customers with the right dogs, we get many thousands of enquiries for visits each year. We get a lot of people travelling through the area or on holidays too. It would be impossible to see them all. Although we try to accommodate each person to the best of our ability, there is only so much time. Most people just don't realise how much work is involved in running the Stud. If we had open visiting at any time we could easily have groups of people dropping in at all times each day and we would never get any work done. We would be out of business in no time and we know this has already happened to a number of well known breeders.
We have been running the Noonbarra Kelpies for more than 40 years and we are very well known right around Australia and overseas. We actually get a lot of international travellers visiting. So we don't like to upset anyone but we really need to make a few simple rules just to be able to stay in business. Also often new breeders like to drop in a pick up some tips and free advice so in the end it is not something we can do. We only run a very small breeding Stud. Just the two of us and we are not getting any younger. We don't like to offend anyone who wants to visit but realistically we have to keep it to the barest minimum or we can't get our work done. We allow the public to visit on any day that we have customers picking up pups or coming for training. Sometimes this is a day or two every few weeks. Sometimes it's a lot less. We are often off property training our own dogs, or other people's and we also travel to other locations such as Sydney or Dubbo for training. We have a few people look after our dogs during these periods. Absolutely no visits when we are not on property. Because of disease risk, we cannot have people see any puppies that have not been vaccinated for at least 6 days.
When customers come to pick up a puppy we do our best to spend as much time with them as possible and show them how to get the best out of their puppy. Often we have adults and pups interacting with visitors and we often demonstrate things like the Noonbarra Down-Stay method or crate training. We also discuss puppy training and traits of parents etc. These demonstrations can be good for visitors to watch as well. They get to play with a few puppies too.
FREE VISITING DAYS
Stephen does a lot off property, so it can often be difficult to arrange things in order to set up any visits. We only do these on the same days that other customers are coming to pick up dogs or coming for training lessons. Then we would have already arranged to have at least part of the day put aside from our normal work. There is no charge for visits at these times. We are more than happy to discuss your requirements and make you very welcome. We'll even give you a cup of tea and something to eat. Lol If we have some pups that have been vaccinated (at least 6 days) you can meet these too but we don't allow people around young unvaccinated puppies. We have bio security measures in place at the Stud and don't allow visitors into the kennel areas.
We do try our best to fit in with people as much as possible but we have to get our cleaning, office work and training done as well as farm work and try to organise people to visit at the same time. So we try very hard to organise with people to come when other customers are coming for training or picking up puppies etc. We try to keep visits to about an hour so there is enough time to feed, clean, train, exercise the dogs, do kennel maintenance and handle the office work, vet visits, puppy programs, emails and phone calls etc. There is a lot of work involved in running a professional Stud and most people are not aware that we usually work very long days, 7 days a week as well as hire staff to be able to maintain our high standard. We are now getting older and need a bit more down time.
---
HOW TO GET TO OUR STUD
---
I recently purchased a pup from you and I am writing to tell you how pleased I am with her. You chose for me exactly the kind of pup I was looking for on the information I gave you, so thankyou! -Fenella Nelson with Noonbarra Narla.
---
We offer two health and working guarantees, the official Working Kelpie Council of Australia guarantee and our own, more enhanced, guarantee.

WORKING KELPIE COUNCIL of AUSTRALIA

Official Breeders' Guarantee:




Unless stated in writing to the contrary, Breeders listed on the WKC Breeders' Directory can be expected guarantee to replace, or refund the purchase price of, a pup which fails to develop a desire to work by the age of 12 months or which exhibits an inherited physical condition which affects its ability to work, subject to the following conditions:-

The dog or pup is returned in good order and condition at the buyer's expense or other mutually agreed to conditions is fulfilled. In the case of demise, or necessary euthanasia by a qualified person, that the cause of the loss can be associated with exposure to or the existence of a condition prior to the time of dispatch. In this circumstance the breeder reserves the right to request the claim be accompanied by a certificate signed by a registered Veterinarian or other suitably qualified person. It can be established that whilst under 'guarantee' the pup/dog had been properly housed, handled, fed and routinely treated for internal and external parasites and protected by routine vaccination against commonly associated diseases such as Canine Distemper. It can be established that the pup/dog was given adequate exercise, training and opportunity to develop its inherited working instinct or in the case of started or broken in dogs they were given adequate time and opportunity to adjust to the new environment.
---
Noonbarra Stud Health & Working Guarantee
This updated guarantee is effective from Jan. 2020
Over the past 35 years Noonbarra Kelpie Stud has grown into one of the best known and respected breeding establishments in Australia with happy customers right around Australia and overseas. We have spent years and a lot of money and time in setting up what we feel is one of the best breeding programs anywhere. We use a number of Vets for different aspects of our business and have a number of specialists that help us. Over the years, we have become experts not just at breeding but dealing with puppies. We can now often spot the smallest difference in personality or any health issue. The puppies we sell are examined by a qualified veterinarian, wormed every two weeks and are up-to-date with all required vaccinations.
All our puppies are very well looked after. Puppies are kept in a whelping box with heated pad, light and soft warm bedding. Later they are moved to a special insulated kennel run where they can move in and out of. At this stage they are still with their mother. Then we move them to a bigger play yard area. They are wormed at 2 weeks, 4 weeks, 6 weeks and 8 weeks. The mother is also wormed. They are vaccinated against Parvo, Hepatitis and Distemper. Their mother is also fully vaccinated before birth. They are treated for fleas, washed regularly, feed a high quality special puppy formula with preservative free chicken mince and puppy milk. We cannot do more to insure your puppy's health.
All our puppies are sold in good faith. We check each puppy before leaving the Noonbarra stud and they are checked by a qualified veterinarian as well. Kelpies are one of the healthiest breeds in the world and do not usually have problems with breathing, movement or breeding as many other breeds do. Our pups are usually very healthy in every way but like all animals sometimes a dog can get ill that no one can foresee. (including Vets). Every Kelpie we sell leaves the Noonbarra Stud in a visually healthy state. All are checked thoroughly by a Vet before they left here. However just like children, puppies can catch diseases, have accidents or even a develop a genetic problem.
GENETIC GUARANTEE FOR LIFE OF YOUR NOONBARRA KELPIE
If your puppy develops a life threatening or seriously debilitating illness that is found to be hereditary as listed below and diagnosed by licensed veterinarian, than we will replace that dog for you. Noonbarra Kelpies are guaranteed for their entire life from any of these major inherited genetic defects: HD, Cerebellar Abiotrophy, Progressive Retinal Atrophy, Liver shunt, Kidney and Heart failure (genetic causes only).
If any of these occur we will replace your puppy/dog at no charge. The affected dog must be returned except in any case of Cerebellar Abiotrophy. This can only be diagnosed by an autopsy has to be carried out and verified by vet as many injuries and diseases can cause cerebellar damage and these have similar symptoms. For HD, we also need a copy of the official score, which must be at least a 26 - 36 score or more which is mild HD. 36-50 is moderate and 51-106 is severe. (Aust). The average for healthy Kelpies is about 13 or 14. Nearly all general Veterinarians are not skilled to diagnose HD from X-Rays (which is extremely difficult) and therefore we need an official hip score by a qualified reader. Your Vet can just send an X-Ray to get a score. As long as we have a conclusive veterinary report from you or any problem listed above is obvious when returned we will exchange your Kelpie with a new puppy with no problems. The pup has to be returned to us good condition (excepting existing problem of course).
We will replace with a new puppy within six months unless otherwise advised by customer. We will try to give the same sex and similar age to first puppy. In most cases we will do our best to get you the same colour wherever possible. Any other costs incurred by customer such as travel expenses, medications, veterinary fees, drugs, x-rays, chiropractic, herbal treatments etc. are borne by customer unless prior consultation and agreement with us.
This guarantee is not meant to suggest that your puppy will not have a health problem in his or her entire life. No breeder can guarantee that your dog will not have a health problem at some stage of it's life.
This guarantee does not include conditions such as worms, Giardia, Coccidioses, umbilical hernias, coronavirus, mites, fleas, kennel cough, ticks, injuries, snake bite or any minor conditions. No vet bills or treatments are covered by this guarantee. A replacement pup of same sex and similar age will be offered as soon as practically possible.
Making a claim
In the unlikely event that you are unlucky enough to get a puppy that develops a problem that is genetic originated, we will replace that puppy within 6 months (often sooner). You are responsible for any travel/freight costs of the new puppy and any extra training or special medical checks, treatments you request. (beyond normal veterinary procedures we do for all pups). The puppy or dog with the problem must be returned to us.
1. In the event of sudden death, caused by a pre-existing condition or genetic fault, a autopsy report must be made.
2. If your dog develops hip dysplasia, the X-Ray should be clearly marked with identification of the dog on the film emulsion. Information such as Stud tattoo, micro-chip number, registered name etc. Also name of the veterinarian or hospital. Hip score must be included and at least in the mild category of 26-36.
3. Noonbarra Stud cannot be held responsible for veterinarian fees or costs. You must also carry out regular worming, heartworm treatment, and vaccinations. As a dog owner, you are aware that owning a puppy means visits to the veterinarian and understand that you will be responsible for all payments. This guarantee does not cover neglect or poor care by the owner!
NOONBARRA WORKING GUARANTEE
All Noonbarra pups are sold with a 100% guarantee to work sheep. No puppy is sold with a guarantee for any specialised work unless stated in writing. If specialised traits are required then a well -started or fully broken in Kelpie would be a better choice. We do not guarantee any of our dogs for cattle work, although a lot of our dogs have done well on cattle. However as we can't assess them on cattle nor can we train on cattle we do not guarantee them for this work.
If your Noonbarra Kelpie is not showing an interest in working sheep by 8 months of age, then please contact us. Most of our pups are showing interest between 2 months and 6 months. There is usually a good reason if your pup is not working. Some people just don't know how to start a pup off or they may have negative conditions that are not right to spark a pup's interest. If you have given your young dog every opportunity and proper conditions to work and the pup is still not interested, then we will replace the dog with a new puppy. If puppy is older than 12 months and we haven't been contacted beforehand then guarantee is void.
However.... before sending you a new puppy, we will do a weeks basic training and handling on the dog first and if the dog does actually work then we will charge for the training we do as well as boarding costs and return the dog at your expense. So it is extremely important that you are 100% sure the dog is not interested in working due to our genetics and it is not due to poor training methods.
CLICK HERE TO SEE WHAT DOGS WE HAVE FOR SALE
CLICK HERE TO SEE MORE PUPPY PHOTOS
INFORMATION AND PHOTOS ON CRATES AND CRATE TRAINING
---
Information on Kelpie history & the outstanding Kelpies of the past can be found in the latest edition of our book
'
FAMOUS KELPIES'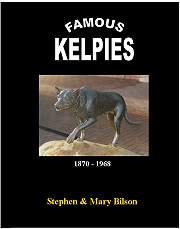 Softcover 136 pages.
CLICK HERE FOR MORE DETAILS & PAYMENT ETC.
---
Noonbarra Working Kelpie Stud
Mary and Stephen Bilson.
P.O. Box 1374, Orange NSW 2800, Australia
Ph. (02) 6366 0499


Click here to Email us
NOONBARRA KELPIES FOR SALE NOW

SPECIAL CUSTOMER INFORMATION & TIPS

HOW TO GET TO OUR STUD

PUPPIES AND ADULT KELPIES FOR SALE NOW

CUSTOMER REFERRALS (Hundreds of great photos and stories customers write about their own Noonbarra Kelpies. This is our best form of advertising).
---
CLICK HERE TO SEE WHAT DOGS WE HAVE FOR SALE
---
We are situated at Mullion Creek, about 20 kilometres north of the rural city of Orange, in the central west of New South Wales. Many people travel to the area and spend a few days or a weekend when picking up their puppy. The large city of Orange, has many good motels, wineries and restaurants and is lovely at any time of year.
Click here for map & more details on getting here & other location information
---
EVALUATING PUPPIES TO ENSURE EACH CUSTOMER GETS THE BEST POSSIBLE MATCH TO SUIT THEM
Most dog breeders don't think any traits can be seen in pups and just grab any pup out of a litter and sell that puppy to any customer with no thought to their needs or their experience or their lifestyle. This is easy to do but not a great help to their customers. We are the only major breeders we know of that spend a lot of time carefully evaluating litters and then individuals to make sure each customer gets a puppy that is able to fit in well with hat the customer needs. It is very time consuming but we have been extremely successful with this system and it has been 'right on the money' in most cases and is one of the reasons we get so many customers coming back to buy second or third dogs from us.
We don't do much at all until they are over 5 weeks, often around 6 weeks. Before that mostly it is up to their mother. We can do very basic evaluations from about 3˝ weeks but we still need to do more around 6 weeks. By 6 weeks, the puppies start exhibiting their future behaviour and personality and it is usually around then that we start evaluating each puppy.
We can actually evaluate & start to start to train puppies as early as around 5 - 6 weeks and do it all the time. This evaluation is firstly based on the litter and parents, grand parents and much further back. It is a lot easier for breeders like us that linebreed for many generations and know the dogs. We still go back very strongly to the old Kalari bloodlines and have never moved away from that position. When selecting for a customer, we also take into account litters from sisters, brothers and reverse matings for example, like Noonbarra Mick X Noonbarra Nicky ..... and Noonbarra Jackaroo X Noonbarra Kellie. Kellie is a full sister to Mick. Jackaroo is a full brother to Nicky. Of course selection is also based very strongly on previous litters we have done with both parents, either separately or as a repeat mating. Repeat matings are the best indicator of course and some females are always mated to the same male, so we might have two or even three previous matings exactly the same. We ask customers for feedback all the time and every single day we get one or two (or more) phone calls, letters and emails giving up updates on a pup's progress etc.
But selection still comes down to individuals within a litter. When evaluating puppies we first watch for responses to stimuli. How do they cope with being handled? How do they react in being moved from the whelping area. How do they react to being separated from other pups, mother etc.? If you turn them over do they relax or do they panic? We worm them, bring them inside the house, crate train them, maybe travel with them in a vehicle, expose them to different noises. They meet other adult dogs, get to interact with us on everyday tasks, go for little walks on a lead, exposed to loud noises such as motorbikes, tractors or inside the house to music and TV. We also colour code them with collars, get them vaccinated, take photos and start training for customers.
We write notes on their files and refer to these notes the next time we handle that pup and compare any changes in basic behaviour. We see their personalities emerge. Puppies react very differently away from their siblings. They may be reserved or bold. They may be shy or friendly. They may be calm and relaxed and able to settle well or may be more intense or active. They may have difficulty adapting to a new situation or get stressed by noise. We monitor how they respond to being told what to do and being restrained. We also watch how they bond with us.
With the various puppy training we do, we might expose them to different noises (such as machinery continuous) and banging noise (Guns, hammering etc). We restrain them in crates and on a short chain in back of covered ute or SUV. We observe their reactions to all these things. We watch their toilet behaviour (especially for pet homes) Some puppies will go to the toilet anywhere, others try to go as far away as possible but no puppies are ever reliable until much later and accidents inside are always to be expected.
One of the important things we teach each pup is to 'learn' to be calm and relaxed around us. [This can only be trained if the pup is genetically able to settle and be calm to start with]. We do many days of crate training in step-by step learning sessions. This is first done with puppies in together for short periods when they are tired (for example after a group walk) and progresses over about a week to 10 days until the pup can be in a crate on their own overnight for about 6-7 hours with no problems. We often also start the down-stay training. This would depend on the individual and what they need. This ultimately teaches each puppy to be able to lie down and stay and completely relaxed and accept that they have to be calm with us. Please note this is only an introduction and it will take more lessons from the owners over a couple of weeks before it's really easy. Some of the training is not what people think of as training. It is more about teaching a puppy good manners and how to interact well. We are always doing progressive lessons to get the pup into 'good' habits that we desire. We teach a pup to sit for a meal etc. Each pup is a little different and is handled and trained as an individual.
We are always observing. Are they a pup that is always following closely and at our feet or maybe a pup that is more aloof or perhaps independent. Other things we might look at during training is how agile they are, how they cope with adult dogs, how they react to strangers, children etc. How they feed, how quick they learn, especially problem solving. There is a whole host of things that can be used to evaluate a pup if you have the years of experience, know your dogs well and know what you are doing. Our customers give us plenty of feedback on that aspect.
We try to get the best pup for each customer. If there have been changes to a litter and a customer has to postpone or wants another gender or perhaps wants to move to another litter or we feel the pup is not exactly right for their situation, then we look at our booking list and find a few customers that may be right for the puppy. Usually we can find a few but sometimes not. Then we contact those customers and discuss the puppy. Sometimes, but very rarely, we don't have customers that suit the puppy or they can't fit the puppy in without more notice or the time frame doesn't suit. In these cases, we put the pup up on the website for sale. But please don't expect this as it only happens a few times a year and often the pup is sold within 24 hours. The last one I remember sold in just 20 minutes to a person who had already been making enquiries about our pups for a week or two but hadn't yet put in a deposit. They were very lucky.
We sometimes get special requests such as extreme agile dog for National Agility Competitions or one at the moment is for advanced scent ability to be trained for rescue work in the mining industry. Others ask for dogs to be comfortable around motorbikes or good travellers in a vehicle. We get quite a few who need a dog with a special personality for children with handicaps, physical or medical. Things such as epilepsy or autistic or in a wheelchair. Some customers want a dog for a running or mountain bike companion and some need a dog as a constant travelling companion such as farm reps or grey nomads. Some have to around animals such as chooks or horses. One customer needed a dog that was completely relaxed around stockwhips. The customer worked herds of cattle in scrubby land with a stockwhip cracking often to move the cattle along. The dogs he already owned would often leave and go home if they heard the whip so he came to us for a top class working pup that wouldn't be whip shy and paid for a deluxe puppy package. We trained the pup so we could finally crack the whip next to the pup while he was eating is dinner and it would not bother him. The customer was extremely happy!
Here is part of an email from that customer: He is such a great character to have around the place and he makes even the mundane job fun when he is around. He is getting a bit of work with the sheep whenever I get the chance and his enthusiasm is endless it seems. I have to say that you really picked him well with regards to the stock whip, he loves it, he thinks its mans best invention and is devastated when I put it back in the cupboard. He will actually sit and stare longingly at the cupboard.

All in all he is everything I could have wished for and then so much more. He is so faithful and he is my best mate. I want to thank you again for such a great dog he is everything you said he would be and know I just couldn't imagine not having him around. Max Kavanagh with Noonbarra Moss
We get lots of customers who get the type of puppies they ask for and with the traits they require and our section on customer comments is full of them but here's another quick one ....
She is so good and fun and happy and great to have around. I take her everywhere and she is so easy now, even at the rugby, (my husband plays) where there is heaps going on, she just waits, runs around, lies next to me. Everyone comments on (not only how gorgeous she is!) but also how calm she is for her age. Really I just wanted to tell you she's perfect.
Tamsin with Noonbarra Peggy.
We think of you often and thank you for our gift of Dusty. She is beautiful, very very smart, loving, great fun, and widely known with affection in the neighbourhood. We just have lots of fun. - Maureen and Bert with Noonbarra Dusty
"Today he had his first real go with the cattle and he was amazing he just loves it. He is not scared of them.. he wanted to stay in the yards even when we brought 2 bulls in. He was not very happy to be put back on the ute. You guys really do know what you are doing with your breeding and getting the right dog for each person." Ben with Noonbarra Ash
Finn was perfectly matched to what Pete was after, and I know he has mentioned before how delighted he is with the job you both did in matching his request with his puppy. - Noonbarra Finn
We are celebrating Noonbarra Jett's seventh birthday today. Once again I have to thank you for choosing such a great friend and companion for me seven years ago, boy does not time fly. It has been great having him around, he brings me so much fun and pleasure especially while I have been unwell. – Malcolm with Noonbarra Jet
Wow, I certainly won the lottery when you chose Harry for me! He is just the most sweet-natured, well mannered, beautiful boy and I love him to bits.
 He is 18 months old now and he is maturing into the most delightful dog to be around. – 

Fiona with Noonbarra Harry
There are many more testimonials from our customers in the section on 'Customer Reviews'. 
MORE ON CRATE TRAINING WITH PHOTOS AND SOME CUSTOMER FEEDBACK