NOONBARRA MATILDA II
(Noonbarra Dan IV X Noonbarra Megan)
Black and Tan Female
Born: 6th December 2002
Owned by Sue Smith
---
Noonbarra Matilda was sold as a dog for Agility competitions as well as being a family companion. She has made a couple of return visits to the Noonbarra Stud and was very good with the sheep in the stockyards and with some serious training in that area would be a trial prospect!
Dear Stephen and Mary,

Thought I might update you on Matilda's progress. I'm pleased to report that she is quite a good little
puppy. So far she doesn't chew things (tho I accept that that could still happen :)), dig or do any other
naughty things that puppies get up to.
She has been coming everywhere with Charlotte and I and has been to many agility trials, so far only as a spectator! She graduated easily from Puppy Preschool, even if she doesn't like to take tablets!!
She has been coming to Obedience training from the very beginning and can be very focused on me which is fabulous. Especially when I compare her with other pups there of a similar age. She can already sit, down, spin, touch my hand with her nose (very useful for agility) and I have just taught her to shake hands (still getting paws mixed up though!).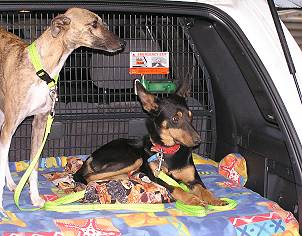 Noonbarra Matilda II with Charlotte (the Whippet)
We have started work on heeling, but as you can appreciate that is the hardest thing to teach but she is progressing well. We do have to work on her recall though, as when she is "rounding up" other dogs she gets very focused on them!

She loves all other dogs (even if they don't love her so much) and I have no problem taking her anywhere. So far she has also represented Springwood and District Dog Training Club at our local (Springwood) Foundation Day demonstration (and marched in the parade) and our Anzac Day March. She happily accepts being crated and staked out when we are out and about and gets on really well with Charlotte and Harvey (my other whippet who is just a pet). She comes on a walk most nights with Charlotte, Harvey and my neighbours dogs.

She loves playing with toys that make a noise and she has the funniest habit of running around the backyard with a particular toy in her mouth shaking her head trying to get the "boing" noise to happen. It is really funny to see.

Thank you once again for letting me have a wonderful, clever puppy. She is a total joy. I hope that in the
near future I will be able to find the time to make the trip to Manildra so I can show her off to you!!

Sue Smith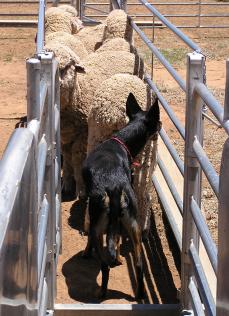 Noonbarra Matilda II working the stockyards on a visit back to the Noonbarra Stud
---
Nov 2003
Dear Stephen and Mary, Just thought I would update you on Matilda's progress and send you a couple of pictures I had taken of her.

Well, Matilda is 11 months old now and maturing into a lovely dog. Still quite lively, but not naughty at all. She loves playing soccer in the back yard, a great way to wear her out!! We spent the October long weekend camping at Uralla, attending an agility trial where these photos were taken.

We've just spent this last weekend at Pet Expo in Sydney with the Springwood Dog Training Club and I think you will probably get a few enquiries for puppies shortly!!! Angela and Bindi were there as well doing there bit for Noonbarra Working Kelpies!!

Matilda was very cute sitting on her stool, waving to people passing by. She coped wonderfully well with the different dogs there and all the masses of people as well. She just took it all in her stride.

I'm really looking forward to serious agility training with Matilda once she gets to 12 months. She is such a quick learner and just loves being taught to do tricks. So far I have taught her to spin, shake hands, touch my hand with her nose, high fives, sit on a stool, wave and we are working on marching with her front feet.

Hope you enjoy the pictures and feel free to use them if you wish.

Cheers, Sue Smith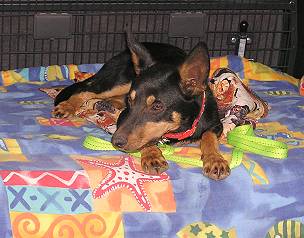 Noonbarra Matilda II
---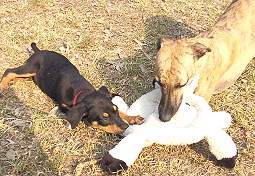 Dear Mary and Stephen, I'm just writing to thank you and let you know how Matilda is settling in. As you said she is a wonderful pup and she has a fabulous temperament as you promised. Everything I could hope for!
The whippets have accepted her surprisingly well. Matilda is already "sitting" on command and we are working very well towards our down. We were at an agility trial at the weekend and everyone was very impressed with her.
She has been doing a lot of socialising and meeting other people and dogs. I have booked her into Puppy pre-school so she can have a chance to play with other puppies. Her and the whippets haven't really worked out what sort of games to play yet, the whippets think playing is running in circles really fast but Matilda thinks that they should let her round them up... it's very funny to watch! Hope you enjoy the photos of them in our back yard!

Thanks again, Sue Smith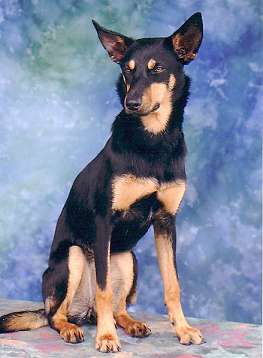 Noonbarra Matilda II
Photo by owner, Sue Smith
___________________________
Dear Stephen and Mary,

Thank you for your wonderful newsletter. I thoroughly enjoyed reading it, what a great idea. How on earth do you find the time?? It was wonderful to read all about Matilda's rellies and what they are up to. Thank you for the business cards too. As you know, at demos and pet expos I am always asked about Matilda and it is good to be able to refer people on if they are
interested.

I'm hoping to be up your way later in the month, around the 19th or 20th. Do you mind if we pop in?

Matilda has developed into a wonderful dog, very smart and such a quick learner. At the moment with daylight saving I've been taking her to the local park and doing some obedience work with her after work. As I said she is learning so fast she amazes me. I've been taking her to Wallerawang on Sundays for agility training and she just seems to love that. There are
quite a lot of other working kelpies training there, including Bindi, and they all get to run together in the off lead area there, it is great to see. She is wonderful in the car, it must be funny from behind as she sits in the middle of the back window (you'll remember I have a 4 wheel drive) and looks out the back. I'm sure all you can see is her big ears sticking up! She is great at home, very calm inside and is able to amuse herself with her toys. She goes to her toy box and sorts through them until she finds the one she wants!

It is only about 5 months until she can start competing at agility and I can't wait. We still have to work on the weave poles, you can't really start teaching them until 12mths of age, but she has all the other obstacles down pat. She is really fast when she gets going and has a very economical jumping style, unlike Charlotte who clears every thing by a foot but wastes a lot of time doing so! Of course Matilda is still learning and I am being careful not to push her too hard so she doesn't get bored. We do still have trouble with distractions but I'm sure she will grow out of that as she matures.

Thank you again for the wonderful newsletter.
---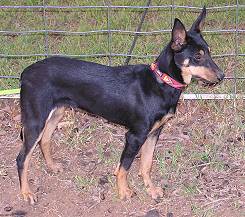 Noonbarra Matilda II working the stockyards on a visit back to the Noonbarra Stud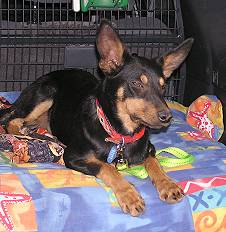 Noonbarra Matilda II in the back of the car.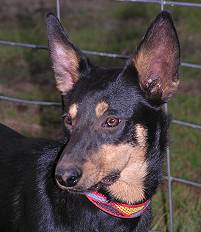 Photo taken in the stockyards when Matilda made a return visit to the Noonbarra Stud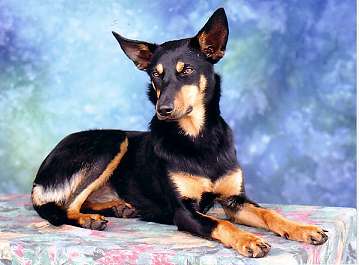 Noonbarra Matilda II
Photo by owner, Sue Smith
---