NOONBARRA GEMMA
(Noonbarra Dusty X Noonbarra Valerie)
Red & Tan. Born: 4th June 2002
Owned by Steve Bishop
---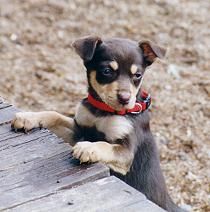 Noonbarra Gemma is a very pretty Kelpies. When we are out in town, she gets lots of pats and comments on her looks. She is a small, athletic type of dog and very friendly and happy. In 2005, she was sold as an adult to Steve Bishop and his family as a companion dog.
She is another one that is like many of the old-time Kelpies and has a light build and a very athletic looking structure to her. She is very fast and agile as well as being extremely smart.
Her sire, Noonbarra Max is one of our best dogs as a worker and as a sire. He is a very friendly outgoing dog that loves to be around people.
Gem's dam, Noonbarra Valerie is now retired but was one of the best workers and breeders in the stud. Many of her offspring have been kept such as Noonbarra Becky, Noonbarra Libby and Noonbarra Jillaroo, as well as grand children such as Noonbarra Amy, Noonbarra Roy and Noonbarra Molly.
---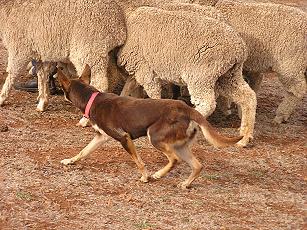 Noonbarra Gemma moves very smoothly around her sheep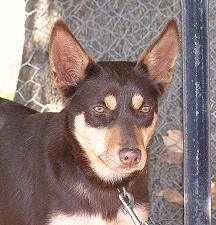 Noonbarra Gemma
---
Nov 2005
Dear Mary and Stephen,
You will be pleased to know that she is settling in very nicely. We have walked her into town and she sat nicely under the table while Maria and I had a coffee and a chat. She likes going to the beach though hasn't yet been in the water, having only just got her paws wet. We will take this very slowly and she will gain her confidence gradually. She is starting to recognise our routines and now excitedly greets me at the gate everyday with tail wagging when I come home . She associates her lead and my sandshoes with going for walks and expects to get into the ute each time I back out in the hope that she can come too.
We both are very happy with Gemma. She is a good-natured and level headed dog. She ignores all other dogs when out and about (except one other kelpie that she thinks she might know!).Thank you very much. You have made us both very happy.
---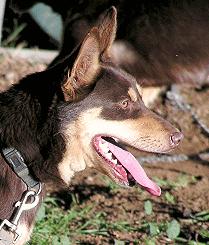 Gemma is a happy Kelpie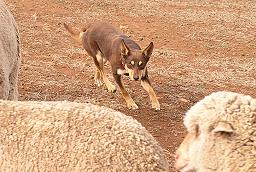 Gemma has a steady strong walk in to stock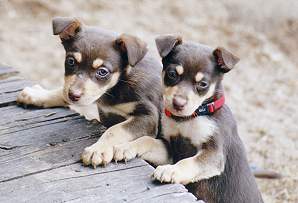 Gemma as a puppy with her brother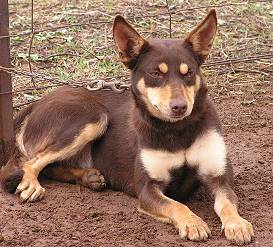 Noonbarra Gemma 2004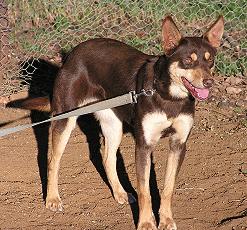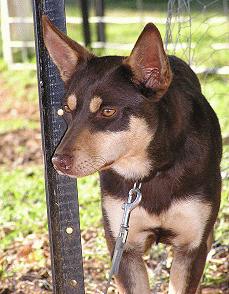 Gemma is a steady worker and a terrific droving dog.