NOONBARRA RUFUS
Noonbarra Dan IV X Noonbarra Megan
Red & tan Male Born: 6th December 2002
Owned by Jason Matthews.
Jason and his family have purchased four Noonbarra Kelpies over the last 5 years!
---
We first met Jason Matthews when he arrived with Paul Lipscombe to pick up Paul's pup, Noonbarra Amber. Out of the blue, Jason asked if he could purchase a young male we had here that we were keeping on. He called him Noonbarra Rufus and he become a great companion for Jason.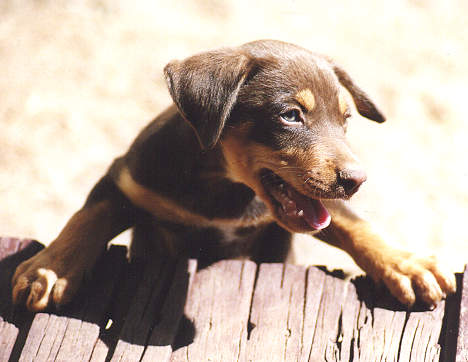 Noonbarra Rufus as a puppy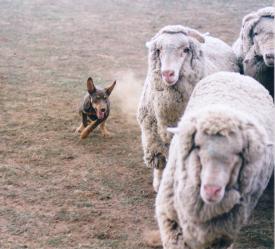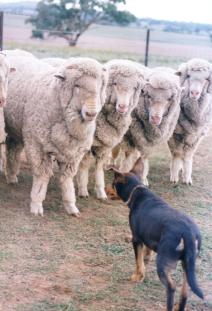 Noonbarra Rufus was already working sheep while he was still at the Noonbarra Stud.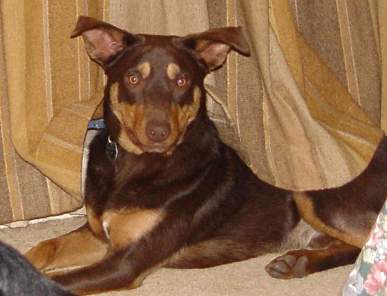 Noonbarra Rufus enjoying being inside.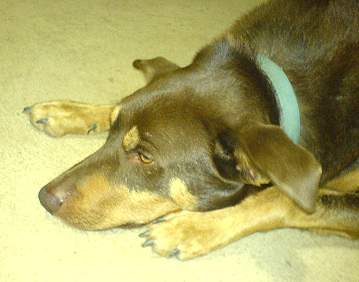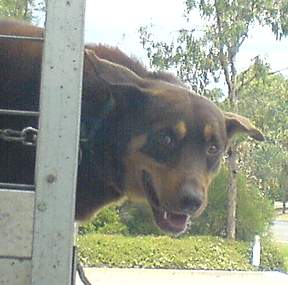 Noonbarra Rufus enjoying the Ute!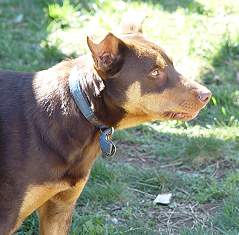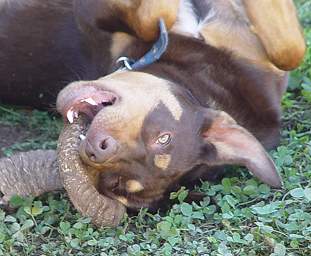 Noonbarra Rufus playing with an old sheep's horn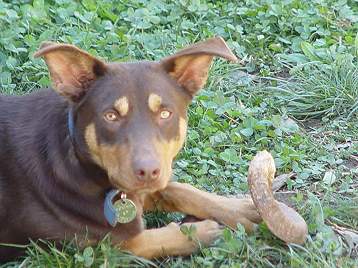 Noonbarra Rufus with a sheep's horn
Unfortunately, Noonbarra Rufus was killed in a vehicle accident when he was about 4 years old.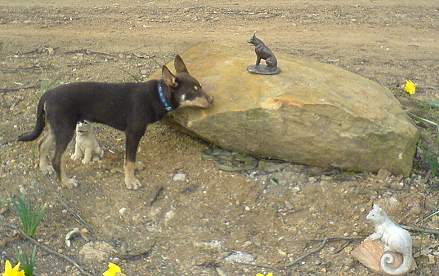 Young Noonbarra Boris III at the Rufus memorial that Jason set up in memory of his dog
---
Noonbarra Dan IV X Noonbarra Megan
Red & tan Male Born: 6th December 2002
Owned by Jason Matthews.
Jason and his family have purchased four Noonbarra Kelpies over the last 5 years!
---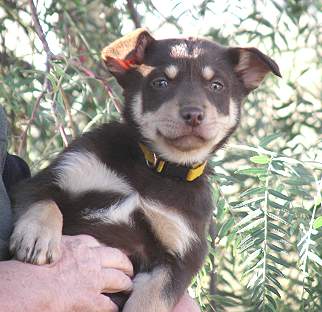 Hi Mary and Stephen,
I see that my father has been in contact with you and sent a photo of Boris mustering sheep. Lindsay took that photo with his camera and sent it to me. It seems to be well travelled now.
Boris is going great. Everyone that meets him loves him.
Oscar is very tolerant of Boris but not of my neighbour's pup. I have to stop Oscar from bashing the neighbour's pup and encourage him to bash Boris. I think that Boris is destined to run the pack.
I note that Megan was due to have her litter last Friday or there abouts. Again, I remind you that my intention is not to apply pressure in any way, but naturally we are hoping that Megan has a big litter and that there may be a suitable pup for my Mother. So please forgive me if this comes across as being annoying by asking if there may be a litter soon that would produce a good friendly (particularly with children), happy companion dog for my mum.
Finally, I have told a friend of mine that your "Kelpie Basics" book will be good reading for the training of his dogs. He has two fluffy foot size dogs that I don't particularly like, and a Jack Russell. He has asked that I purchase a copy for him. If you think your book will be good for him to train his dogs then I would like to arrange to a copy sent to him.
Kind regards,
Jason Matthews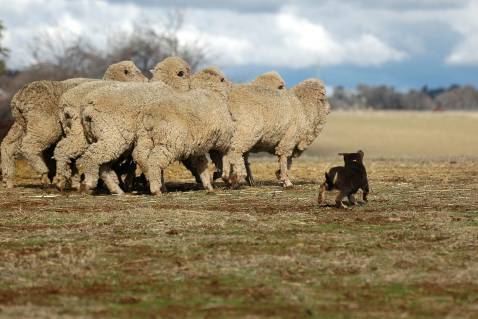 Boris on the sheep (by Lindsay)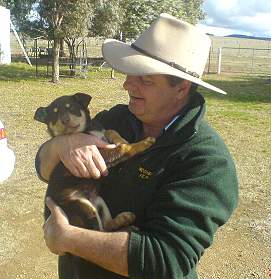 Stephen Bilson holding Noonbarra Boris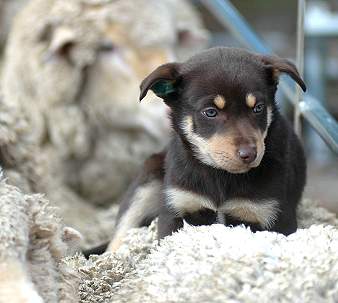 Boris up on the sheep!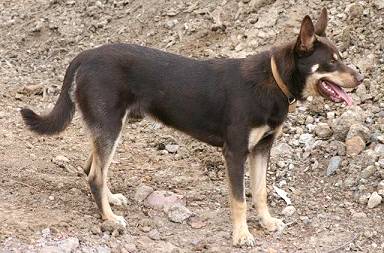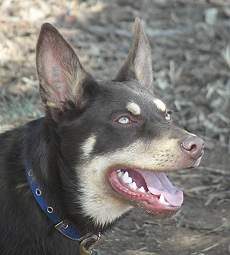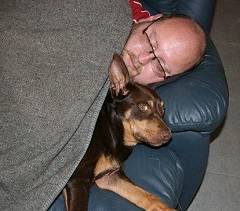 Jason with Boris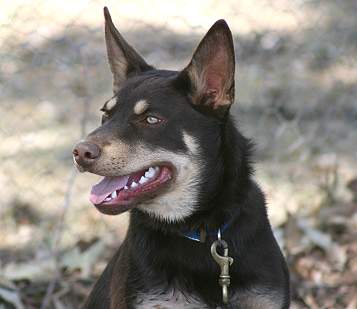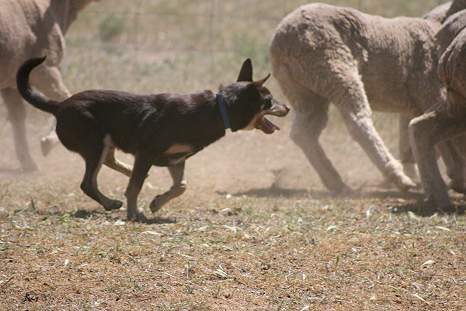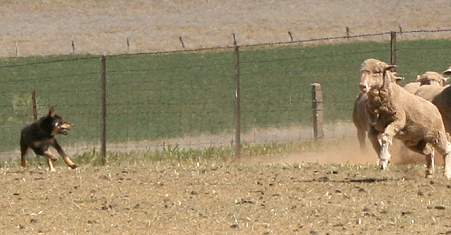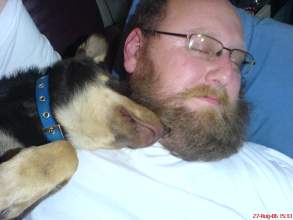 Jason and Boris take a break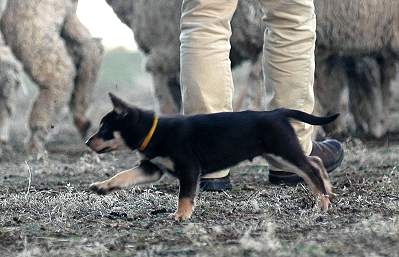 Boris as a puppy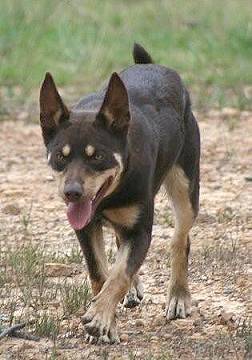 Noonbarra Boris III
September 2006
My Boris is going well. I have not put enough effort into his training due to lack of time, but he is going very well.
---
June 2006
Hi Stephen and Mary,
Just thought I'd let you know how things are progressing.
Oscar has only cacked Boris twice, but he is very measured with his bashings. I bought six chew toys for Boris and Oscar has claimed two as his own. I wonder who is the puppy sometimes. Boris still makes sure that he gets his fair share of time with all of the toys though. Having said that, Boris loves my dust pan and floor brooms. Chewing the brooms and eating his poop are the only things that I have had to discipline him about. Truth is that I have had to discipline my father not to leave the brushes on the floor.
Boris stands up in his crate and barks like Oscar when he is on the back of my ute. I know some people say that it is bad that the dogs bark on the back of the ute but I don't care. If my dogs are happy so am I.
My father says that he has gone to dog heaven, and I know that I spoil my dogs a bit, but that is what they are for.
In any case, we are all very happy.
I have spoken to my Mother about the fact that your Megan and Max litter is already booked out. As I stated on Saturday, she has refused to get another dog for the past twenty years after the passing of her dog Sam, up until now. Sam was her first baby (adopted before I was born) who lived for 18 years.
Mum has decided that she would like to wait until Megan has another litter (if Megan does that is) to get another dog, rather than just any puppy. Mum would particularly like a pup from Megan because she was the mother of our late Noonbarra Rufus 4.
So, if Megan has a large litter and there is an appropriate happy calm dog available, then my mother would love to adopt him.
I too would love to have another pup from Megan, as I believe that our Rufus was a top dog, although I think he may have been what you referred to as a "Z" dog. Anyway, I had my Oscar to consider as well and was happy to take your advice in the choosing of Boris.
Please don't think I am trying to pressure you. We understand the situation and my Mum is happy to wait.
Thanks for your help with everything.
---
Noonbarra Max X Noonbarra Megan
Red & tan Male Born: 12th August 2006
Owned by Carol Matthews.
---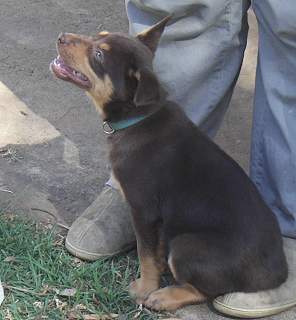 Fred was specially picked for Carol Matthews (Jason's mum) because he had a nice kind nature about him and wasn't too much dog to handle. He would fit in perfectly as a great companion dog for Carol.
Noonbarra Fred has turned in a lovely dog with a quiet nature. He has the wonderful body structure that comes from his mother, Noonbarra Megan and moves lightly and with a nice trot.
He is not a dominant dog and allows Jason's Kelpies Boris and Oscar to do the typical male posturing. He has a lovely gentle nature and when we saw him in July 2007, (when Carol picked up her new pup, Noonbarra Gus II), we were very impressed with him.
---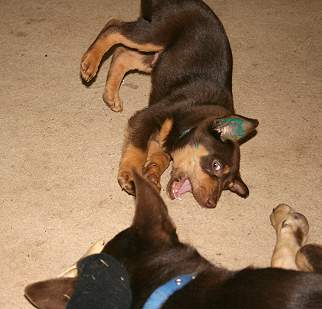 Young Noonbarra Fred playing with Jason's Boris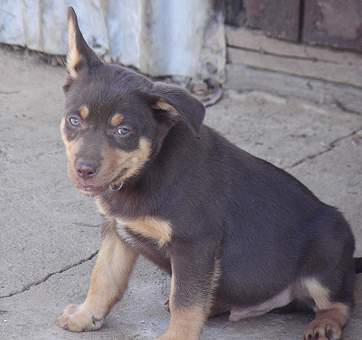 Noonbarra Fred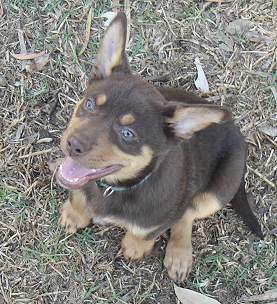 Noonbarra Fred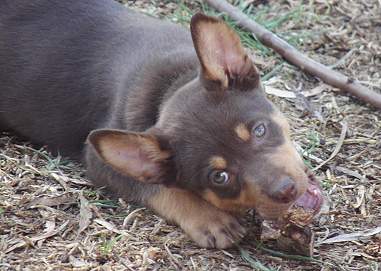 Noonbarra Fred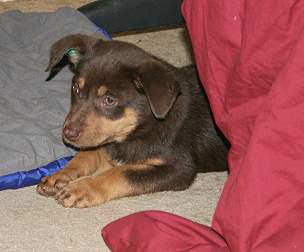 Noonbarra Fred in his new home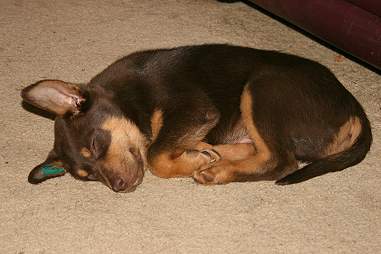 Noonbarra Fred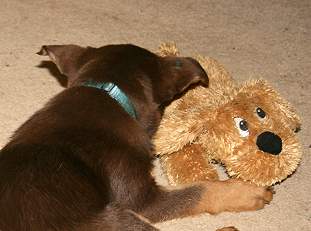 Noonbarra Fred at his new home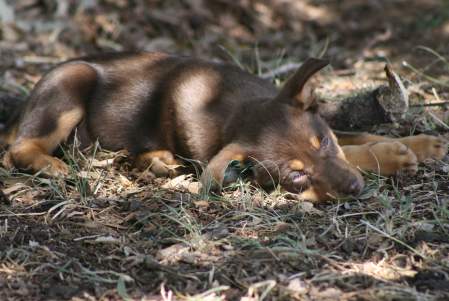 Noonbarra Fred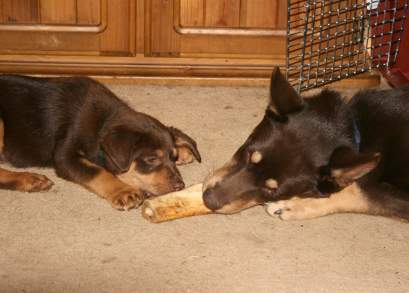 Noonbarra Fred with Noonbarra Boris III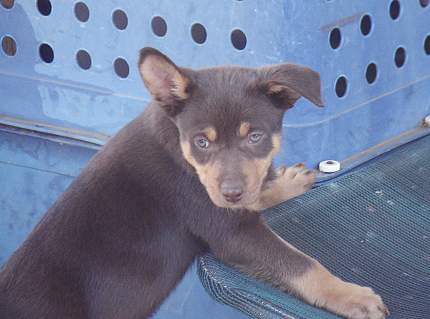 Noonbarra Fred at Noonbarra Stud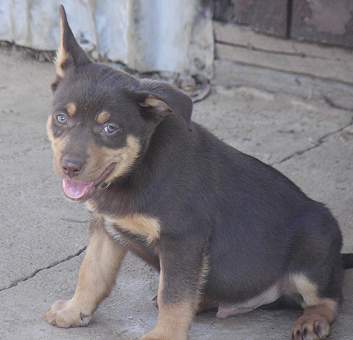 Noonbarra Fred before leaving the Noonbarra Stud
---
November 2006
"Fred and Boris are going great and we are very happy with them."
---
Noonbarra Max X Noonbarra Jessie II
Red & tan Male Born: 22nd May 2007
Owned by Carol Matthews.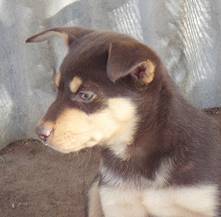 "Would like another male with a quiet kelpie nature. He will be a companion dog that will work sheep once every one or two months" - Jason
---
Sept 2007
Hello Stephen and Mary
Was just thinking of you both and wondering how everything is as Stephen must have had his surgery by now. Jason and my thoughts are with you both.
I also wanted you to know how delighted I am with Gus and Fred, you could not have picked 2 better dogs for me they are absolutely delightful. Fred actually tries to protect Gus from Boris and Oscar. I can see he will also let Gus be the "boss" later on in life. When Jason has some spare time I will get him to send a few photos. Bye for now .
With fondest regards
Carol Matthews (Gus and Fred's Mum)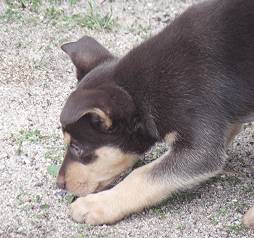 Noonbarra Gus II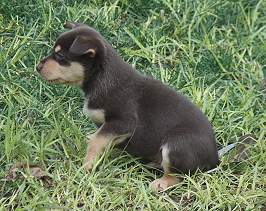 Noonbarra Gus II
---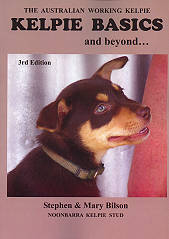 New 3rd edition of this very popular manual designed for all Kelpie owners of every level, from raw beginners, through to experienced trainers. This practical manual deals with everything involved in owning and training a Kelpie to ensure he grows up to be a well mannered, obedient dog.

The book is not about training on livestock! It deals with general obedience training, socialising your Kelpie, feeding, crating, toilet training, preventing problem behaviour, dominance issues, car travel, bathing, digging holes, stealing food, walking on a lead, coming when called... and much more.

Over 100 pages.
---
Information on Kelpie history & the outstanding Kelpies of the past can be found in the new 2006 edition of our book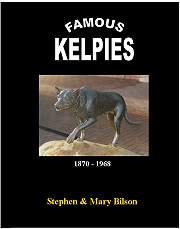 Softcover 136 pages.
---