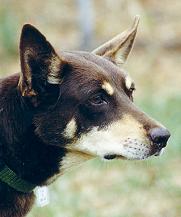 Noonbarra Valerie was one of our calmest workers and best breeders.
We retired her in 2002 but she was still very healthy and due to the number of adults and young dogs we have, she wasn't getting all the attention she deserved. We decided that if we could find a 'perfect' home for her than we would be prepared to part with her. Soon we were in contact with a family in South Australia.
It's a funny story really. She was supposed to go to a retired lady on a farm. The farm no longer ran cattle or sheep but she had a few chooks, a donkey, cow and a horse etc.
Valerie flew to Sydney and on to Adelaide but got held up and arrived late. The new owners daughter, Marnie, picked her up and took her back to her home in Adelaide where she was hosting a girls birthday party. So poor Valerie who had hardly been off our farm in years found herself lying on a mat in the lounge room of a house with young children running and screaming and having fun. Surprisingly to us as well as Marnie, Val coped perfectly with it all.
The next day Val was taken out to the farm where she was to be a companion on horse rides and around the farm. Marnie and her children visited on weekends. Valerie loved the children and felt it was her job to look after them. At one stage the youngest climbed down to the creek and was playing by the water and Valerie stood above barking and would not leave until Marnie had come. Once all the children were safely together, Valerie was happy.
After a few weeks of the children visiting on weekends, they were driving home and it was discovered that the kids had hidden Valerie under a blanket in the back of the car. So Valerie ended up in Adelaide again and Marnie was on the phone explaining to her mother.
It was finally decided that if we had no objection, then Valerie was going to live in Adelaide with the children. She blossomed here and goes everywhere with the kids. She is very well looked after and regularily gets a checkup at the vets and the best of everything. Marnie told us that one day Valerie returned to the house without the kids and was distressed. Marnie went up to the park to see if anything was wrong and discovered one of the children had fallen off a swing and broken his ankle. (It's a bit like Skippy or Lassie, isn't it)
But Valerie was a lot more in her heyday than a family companion. She was an outstanding working dog. It is not very often you get a steady, calm worker that also has plenty of strength. Valerie is wonderful at lifting wild sheep - she tends not to upset them. In most cases the sheep just quietly move off without any stress. If they want to fight then Noonbarra Valerie will come right in. If they attack her she will snap at the nose or bark. She is also a handy yard dog but doesn't have much experience in the yards. Her real worth is out in the paddock. She often works mobs of sheep for us, droving as well as bringing them along to us. She has a nice balance of strength and gentleness.
Her ability is not all that surprising once you take a look at her breeding. She is by Noonbarra Boss II, who was a wonderful Kelpie in himself as well as being a litter brother to the famous Noonbarra Butch, one of Australia's greatest Champion yard dogs anf holder of State and National title. But that is not the only good breeding in her pedigree. She is from Noonbarra Tina, certainly one of the very best Kelpies we ever had. Noonbarra Tina was also a dog with a lot of strength and beautiful style when working. Noonbarra Valerie is best mated to strong sires to give good all round ability in the pups. We have mated her twice to Noonbarra Prince. Noonbarra Marco has been retained in the Noonbarra Stud. See comments page on Noonbarra Tui, Noonbarra Cruiser, Noonbarra Luke II and Noonbarra Jessica II.