NOONBARRA VICKY
(Noonbarra Shane X Rockybar Valerie)
Born: 1987 Colour: Red & Tan
Owned by Coral Jerry of the Jerralong Kelpie Stud
---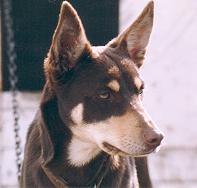 Vicky was a very pretty female that was fine and light in structure and very agile and fast. She had a litter of ten pups in 1990 to Noonbarra Gabe and we had many reports back on these Kelpies that they were amazing workers and extremely stylish.
That mating was repeated the next year (1991) again to Noonbarra Gabe and produced a litter of seven pups including Noonbarra Gabby who went to the Koonawarra Downs Kelpie Stud and was later leased back and used twice in our breeding program with wonderful results.
Vicky was sold in 1992 to Jerralong Kelpie Stud after Mary became sick and we had to drastically reduce the Kelpies in the stud. The Jerralong Stud used Balanda Welltown Rover as a sire over her.